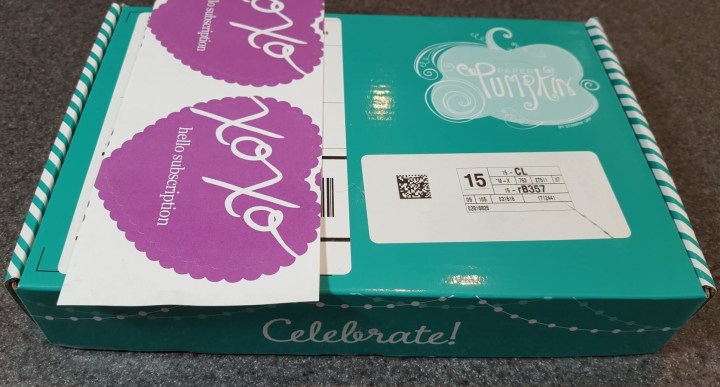 Paper Pumpkin is a craft box from Stampin' Up that sends a cute box each month with all the supplies to make a fun craft whether it be cards, boxes, bags, home decor or anything else in the paper crafting world.  Most crafts can be completed in about 30min if you sat down to work on it. I usually take mine with me when hanging out with friends since they are easy to put together and I can work on them while chatting.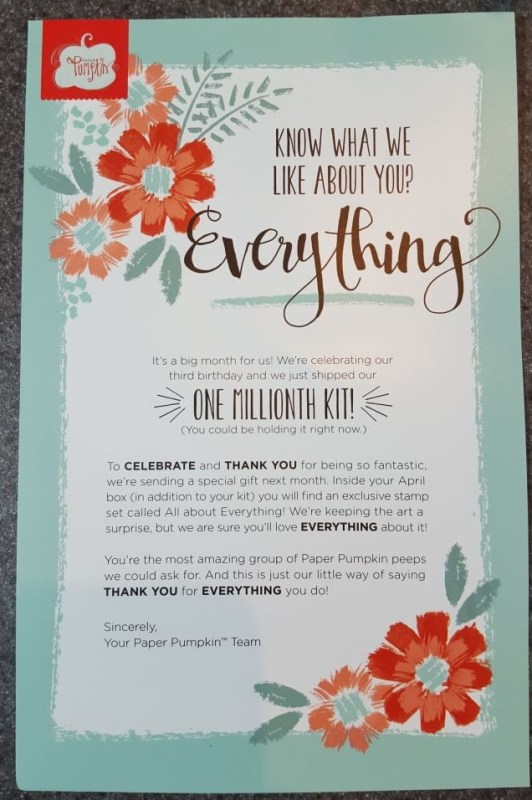 This month's box was a bright teal color. Normally the Paper Pumpkin boxes are orange like a pumpkin but this month they are celebrating with a cool new colored box and as the note says we will be getting an extra stamp set in the April box.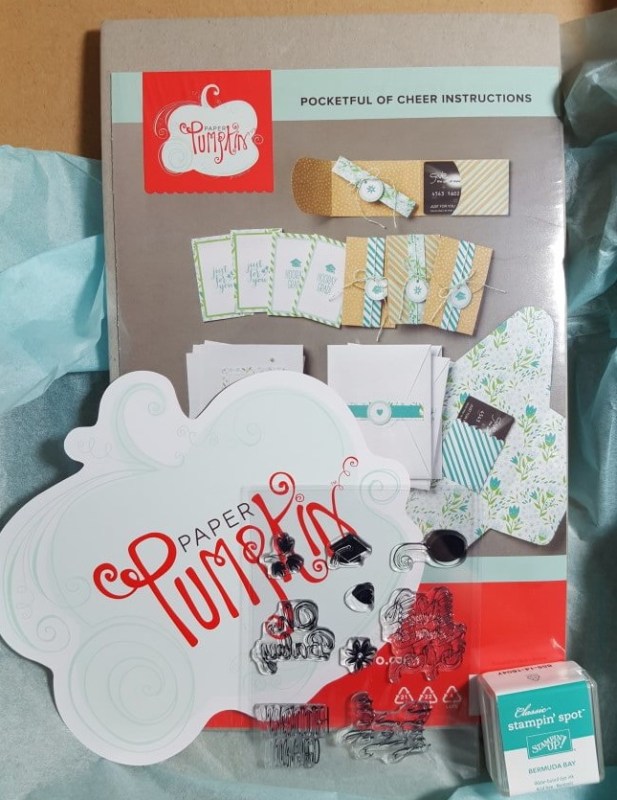 Everything in the March box.  It is hard to tell at first look since the paper supplies are all sealed up with a sheet of cardboard to keep them straight.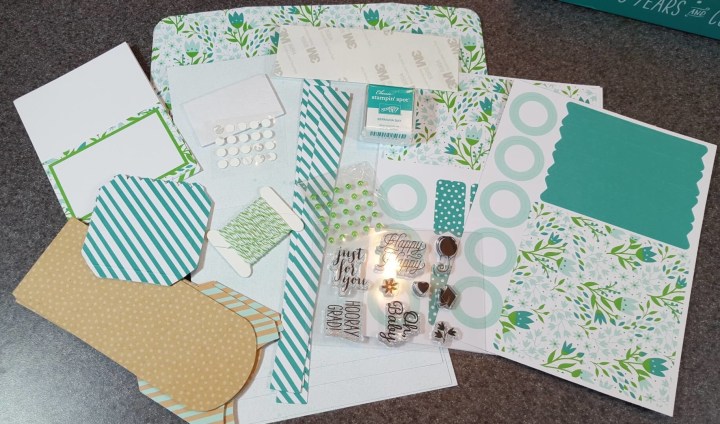 Once I opened up the package I was able to see all the products for this month.  They really coordinate with the color on the box.  That is one thing that Stampin' Up is great at and that is color coordination.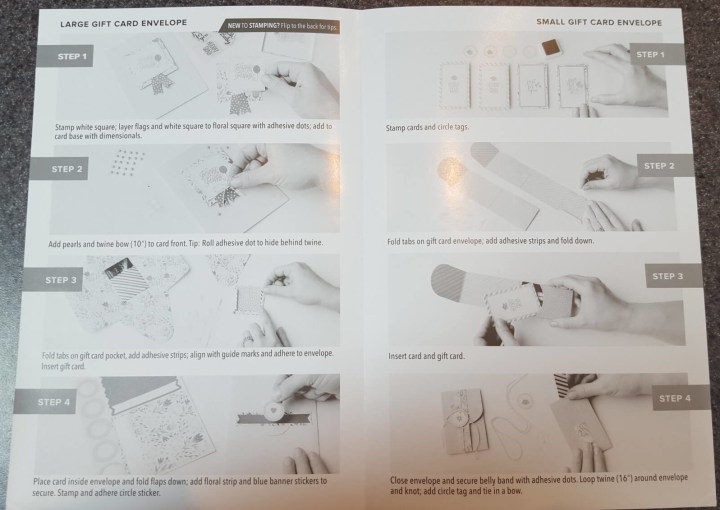 The inside of the pamphlet has step by step instructions on how to make the enclosed projects.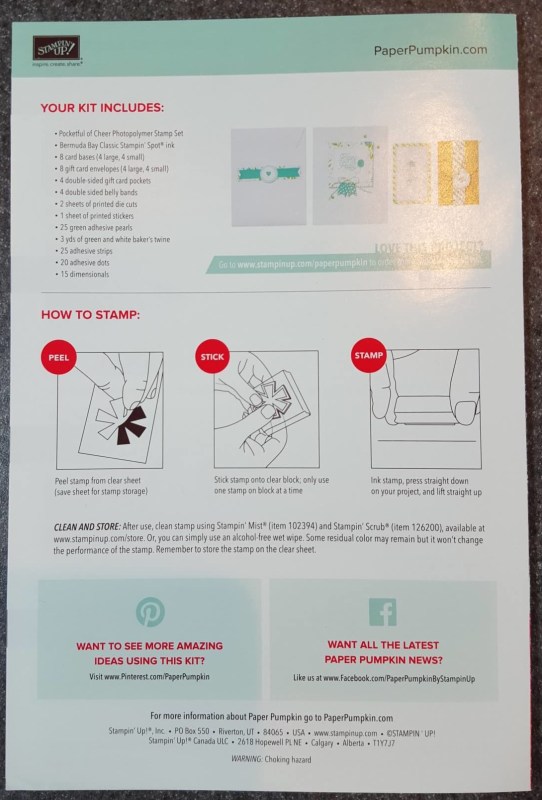 The back has a list of the included contents and a how to stamp. Don't worry if you don't own a clear stamping block since Paper Pumpkin will send you one if your first box.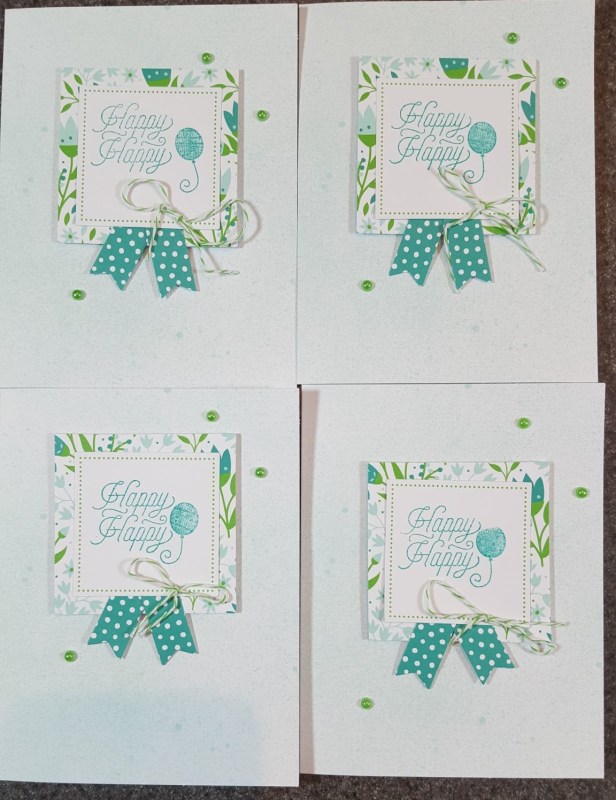 The first project was 4 birthday cards.  It is hard to tell in the pictures but the card base is kind of a whitewash look with the teal so it has some good texture to it.  I'm also not a bow maker but I did my best.
Project two was a gift card holder.  When folded over it is the same size as an envelope.  These are really cute and a fun surprise when you open what looks like a plain white envelope.  Since I don't need these right now I just prepped everything and when I get some gift cards I will pop them in and then use the pre-stamped stickers to seal up the package.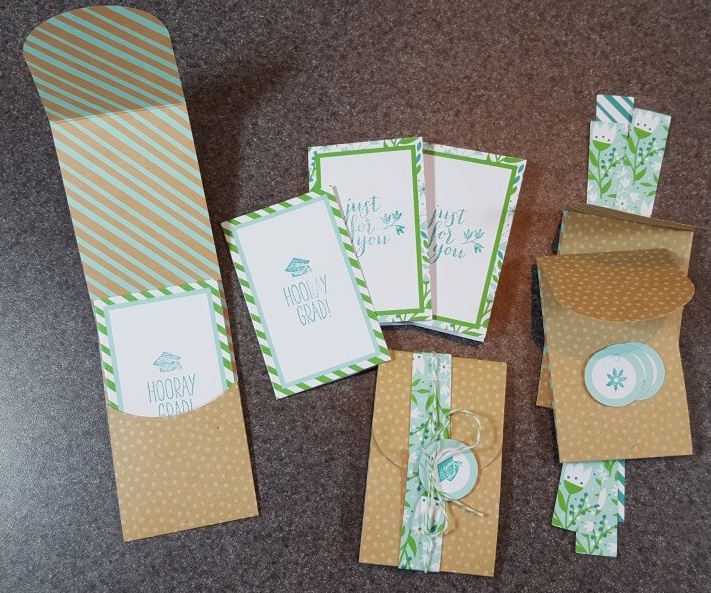 The third project this month are some more gift card holders! I do like that they sent these in time for me to get them made before graduation season comes up.  My sister is graduating college this year so I will be using most of these for her friends.  Since like the previous project I don't have the gift cards yet I just prepped all of these so that they are ready to just slip together.
This month's kit is really bright and when all together does look a bit flowery but when you do each project no one thing was too flowery for me.  I'm not a huge flower person but I know some people love flowers and won't have this same issue.  I also love that the kits send a small stampin' spot of ink and a stamp set. I actually keep all of my spots in one container and my stamps in another so that I can grab and go when I'm heading to a crop. Since the projects are so varied each month I have a nice assortment to pick from while I'm creating.
Paper Pumpkin is celebrating right now and as the note says above they are sending a free stamp set called All about Everything with a value of $17 to all subscribers by April 10th, 2016.  They are keeping the images a surprise but just the title has me excited.  It really could be anything but I love my stamps. Since the box itself is only $19.95 that really makes next month a great deal.
Visit Paper Pumpkin to subscribe or find out more!
The Subscription
:
Paper Pumpkin
The Description
: Each month a fully designed project kit arrives in a delightful box filled with stamps, ink, and paper—everything cut and ready to go so you can skip to the fun. Just think of it as creativity in a box.
The Price
: $19.95 per month