Pampered Mommy is a monthly subscription box that is made specifically for moms.  They send you a selection of bath, beauty products, accessories, and other fun essentials that are designed just for mommies.  And it comes in the cutest pink box with white lace filigree printed on it.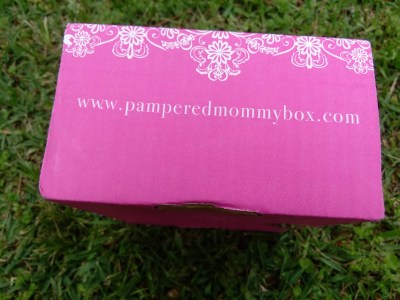 This is Pampered Mommy's  April box of wonderfulness.    The boxes are shipped out around the 20th of the month.  You can purchase your subscription one month at a time for $29.99 per month (plus shipping) or pay 3 months at a time for $89.97 and shipping is free.    They also have one time purchase options available for their past boxes for $34.99 plus shipping.  The February and March boxes were also extremely fabulous if you were considering ordering a past box.
Here's the first look in the box, all packed in white crinkly paper shreds.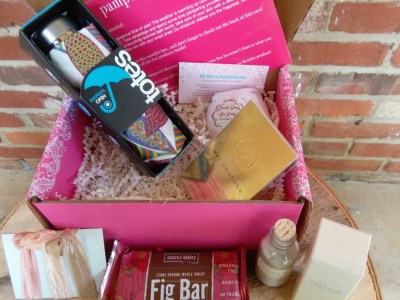 All this was packed into the box of mommy wonderfulness.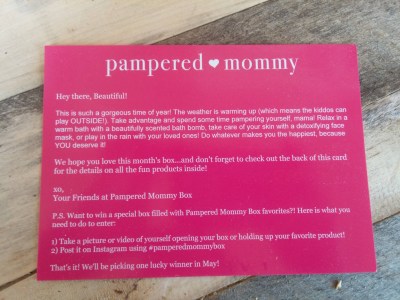 This shiny pink product description card welcomes you to the Pampered Mommy Box on the front and tells you all about the enclosed products on the back.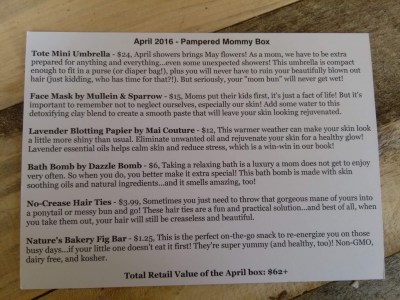 Each product is listed, described in detail and they give you the retail price!!  They even calculate the full retail price at the bottom.  This box is valued at $62+!!  Cha-ching!  At just $29.99 for the box this box is a great value, and mama needs value.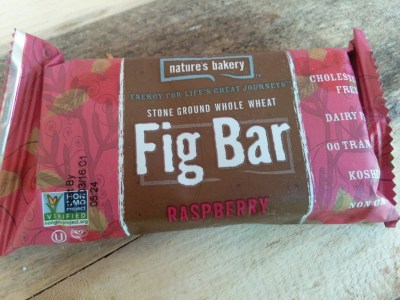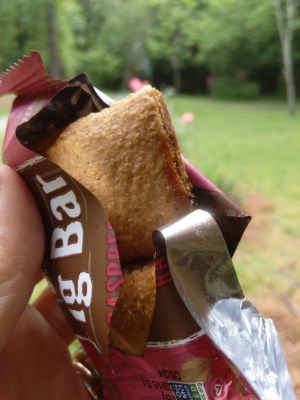 So, food first and then we talk.  That's my motto.  This bit of deliciousness, a raspberry fig bar by Nature's Bakery, was in the box.  Raspberry anything is usually not my favorite, but this was different.  It didn't taste 'healthy' at all……… it was very good.  They are however, healthy and non-GMO, dairy free, and kosher.  Retail value is $1.25.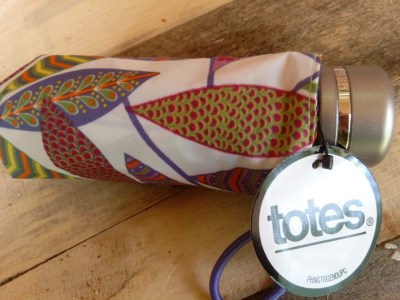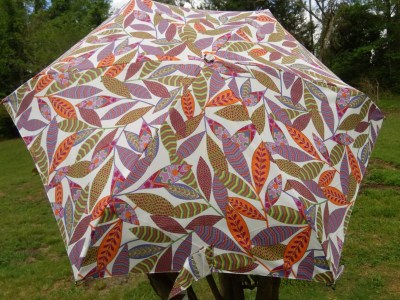 It was raining the day the Pampered Mommy Box arrived at my door.  How did they know??   An oh so cute Totes umbrella was in the box.  It's compact enough to throw in my purse and comes with a matching carrying sleeve.  I can never figure out where to store the big ones in my car, plus it's in the back and then I get wet trying to get it out.  Did you know that Totes has a limited lifetime warranty?  Their site says, " If this umbrella should prove to be defective in materials or workmanship, or fails to function properly we will gladly replace it."   The children are seriously going to have to leave this one alone.  The retail value is $24 just for this one item!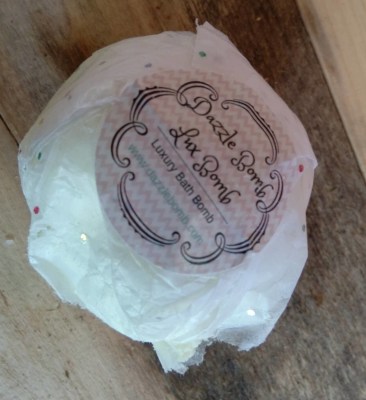 This Bath Bomb by Dazzle Bomb was in the box.   My bath bomb got slightly damaged in shipping, but was still usable.  It was made to dissolve in the bath anyway….    It smells yummy, but I have to plan ahead to have enough time in the bathroom for a full fledged bath without children.  I'm trying to schedule that now, but negotiating with a 3 year old is hard.  These are made with skin soothing oils and natural ingredients.  They retail for $6.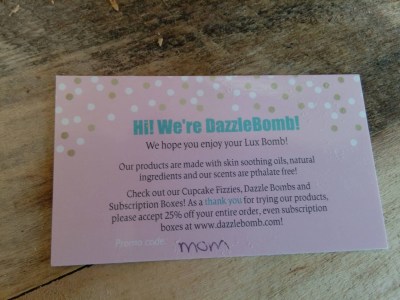 Dazzle Bomb had its own product description card with instructions for use on one side and an invitation to try their other products on the other.  Their other products include subscription boxes!!  And you can use the included promo code for 25% off of their products on those too!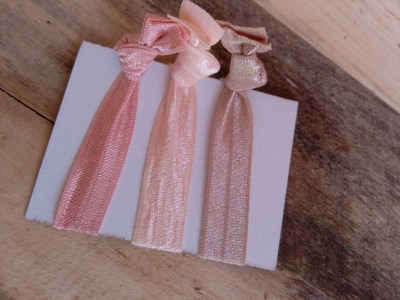 No-crease Hair Ties were in the box.  They retail for $3.99.  Three pretty champagney colors are perfect for a quick pony tail or mom bun.  I like to keep one on the gear shift of the car to grab quick when I need it.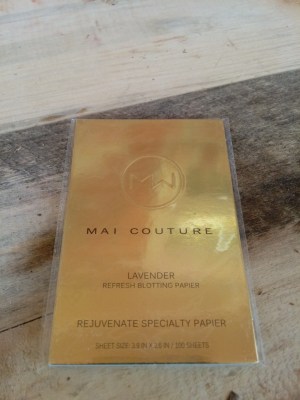 Mai Couture Lavender Refresh Blotting Papier was in the box.  These are fancy.  I felt fancy using them anyway.  Use them to gently blot your face eliminating unwanted oil and rejuvenating your skin.  They are made with lavender essential oils to calm your skin and reduce stress.  You can use them over makeup without disturbing it.  I hate shiny skin, but I don't like to wear much make-up, so these are perfect.  No shine without adding powder to my nose.   I'm throwing these in my purse with the umbrella. They retail for $12.
Isn't this bottle the cutest thing?  The powder is a Face Mask by Mullein & Sparrow.  You add water to the detoxifying clay blend to create a smooth paste, apply it to the face and neck, allow to dry and then gently remove with warm water.  Instructions say to use it weekly to refine pores and gently exfoliate.  The key ingredients are Kaolin Clay, Rhassoul Clay, Sea Clay, Bentonite Clay, and Rose Powder.  It has a very gently rose scent and went on very smoothly.  My skin felt tighter and smoother.  Retail value is $15.
Pampered Mommy Subscription Box and I are BFFs forever!! (Can you be BFF with a subscription box?)  You can't beat the value.  There is $62+ of items in this box for $29.99!  And, it is all stuff this mom needed and just didn't know it yet.
Visit Pampered Mommy Box to subscribe or find out more! Save $5 on your first box! Use coupon code  HELLO5OFF.
The Subscription
:
Pampered Mommy Box
The Description
: The contents of the box are a surprise – each box will include a variety of carefully selected bath and beauty products, accessories, and other fun essentials that are perfect for mommies. Items could range from face and body lotions, hair products, nail polish, makeup, a headband, a scarf or a tumbler – and so much more.
The Price
: $29.99 per month