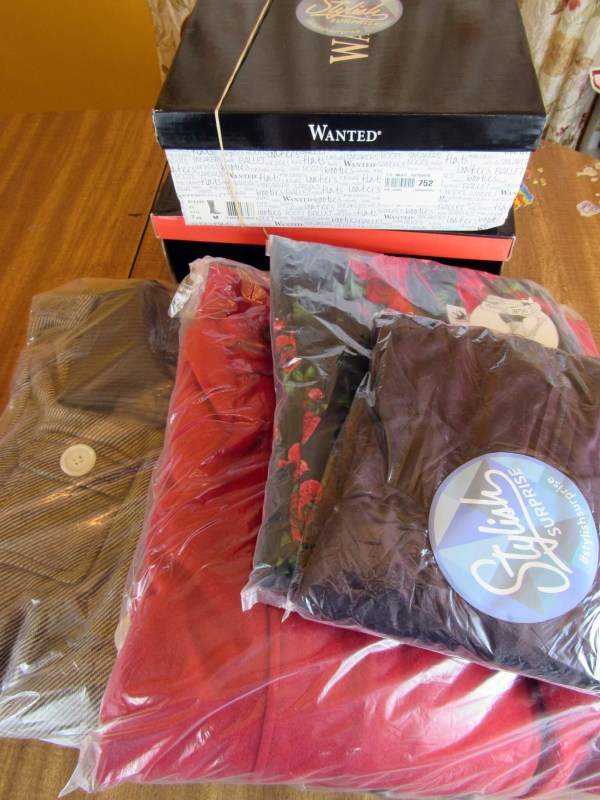 Time to see what came in my March purchase of the Modcloth Stylish Surprise! Sometimes I receive items I love and sometimes I receive items that are quite the surprise.  I went with size XL for apparel and dresses to ensure that they will fit my chest area.
ModCloth Stylish Surprise Dresses – $20 (XS-4X)
ModCloth Stylish Surprise Apparel – $20 (XS-4X)
ModCloth Stylish Surprise Shoes – $15 (5.5-10)
You can buy as many as you want as long as they're in stock – you select the size, and there's free shipping at $75, so most people buy multiples.
I had my husband take pictures today despite my roots showing because the sun was out! My husband doesn't notice little details that need to be corrected. All he does is take a photo.  The items are a surprise and may or may not fit. Enough disclaimers! Time for pictures.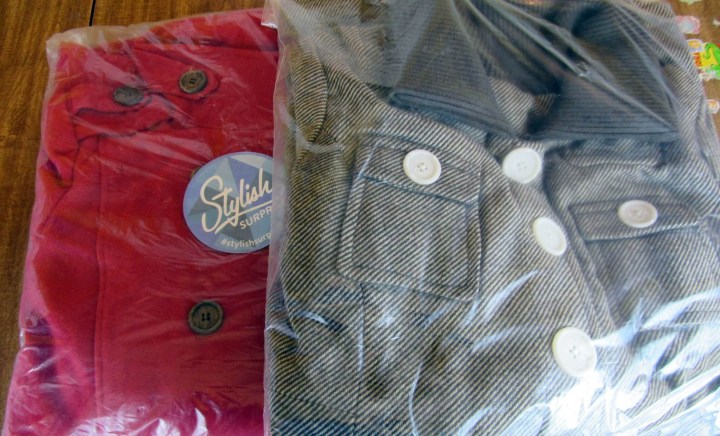 I loved Brandy's Coat from the January's ModCloth Stylish Surprise Sale and was hoping to receive a coat. I received two! I was completely surprised.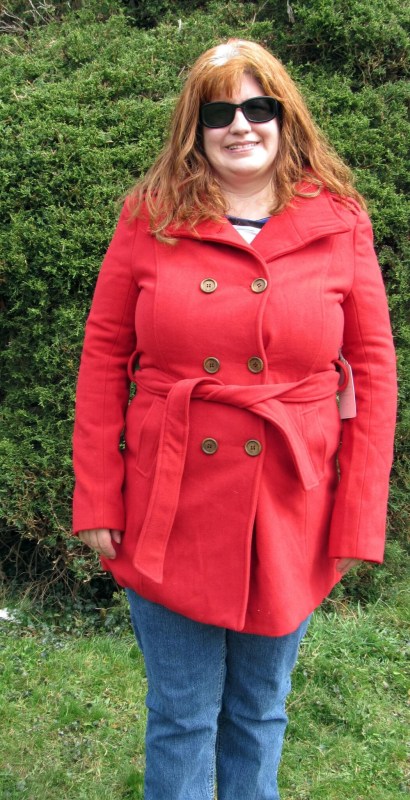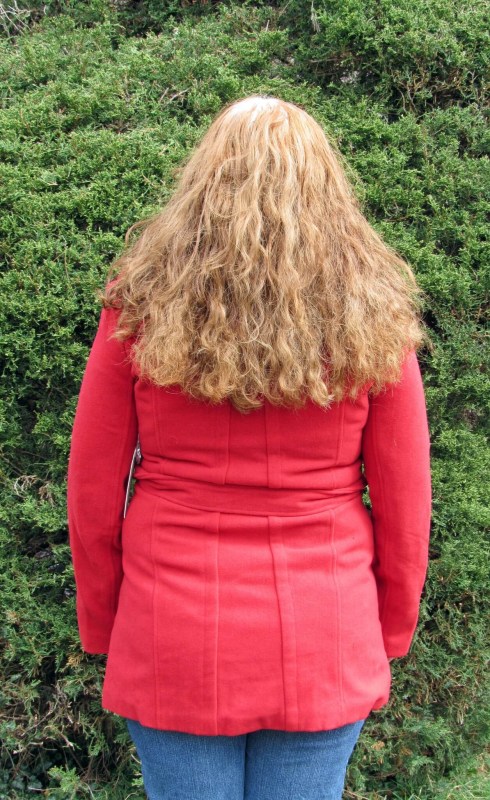 The Ci Sono Red Coat is a blend of 15% wool and 85% polyester. The liner is 100% polyester.  There is snow on the ground where the sun hasn't hit yet, and the wind was whipping all around me. The coat felt warm and cozy. I am disappointed that it did not fit me. I could barely button it over my chest, and it was tight on my upper arms.
[From Brandy:
I had to text Anna about those roots!  Although I honestly like the look with the Hell Bunny dress. Whoops, spoiler alert! Let Anna know in the comments if you want to see her magical hair transformation on the blog! My vote is yes! Anna & I both use Madison Reed for our glitters!]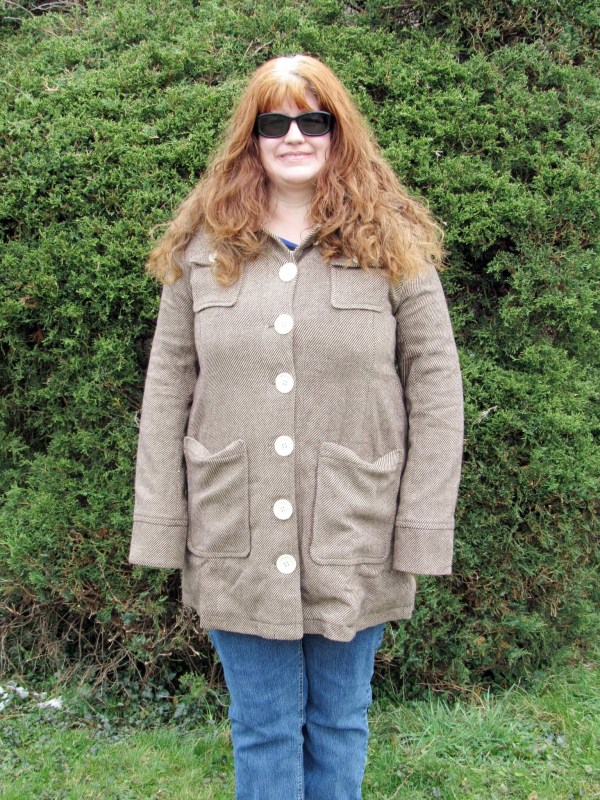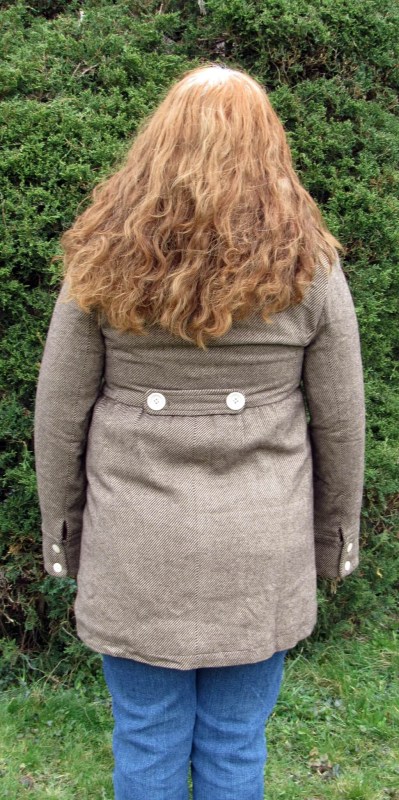 I'm not sure what to think of the Love Dove Coat. The coat fabric is 5% wool and 95% polyester. The lining is 95% cotton and 5% spandex. I had no problems buttoning the coat across my chest. I am going to use the coat at the farm because it is machine washable. The two coats are a great example of how things can fit when ordering the ModCloth Stylish Surprise. The red coat is tight across the chest while the tan coat is loose around the stomach area.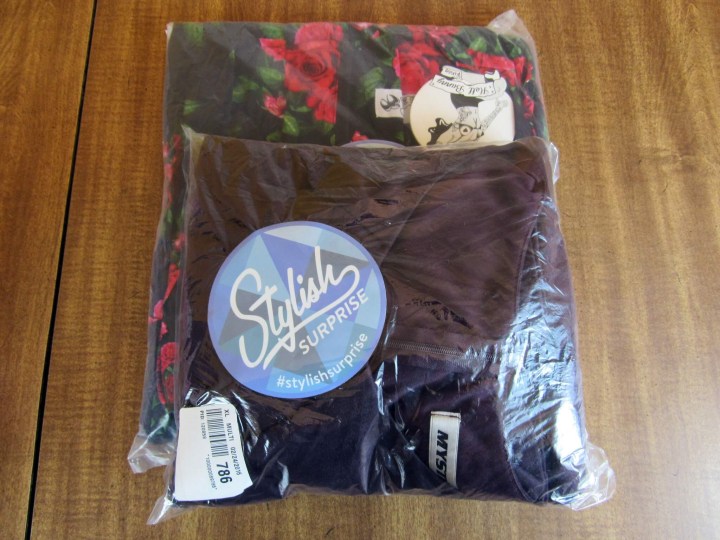 Will I fare better with the dresses?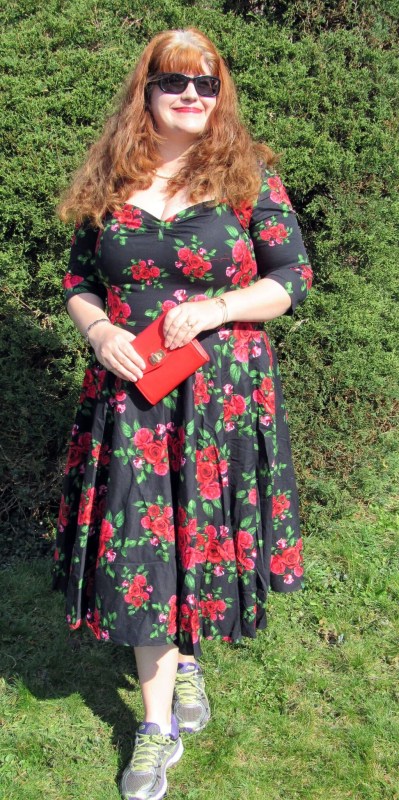 [Brandy: See, I told you, it's rad!]
Do I look like a Hell Bunny Vixen with my sneakers? The yard was muddy from the snow melting this morning so no shoes in this post. The Hell Bunny Vixen Night Garden Eternity Dress ($95.00) comes with a belt that needed another couple inches of material to fit me. I do think the dress has possibilities if I lose a little weight. It has been a frustrating winter activity-wise because of my osteoarthritis.
I decided to have a little fun with the accessories. The headband that you can barely see is from the Popsugar November 2015 Box. The bracelet on your left is from the Luxor March 2016 Box. The bracelet on your right is 'Lovely Heart Bracelet' offered as a Valentine's Day 2015 special by Little Lace Box.  Lastly, I am holding the Brandon Blackwood Red Clutch from the Luxor 2016 February Love & Spoil Box.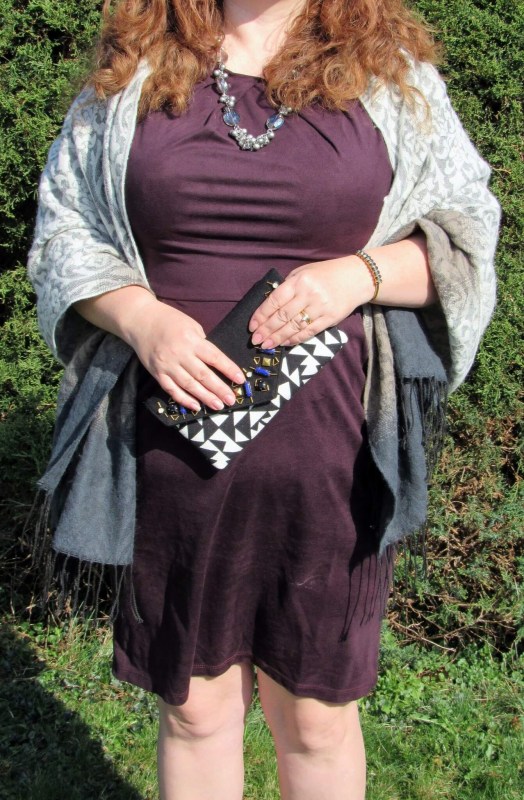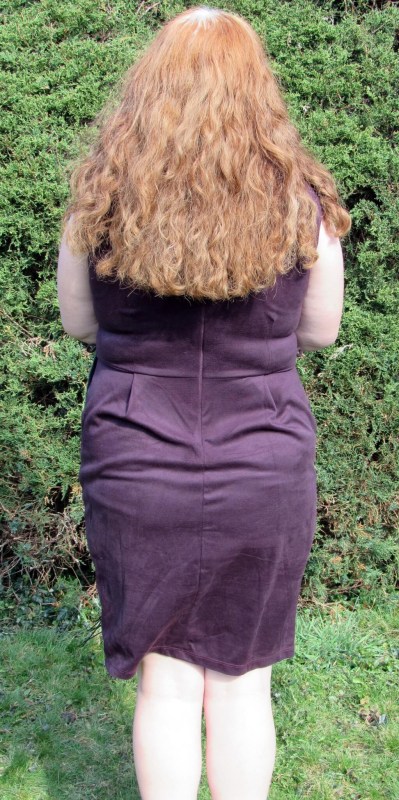 The Mystic Sleeveless Dress was easy to put on and was comfortable to wear. I thought that this dress had possibilities until I went outside. The mirror lied to me! There's no wind by my mirror blowing the dress against me, leaving every picture looking quite unflattering with the sun lighting my face strangely. We won't even discuss what the back looks like without the wrap! I still like the dress. It is a warm sleeveless dress and is a great purple color.
I used a few items from subscription boxes to accessorize the dress. The wrap is from the Artistry Gifts December 2015 box. The bracelet is from the Popsugar Must Have Holiday for Her 2015 Box. The purse is from the October 2014 Little Lace Box.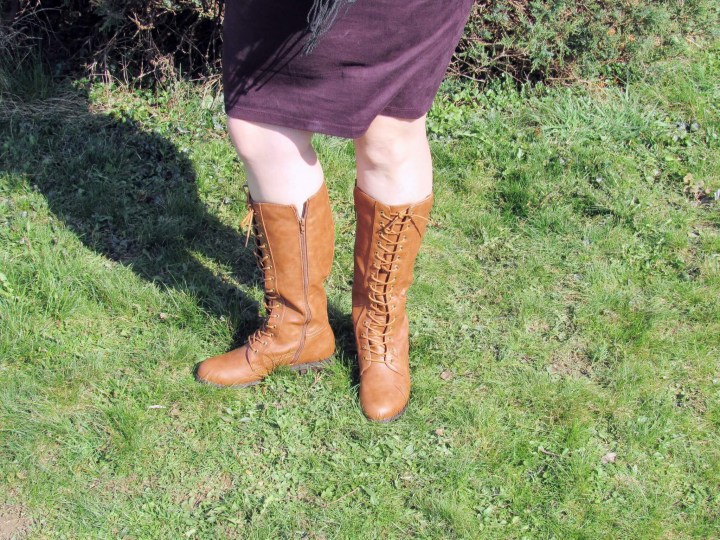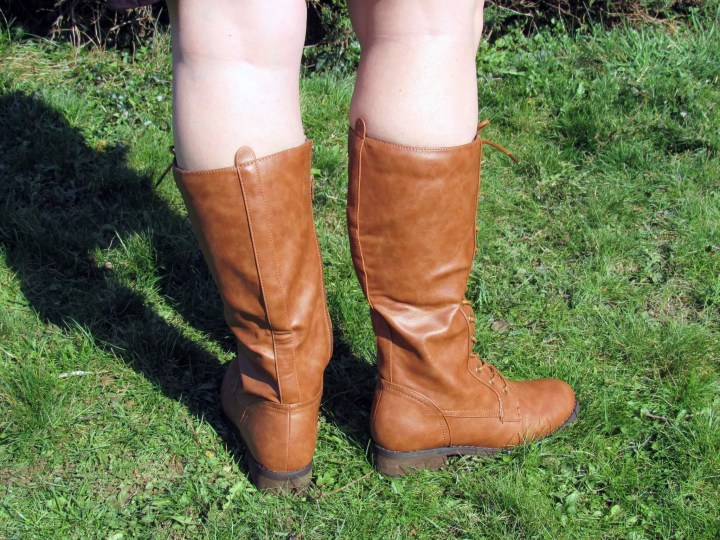 The Adriana Lace Boots in Rust were easy to put on and felt comfortable while walking. I had a hard time walking down the stairs with them because there is no ankle support. I do not know if it is because I was afraid to zip the boots up that last quarter inch. They do look pretty.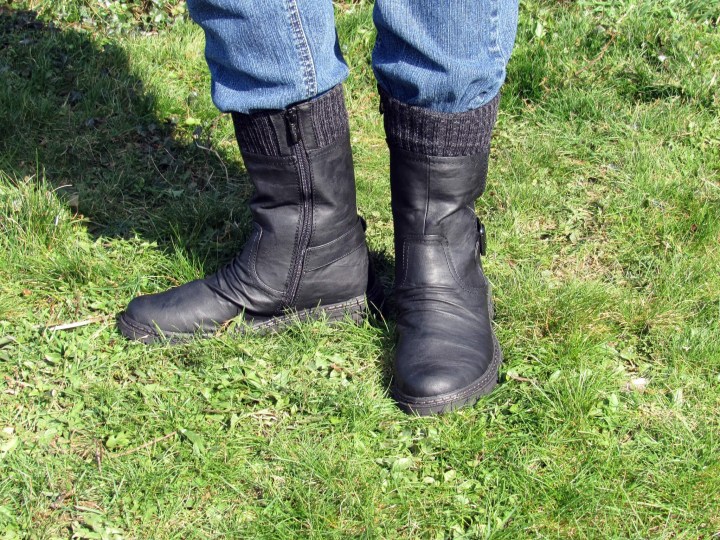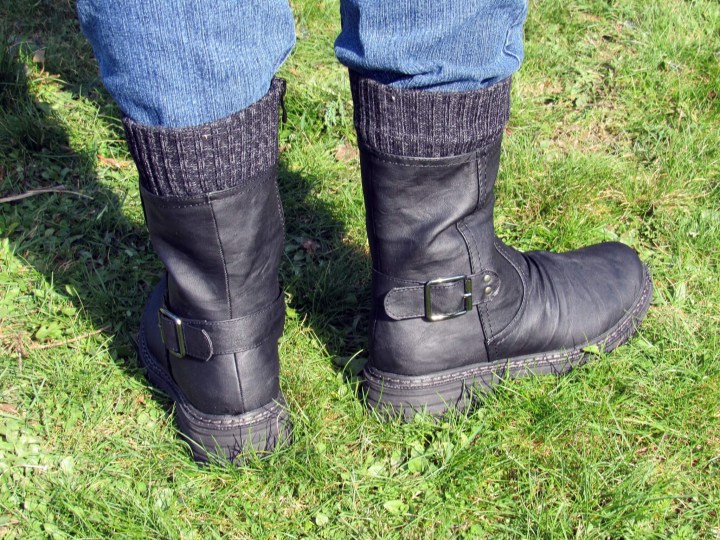 The Wanted Black Boots fit over my jeans with ease! They are comfy and will be used in the winter. I am happy with them.
ModCloth Stylish Surprise is either hit or miss.Now that the weather is warming up, or maybe not since it did snow, I should be more active. I do think everything will fit much better once fall arrives.  I am almost disappointed that I did not receive another wedding renewal dress. I am not feeling their prices and will order only one or two items the next time the sale rolls around.
What do you think of my ModCloth Stylish Surprise purchase?  What did you receive? Share below!
Visit ModCloth Stylish Surprise to subscribe or find out more!
The Subscription
:
ModCloth Stylish Surprise
The Description
: An occasionally available mystery grab bag of unique fashion finds from ModCloth! Not a subscription – you must purchase each time.
The Price
: $10.00 per box