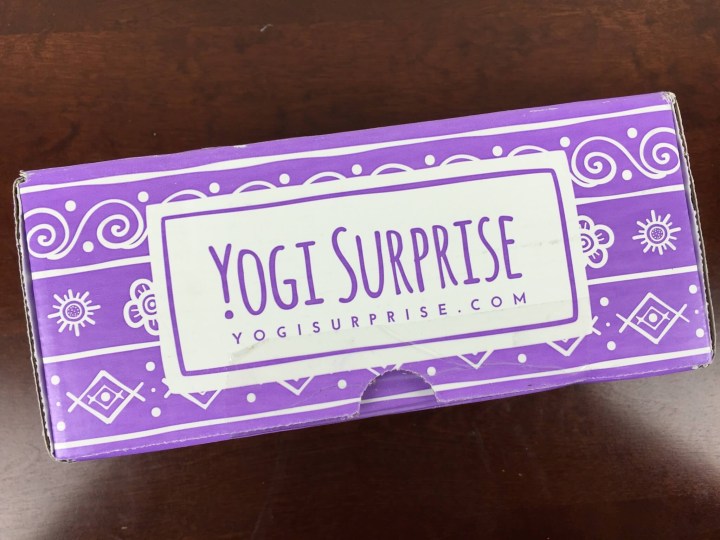 Yogi Surprise is a subscription box for a healthy centered lifestyle. Each monthly box contains 6-8 products picked by experienced yogis to complement your yoga practice and your life!
Love the fun art on the box and the purple!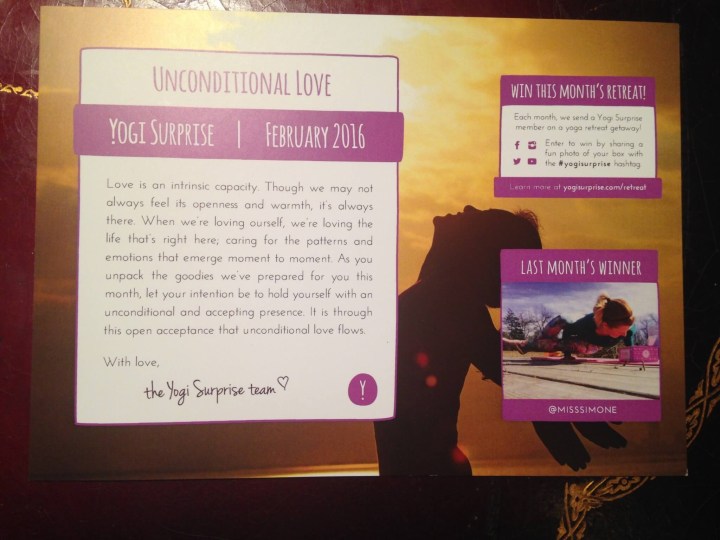 The March 2016 theme is "Creating Space."  This month is focused on creating space for our own development.  The notion of Spring cleaning suggests not only cleaning our homes but cleaning our minds from mental clutter and reorganizing thought patterns.  The items in this months box are meant to help cultivate an expansive awareness and a greater mental space for growth.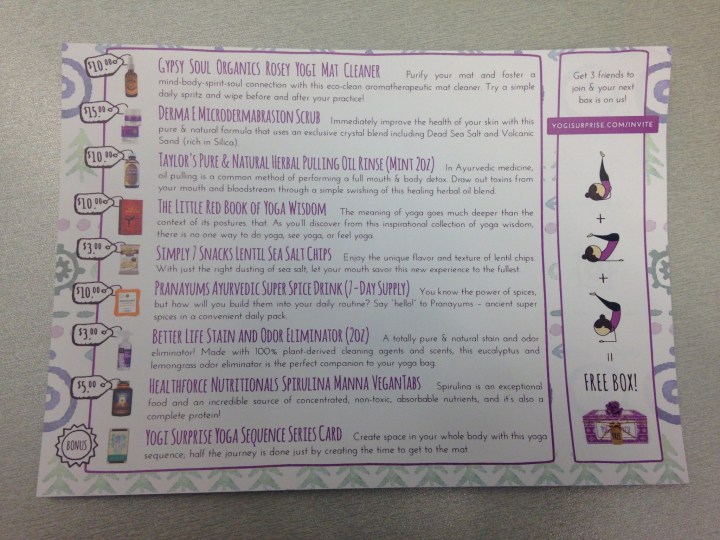 The information card gives details on each item and how they might be used!
All the items in the March 2016 Yogi Surprise box.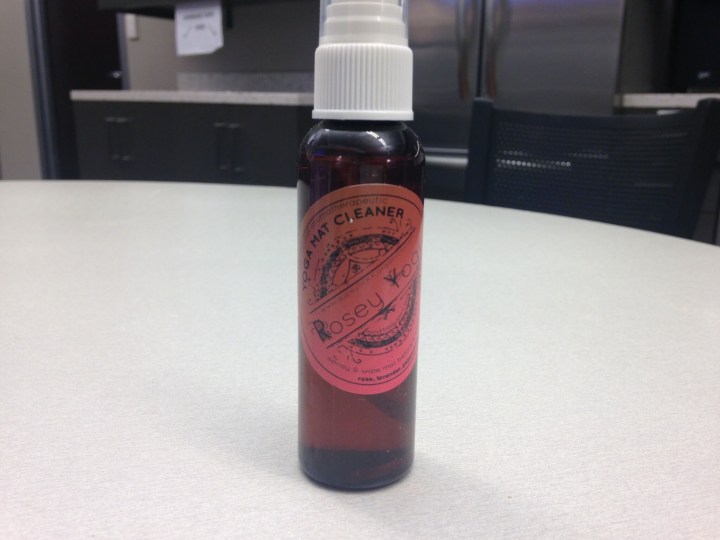 Gypsy Soul Organics Rosey Yogi Mat Cleaner ($10)  This eco-clean aromatherapeutic mat cleaner is made with rose, lavender, peppermint, vinegar and water.  It smells really good, and is a really nice addition to my practice.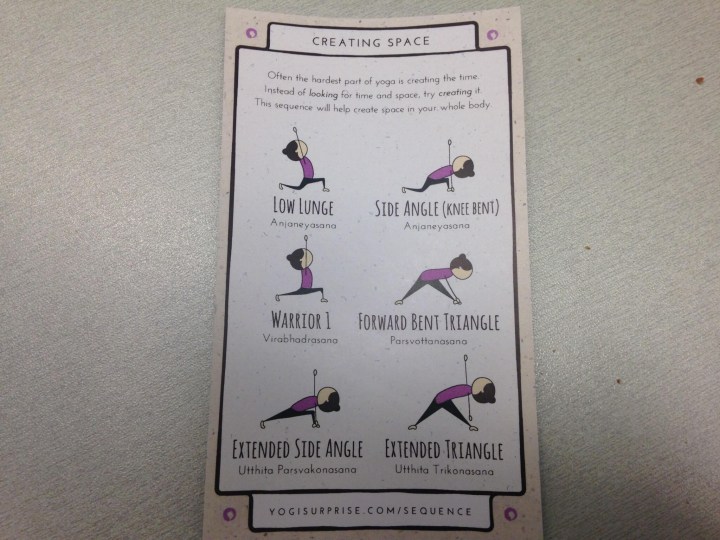 Yogi Surprise Yoga Sequence Series Card – This is a really nice bonus!  Yogi Surprise includes a new sequence monthly to match the theme. This is a great way to try a new move or rediscover a new favorite.  It gives both the English and the Sanskrit names of the postures as well.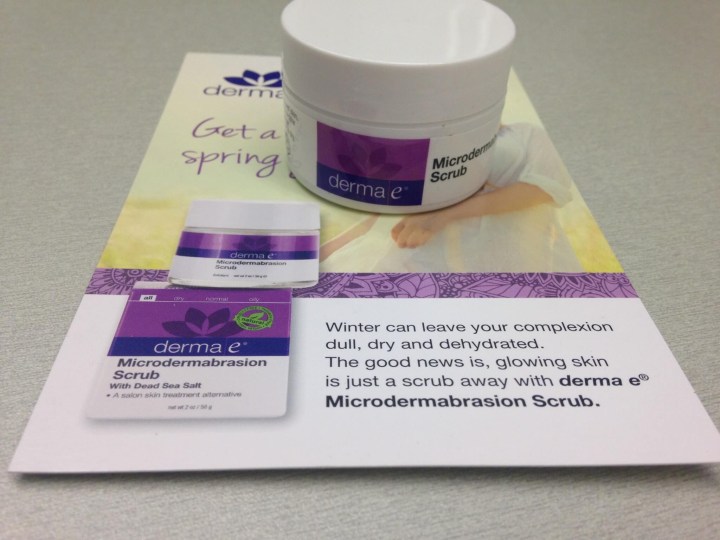 Derma E Microdermabrasion Scrub ($15)  This pure and natural formula uses an exclusive crystal blend including Dead Sea Salt and Volcanic Sand, which is rich in Silica.  It comes with a 20%off coupon as well!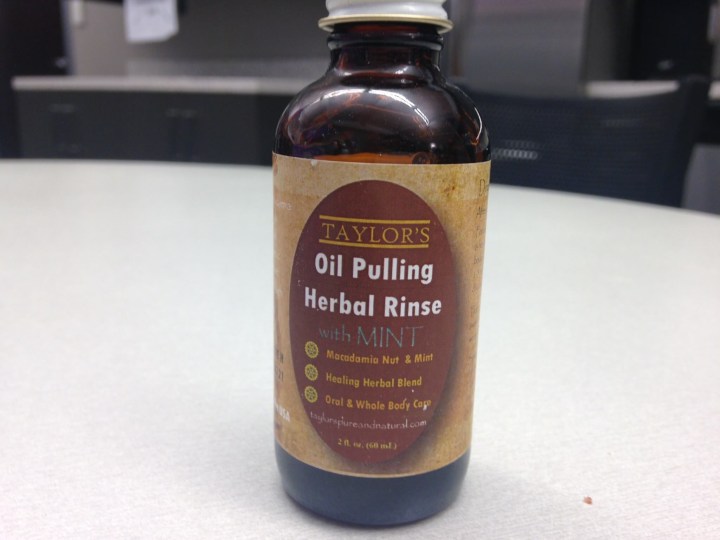 Taylor's Pure & Natural Herbal Pulling Oil Rinse (Mint 2oz) ($10) This put a smile on my face and reminded me of India.  Oil pulling is a common Ayurvedic method of detoxifying the mouth and body.  Swishing it draws the toxins from the mouth and the bloodstream.  It is made from raw, virgin macadamia nut oil, healing and cleansing herbal blend, therapeutic grade peppermint essential oils and High Vibes Healing.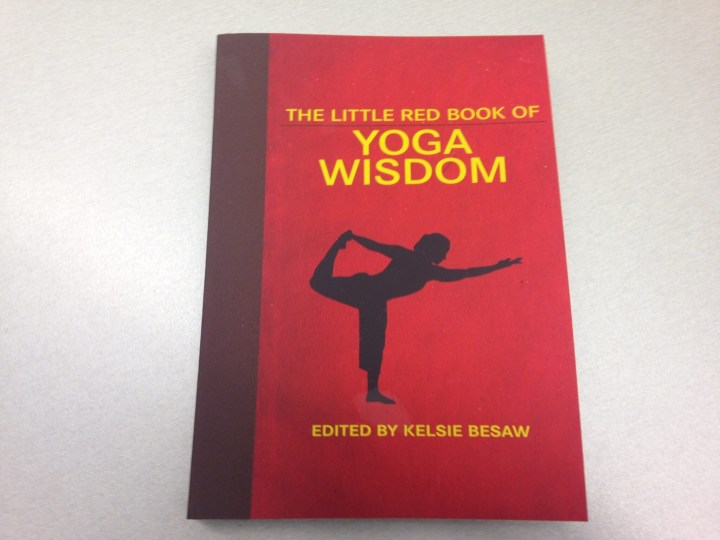 The Little Red Book of Yoga Wisdom  ($10)  This is a great little book to bring on the subway or put in your purse and read in short bits.  It's not only informative but inspirational.
Simply 7 Snacks Lentil Sea Salt Chips ($3).  These Gluten Free Certified, Non-GMO Project Verified, vegetarian, vegan and kosher chips have no trans fat, no artificial colors or flavors, no preservatives and contain 40% less fat than potato chips.  They are delicious!
Pranayums Ayurvedic Super Spice Drink (7 Day Supply) ($10)  Each packet of Pranayums contains a special blend of organic turmeric, organic black pepper, organic cardamom, organic ginger, organic cinnamon, organic licorice root and other spices.  Each packet is sugar-free, sodium-free, vegan and uses organic ingredients.  The flavor is delicious and is perfect to put in your water when you want a little flavor.

Better Life Stain And Odor Eliminator (2oz) ($3):  This totally pure and natural stain and odor eliminator is made from 100% plant derived cleaning agents and scents.  This one is Eucalyptus and Lemongrass.  Its a good addition to your home, especially if you have pets!  It also comes with a $1 off coupon.
Healthforce Nutritionals Spirulina Manna Vegan Tabs ($5):  Spirulina is an exceptional source of concentrated, non-toxic protein, amino acids, vitamins, minerals, trace elements, enzymes, chlorophyll, phytonutrients and more.  I love spirulina!
Overall, this was an eclectic box but interestingly enough, the items do fit in with the theme.  The value for this month was around $66!
Visit Yogi Surprise to subscribe or find out more! Take 15% off your membership for life! Use coupon code  HELLOYOGI.
The Subscription
:
Yogi Surprise
The Description
: Receive a box full of Yoga inspired goodies. Yogi Surprise is the perfect complement to your healthy lifestyle. Each box is packed with love and positive intention, e, ranging from handcrafted yoga accessories to decadent superfood treats.
The Price
: $44.95 per month