Luxily Boutique Box is a bi-monthly subscription box that is specifically curated and designed for women who only want the best. Each item is full-sized and are the best samples in fashion, home, and beauty. It cost $49.95 per month, but shipping will always be free.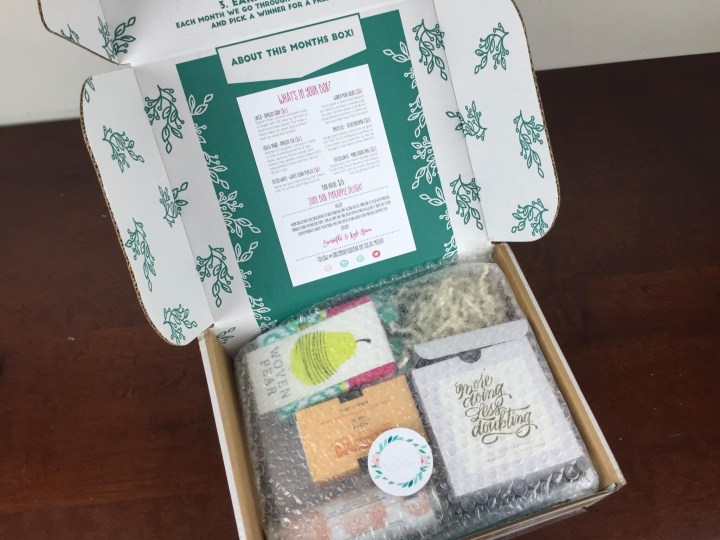 The box is beautifully designed and is packed neatly in a bubble wrap.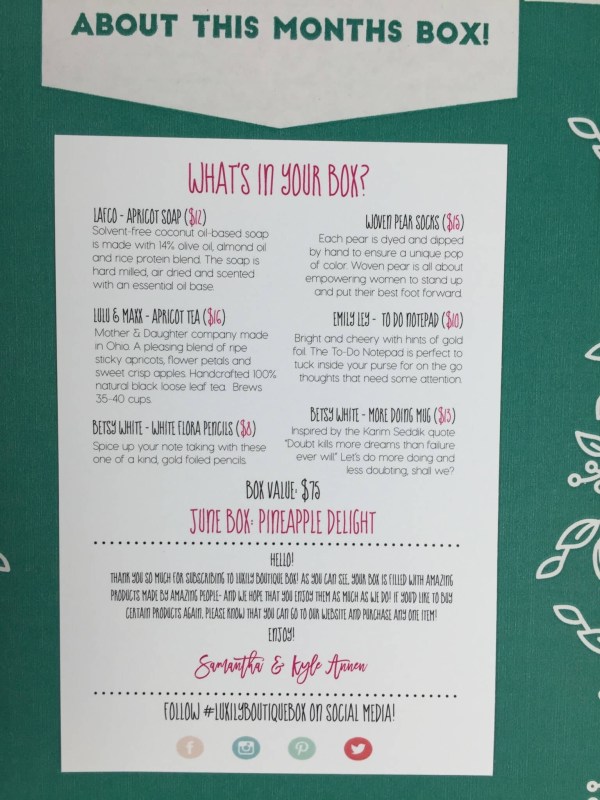 The information about the contents inside is printed inside the box. The theme for the next box is also written here. OBVIOUSLY I'm excited about the June Box – Pineapple Delight!
I loved the look of this box when I opened it up!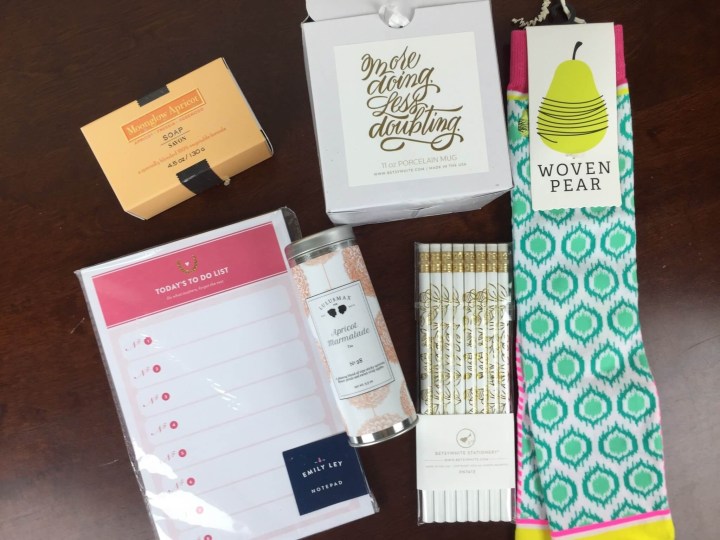 Everything inside the box!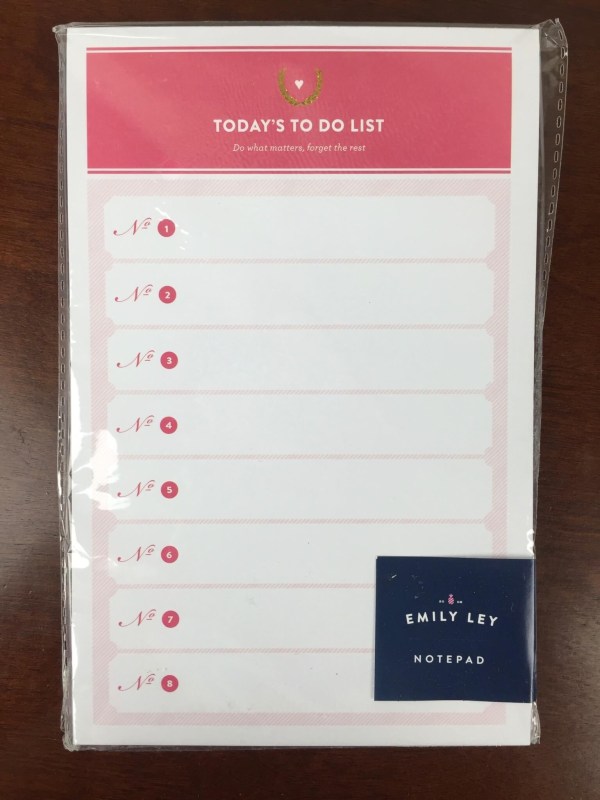 Emily Ley To-Do Notepad ($10) I absolutely LOVE this to-do list! I tend to think of what big things I can accomplish in a day (or what absolutely needs to get done), and if I can achieve 8 things in a day, I think that's pretty awesome. This notepad just made it to the top of my to-do list pile!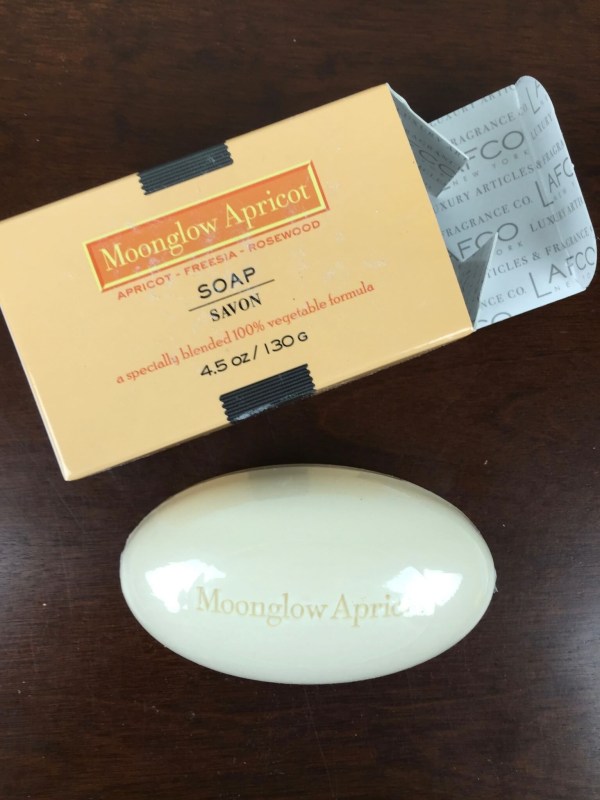 LAFCO Moonglow Apricot Soap ($12) LAFCO soaps are amazing! They smell fantastic and are of extremely high quality. Moonglow Apricot is vegan and cruelty free and apricot-scented with touches of lychee and white tea. It's a coconut oil-based soap made with 14% olive oil, almond oil and rice protein, so it's extra moisturizing. This is a luxury soap!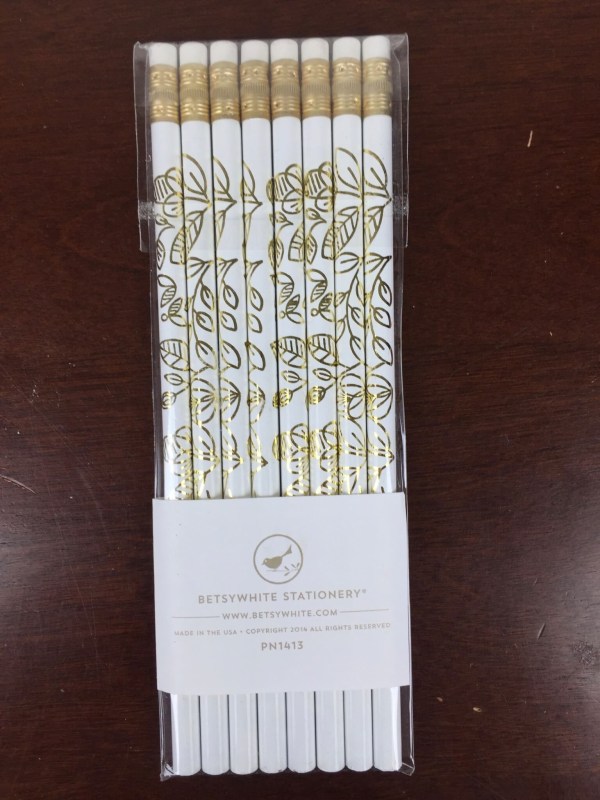 BetsyWhite Stationery White Flora Pencils ($8) Foil stamped pencils are essential for a chic put together desk! I will put them in the mug and probably have these in my new kitchen to add a cute touch to our command center area!
BetsyWhite Stationery More Doing Mug ($13)  Inspired by the Karim Seddik quote "Doubt kills more dreams than failure ever will." Or perhaps the classy way of saying Just Do It? I love the script – I wish I was capable of it. Also of note – it's on both sides of the mug, which makes me happy.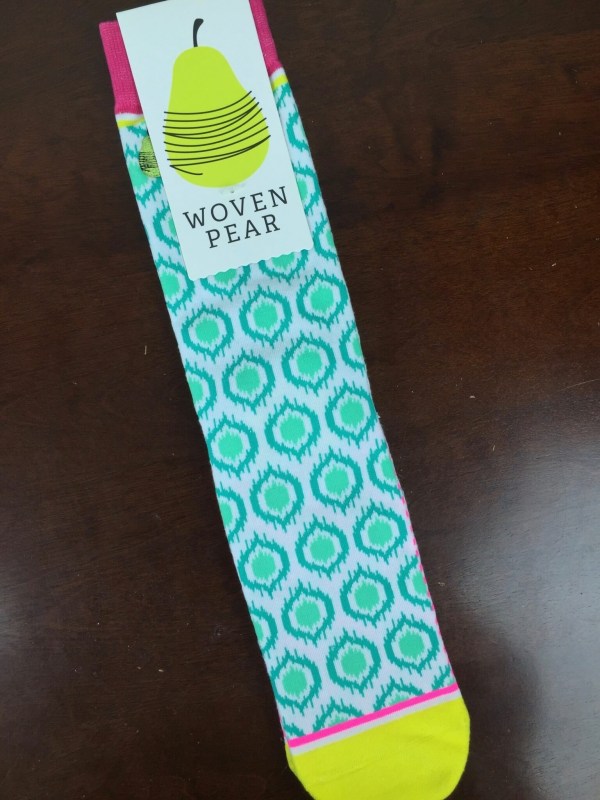 Woven Pear Socks IKAT Stand It ($15) These are SUPER fun socks! I just discovered Woven Pear last week, they have their own subscription (find it in the directory here). These socks have extra padding in the heel and toe, and I admit, are all girl! I love them!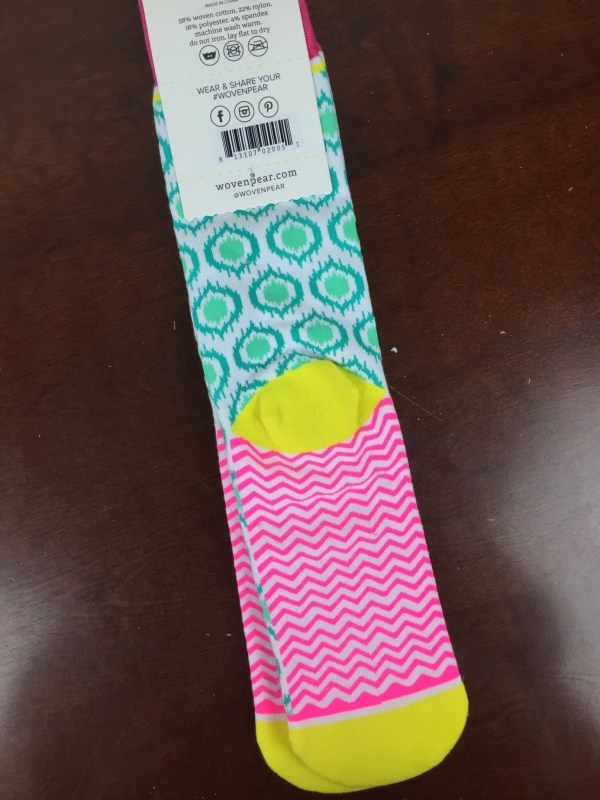 The soles have a different zig-zag print! These are really fun socks!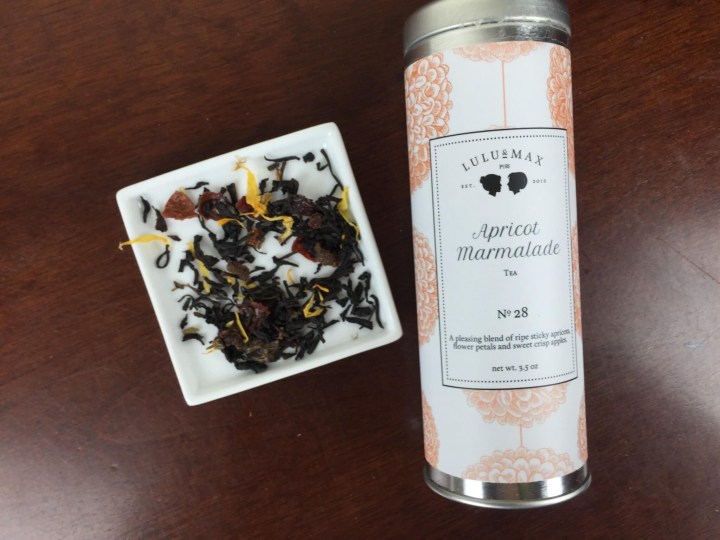 Lulu & Max Apricot Marmalade Tea ($16) Handcrafted 100% natural black loose leaf tea with ripe sticky apricots, flower petals and sweet crisp apples. I'm not a tea drinker but I thought this tea was super pretty, and I definitely nibbled on a few fruit pieces, which were fresh and tasty!
This is a lovely first box from Luxily – and it feels like a lovely gift had been selected and sent on. I liked the packaging and the style/design of all the items – I think this box was really curated with care, plus it had a value of about $74, which is really great for this kind of box, which often doesn't exceed the price you paid for it. June can't come fast enough, you know I love Pineapples!
Visit Luxily Boutique Box to subscribe or find out more! Save $20 on your first box! Use coupon code  LuxilyFounders20.
The Subscription
:
Luxily Boutique Box
The Description
: Carefully curated boxes are sent to your door every other month with the best in small batch products. They are a surprise waiting for you to enjoy.
The Price
: $49.95 every other month