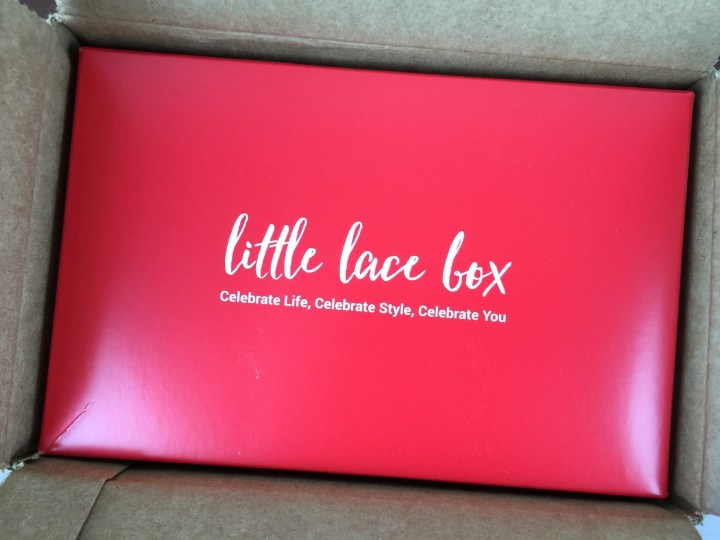 Little Lace Box is a fun and unique bimonthly subscription box for women.  Every box is curated around a unique theme and contains beauty, lifestyle, and home products that you will love! It's one of my favorite boxes because it's so themed – it's like getting an experience in a box. I feel challenged to live up to the expectations of my LLB boxes, if that makes any sense. They recently started up Serendipity by LLB, meant to come in the interstitial months, which is now available for $10 bimonthly. Also… Serendipity by LLB will open for sales on Friday at 5:00 PM for the May box!!!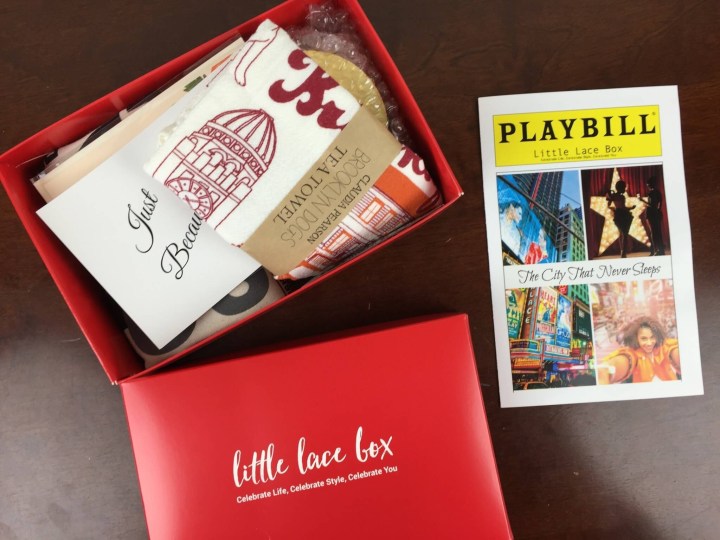 Little Lace Box is having a great deal on their subscriptions! Save $15 on 6 months of LLB, $25 on annual, and $5 on a single box.
Subscribers will save an Additional $15 off the discounted six-month subscription and an additional $20 off the twelve month discounted subscription with these codes
Save $15 on an 6 month subscription (3 boxes). Use coupon code  HELLO15.

Save $20 on an annual subscription (6 boxes). Use coupon code  HELLO30.
The cost of the sale & the codes combined for an annual subscription is $37.49 per box!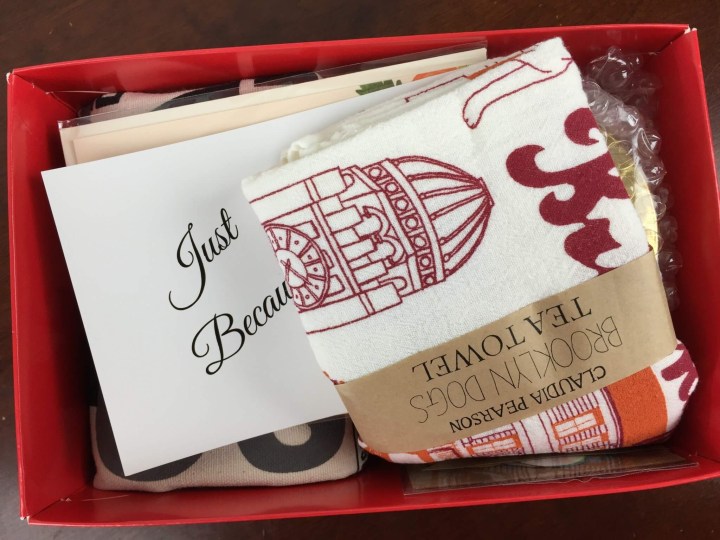 I really love the crisp and clean new look for this subscription. I think the new branding is nice and modern.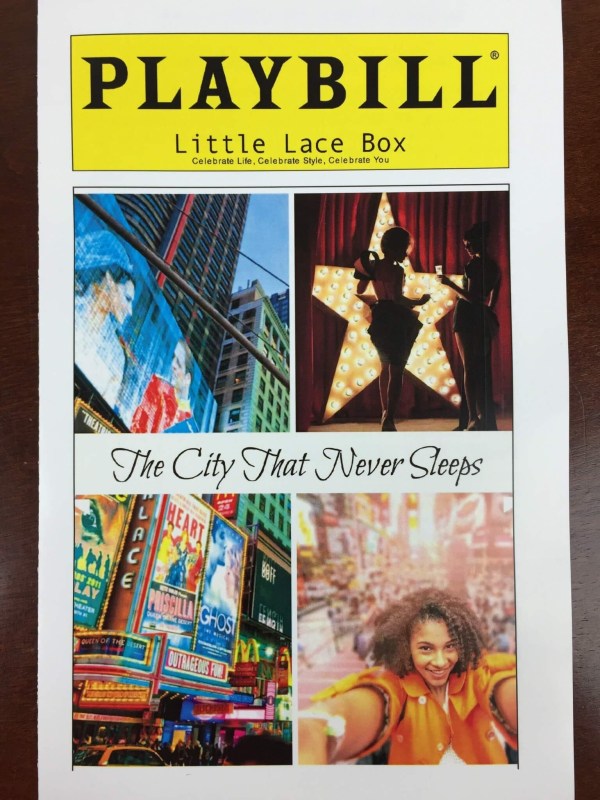 The theme for the April box was Step, kick, kick, leap, kick, touch celebrating NYC!
The booklet gives the details on all of the items.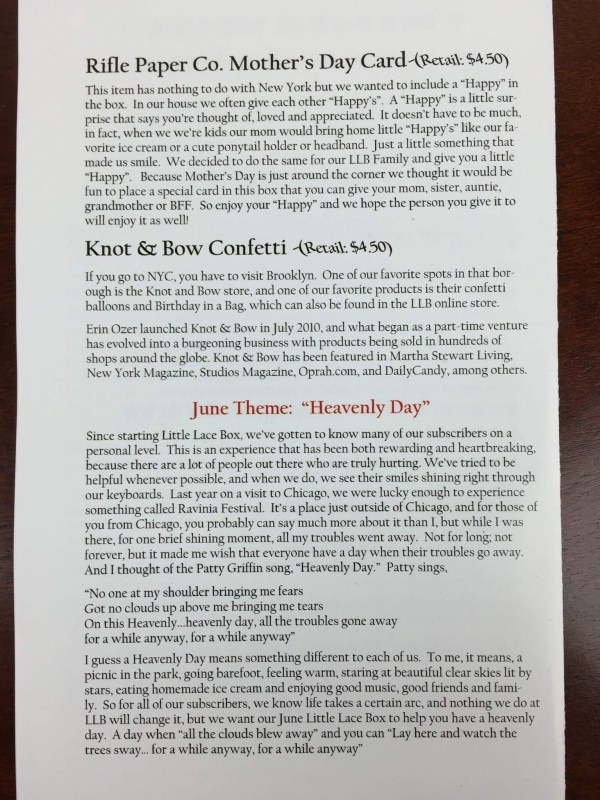 And the theme for June – Heavenly Day
Since starting Little Lace Box, we've gotten to know many of our subscribers on a personal level. This is an experience that has been both rewarding and heartbreaking, because there are a lot of people out there who are truly hurting.  We've tried to be helpful whenever possible, and when we do, we see their smiles shining right through our keyboards. Last year on a visit to Chicago, we were lucky enough to experience something called Ravinia Festival. It's a place just outside of Chicago, and for those of you from Chicago, you probably can say much more about it than I, but while I was there, for one brief shining moment, all my troubles went away.  Not for long; not forever, not it made me wish that everyone have a day when their troubles go away. And I thought of the Patty Griffin song, "Heavenly Day." Patty sings, 
"No one at my should bringing me fears
Got no clouds up above bringing me tears
On this Heavenly..heavenly day, all the troubles gone away
for a while anyway, for a while anyway"
I guess a Heavenly Day means something different to each of us. To me, it means, a picnic in the park, going barefoot, feeling warm, staring at beautiful clear skies lit by stars, eating homemade ice cream and enjoying good music, good friends and family.  So for all of our subscribers, we know life takes a certain arc, and nothing we do at LLB will chance it, but we want our June Little Lace Box to help you have a heavenly day. A day when "all the clouds blew away" and you can "Lay here and watch the trees sway…for a while anyway, for a while anyway."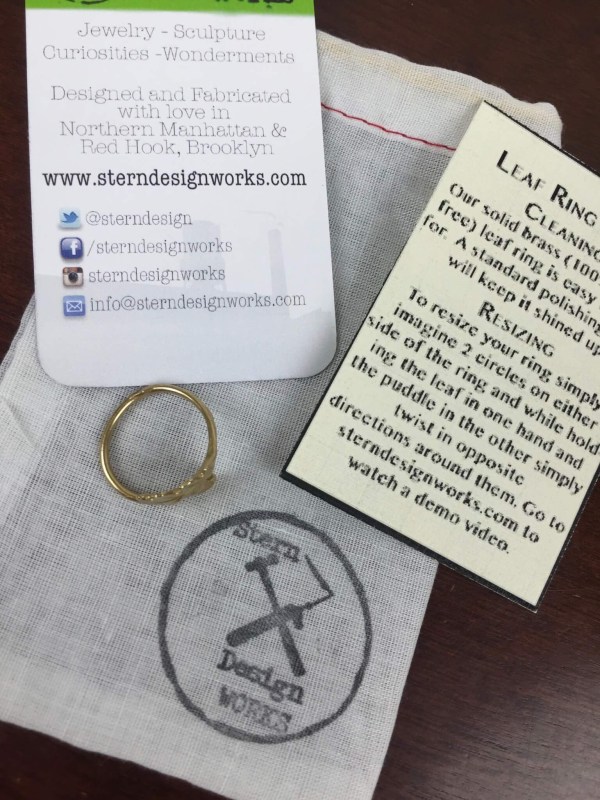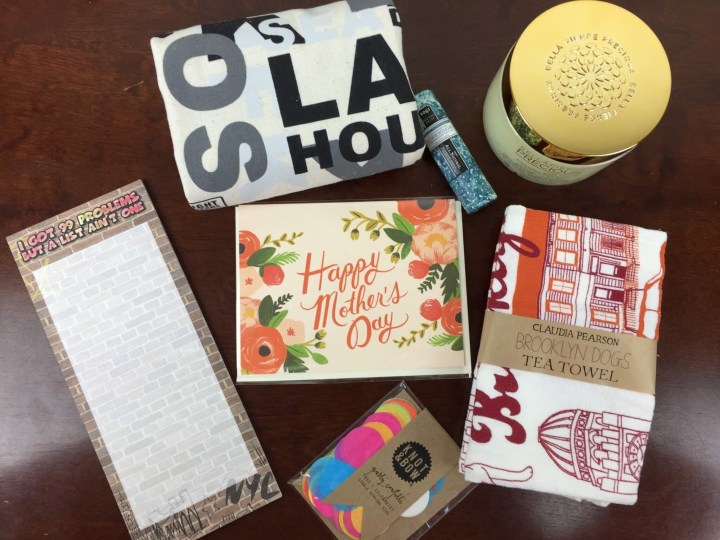 Everything in the April box! There was also a Fat Witch coupon in the box.
Stern Design Works Mini Brass Leaf and Puddle Ring ($28)  This item wasn't included in the box so subscribers could select their size! Stern Design Works is a Chelsea Market jewelry maker and I am excited to get my ring! LLB often sends vouchers to redeem for items that need personalized in some way. It's pretty awesome and I have loved every item I have been able to select. The code expires 6/19, make sure to use it by then!
Classic oak leaf rings have a little sibling! We are proud to present our brand new adjustable Mini Oak Leaf and Puddle ring.

Each brass cast ring features a diminutive oak leaf on one end, and a beautiful textured puddle on the other.
It's in sizes 6-10.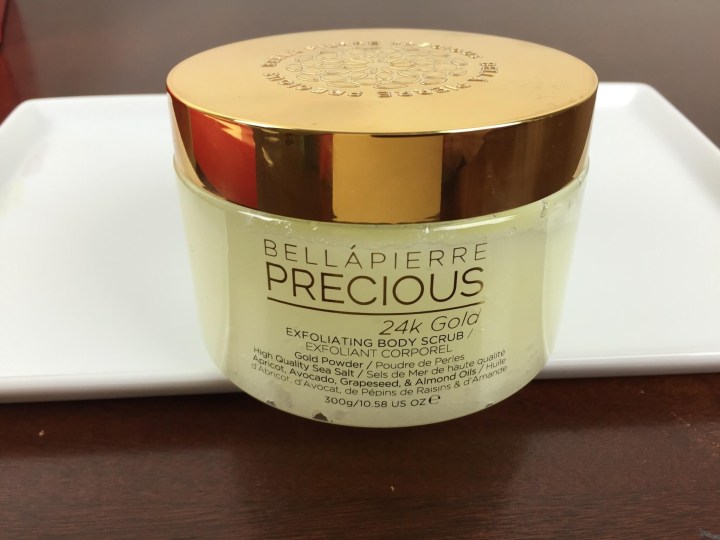 Bellapierre Hydra-Surge Body Butter OR Bellapierre Exfoliating Body Scrub ($80) Subscribers received either the Body Butter or Body Scrub. I got the scrub but would have preferred the butter. "An invigorating blend of high quality sea salt, 24-karat gold, and sumptuous oils," I couldn't see the gold in there and I am not sure what it could possibly do rubbed onto your body in the shower and washed off.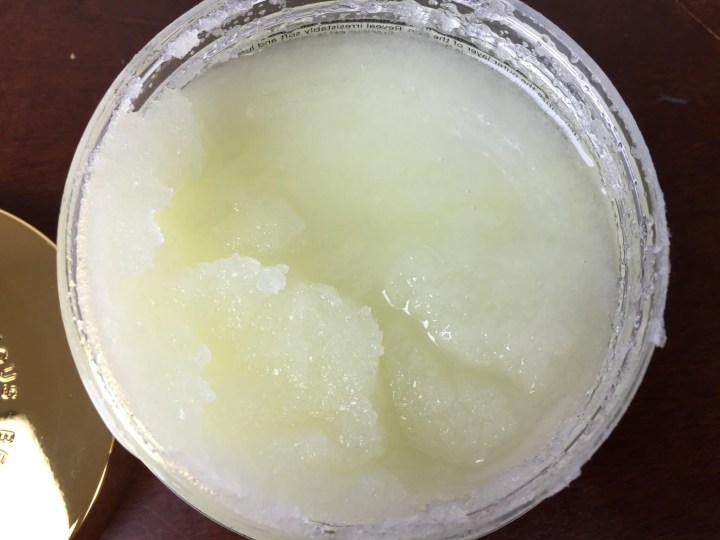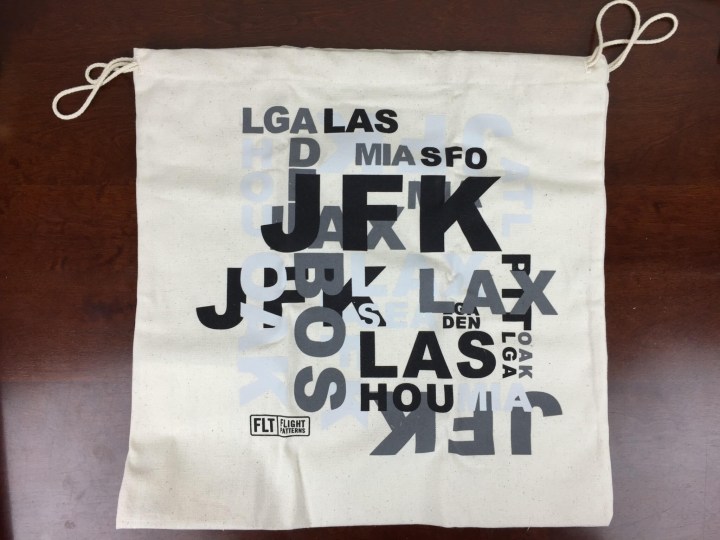 Flight Patterns Travel Laundry Bag ($29)  I couldn't find this online, which wasn't surprising – Flight Patterns is a new Vine Street Market partner and the line is being introduced exclusively through LLB!
I travel with multiple laundry bags and this is a fun addition to my stash. I can't ever separate clothes enough when I travel (especially with the family!).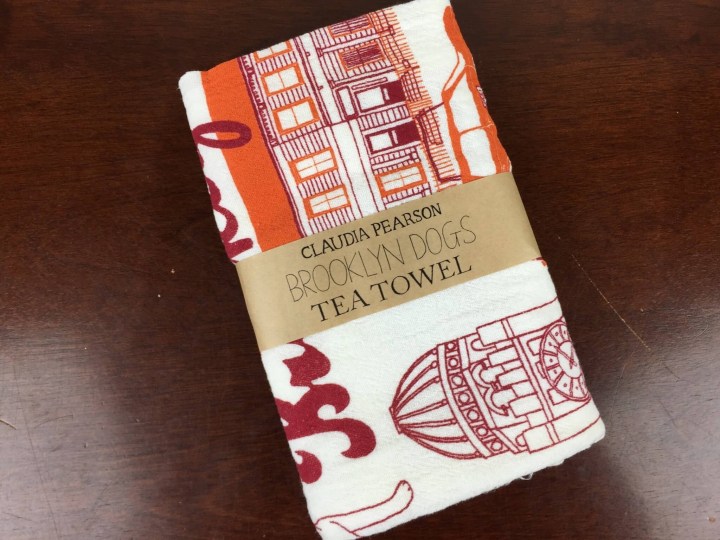 Claudia Pearson Designs Tea Towel (will be one of a New York theme)  ($16) What a cute NYC themed design! I love tea towels. They add a little flair to my space without changing up the whole kitchen. And so useful.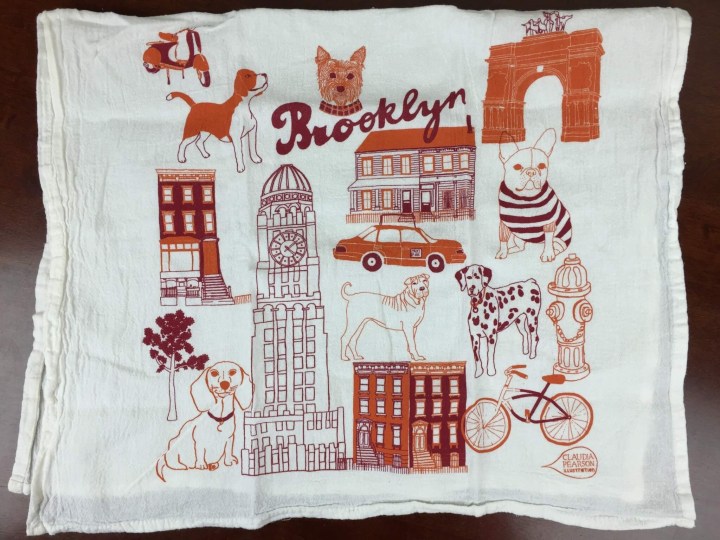 People in Brooklyn only have pocket dogs according to the artist. 😉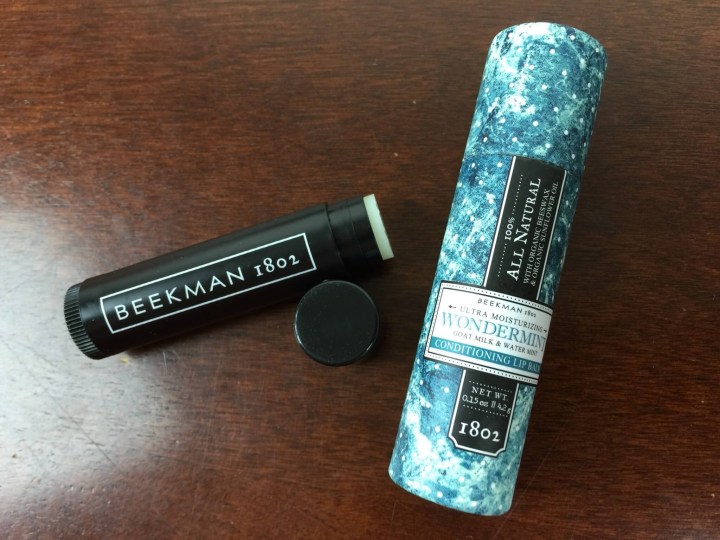 Beekman 1802 Wondermint OR Aloe & Iris Lip Balm ($8)  Sore and chapped lips are a bummer when traveling, so use your Beekman lip balm to heal them. My husband and daughter fought over the last tube of this I got, so one of them will steal this one too.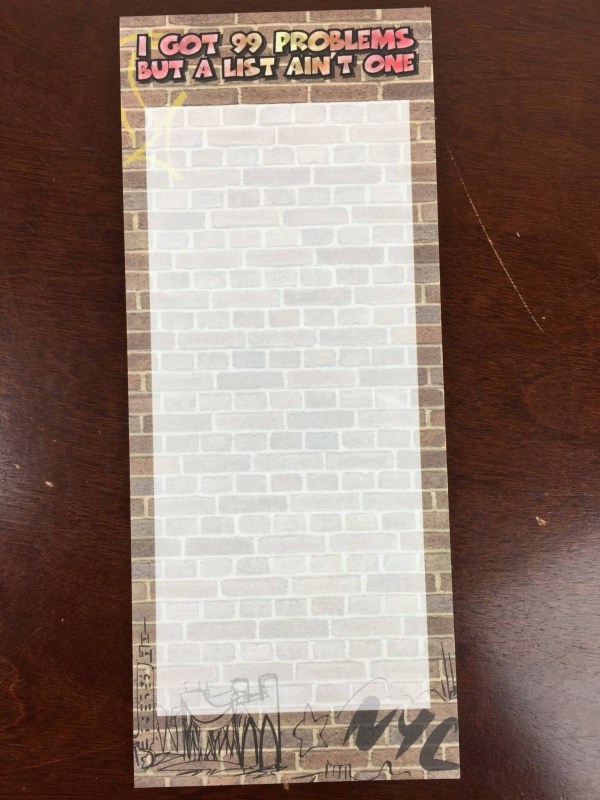 Litle Lace Box 99 Problems Notepad ($4.99) A nod to Jay-Z, whom I suspect has some issues this week. He can use this list to mark off his to-dos (refresh tattoo ring, send 5 million dollars of flowers to Beyonce, etc.).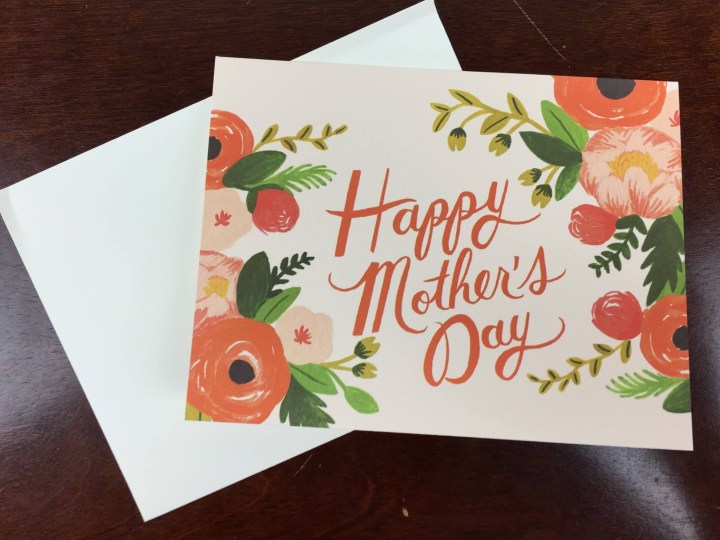 Rifle Paper Co. Mother's Day Card ($4.50) And a cute Mother's Day card to send to a mom you love! I really liked getting this – most of the cards in subscription boxes aren't for holidays like this.
Knot & Bow Confetti ($4.50) A little confetti never hurt anyone – and this one is easy clean up (and you could do an art project with it too!).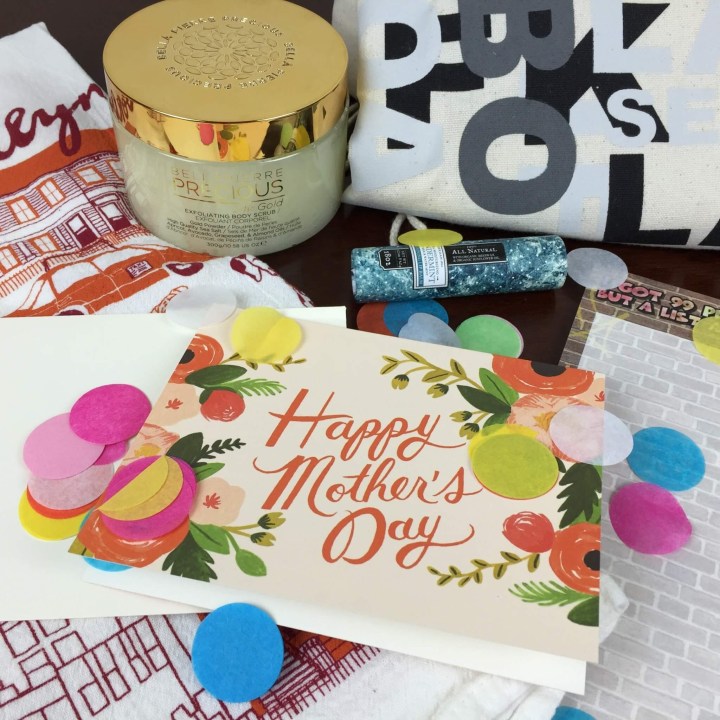 Or make pretty instagram pictures!
This box was fantastic – about $175 in value! Of course $80 of that is in one body scrub so I think it's inflated, but regardless there was still a ton of value packed in here, and all fun and usable products. This box was more about NYC makers than the NYC experience but it was still a really wonderful box of goodies!
What do you think about Little Lace Box?
Don't forget to use these coupons if you'd like to subscribe!
Save $15 on an 6 month subscription (3 boxes). Use coupon code  HELLO15.

Save $20 on an annual subscription (6 boxes). Use coupon code  HELLO30.

Take $10 off your first box. Use coupon code  HELLO10.
Visit Little Lace Box to find out more or to subscribe!
The Subscription: Little Lace Box
The Description: Get hand-curated, nearly impossible-to-find designer products directly to your doorstep every month. Your monthly box will be brimming with high-end, brand name beauty, lifestyle, and home products to treat yourself to and dazzle your friends during your next night out.
The Price: $59.99 for a single box, $149.97 for 3 boxes, $269.95 for 6 boxes