Home Chef featured some of my favorite flavor combos this week.  Home Chef is a meal in a box subscription – every week choose from a variety of recipes and have all the ingredients and preparation instruction delivered to your door.  It's similar in concept to other weekly meal delivery services, but it has its own unique features and perspectives.
Meal selections are suggested automatically according to a profile you fill out noting your family's preferences, but you can change your selections any time. Home Chef offers an incredible 10 selections available for 2, 4, or 6 people, a breakfast choice, a smoothie choice, and a fruit basket selection.  The portions are huge, and this is currently the least expensive and has the most choice out of any similar major subscriptions (for 2 people).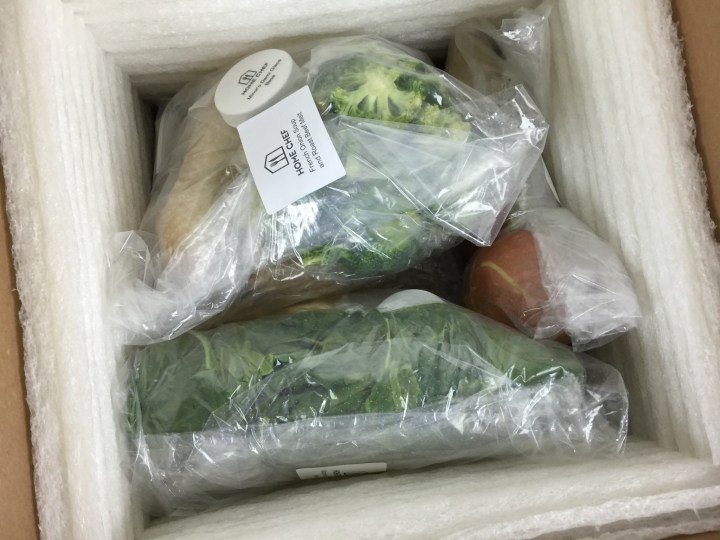 Everything arrived within well-insulated (water-dissolvable) cooler padding, atop ice packs.
Each bag has nearly everything needed to make a complete meal.  You have to have a basic kitchen setup (stove/oven, cookware, etc), but a couple tablespoons of cooking oil and salt and pepper are usually the only ingredients you have to have at home. Unlike other boxes, Home Chef includes liquid egg when needed — once they even included a bottle of oil for shallow-frying.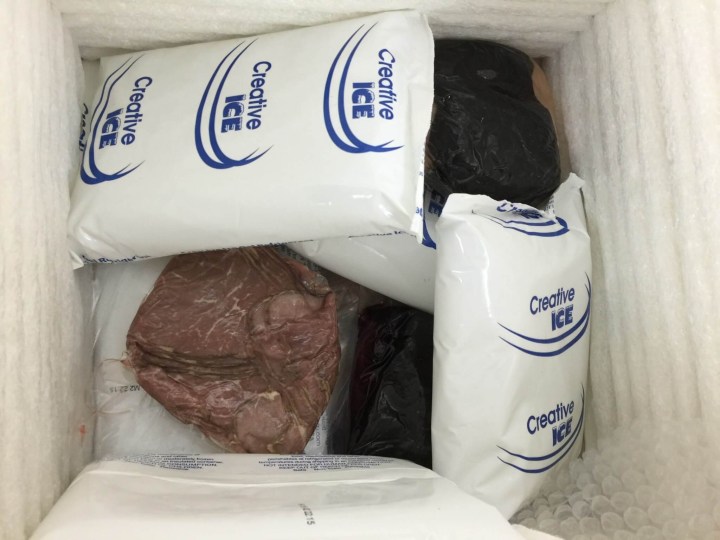 The meat is placed in the bottom of box and packed with several ice packs.  I suspect there are enough to keep it cold for a long time, even when summer arrives.
The recipe cards have just been reformatted — they still have prep time, difficulty,  a "best cooked by" time frame, and even a spice level, but they've dropped the drink pairing and just show calories instead of full nutrition info.  The picture is much bigger, and they've combined the lists of your pantry and kitchen equipment needs into one.  The cards look a bit like the Plated cards now.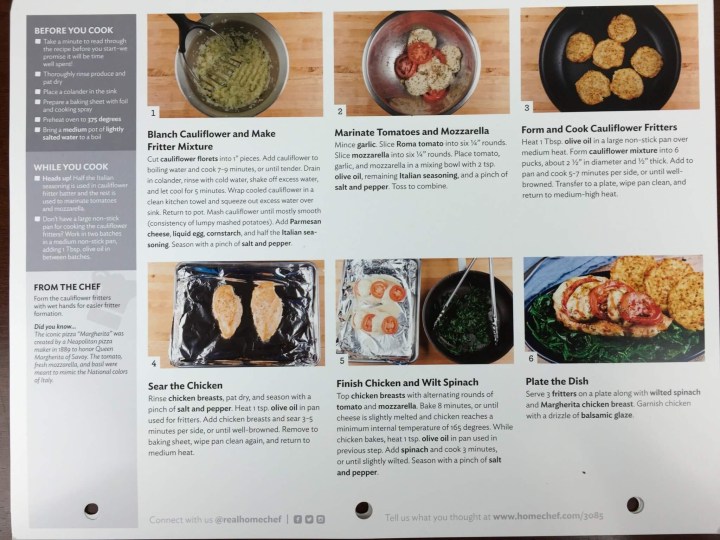 The back of the card has the actual recipe guidance, complete with pictures and boldfacing of ingredients, and an inventory of everything provided.  The recipes usually have a pro-tip or explain some cooking terminology.  The reformat has streamlined recipes by pulling the tips out of the actual recipe and putting them in a sidebar.
The cards adhere to a standard prep order (i.e.:  preheat oven, chop veg, prep meat) — but we often switch up the order to optimize our prep time. The recipe cards have pre-punched holes so you can store them in a recipe binder.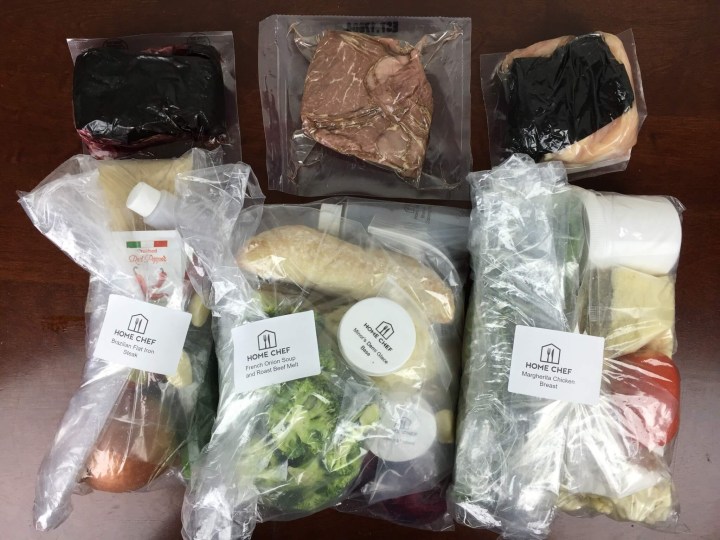 Each recipe was packed separately, and neatly, in its own bag.  Unless otherwise noted, each of the pictures of prepared food below show one of two servings made by each recipe.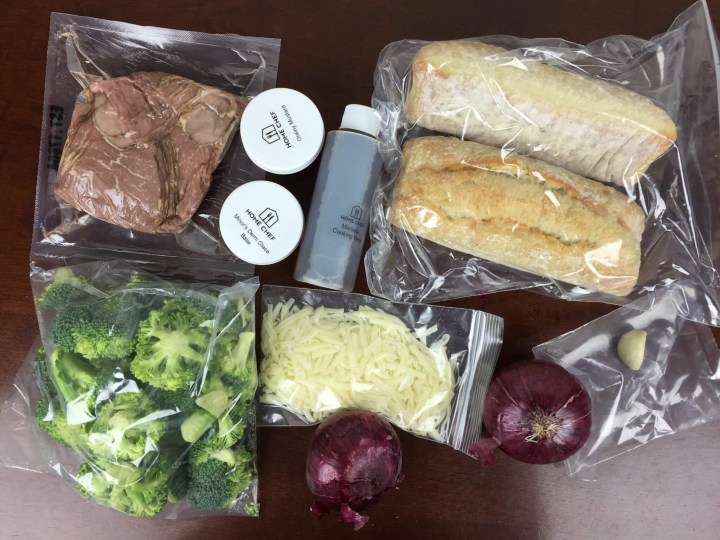 French Onion Soup and Roast Beef Melt With Roasted Broccoli. 30-40 minutes, intermediate, 892 cal per serving.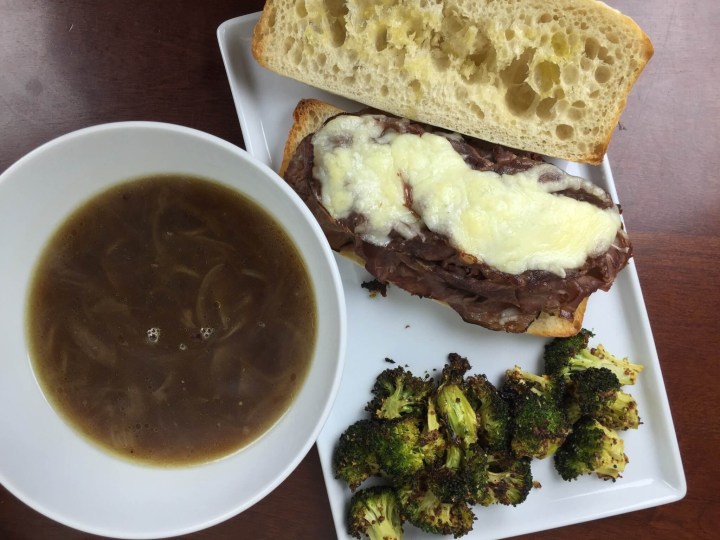 This quick and simple soup had tons of flavor and was as tasty as any I've had in a restaurant — and there was enough to have a few bowls of it.  The french dip was just great, with ample meat (cold cuts, thankfully saving a roasting and slicing exercise) and cheese piled on a nice chewy loaf.  The broccoli was also a good choice, being flavorful enough to stand up to the soup.  I loved the ease of preparation — after giving the onions some time to brown, the dish just flew together!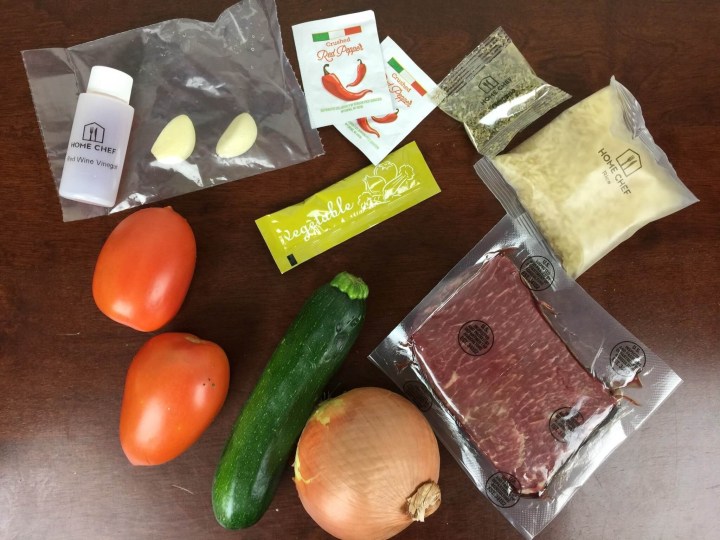 Brazilian Flat Iron Steak With Tomato Rice and Marinated Zucchini. 25-35 mins, easy, 601 cal per serving.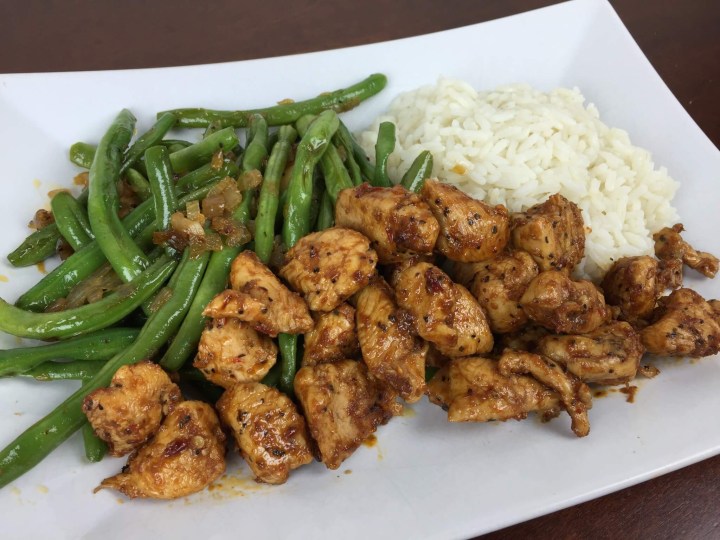 Few things are as delicious a a simple steak in a zesty marinade.  Bright and fresh tomato and roasted zucchini added some nice vegetable content without diluting the barrage of flavor.  The amped up sauce had the character of a spicy Italian dressing, lending a fiery and garlicky tang to the preparation.  The all-in-one strategy for the rice medley and the use of the same marinade for the zucchini and steak sauce simplified the prep.
Margherita Chicken Breast With Parmesan-Cauliflower Fritters. 35-45 mins, expert, 592 cal per serving.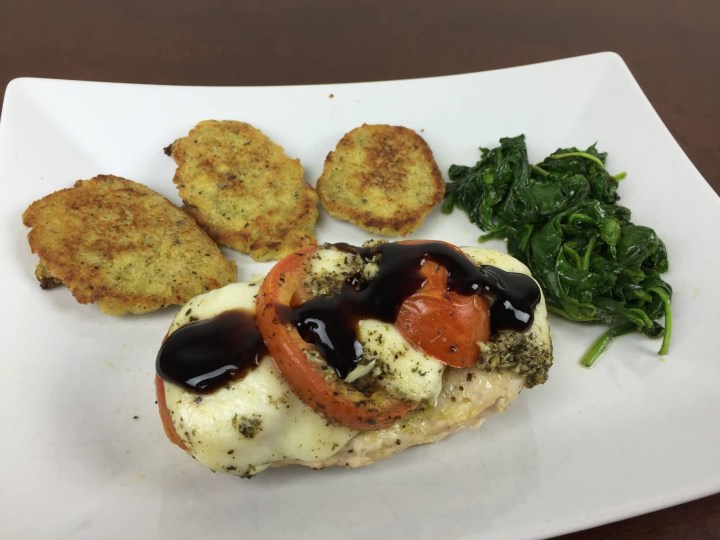 This dish was a bit prep-heavy, and the cauliflower fritters may have been better saved for pairing with a simply prepared meat.  The fritters took easily to salt, and I seasoned a little past optimal.  The chicken was absolutely delicious — the marinated tomato and mozzarella was exquisite, and the heavy blanketing ensured tender and juicy chicken would emerge once fully cooked.  The greens cooked down to a small scoop, but they provided a nice balance to the balsamic's sweetness.   We loved this chicken preparation!
Home Chef has been an incredibly enjoyable subscription for us — the food has been great, and relatively easy to prepare.  The hardest part is picking out our meals from so many delicious options, and not overeating, because the portions are very generous!  We are also loving that they offer breakfast selections (we grab one for a weekend breakfast most weeks) and a fruit basket, since we are often too busy to spend much time shopping for those, either.
Visit Home Chef to subscribe or find out more! Get $30 of free food when you sign up – just use this link to get the deal!
The Subscription
:
Home Chef
The Description
: Receive fresh ingredients and visual, step-by-step recipe cards on your selected delivery day every week. Cook like a seasoned chef in your own kitchen with ease.
The Price
: $60.00 every week