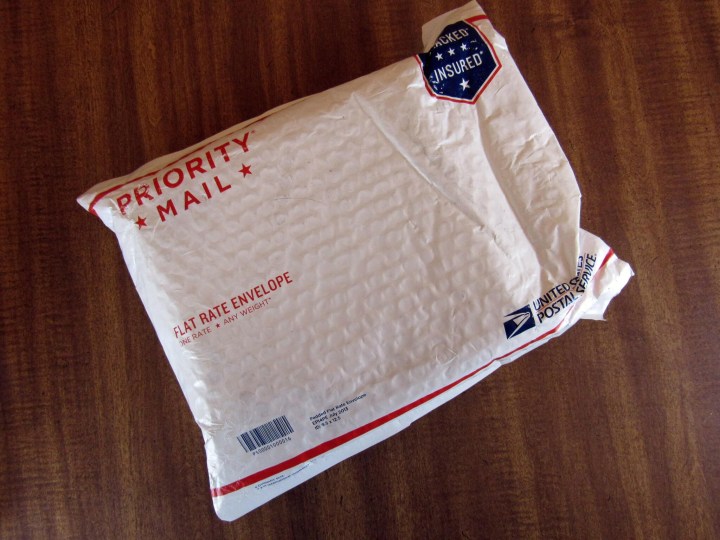 Herbal Bliss sends five amazing herbal products each month. The products cover five categories – Aromatherapy, Blissful Body, Culinary, Well Being and a Spotlight item. Herbal Bliss seeks out small batch producers that focus on the quality products.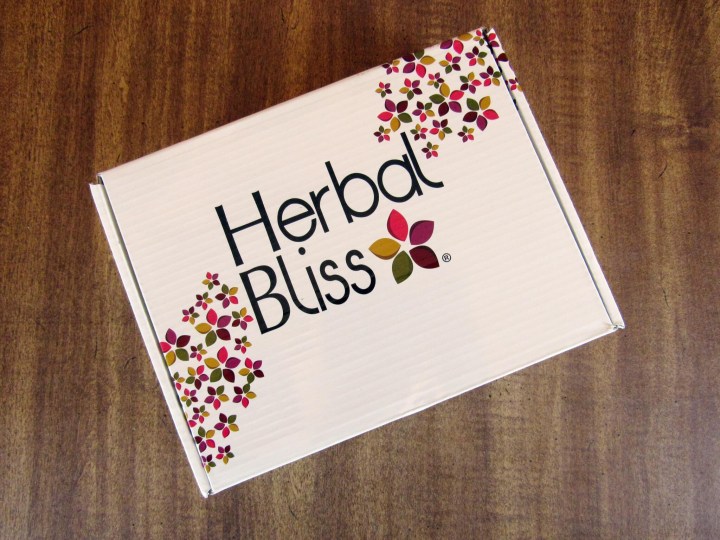 I'm always excited to see Herbal Bliss. I love herbs and look forward to seeing what new products are included in the box.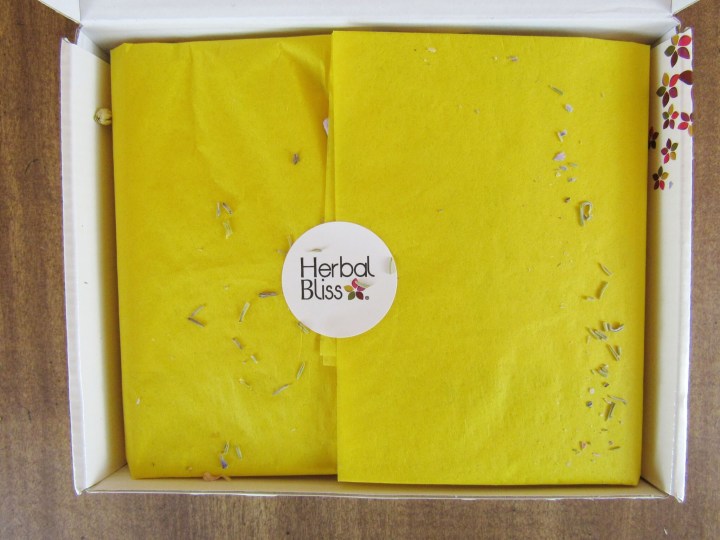 I think there may be dried flowers in the box this month. I love using flowers in my pictures!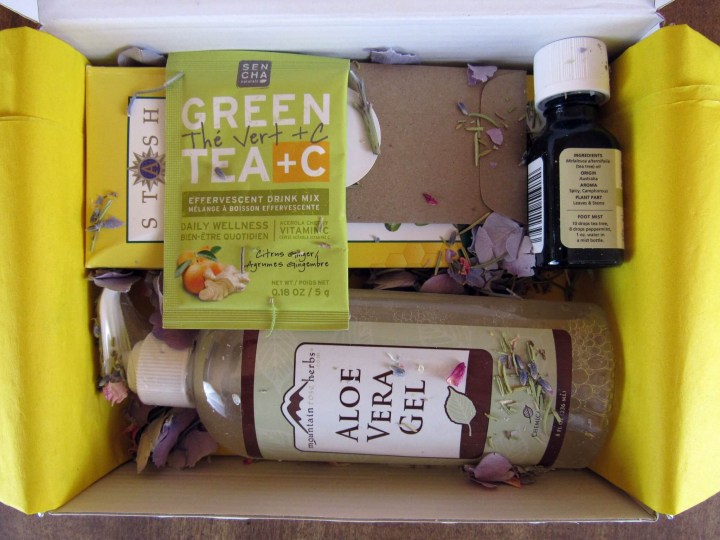 I am beyond excited. I see a product from Mountain Rose Herbs! I buy my essential oils and containers from them!
It's a beautiful spring time theme! I love the yellow and flowers.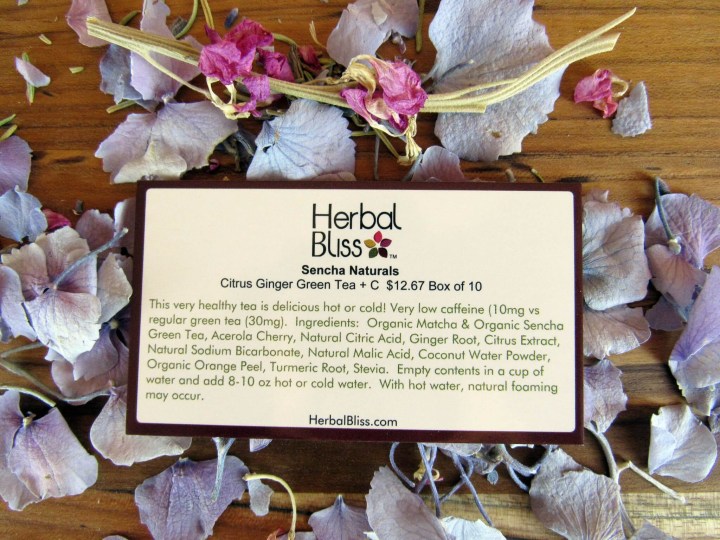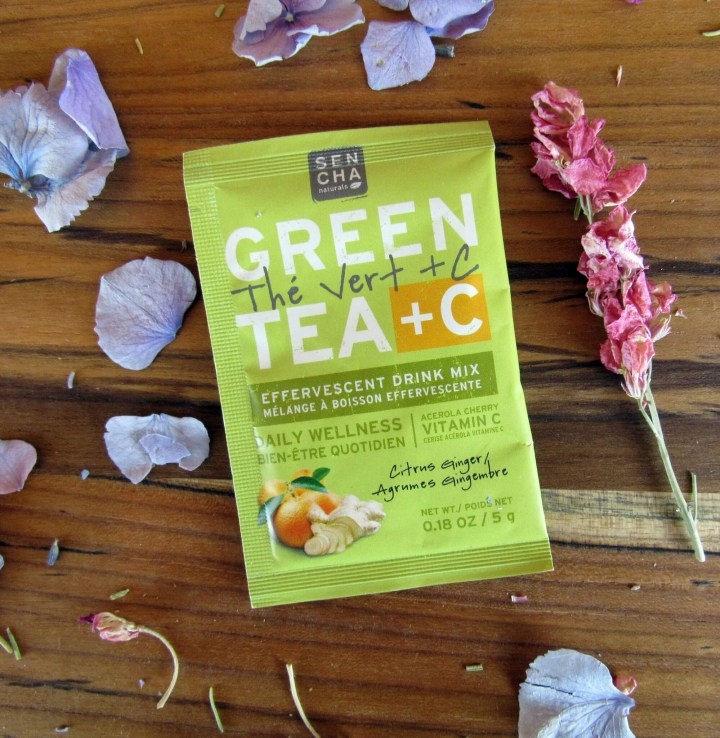 The Sencha Green Tea + C Effervescent Drink Mix ($1.27) is a made with whole food ingredients. The made-in-USA drink is gluten-free, vegan, and contains non-gmo ingredients. T is going to try it because it has cherry in it.
The Stash Lemon Honey Sticks ($4.95) have natural clover honey in them. Sounds delicious as a snack or in a beverage. I love getting honey in subscription boxes especially when it is pure honey!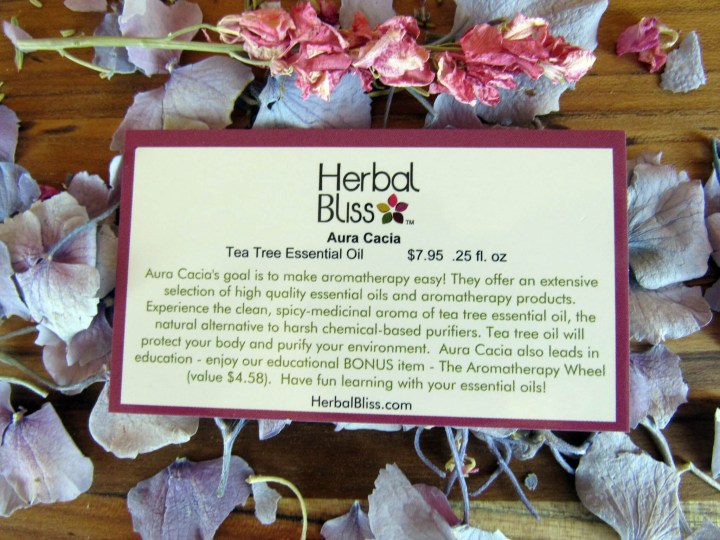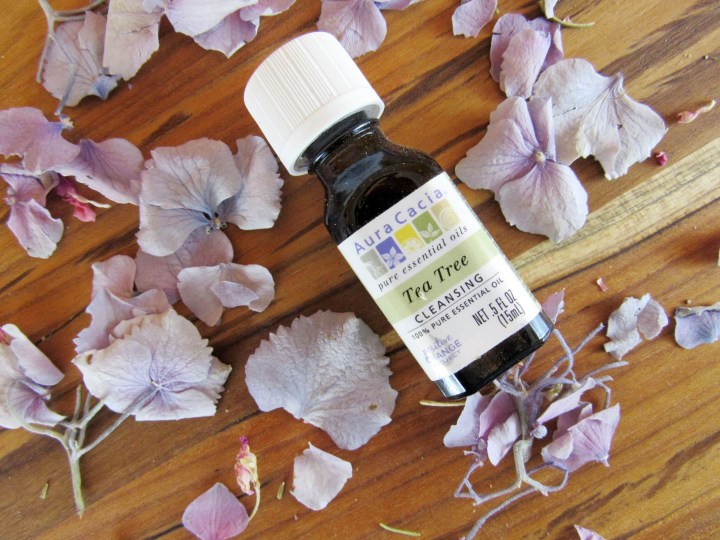 The Aura Cacia Tea Tree Oil ($6.87) arrived at the perfect time because I am almost out of tea tree oil! I use it in my homemade cleanser and will try out their toilet bowl cleanser recipe.  I bought this brand before when T came home from camp with an insect bite that turned into Staph. It worked well in the laundry and prevented reinfection. It can also be used with the Sakari Botanicals Rose Hip Oil that came in the February Box.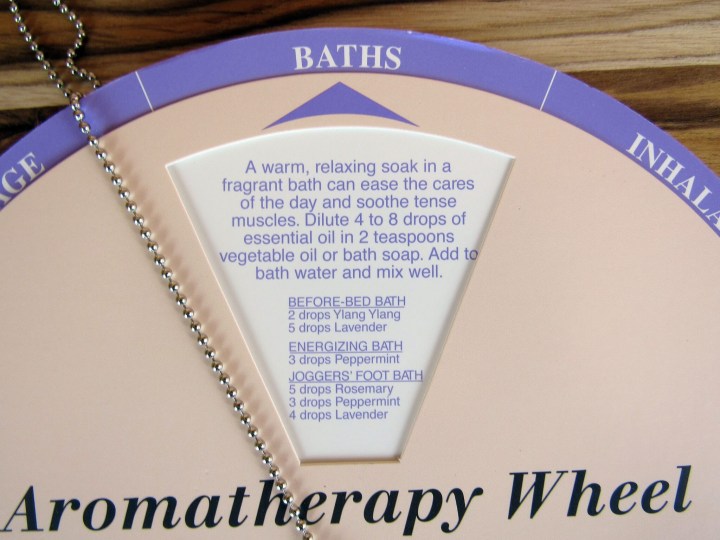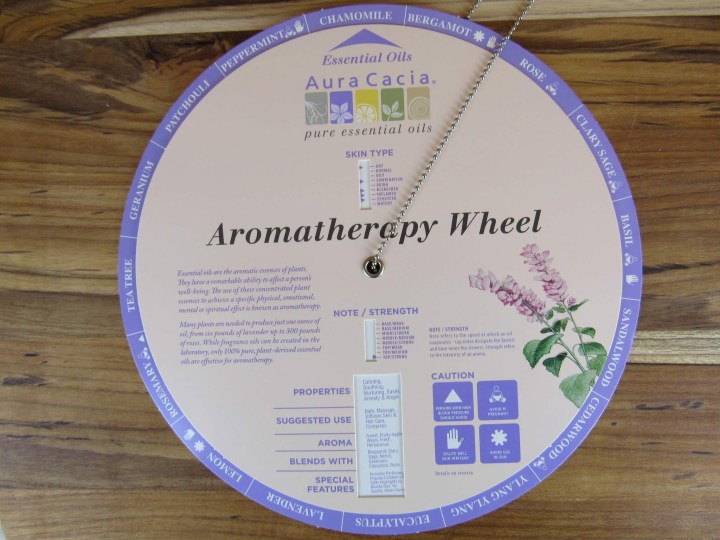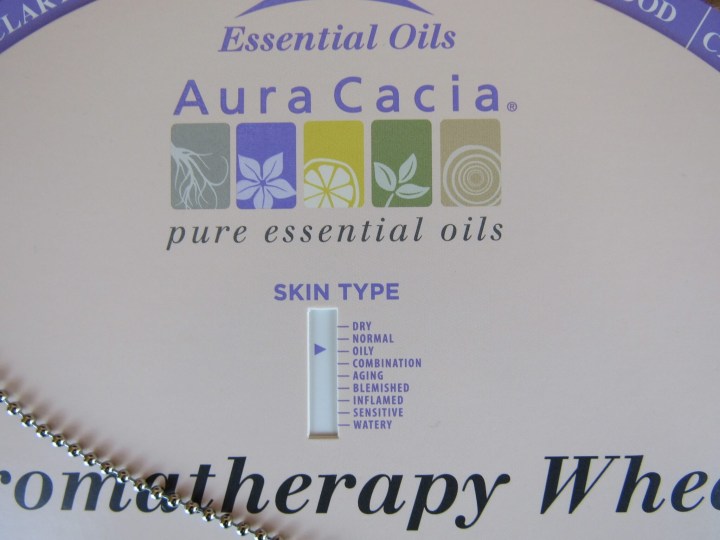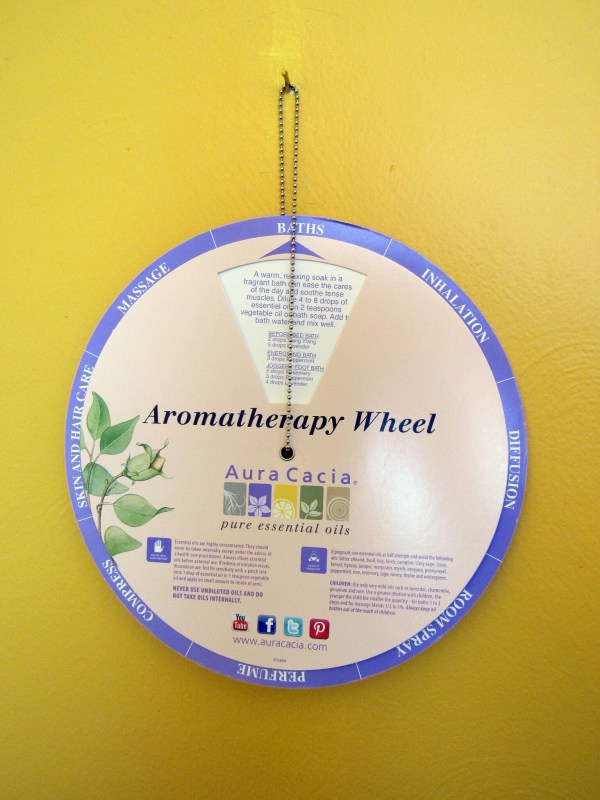 I am excited about the Aura Cacia Aromatherapy Wheel ($4.58). It is a fun, easy reference guide to commonly used essential oils. The wheel front has recipes while the back discusses the properties of the different essential oils. It even comes with a chain to hang on the wall. The curator shipped it separately to prevent shipping damage. Thank You!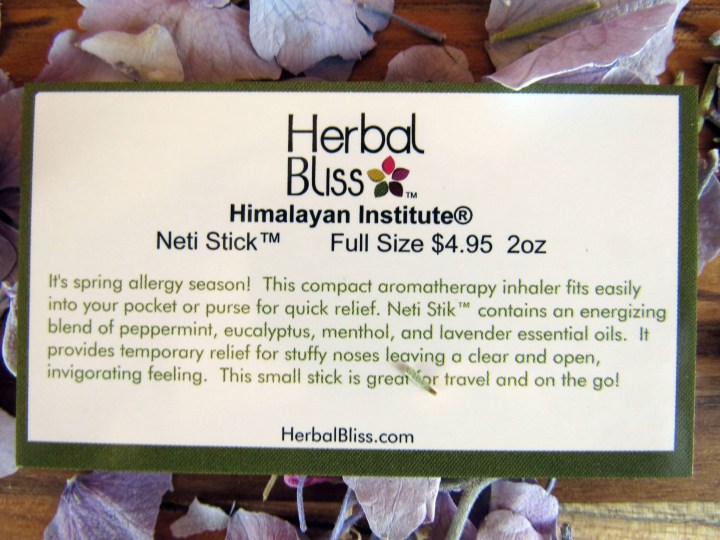 Spring allergy season is upon us. I will be using the Himalayan Institute Neti Stick ($4.95) because I love the great outdoors despite my allergies.  It's a great compact size that can be stuck in a pocket or a purse. Unscrew the top and take a whiff of the amazing scent. I could feel my nasal passages clear up after sniffing it. I also feel more alert! The Neti Stick is a blend of peppermint, eucalyptus, methanol and lavender oils. They are a few of my favorite scents!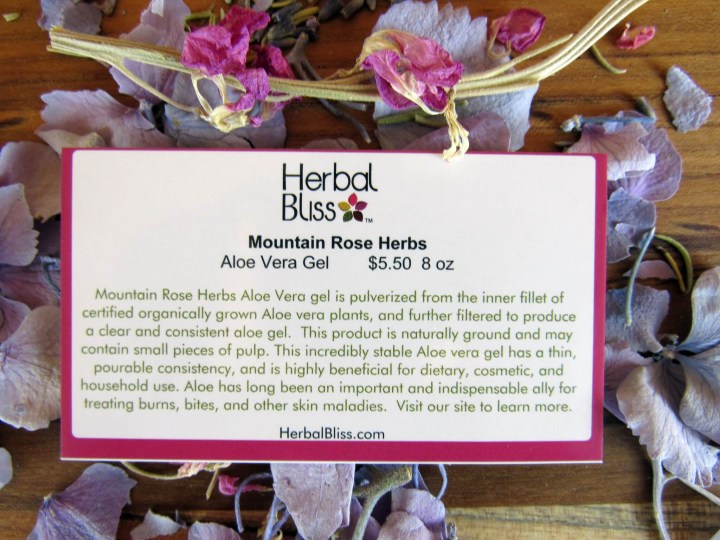 I saved the best for last. I almost died when I saw Mountain Rose Herbs! Mountain Rose Herbs is my go-to for essential oils and supplies. Their catalog is informative. I even met a couple people from Mountain Rose Herbs at a Mother Earth News Fair. It would be amazing to see them in more subscription boxes.
The Aloe Vera Gel  ($5.50) is the real deal coming from the inner fillet of the Aloe Vera Plant, which is certified organic. It can be used for used for cosmetic, household, and dietary needs. I have drunk aloe vera before, and all I can say is that it is an acquired taste. I am going to see if I have a cosmetic recipe that calls for aloe vera because I prefer to use Mountain Rose Herb products for that. Otherwise, I will make more Aloe Vera Cubes to rub on our skin after being out in the sun. I make them in a bunny mold. It's more fun.
I'm ready for spring! The March Herbal Bliss Box is a lot of fun. I can't wait to make a few recipes with the tea tree essential oil and the aloe vera gel! Honey is always yummy! The Neti stick will be used. T will drink the mix and probably want more. The value is around the price of the box which is perfectly fine for a box carrying small batch producers. I always look forward to my box because I love herbal products!
What do you think of the March Herbal Bliss box?  Let us know by sharing below!
Visit Herbal Bliss to subscribe or find out more!
The Subscription
:
Herbal Bliss
The Description
: Herbal Bliss exclusively curates assortment of high quality herbal delights. Each Herbal Bliss box includes five irresistible samples, including products to please your palate, improve your well-being, soothe your senses and bring bliss to your body.
The Price
: $25.00 per month