Hello Fresh is a meal kit subscription box with complete recipes and ingredients to make 3 meals every week, with each meal feeding either two or four people, depending on the plan you choose.  
Though it is a subscription, you can pause your deliveries when needed — whether you are out of town, have other dinner plans, or just aren't in love with that week's selections.  The standard subscription provides high-quality meats (free-range chicken, anti-biotic meats, etc.) to use in the recipes.  Though we do eat meat, we cook vegetarian three times a week.  Thankfully, Hello Fresh has a vegetarian subscription for both casual and dedicated vegetarians.  This review covers the vegetarian box, which featured a recipe by Jamie Oliver! 
The boxes used by Hello Fresh keep all the ingredients for the recipes in order, and they stack nicely in the fridge.   Within each box, everything but the largest vegetables is separately packaged.  Condiments and canned goods are provided in high-end, commercial packaging.  Hello Fresh usually provides spices in their own, pre-measured branded packaging.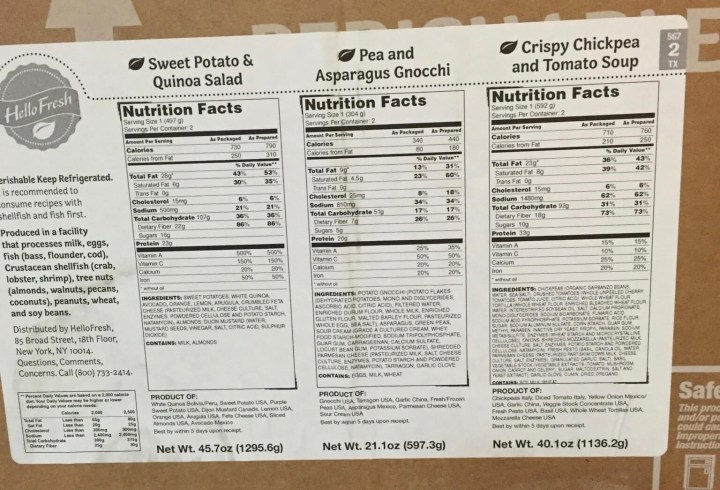 Hello Fresh has great instructions, and they are easy to follow even if you are an inexperienced cook.  Each recipe includes several pictures so you maintain a sense of how the dish should look as you go along.
There is also information provided on everything you need to know about the dish — nutrition info, prep time, and even which recipes are best to make first.  Note that the recipes created for Hello Fresh by Jaime Oliver, an English celebrity chef and healthier food advocate, are written slightly differently than the normal Hello Fresh recipes.
 Crispy Chickpea and Tomato Soup With Cheesy Tortillas and Basil. 30 mins, level 1.
*Due to the different suppliers we purchase our products from, nutritional facts per meal can vary depending on your region.
It's been drizzling here all day, dreary and cool.  I put on a long sleeve t-shirt this morning thinking I'd change into a short sleeved one but didn't because the highs were only in the 60s.  So I selected the soup from this weeks choices, great for this kind of day.  And to my delight, it's a tomato soup, I love tomato soups, they're a comfort food for me. Reminds me of my grandmother, little old lady, sweet and kind and a great cook.  She had her own recipe for tomato soup that we've been trying to find a copy of but can't. Darn!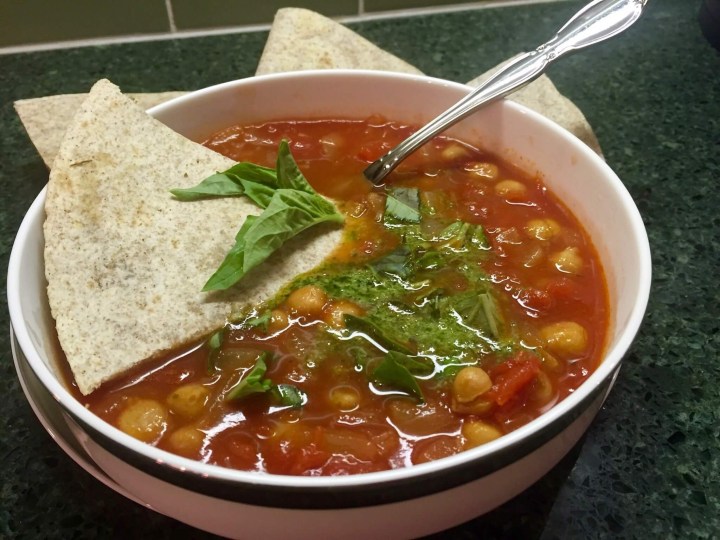 This was an easy and delicious soup to make and so were the cheesy tortillas.  Together they were an awesome combination.  And I need to mention the fresh chopped basil leaves in the soup, yum.
My husband went back for seconds because as usual there was enough for four.
Delicious coming in at 9.5.
Sweet Potato & Quinoa Salad With Avocado, Orange, and Arugula. 30 mins, level 1, 790 cal per serving.
There's only 5 instructions which tells you just how easy this was to put together.  I used the term "put together" because there's so little cooking/baking/mixing that you're really just putting it all together.  Today we discovered we needed another refrigerator at one of our rentals so my husband took off to go to a favorite big box store to get one. While he was gone I prepped all the ingredients, roasted the sweet potato and got the quinoa ready.  I did all this while watching my 2 year old grandson.  Yup, it was that easy.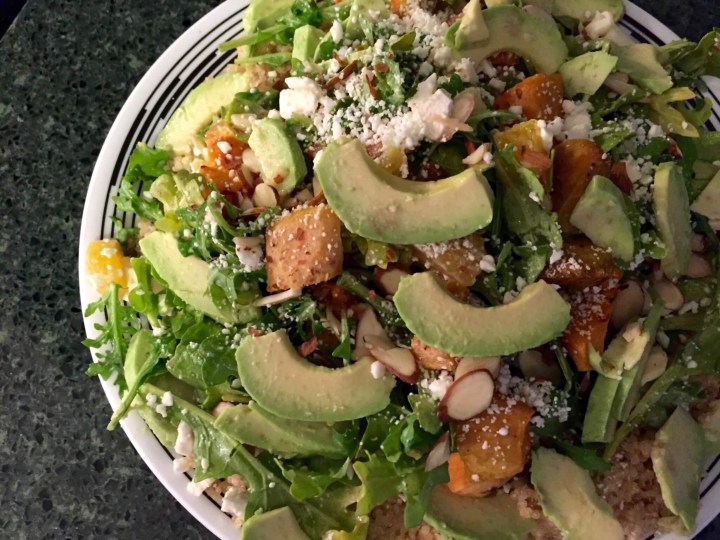 When my husband returned all I had to do was cut up the avocado and take my pictures.  I didn't take pictures of the individual plates, rather I took pictures of the full portion.  I served myself 1/3 and my husband the rest. Perfect amount for us both.  My husband really liked the "squash".  He was talking about the sweet potato.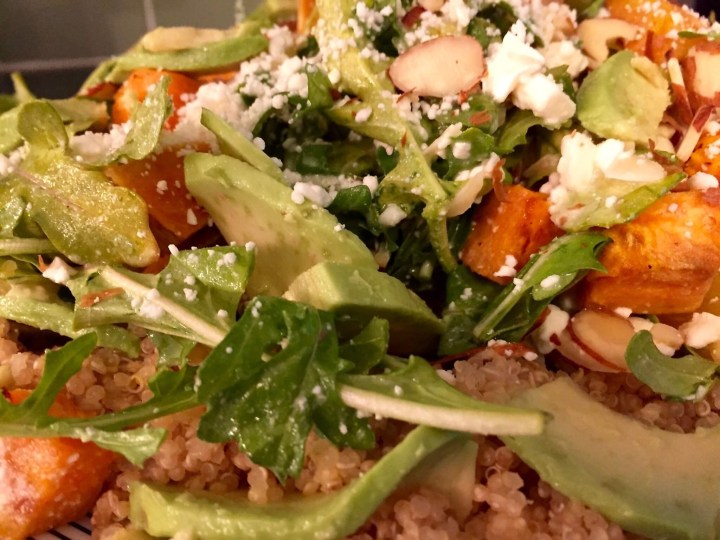 I enjoyed the sweet, sour, and salty flavors.  The colors were very pleasing, I also added the 1/2 of the orange that wasn't used making my salad even more colorful and tasty.
This was an 8.5.
 Pea and Asparagus Gnocchi With Brown Butter, Tarragon, and Parmesan. 30 mins, level 1, 446 cal per serving.
My granddaughter made fun of me because I pronounced gnocchi incorrectly!  How rude!  Anyhow, I'm not Italian (at least I don't think I have any Italian DNA) so I don't eat  gnocchi and neither did I grow up hearing Italian anywhere.  With that said I do like Italian food, just had some at a local mom and pop joint on Saturday night.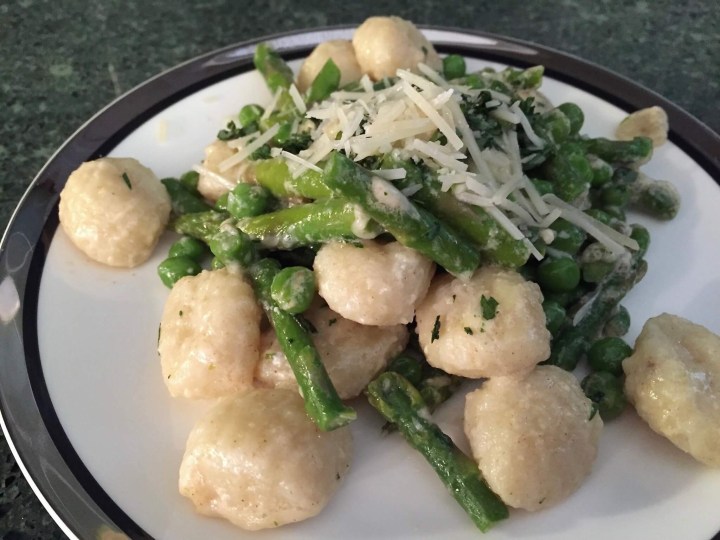 I made this for our lunch and it was a nice little dish to make.  Even with the butter, 2 tablespoons, it fit within my calories for the day.  I ate 1/3 of the whole pan, not too shabby.
This was so tasty with the tarragon, garlic, cheese and vegetables.  The crunch of the asparagus and peas next to the smooth texture of the gnocchi was just right for me.  My husband commented several times how much he liked it. Too bad there's no left overs for him.
This rates a 9.
Visit Hello Fresh to select your box for next week!
Currently you get can a $50 Discount on your First two Boxes with coupon code APRIL50HF! If you just want to try one box save $40 off your first box with coupon code 7UT7K8.
The Subscription
: 
Hello Fresh
The Description
: Each week Hello Fresh delivers beautifully photographed step-by-step recipe cards, with the exact fresh ingredients needed to create a selection of new recipes.
The Price
: $69 per week for 3 meals (59 vegetarian)