Hatchery is a gourmet food sampling subscription box. For $25 per month including shipping you'll get 5-6 sample sizes of artisan-produced small-batch foods, which you can buy in the shop. I like the idea of small-batch foods and obviously they are hard to find if they don't have any sort of distribution deal, so this is a neat box!  Items may include spreads, condiments, jams, honeys, syrups, cooking sauces, oils, vinegars, salts, spices, seasonings, baking ingredients and cocktail mixers.

The Tasting Guide contains all the information on the products, the artisans that produce them, and even suggested recipes. There are additional recipes available on Hatchery's website.
The packaging for this box is simple and beautiful.  Each item is individually-wrapped before being nestled in the box. It also makes for a beautifully presented gift.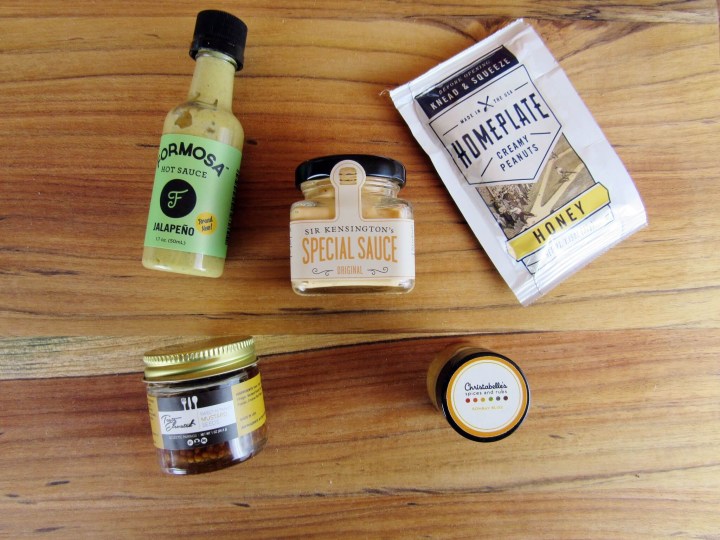 Give your taste buds some gourmet loving. The items fit a gourmet sampler-style box. The sizes are large enough to determine if they are a keeper, but not overly large where they are sitting in your pantry for a long time.
.A fold-out information card details each maker and the included product. The card notes what the item pairs well with, the name of the chef-inspired recipe available on the Hatchery site (see them here), and the qualities of the product, included whether it is all natural, non-GMO, gluten-free, kosher, vegetarian, and vegan.
There's also one recipe included right in the box.
T, age 17, and I were having a serious discussion about what happens to professional baseball players when they retire. Now we know! The Homeplate Creamy Peanuts – Honey ($1.79) was started by a group of former major league baseball players. The gluten-free, all natural honey peanut butter is creamy with a delicious honey taste.
I can hear my omelettes crying out for Christabelle's Spices- Bombay Bliss ($2.50?). It's a complex spice that provides the flavor without the heat. It's smokey, sweet, savory all at the same time and can be used to enhance almost any dish. It's also salt-free! Go to the store and read the spice ingredients. You'll be amazed by how many contain salt.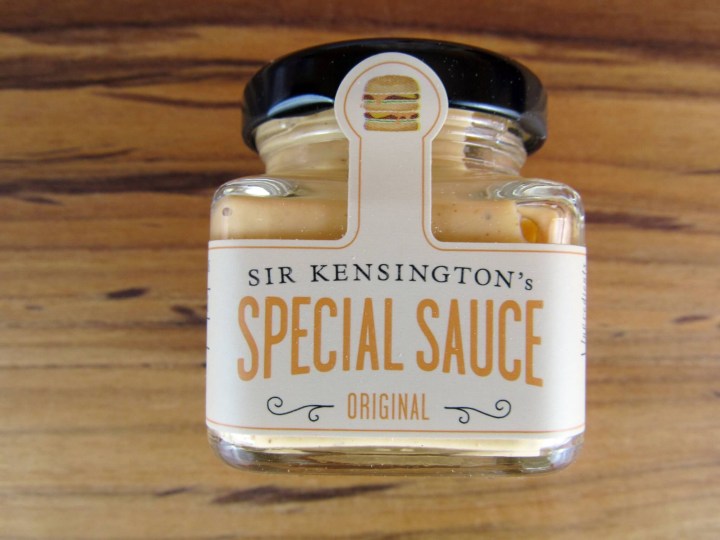 Sir Kensington's Special Sauce ($1.20) gives new meaning to my hamburger. It has real egg yolks! I have a hard time finding a sauce-type condiment that contains eggs. It's a slight bit on the tangy side from the lemon juice and mustard flour. I can admire a real condiment made from real ingredients.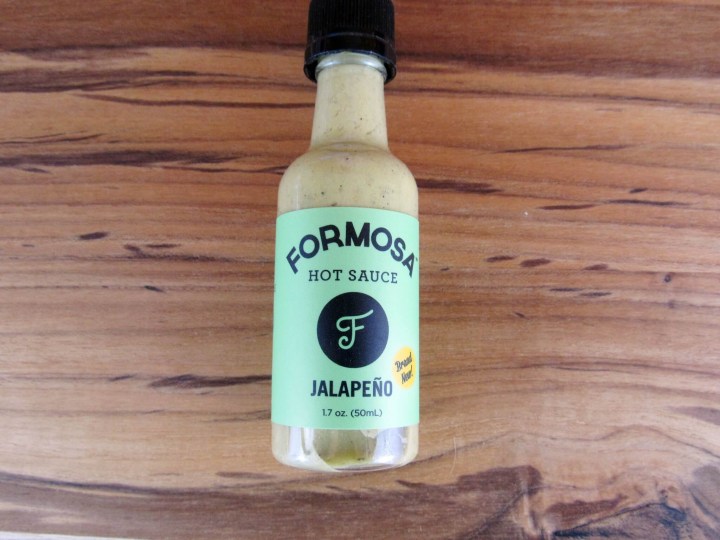 The Formosa Jalapeno Hot Sauce ($2.25) is made from fresh local ingredients in the Golden State. The slight green hue is from the sweet jalapeno peppers. Cumin gives it smokey undertones. Rumor has it that there is a blogger enjoying this very sauce with her nachos!
[Brandy: OMG this is sooo good that I have to buy a whole jar of it. This is my new favorite hot sauce! I don't know how it's so creamy, but it's delicious.]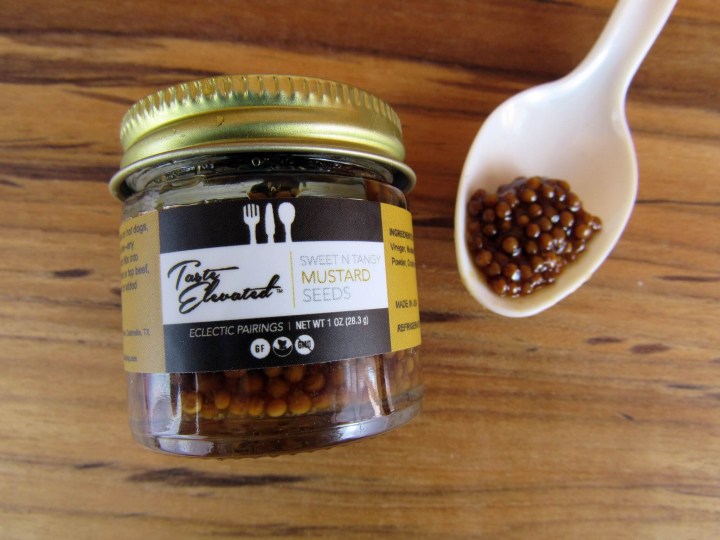 The Taste Elevated Sweet & Tangy Mustard Seeds ($0.94) has a delightful garlic mustard scent. I can already taste this on aged cheddar. I can't get over how cute the seeds are in the vinegar!
I calculated a value of little under $9.00 based mainly on per ounce pricing. The box generally has a value of $10.00 or less.  The companies are passionate about their products, which are of high quality with real food ingredients. It's a box best suited for someone looking for a gourmet tasting experience or as a gift.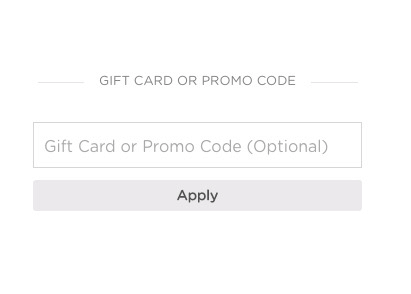 Visit Hatchery to subscribe or find out more! Get your first box for $10! Use coupon code Kamran and use this link to subscribe.
The Subscription
:
Hatchery
The Description
: Receive a delivery of curated, sample-size artisan ingredients and condiments to your doorstep every month. They are here to help you discover flavors you would have never discovered on your own.
The Price
: $25.00 per month