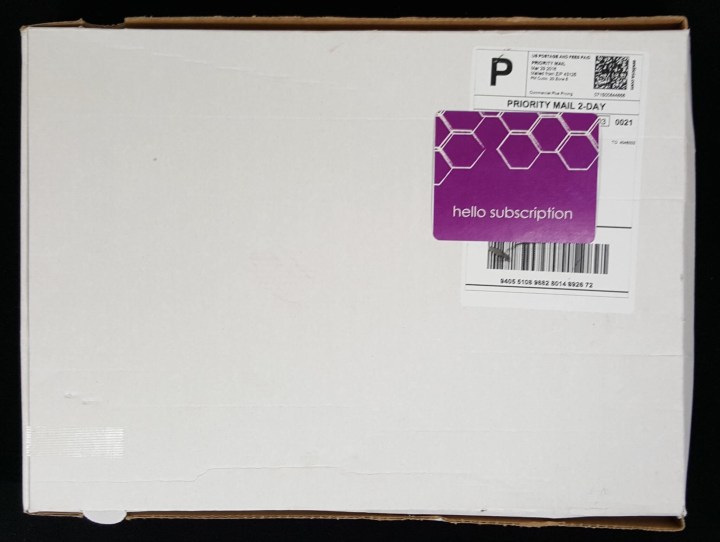 Gwynnie Bee is a clothing rental subscription service for sizes 10-32.   To start, browse through the numerous apparel pieces and add items to your closet.  After you've selected 25+ items, Gwynnie Bee will send you the first three that are available. There is also a feature that lets you prioritize items, so you can have some control over which items are more likely to arrive.  Wear for as long as you like, and then return the pieces to get more! 
Don't forget that through Thursday you can join with this link, get a free month, and get a free outfit upgrade in your free month!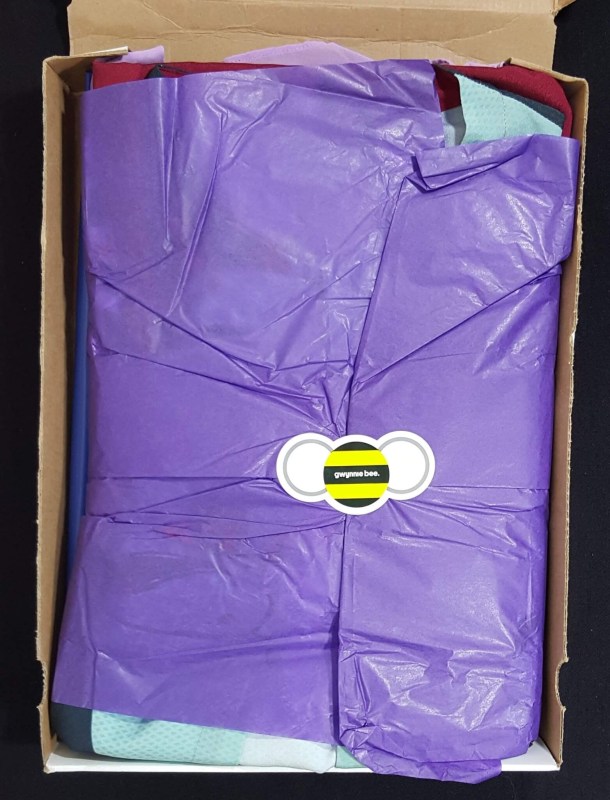 Everything comes neatly packed in tissue with a Gwynnie Bee sticker.  How cute is that bee?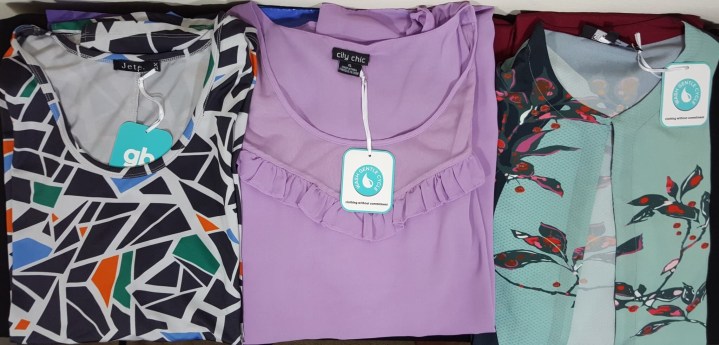 Although I selected the items, I wasn't sure what was coming from my Gwynnie Bee closet.  The colors are perfect for spring.
Jete Geometric Print Tank Tunic (cost to buy $10.50):  This is a comfy and stretchy tank with a trapeze bottom.  I thought the stained glass print would be fun with the little pops of color.  The fit on me was nothing like the model on the GB site.  The tank fit in the bust but was too big in the torso.  I ordered the 2X, but really needed the 1X (not currently available).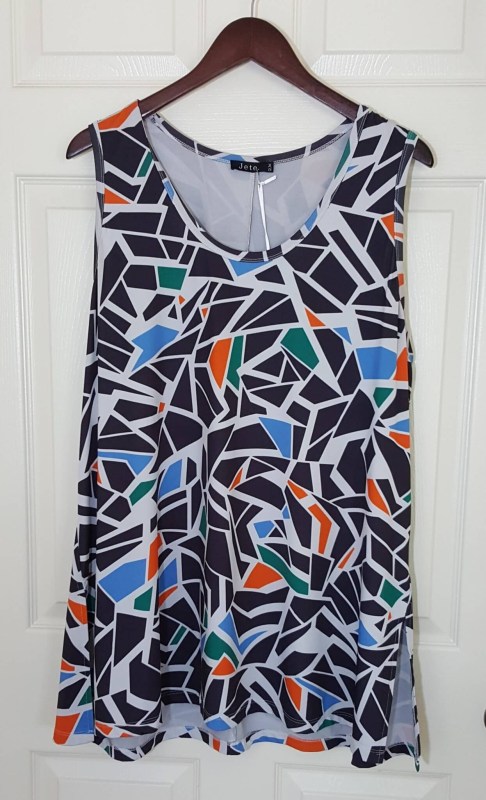 City Chic Frill Lady Top (cost to buy $14.00):  This top just screamed girly and spring to me.  Plus, the chiffon makes it dressy enough to be worn to work.  I thought the A-line hem would make my hips look bigger, but this was just flowy.  To me, the shape and drape of this top make it better suited for leggings.  What do you think?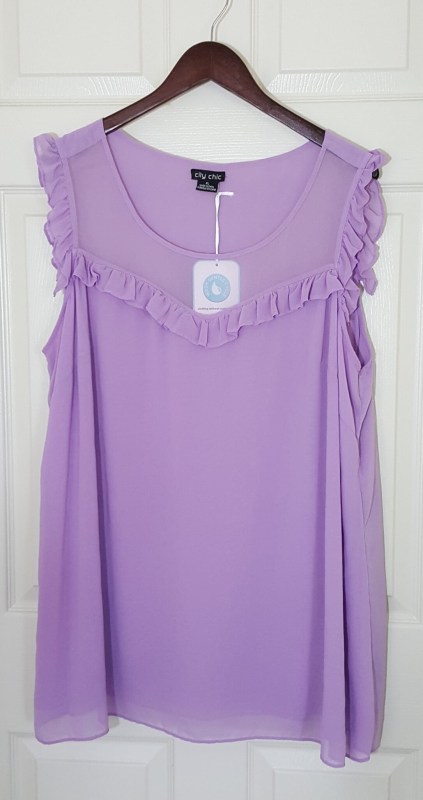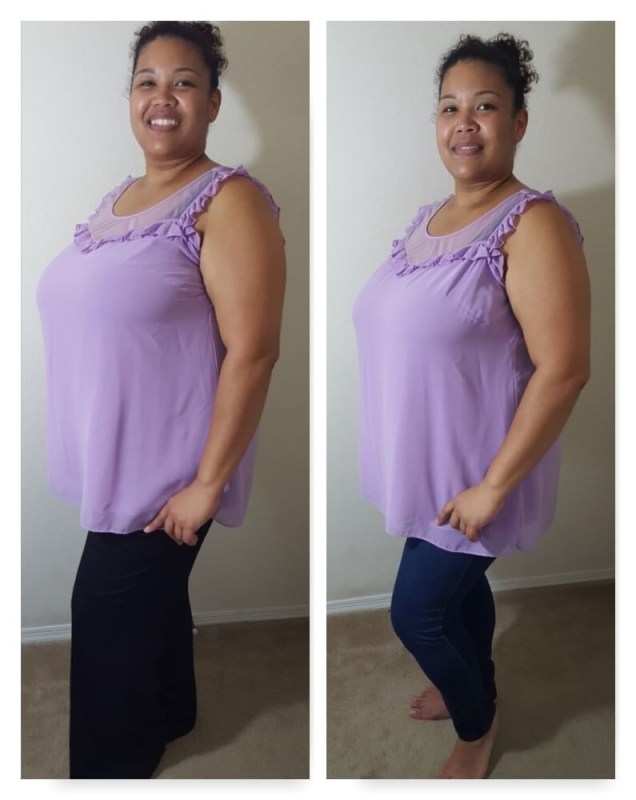 Citron Duster in Blossoming Floral (cost to buy $41.50):  I am a huge fan of long cardigans and dusters because they cover my hips and backside.  Here is a piece that looks better worn than on the hanger.  This crepe duster is very on trend with its color-blocking and had an Asian feel that I loved.  It fit my shoulders well, but looked boxy on me.  My sister said it brought out my Korean side and made me look like my mother.

I was a more than a little hesitant to try Gwynnie Bee at first, BUT the variety of clothes that they offer is astounding.  For someone like me who loves clothing, this is a great way to keep your look fresh.  Plus, you can try styles outside of your comfort zone.  If you don't love what you receive, send it back and try again.  I can't wait to see what comes next month or what will be added to the Gwynnie Bee site in the interim.
Through Thursday use this link to get our exclusive Gwynnie Bee Offer of a free extra outfit!
Visit Gwynnie Bee to subscribe or find out more!
The Subscription
:
Gwynnie Bee
The Description
: Plus size clothing subscription rental service. Unlimited exchanges, free shipping & returns. Hot brands for curvy ladies sizes 10-32!Because this is a rental service, this is not quite a plus-size Stitch Fix. However, you can purchase the items you love, usually at a significant discount. We recommend trying it out for a month!
The Price
: $49.00 per month
The Coupon
: Currently when you
sign up for Gwynnie Bee you can get your first month for FREE
, (no coupon code needed!)
A couple things to remember (besides free laundry!):
you can mark your shipment as outgoing so your items ship out faster
you can purchase items that you love at huge discounts
use the community at Gwynnie Bee to help you select the best items for your body and the right size for that garment.
All the garments are inspected and I've never really had an issue with anything I've received in terms of condition.
 It's also worth a mention that the clothes are higher end clothes, so they all have better construction and fabric than what you might normally purchase for yourself.
The plans are as follows:

1 item/ $49 per month
2 items/ $69 per month
3 items/$95 per month
5 items/$139 per month
7 items/$179 per month
10 items/$199 per month