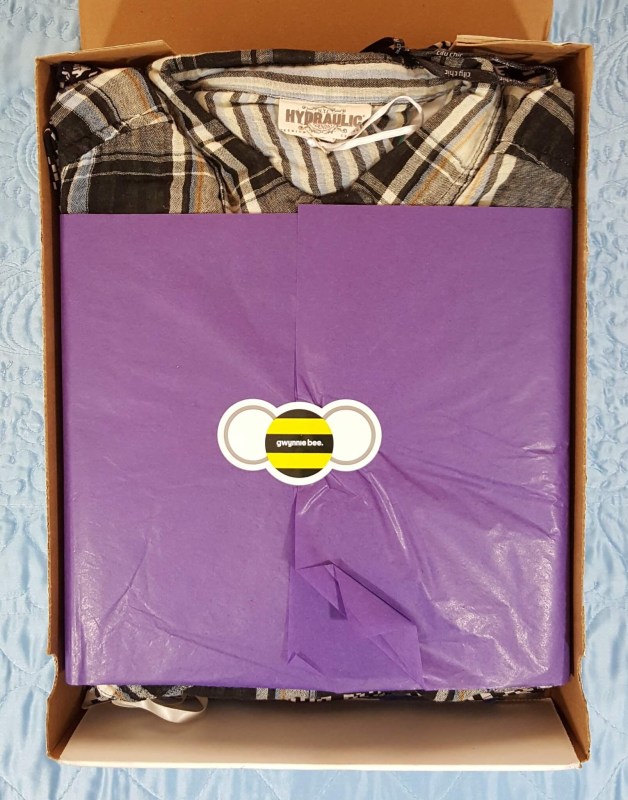 Gwynnie Bee is a clothing rental subscription service for sizes 10-32.   To start, browse through the numerous apparel pieces and add items to your closet.  After you've selected 25+ items, Gwynnie Bee will send you the first three that are available. There is also a feature that lets you prioritize items, so you can have some control over which items are more likely to arrive.  Wear for as long as you like, and then return the pieces to get more! 
Everything comes neatly packed in tissue with a Gwynnie Bee sticker.  How cute is that bee?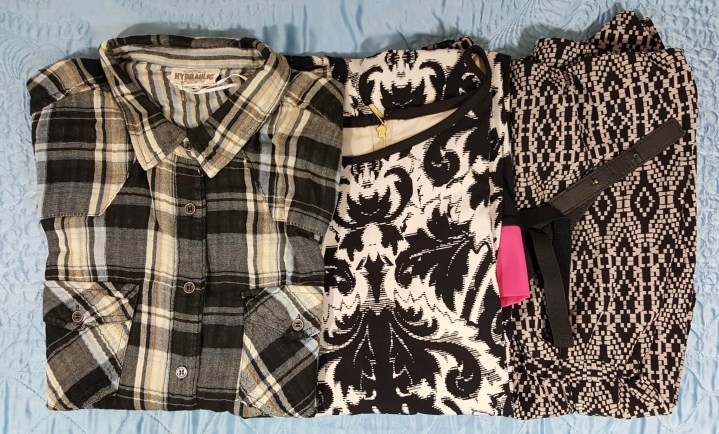 I did request to have two of the pieces expedited, and I guess Gwynnie Bee decided to match the color scheme with the third.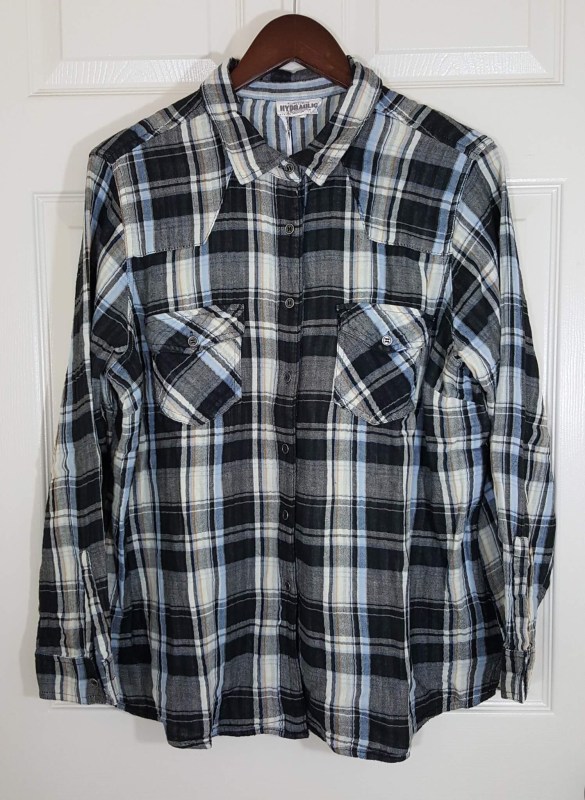 Hydraulic Blue & Black Double Faced Plaid Button Front Shirt (cost to buy $18.00):  This is a gauzy cotton top with roll-tab elbow sleeves.  When I chose this piece, I thought it would be something comfy to throw on for the weekend.  Plus, it reminded me of my grunge days.  It was very lightweight, and the contrast pattern on the rolled sleeve looked cool.  I got this in the 2X based on the measurements in the size chart.  The arms were a bit snug, and it didn't button across my bust.  Guess, I should have gone up a size.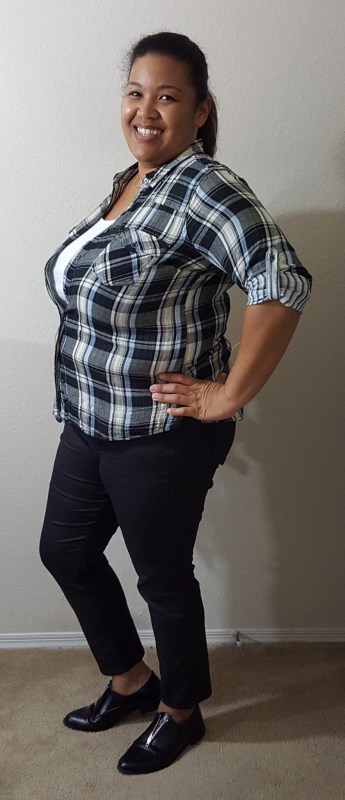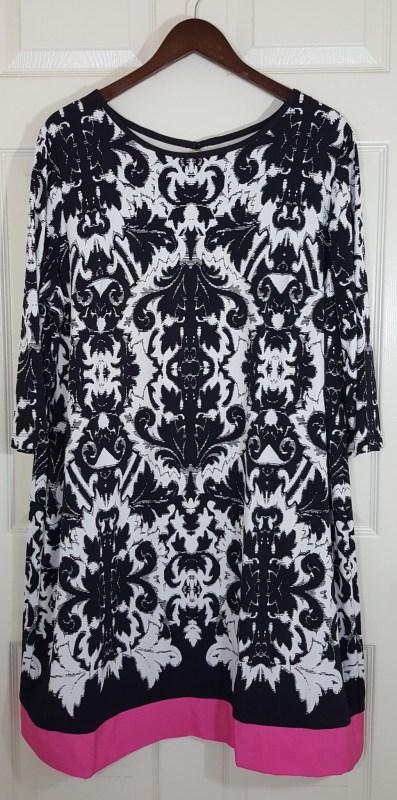 Eliza J Baroque Print Shift Dress (cost to buy $103.50):  The first of my expedited selections.  Shift is the silhouette that I tend to grab when dress shopping, and it is generally the most flattering on me.  I loved the black and white pattern with just a little pop of pink at the bottom (most of my closet is black or white).  The dress is matte-jersey (very forgiving) and fully lined.  I only wish that I had more occasions to wear dresses.  Although I work in an office, I can only wear dresses on days when I'm training… They don't work well with ladders.   I also realized that I needed to go shoe shopping because none of my black shoes looked right with this.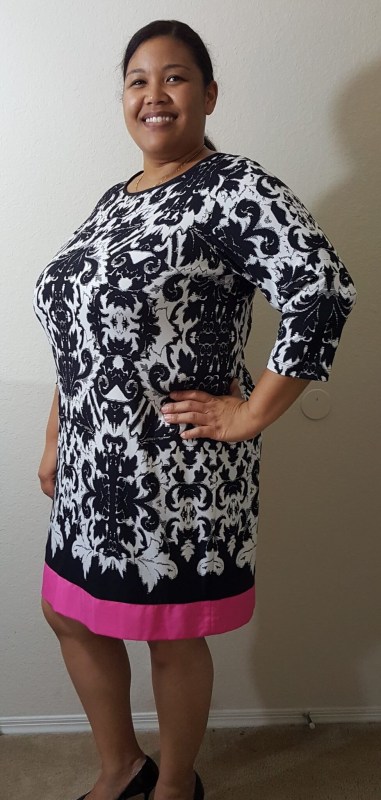 City Chic Mono Graphic Jumpsuit (cost to buy $19.50):  This is the other item that I had expedited.  I really like jumpsuits, but have a hard time finding them.  This one had a great pattern that lends to a lot of accessories and looks.  I read several reviews and saw how others had dressed this up or down and took notes.  On the hanger, the pockets look really huge and unflattering, which scared me some.  I think they disappear a bit when the jumpsuit is on.  Which look do you like better – 80's club or weekend brunch?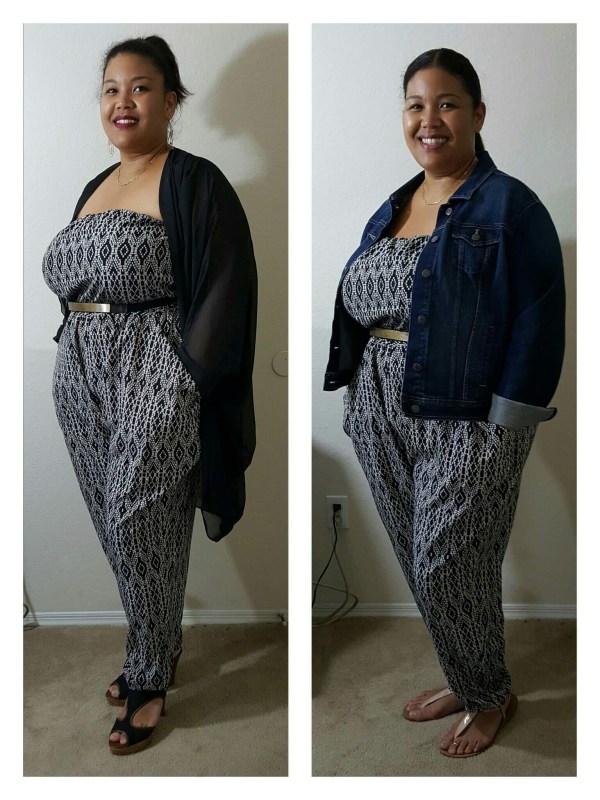 I have been surprised by the assortment of items in the Gwynnie Bee collection.  So far, I am having fun selecting items online – like shopping without the commitment.  AND, the best part is that I wear it for as long as I want and get to return it without having to do laundry!  I think I'll let the Gwynnie Bee team surprise me with my next shipment.  Remember, this is a great way to keep your look fresh.  Plus, you can try styles outside of your comfort zone.  If you don't love what you receive, send it back and try again.
Currently when you sign up for Gwynnie Bee you can get your first month for FREE, (no code needed, just use the link) which is an awesome way to just try it out and see if you love it.
Visit Gwynnie Bee to subscribe or find out more!
The Subscription
:
Gwynnie Bee
The Description
: Plus size clothing subscription rental service. Unlimited exchanges, free shipping & returns. Hot brands for curvy ladies sizes 10-32! Because this is a rental service, this is not quite a plus-size Stitch Fix. However, you can purchase the items you love, usually at a significant discount. We recommend trying it out for a month!
The Price
: $49.00 per month
The Coupon
: Currently when you
sign up for Gwynnie Bee you can get your first month for FREE
, (no coupon code needed!)
A couple things to remember (besides free laundry!):
you can mark your shipment as outgoing so your items ship out faster
you can purchase items that you love at huge discounts
use the community at Gwynnie Bee to help you select the best items for your body and the right size for that garment.
All the garments are inspected and I've never really had an issue with anything I've received in terms of condition.
 It's also worth a mention that the clothes are higher end clothes, so they all have better construction and fabric than what you might normally purchase for yourself.
The plans are as follows:

1 item/ $49 per month
2 items/ $69 per month
3 items/$95 per month
5 items/$139 per month
7 items/$179 per month
10 items/$199 per month