Goodbeing, formerly Goodebox,  is a little different than the standard beauty subscription box because it is a discovery service. You may receive beauty products, cosmetics, wellness and sustainable, toxin-free living goods. Each box will contain 4-5 products ranging from trial-size to full-size.
I love Goodbeing because it has a profile that you fill out upon joining.  The profile is comprehensive and took me about 15 minutes to fill out. It's worth the time because the box is customized based upon your answers. It's ideal for people like me that have specific skincare needs. My box may not look like your box. I would love to hear what is in your box!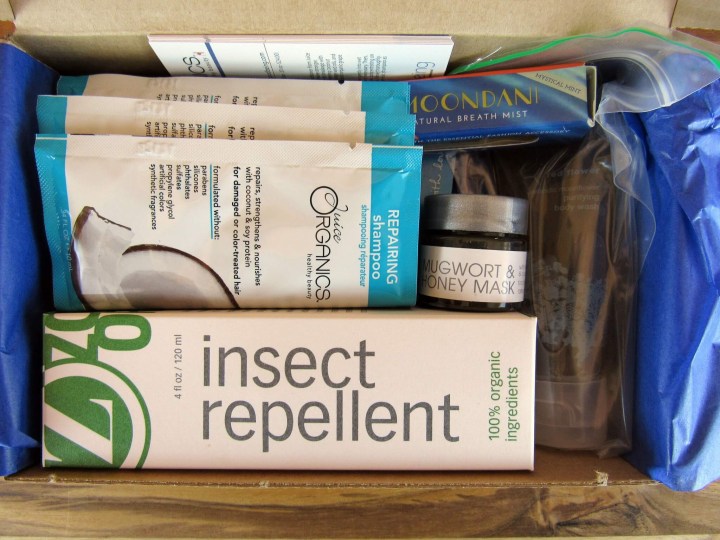 I am loving my first peek. Eek! I see Zoe Organics Insect Repellent. I planned to buy it within the next week because the bugs are arriving now the weather is starting to warm up.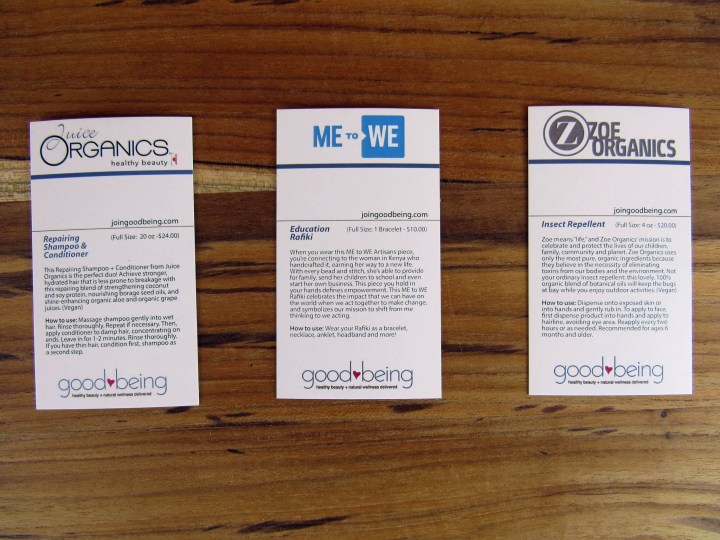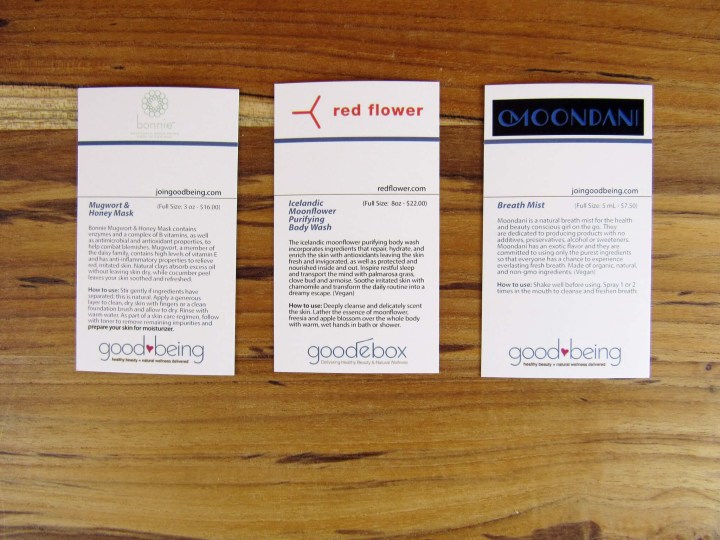 Goodbeing provides information cards for each item in the box. The website, price and directions are included on the cards.
One of the things that I love about Goodbeing Box is that if they are sending a foil, it will be more than one. I can't wait to check out my items!
This month's Me to We Bracelet is the Education Rafiki Bracelet ($10.00). The Education Bracelet provides one month of school supplies to a child overseas! Check out who we are helping! Type in code 7782-5300 into the tracker to find out. The bracelet can be worn as a necklace, bracelet, or headband.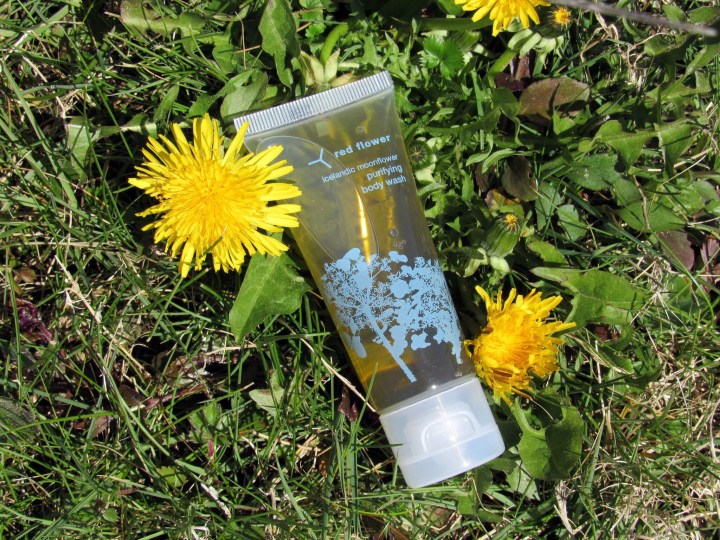 The Icelandic Moonflower Purifying Body Wash ($3.70) is 100% cruelty and paraben-free. The vegan body wash calms the skin, enriches it with antioxidants, and leaves it feeling invigorated. It contains a blend of blend of certified organic cucumber, green tea, chamomile, ginger, apple, and aloe vera. I could mostly smell the chamomile.
The Mugwart & Honey Mask ($3.75) is a smoothing mask for sensitive skin. Stir the mask if ingredients are separated, apply to clean face, relax for about 15 minutes, and rinse with warm water. My skin is saying try it tonight!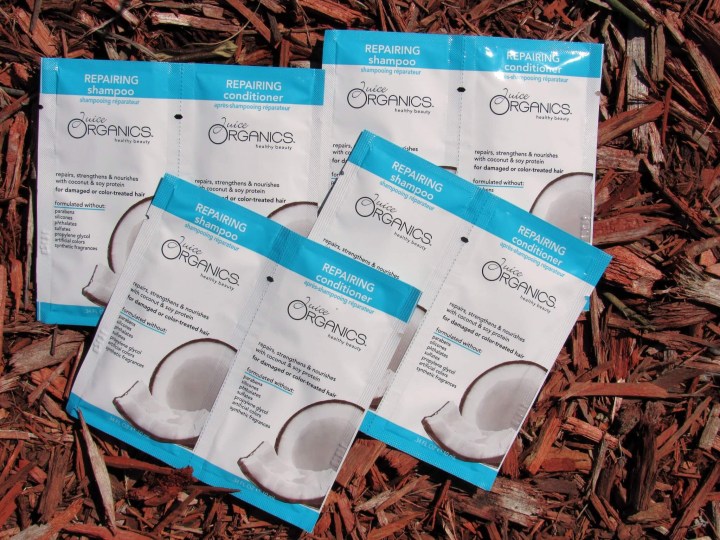 Goodbeing is not chintzy with foils. The Juice Organics Repairing Shampoo and the Juice Organics Repairing Conditioner uses coconut oil and argan oil to pamper damaged and color treated hair. It is free of parabens, silicones, phthalates, sulfates, propylene glycol, artificial colors, and synthetic fragrances. The total sample value is $4.80. I will be adding the foils to my morning shower routine.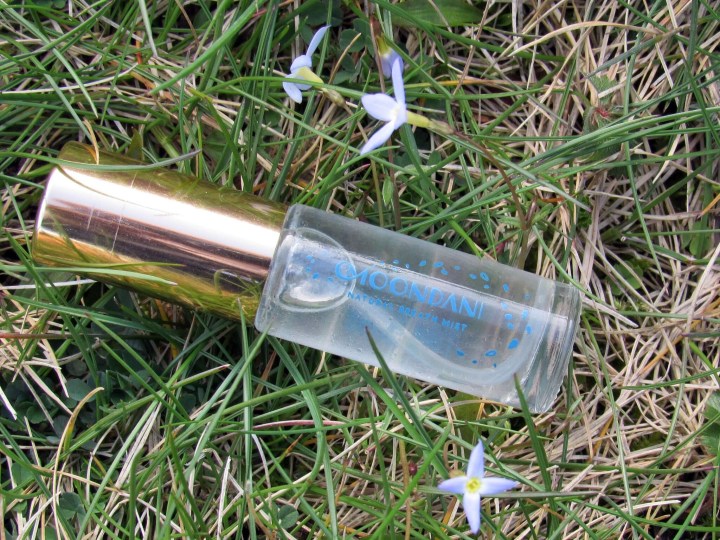 The Moondani Breath Mist ($7.50) provides a discreet way to freshen up your breath. The organic, natural, vegan, non-gmo spray has a fresh ginger scent to it. I'll be tucking this into my purse!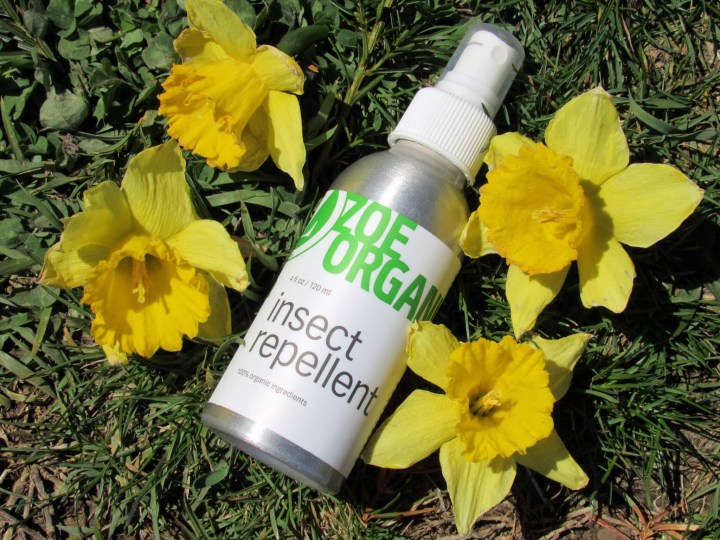 The Zoe Organics Insect Repellent ($20.00) arrived at the perfect time now the weather is starting to warm up. I used the 100% blend of botanical oils repellent last year and found it worked great for me. It's also easy to find at Target!
I am over the moon about the April 2016 Goodbeing box. I am ecstatic to receive the Zoe Organics Insect Repellent and am looking forward to trying out the other items. I enjoy receiving a box that is customized to my needs. The value of the box is at almost $50.00 which is a great value for a customized natural box.
What did you receive in your Goodbeing Box? Let us know!
Visit Goodbeing to subscribe or find out more!
The Subscription
:
Goodbeing
The Description
: Goodbeing (formerly Goodebox) is a premium discovery & trial service providing expertly curated, healthy beauty products, non-toxic cosmetics, natural wellness & sustainable, toxin-free living goods.
The Price
: $21.00 per month