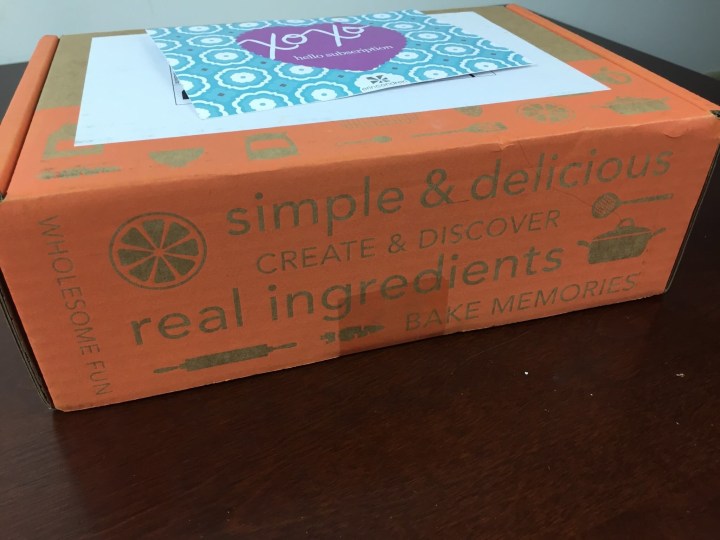 Foodstirs is a new monthly baking subscription box created by Sarah Michelle Gellar. Every month you'll receive family-oriented baking kits made with premium and real ingredients, free of preservatives, artificial dyes and flavors. The mixes use organic and non-GMO ingredients when available.  You can also choose to subscribe monthly to their sugar cookie, brownie, or vanilla cupcake mix. You can choose to get the monthly kit or start your subscription with one of the kits in the store.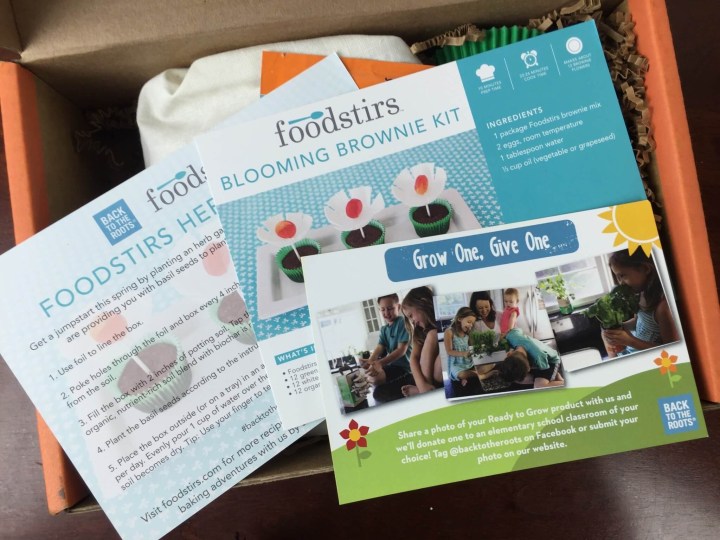 The theme for March was Brownie.  When the treats have a holiday theme, this subscription comes in plenty of time to make a seasonal treat before the holiday.
The box includes a card letting you know the ingredients needed, tools, baking time, quantity, etc.  I liked that it broke down the ingredients you need twice (the second time being what you need at home).   The kit includes all dry ingredients and decorative items — you supply eggs, butter, and other dairy when needed.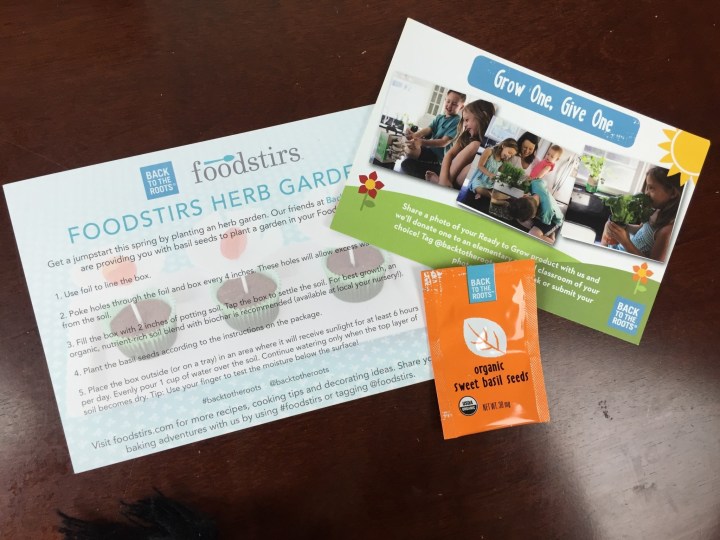 This month included a bonus make a garden out of your box craft with a few seeds.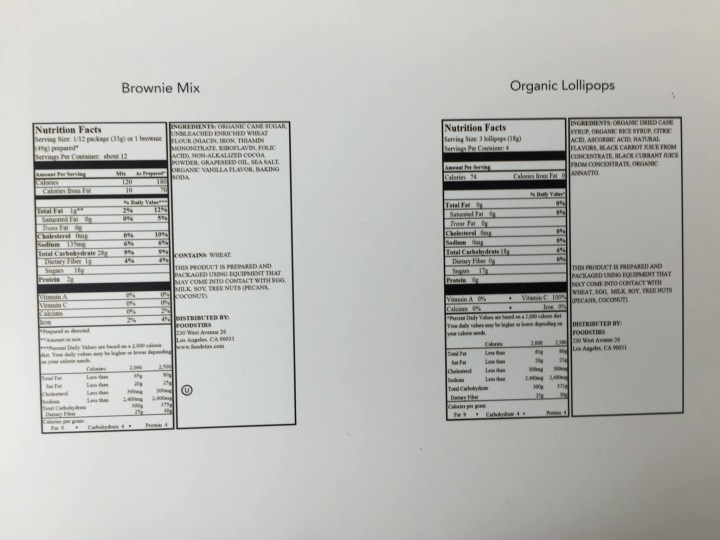 The box includes complete nutritional and ingredients information.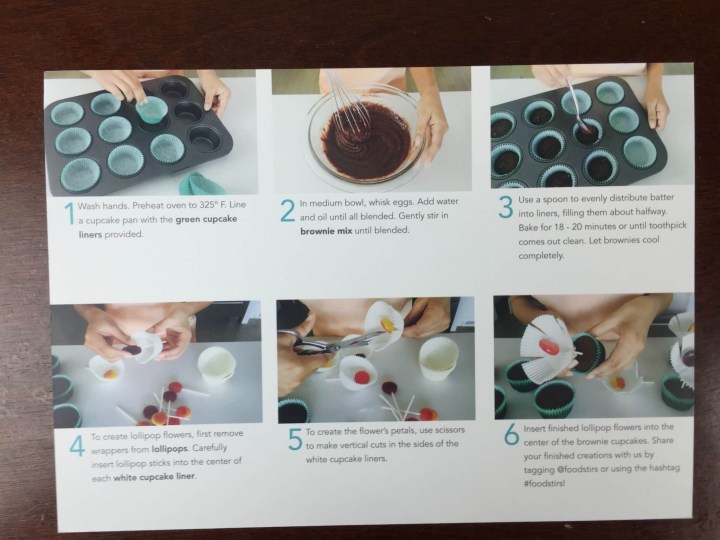 The instructions. They are step by step with a photo for each step.  We've found them to be a bit awkward in the past (having you separate eggs only to recombine them, or chilling butter , making it difficult to blend), but this recipe was well-designed and worked perfectly as written. This wasn't hard – this was sort of a… non-involved craft.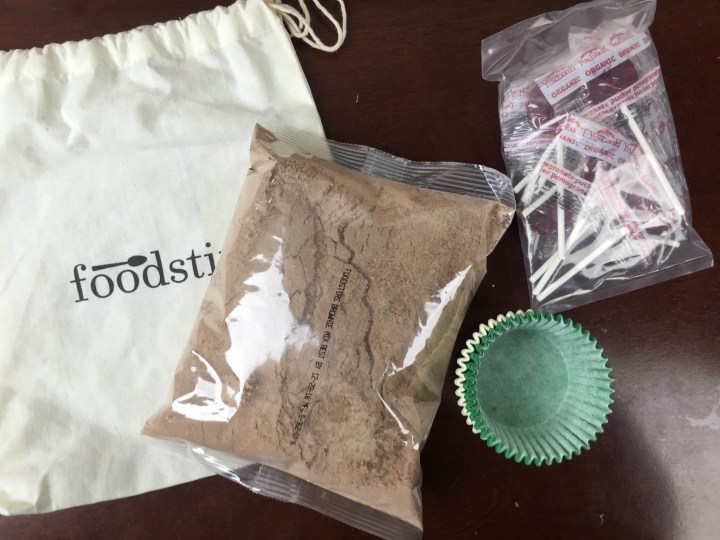 The contents arrive bundled in a Foodstirs cloth sack and nestled in squiggles. Each bag is labeled, though it's fairly easy to tell what the contents are through the bag.
I mixed up the brownies and threw them in the oven to bake. That was the extent of the baking this month.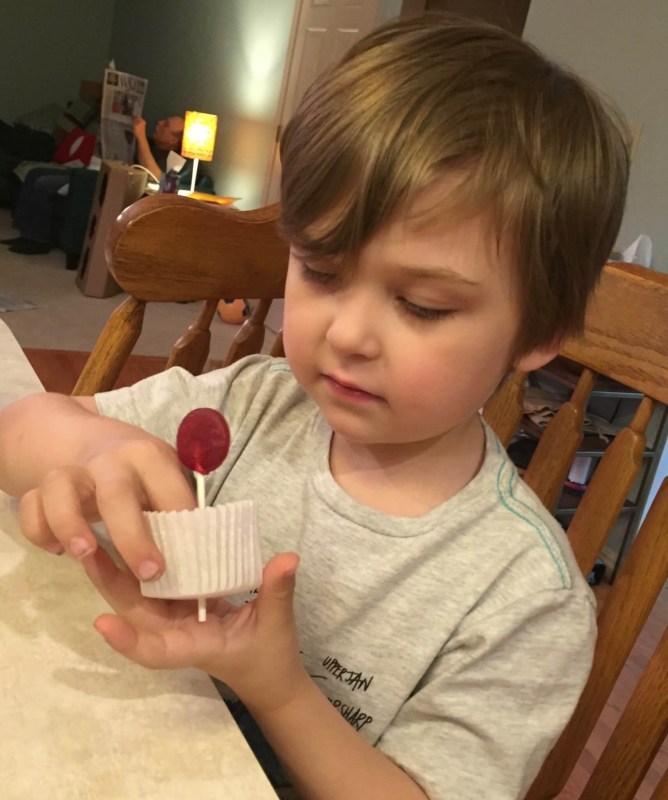 The craft was simplistic – stick an unwrapped lollipop through a baking cup liner. It was harder than it sounded and we ended up poking a tiny hole into the liner with a sharp object so the kids could poke the lollipops through.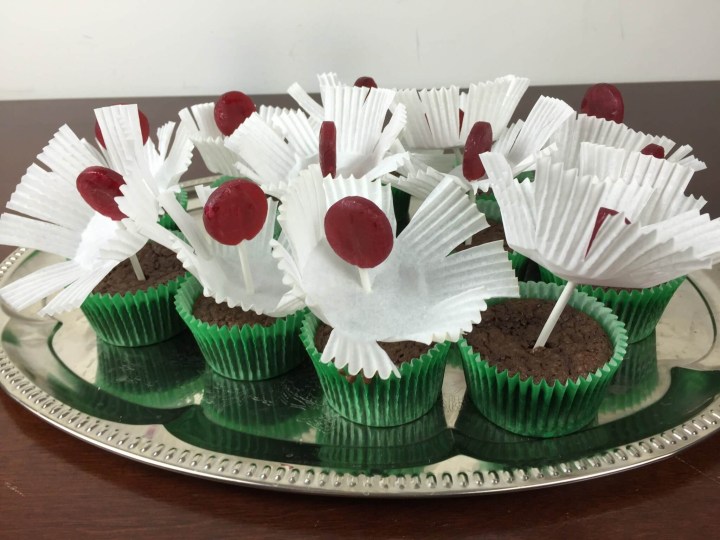 Good news, Foodstirs just dropped the price of this subscription to $19.99, including free shipping (actually, they tried to tell me they lowered the price and I still had free shipping, which wasn't true at all, because the box has always been $25.90 with the shipping). But I don't think my consideration changes too much based on this box. I wrote the below before the price was reduced – and I still think it's too expensive.
This is a fun assembly all together, but if you recall the Foodstirs picture, they didn't turn out like that – and I think the whole premise of this box for $25 per month is that you can have a pinterest-perfect project, and we just don't get that from this subscription (it was clear to me that they affixed some sort of goo or something underneath the liners to get them to stay up, because it otherwise defies the laws of physics).  Foodstirs is one of the lowest value subscription boxes we've seen. This month included about 15 baking cup liners ($1, generously), 12 lollipops ($1), and a foodstirs brownie mix ($7.95).  Wrong celebrity, but stop trying to make fetch happen is what I feel about this box. $9.95 in product isn't ok for a $25 box. We suggest buying the mixes instead (which are tasty!) if you want the organic mix and doing the crafts on your own. Or if you're good with a mix from a store you could make this craft for yourself for $4. (and also, maybe get some colorful flowers!).
Visit Foodstirs to subscribe or find out more!
The Subscription
:
Foodstirs
The Description
: Get curated themed baking kits delivered straight to your door every month. A convenient, delicious and healthier way to bring families together in the kitchen. Get family-oriented baking kits made with premium and real ingredients, free of preservatives, artificial dyes and flavors. Organic and non-GMO ingredients when available.
The Price
: $19.99