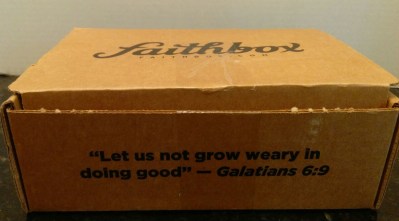 FaithBox is a Christian company that seeks to help strengthen your faith in God with their devotional and bring joy with their great products from companies that do good.    With the purchase of each box they provide 3 meals for hungry children through a partnership with Rice Bowls.  In 2015 they were able to provide over 100k meals for hungry children.
"…. Let us not grow weary in doing good."  –  Galatians 6:9

Feeding hungry children should transcend all political and religious ideologies.    I don't care who you are, feeding hungry babies is a good idea  And as a bonus, according to the verse above, God approves.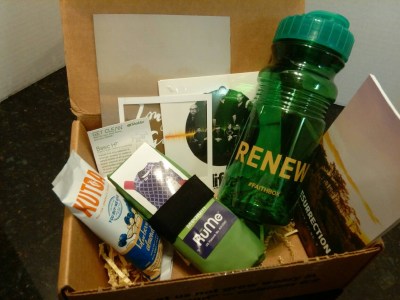 Plus, you get a box full of cool stuff in the process.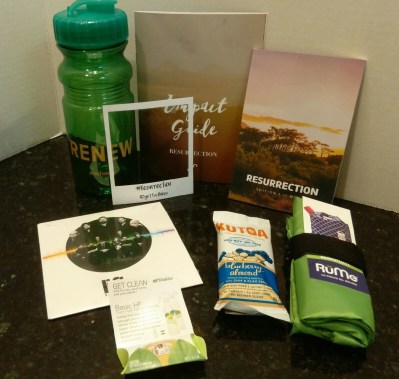 You can subscribe to Faith Box with a month to month plan, a 3 month plan or a one year plan.  With the month to month plan you pay $20 plus $5 shipping each month.  The 3 month plan reduces the price per box to $19 plus $5 shipping when you pay for 3 months ahead of time.  For the best price per box you can pay for one year at a time and get each box for the price of $17 per box plus $5 shipping.
The Impact Guide in each box will give you a detailed description of each product in the box and tell you a little about how the companies that make each one are striving to impact the world for good.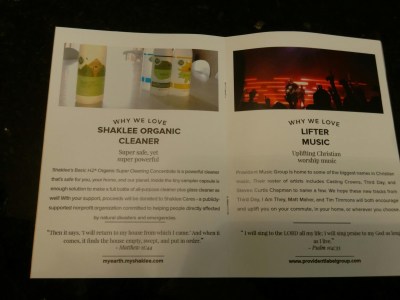 The Impact Guide really goes into detail with a glossy picture for each product, a description of the product and the company that makes it, and a verse that corresponds to the products.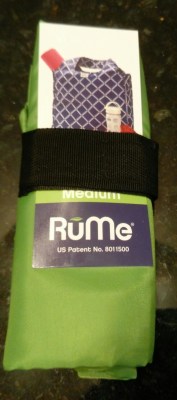 This bag by RuMe, short for ReUseMe, was in the box.  It folds up into a deceptively small package and is perfect to keep in your car (or Suburban if you have 5 kids).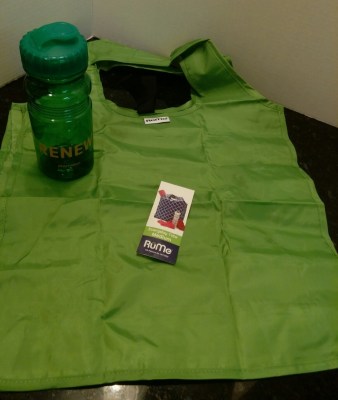 See, this thing is huge!!  It folds up small enough that you could slip into the pocket of your jeans, but it unfurls to be large enough to carry the contents of a large paper grocery sack.  It's machine washable, water resistant, can hold up to 50lbs (um…., I'm not sure I can carry 50lbs…), has square sides and bottom, and double bound seams.  And, this is their Medium Tote!  You can find your own here.  They retail for $9.95, come in a multitude of colors and patterns and you can even get them personalized for a few dollars more.
So, if you in fact are worshiping the God who created this world shouldn't you be trying to honor his creation?  Nearly 90% of plastic water bottles are not recycled!  Plus, filling up your own water bottle is much more budget friendly.  The bottle is a pretty green shade of BPA free plastic to encourage you to hydrate in an environmentally friendly way.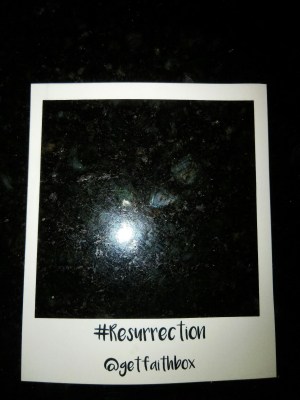 Check out Faith Box on social media with a little encouragement from this Polaroid-esk cardboard frame that was in the box.  Twitter  –  Instagram – Facebook – Pinterest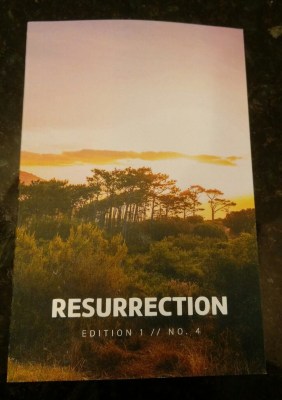 This is their monthly devotional book, Everyday Faith, that was in the box.  They are now offering a monthly subscription called Every Day Faith for just their devotionals.   If you pay month to month you can get the book for $8 a month, shipping included.  If you prepay for the year the price drops to $6 a month, shipping included.  They also provide meals to 3 children for each of these purchased.
Each day is numbered 1-30, but not dated so you can start whenever you want.  Every day begins with a verse from the Bible, a couple of sentences elaborating on the verse and encouraging you in the faith, and then ends with a challenge to bring the verse to reality in your life (plus space to write down your own thoughts).
This bit of deliciousness from Kutoa was in the box.  Kutoa actually means "to give" in Swahili.  For each bar purchased they provide a meal to a child through a partnership with the World Food Program USA.  Again, you can't go wrong with feeding hungry babies!  You can purchase a 12 pack on Kutoa.com for $23.99 or you can choose to subscribe and save to reduce the price by 10% to $21.59 per box.  If you order is over $50 shipping is free too.  The bars are non-GMO verified, gluten free, vegan (dairy free), soy free, all natural, no preservatives, and no added sugar, plus, they are good!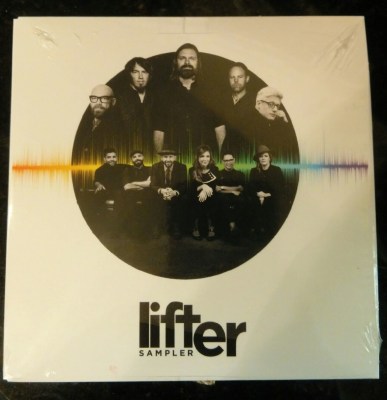 This sampler CD from Provident Music Group was in the box.  Their groups include artists such as Casting Crowns, Third Day, and Steven Curtis Chapman among others.  The CD has four songs for your listening pleasure.  Third Day-Your Words, I Am They – Make a Way, Matt Maher – Abide with Me and Tim Timmons – Everywhere I Go.  You can also download a bonus song, "Just be Held" by Casting Crowns.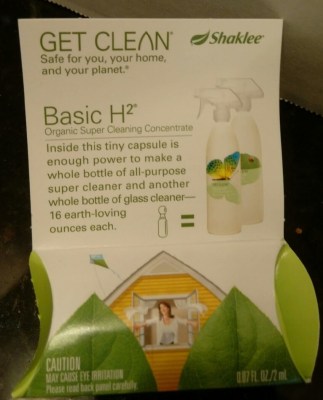 This Basic H2 Organic Super Cleaning Concentrate from Shaklee was in the box.  When they say concentrated they aren't kidding around.  This little pack is enough concentrate to make a 16 oz bottle of all purpose super cleaner and another 16 oz bottle of glass cleaner.  It's also safe for you, your home and the planet.  Proceeds from your purchase of this product also go towards Shaklee Cares – a publicly supported nonprofit organization committed to helping people affected by natural disasters and emergencies.  The mom in me sees all kind of practical uses for this little bottle of cleaning concentrate goodness!  It would be great for camping, RVing, plane travel (under 3 oz of liquid) and just for cleaning product storage.  You can purchase a 16 oz bottle of the concentrate for the retail price of $12.15 or the Shaklee member price of $10.35.  One 16oz bottle will make 48 gallons of all purpose cleaner!!
Seriously, the helping others, doing good, etc. never ends with this box.  The proceeds from this box go to feed at least four children.  I Love that.   "And let us not be weary in well doing: for in due season we shall reap, if we faint not." Galatians 6:9 KJV 
Visit Faithbox to subscribe or find out more! Save $5 on your first box! Use coupon code SAVENOW.
The Subscription
:
Faithbox
The Description
: Faithbox inspires positive Christian living by helping people grow in their faith, impact their community, and discover meaningful products. Faithbox hand-picks the products from companies and organizations who share our vision of a triple bottom line: people, planet, purpose.
The Price
: $25.00 per month