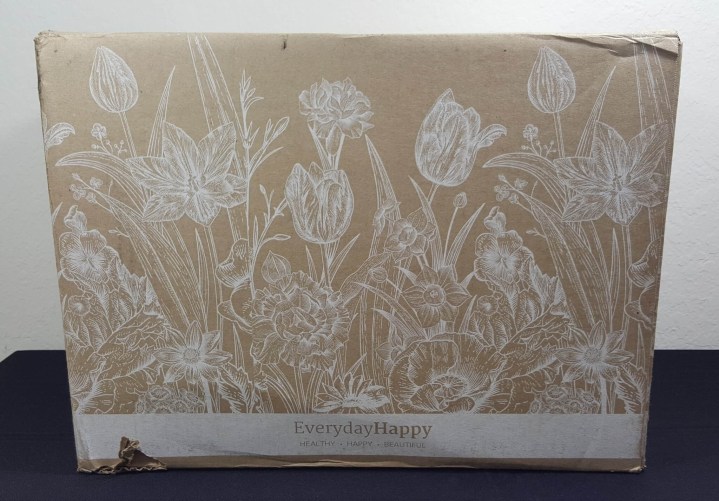 EverydayHappy is a monthly subscription to a variety of premium, eco-friendly EverydayHappy products, all of which are delivered straight to your door.  Starting at $35.95,choose between 3 kits to meet your family's needs:
The Family Care Kit – You'll get 5 premium, natural products including: Face & Body Lotion, 2-in-1 Shampoo & Body Wash, Intense Moisture Baby Cream, Liquid Hand Soap, and Laundry Detergent.  All carefully formulated to be super gentle and effective, without harsh chemicals.  Each of our Family Care products are non-toxic, hypoallergenic, tear- and PETA-certified cruelty-free.
The Wellness Care Kit – We'll send you a one-month supply for two adults of our Multivitamins and Omega 3s.  Our Multivitamins contain all your daily essential nutrients in 60 easy to swallow tablets with no artificial flavors.  And our Omega 3s contain 60 softgels that have been sustainably sourced from wild anchovies to minimize harmful mercury contamination.
The Diaper Care Kit – Our monthly kit includes up to 315 natural diapers and 320 gentle wipes for a month of easy, eco-friendly diapering.  Our super-soft diapers, made from sustainable SFI-certified wood pulp, are elemental-chlorine free to prevent harmful dioxin formation.  And, our 100% bamboo wipes are infused with aloe, vitamin E and cucumber extracts to ensure a gentle clean every time.
You can save up to 40% by choosing to bundle and decide when and how often your kit ships. Cancel anytime!  This review is of items that can be selected for the Family Care Kit.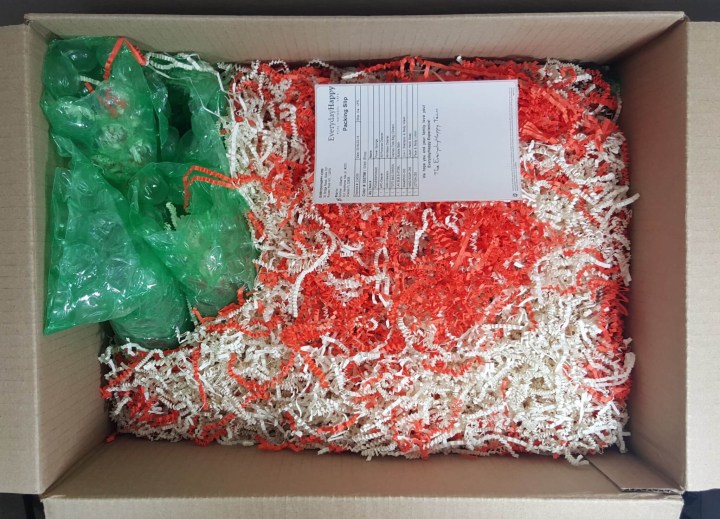 My first look in.  This box was massive, and I wasn't sure how big my bottles would be.  As you can see, there is plenty of packing material to ensure safe delivery of product.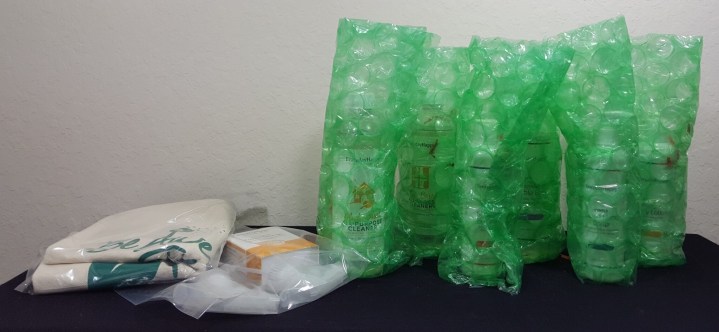 Everything was packed in its own bag or bubble wrap.  I didn't take a picture of them, but the bath/body products were also shrink wrapped.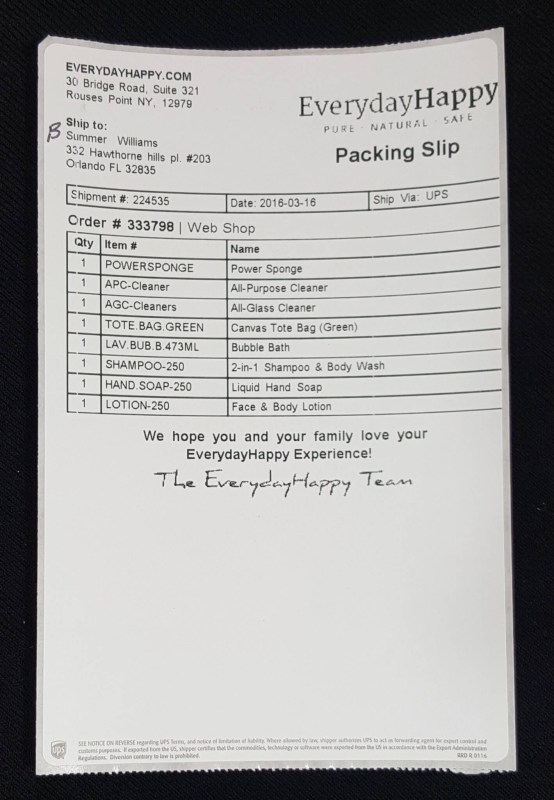 The packing slip is itemized with a description and item number for each product.  Since the box was so large, I had to use it to make sure that I pulled everything out from the squiggles.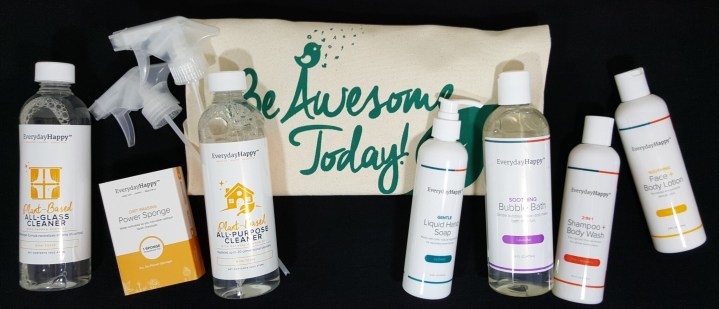 My box, all laid out.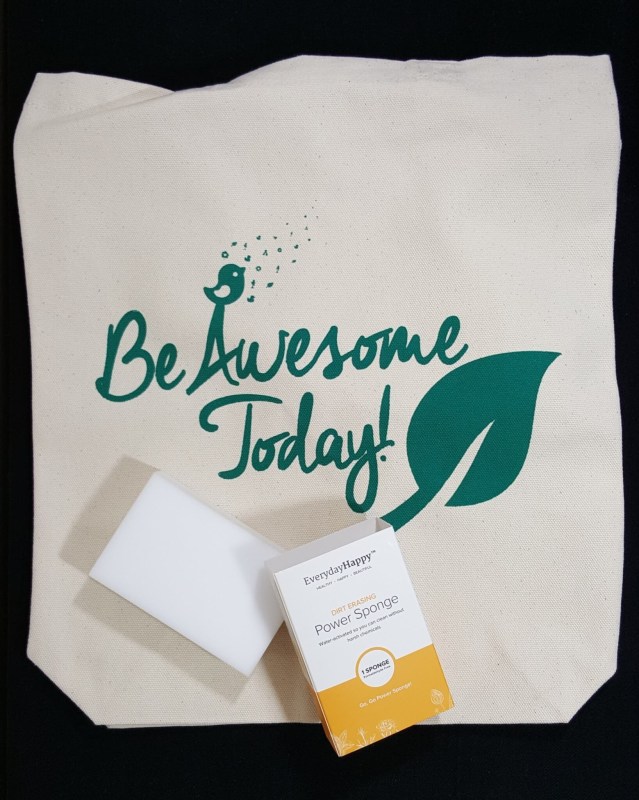 Canvas Tote – Green  ($14.95):  A 100% heavyweight cotton tote.  The bottom of the bag is about 3″ wide.  I really like the positive saying on the front of the bag, and I think that I will be awesome today (or at least I'll try).
Power Sponge ($0.99):  All proceeds from the sale of this product will be donated to UNICEF to help children in need.  How awesome is that (no pun intended)?  This is similar to a brand name sponge with magical erasing powers.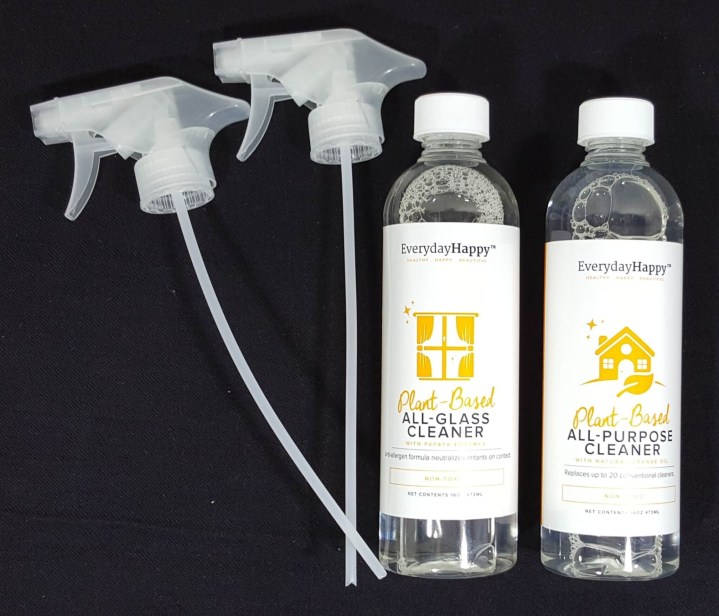 All-Glass Cleaner ($4.95):  Plant-based and made with natural papaya enzymes, it neutralizes irritants on contact to help keep your air clean. The biodegradable, vegan and cruelty-free formula helps you say goodbye to dust mite waste, pet dander, pollen and mold spores.  Although it is made with papaya, this has a lemony scent to me.  And with allergy season in full swing around here, this formula should be the perfect weapon to help me in my battle – lots of glass furniture in my home.
All-Purpose Cleaner ($4.95):  Plant-based, vegan, cruelty-free and made with natural orange oil, it's biodegradable and hypoallergenic. It replaces up to 20 conventional cleaners.  This smells like orange drink to me, not real oranges.  It came at the perfect time; I just finished a bottle of my regular AP cleaner.  I tested this on my stove, and it did a really nice job of cleaning up a greasy mess.
Liquid Hand Soap ($4.95):  This soap has a strong floral scent, but in spite of that, I liked it.  It left my hands feeling very clean without being stripped.
Bubble Bath ($11.95):  This is a gentle, tear-free formula.  While I am not a fan of most florals, I absolutely LOVE lavender and this smells amazing.  I almost didn't want to give it to my little nephew.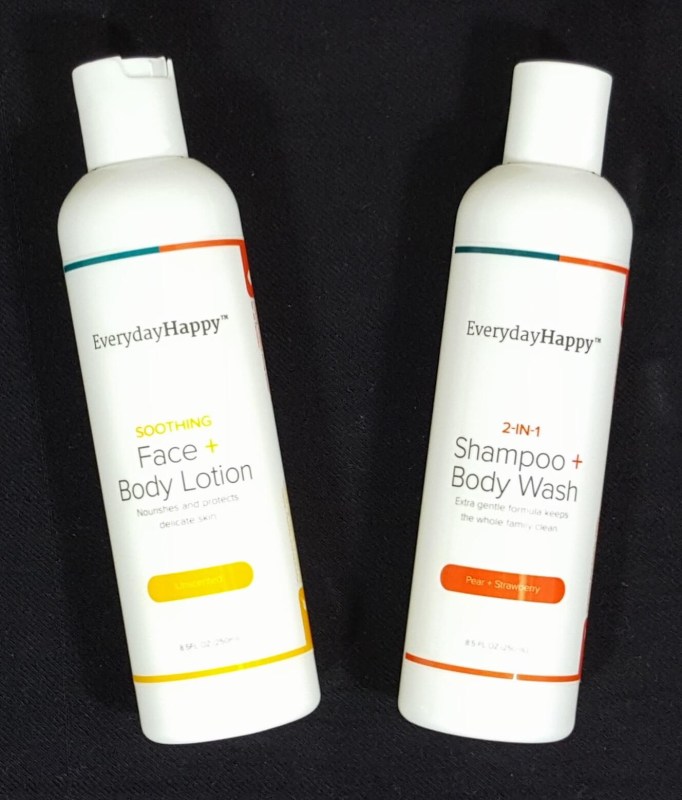 2-in-1 Shampoo & Body Wash ($9.95):  EverydayHappy Shampoo + Body Wash is the ultimate multi-tasker! With natural plant extracts like pear, strawberry and liquorice root, it'll keep your hair and skin fresh… whenever you actually get the chance to shower. That's not all — the extra gentle formula is perfect for babies, too.  With a description like that, I had to try this.  I didn't use it as a shampoo – I've had too many bad results in the past.  This was a low sudsing but effective wash.  The best thing about the wash is that it can be used on all ages in a household, so no need for multiple bath products.  The only downside is that I didn't catch any of the pear/strawberry scent at all.
Face & Body Lotion ($9.95):  EverydayHappy's Face + Body Lotion is rich in skin-loving ingredients, like jojoba and wheat germ oils that'll keep you feeling plush. The non-greasy formula absorbs quickly, giving smooth, glowing skin to both you and your little one.  This lives up to the description completely.  My skin was moisturized for about 24 hours (could have been more, but my shower schedule changed with my work schedule).  I liked that this was unscented because it didn't conflict with my perfume.
I feel that prices for the household cleaning products are in line with brand name plant-based/natural cleaners.  Bath and body items were a little inflated to me, but I like that they are safe for the youngest family members and can be used by all ages.
This box contained nearly $63 worth of product.  Here's where the savings come in.  If I bundled the 5 most expensive items as part of my Family Care Kit and then added on the cheapest three, my total cost would be around $47.  That's a savings of 25%!
I'd love to hear your thoughts on EverydayHappy.  Leave me a comment below.
Visit Every Day Happy to subscribe or find out more! Get a free trial Diaper or Family Care Kit! Deal applies automatically, just visit and subscribe (scroll down to see all the free trials available). Pay $5.95 shipping.
The Subscription
:
Every Day Happy
The Description
: EveryDay Happy is a new subscription service. Their Kits offer a monthly subscription to a variety of premium, eco-friendly EverydayHappy products, all of which are delivered straight to your door. You can save up to 40% by choosing to bundle and decide when and how often your Kit ships. Cancel anytime!
The Price
: $15.00 per month