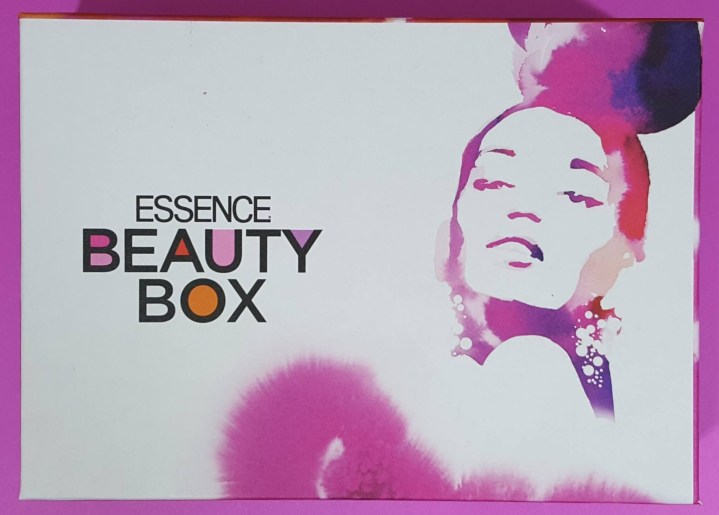 The Essence BeautyBox theme for April is Fresh Start.  Essence BeautyBoxes are curated by their trusted beauty experts and deliver 5 luxe samples to your door each month starting at $15 for a single box.  For recurring 6 or 12 month subscriptions, the price drops to $12.50 per box.  You'll have the opportunity to test some of the latest and most innovative products, as well as proven favorites.  Additionally, to honor and support beauty entrepreneurship in the Black community, Essence BeautyBox also strives to feature a product from a Black-owned business in each box.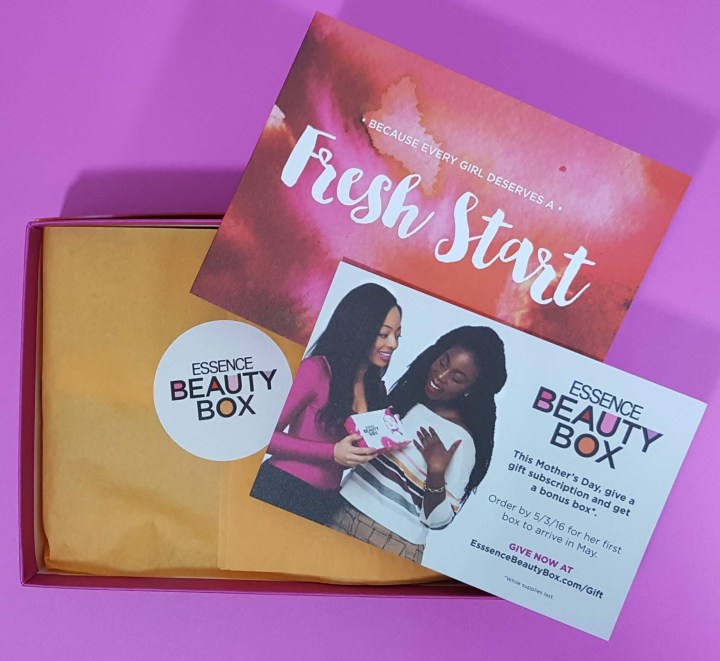 Did you notice that with the Fresh Start theme this month, the box is different?  The vivacious lady on the box has changed and now has an up-do.  Also, the watercolors are more fuchsia than purple, and the tissue paper is now orange.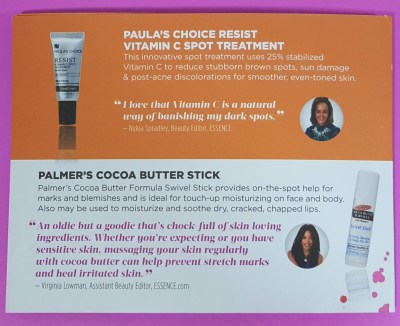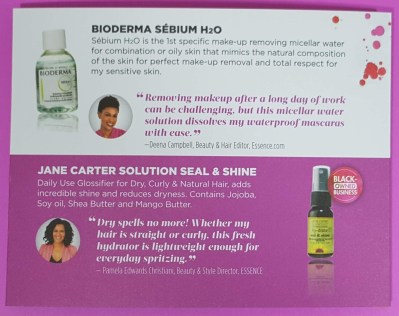 The information packet contains a note from the Essence BeautyBox Team explaining the theme, as well as information on each item and the Essence beauty editors who chose it and why.
Hey Gorgeous!

It's official; the remnants of winter have passed and springtime is here!  It's the time to lighten your style load, but don't forget to do the same for your beauty routine.

We don't enjoy following rigid rules, but it's important to stay in the know about what keeps our outer layers looking happy and healthy.  This month, we're taking advantage of the seasonal change and giving your hair, skin and makeup arsenal a "fresh start."

Our April box is locked and loaded with products that make getting ready for the day anything but a chore.  From sexy shadow to a coconut confection, your shade of beautiful is the perfect mix of fun and functional for every occasion.

Don't forget to share your fresh and fierce looks using #ESSENCEBeauty on social media.

Until Next Time,

The ESSENCE BeautyBox Team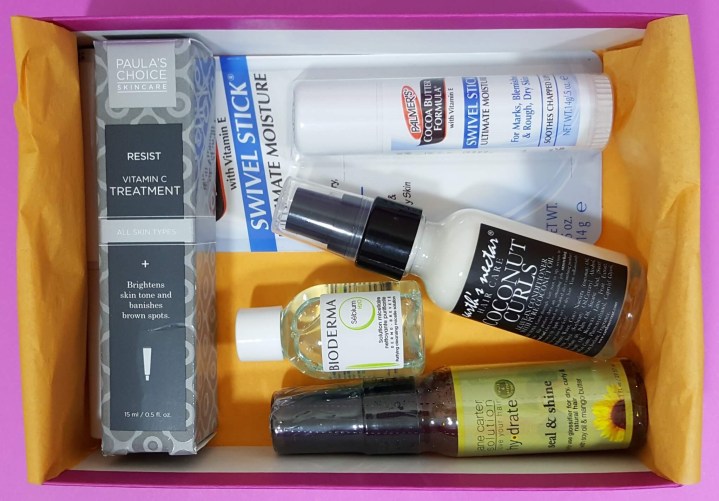 My first look!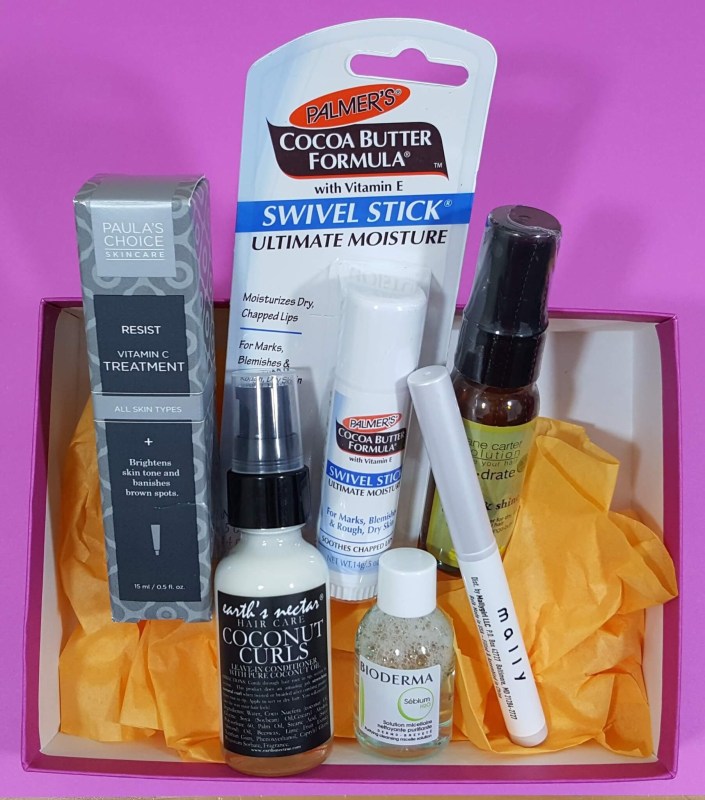 My April box.  I see lots of goodies for fresh skin!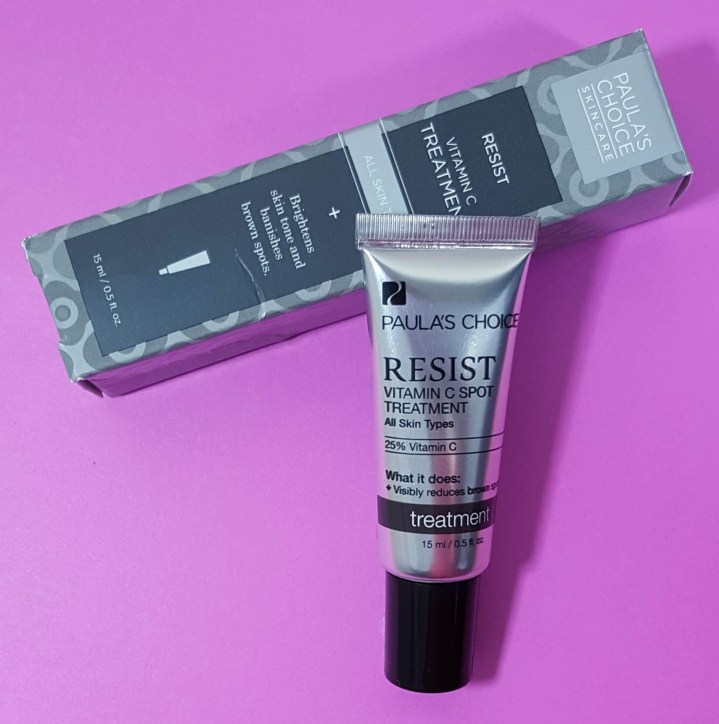 Paula's Choice Resist Vitamin C Spot Treatment ($55.00):  Yowza!  That price is correct – this is a full size item.  "This innovative spot treatment combines 25% stabilized vitamin C (ascorbic acid) in a silky, line-smoothing texture. Ideal for spot-treating stubborn brown spots and post-acne discolorations anywhere on the face, neck, or chest."  I've been lucky to not have wrinkles yet, and my dark spots are freckles.  I think I'll try this to lighten up a scar I have on my hand.
Bioderma Sebium H2O ($18.47 for 500 mL Amazon.com):  This is a micellar water for combination and oily skin.  I'm sure you've seen that these are all the rage at the moment, but probably weren't sure what they are.  Micelles, tiny balls of cleansing oil molecules, are suspended in soft water.  They are attracted to dirt and oil, drawing impurities from the skin.  I was surprised by how well this removed my makeup after a day at work.  My skin felt clean and was not dry/tight afterwards.
Palmer's Cocoa Butter Stick ($3.50):  This stick "provides on-the-spot help for marks and blemishes and is ideal for touch-up moisturizing on face and body. Also may be used to moisturize and soothe dry, cracked, chapped lips."  I actually keep one of these in my purse to provide relief from chafing on my heels with new shoes.  This also gets used a lot in winter when my hands are super dry.  My sister swears by it when it comes to minimizing scars.  So, I am happy to have another stick in stock.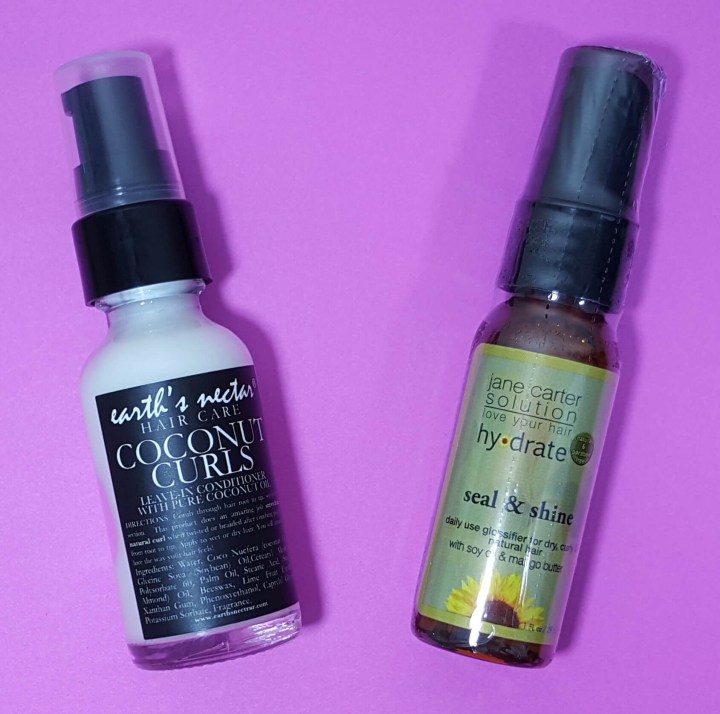 Earth's Nectar Coconut Curls ($23.50 for 12 oz.):  I've received this brand before in another box, but didn't care for the product, so I am hesitant to try this.  This is a leave in conditioning cream that can be used to detangle, soften, and tame frizz/flyaways with its combination of coconut and almond oils.  I will say that I like the feel of this conditioner and its scent.  I think I'll use this as a heat protectant when I do a blowout.
Jane Carter Solution Seal & Shine ($15.00 for 4 oz.):  This plant-based solution is a glossifier for dry, curly, and natural hair.  It has an earthy scent that I didn't care for.  However, as a shine enhancer, this was great.  The spray nozzle diffused the product evenly and was nicer to use instead of spreading product with my hands (I tend to over-saturate sections and end up with oily patches).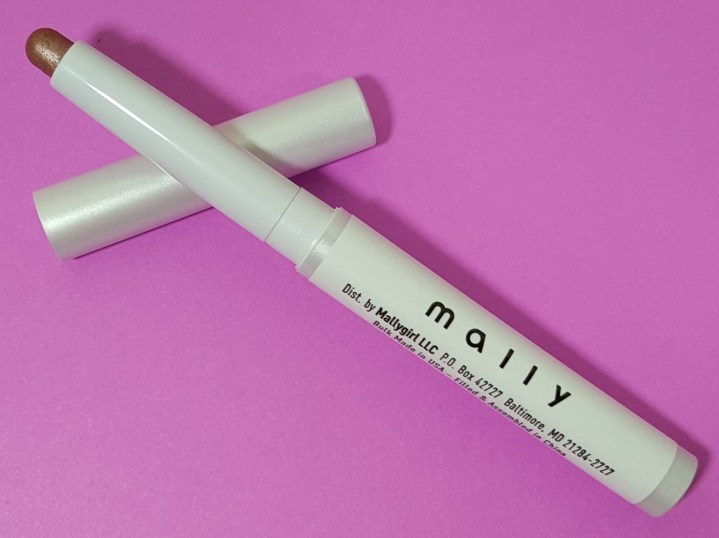 Mally Evercolor Shadow Stick in Copper Rose ($25.00):  Mally products are frequently seen in beauty boxes (Birchbox, Allure, and New Beauty Test Tube just to name a few), so if you have other subscriptions, this is not new to you.  This shadow stick is in the regular Mally casing, but it seems a wrap around sticker was on to notify consumers that these were filled and assembled in China.  Anyway, this combines primer, shadow base, and eye shadow all into one convenient stick.  Just swipe on color and go.  The ESSENCE BeautyBox team provided some tips for different ways to use this on their instagram.  Copper Rose was very close to my skin tone and looked more like a shimmer – great for transitioning my day look to night.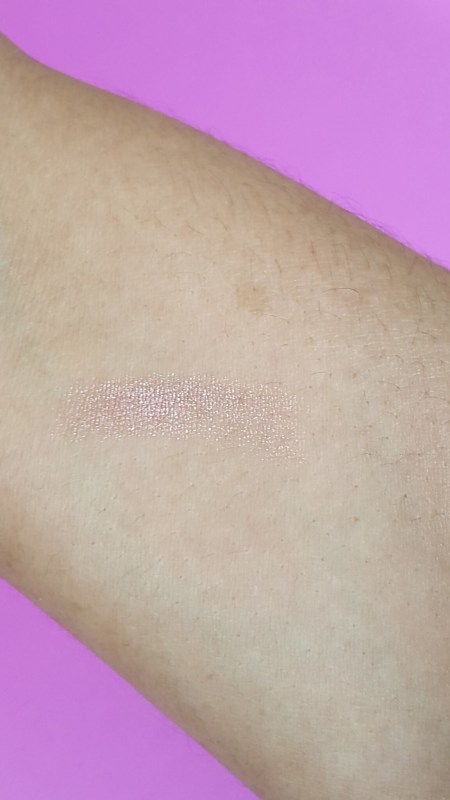 Swatch of Copper Rose.
This box contains just over $90 of product!!!  Half of the items were full size, and two of those individually were worth more than the cost of the subscription.  Seriously, who expects a $55 cream in a $15 box??  The ESSENCE BeautyBox team went well above my expectations this month.  My fave item is the Bioderma Sebium H2O.  Let me know what yours is or what you think of the box by leaving a comment below.
Visit Essence Beauty Box to subscribe or find out more! Use code HELLO10 to save 10% on your subscription!
The Subscription
:
Essence Beauty Box
The Description
: The ESSENCE BeautyBox celebrates your unique beauty and delivers coveted beauty finds directly to your door each month.Receive 5 luxe samples monthly, along with beauty info, tips and tricks from the ESSENCE experts.
The Price
: $15.00 per month