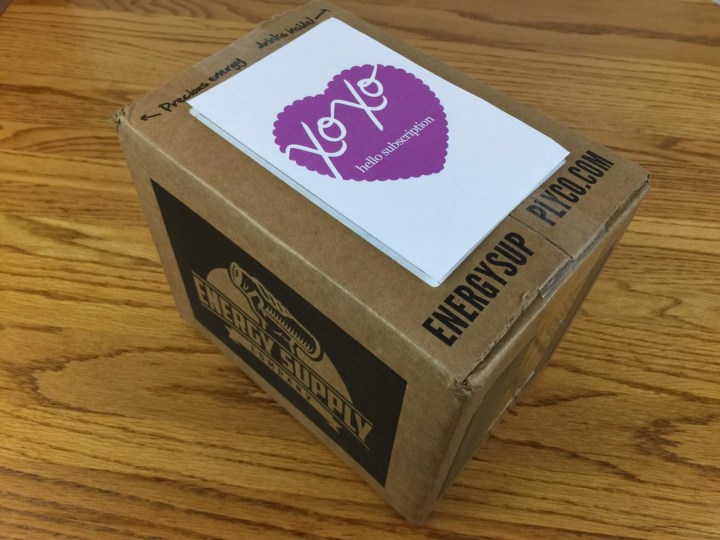 Energy Supply Company brings energy drinks to your door every month with many different flavors from different companies for a low monthly charge.
This month included 6 different flavors along with a couple other goodies.  This month has a a healthy theme and many of the drinks are Organic.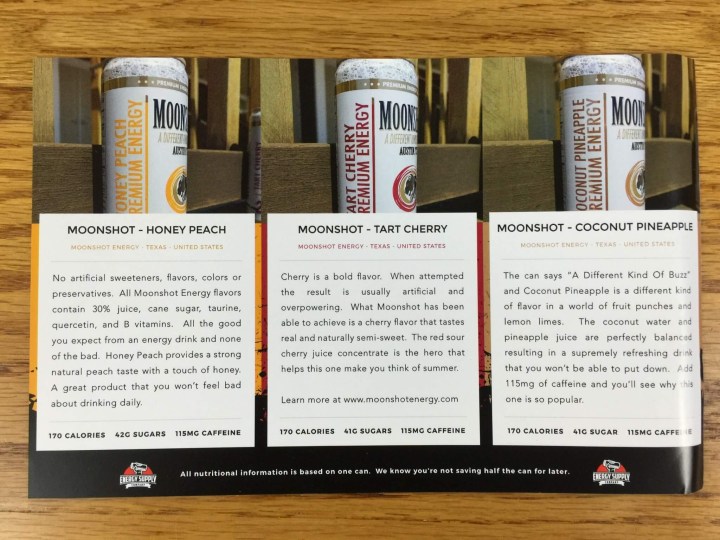 A description card that explains all of the energy drinks included in the box.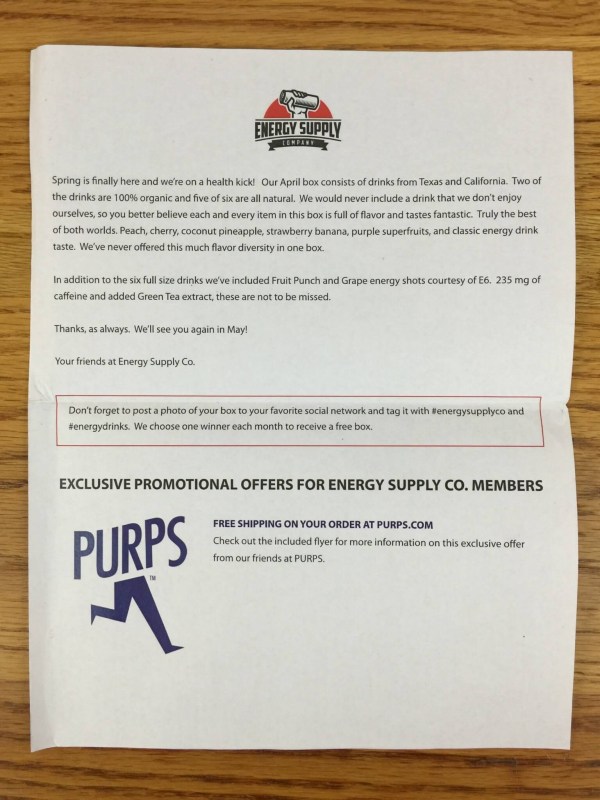 Energy Supply Co. gives a breakdown of what to expect from this month's box.
Purps Energy included this insert to explain the advantages of consuming their beverage.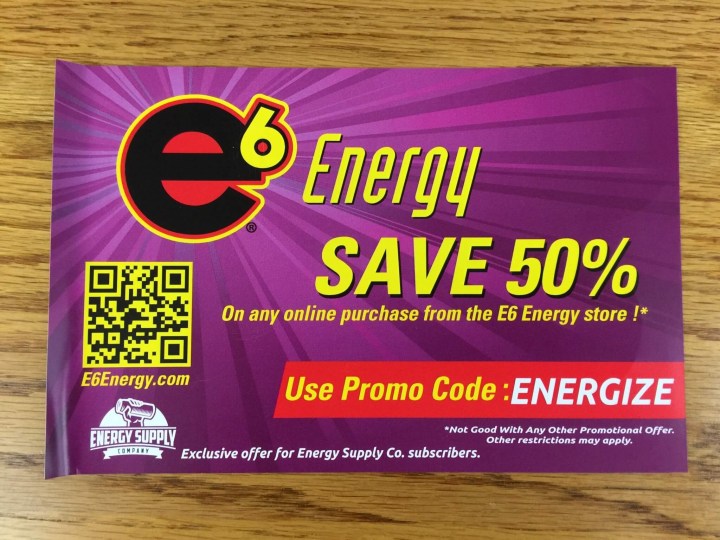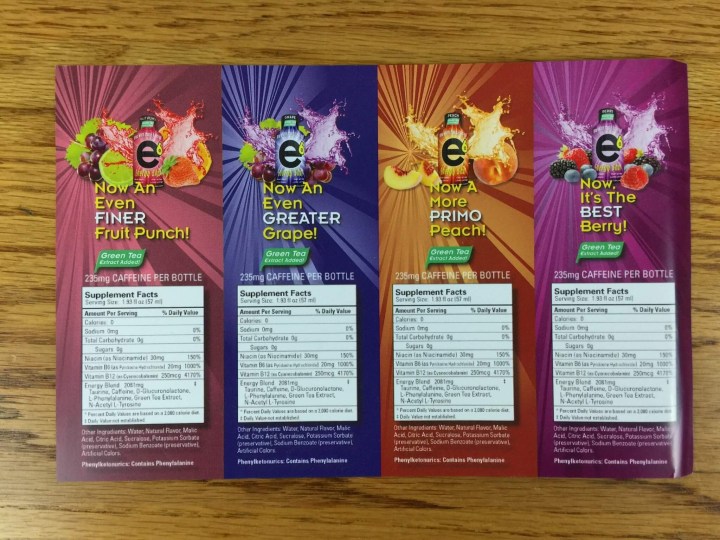 E6 Energy Savings Card.  Save on these shots of energy that give you 235mg of caffeine per bottle.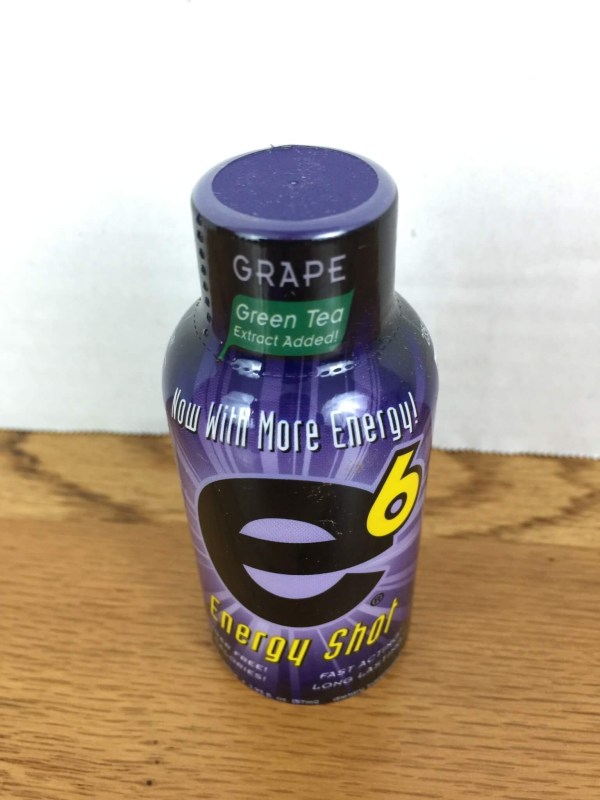 E6 Energy.  This box came with Fruit Punch and Grape flavors.  Along with 235mg of caffeine, these little bottles also have green tea extract added.
Purps-Fuel Energy Drink.  120mg of caffeine packed into each can of this tasty drink.  This drink is from pro surfer Kelly Slater.
51 Fifty – Original.  160mg of caffeine will keep you going with this drink from 51 Fifty CEO and NASCAR driver Carlos Veira.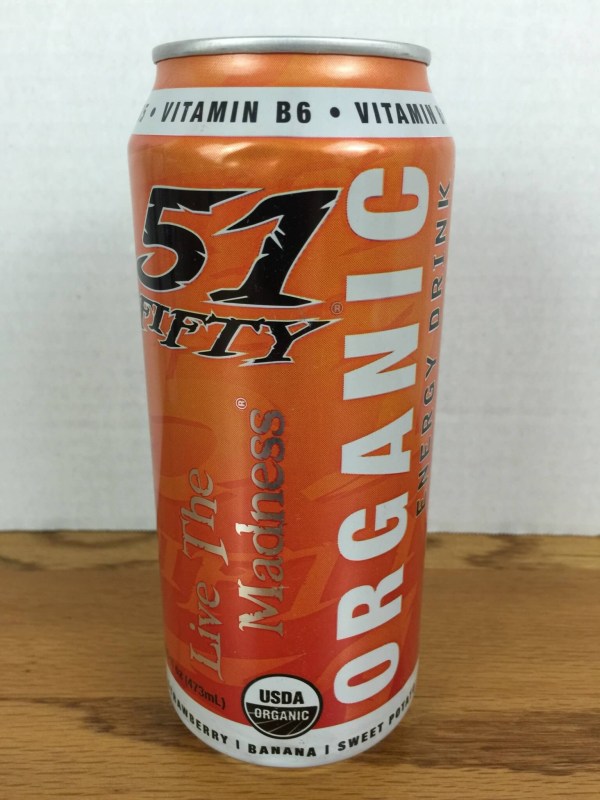 51 Fifty – Organic Energy Drink.  Made with sweet potato.  Don't let that scare you off as this sweet drink has more of a banana and strawberry flavor and has 160mg of caffeine.
Moonshot – Honey Peach Energy Drink.  No artificial sweeteners in this can.  30% juice and 115mg of caffeine.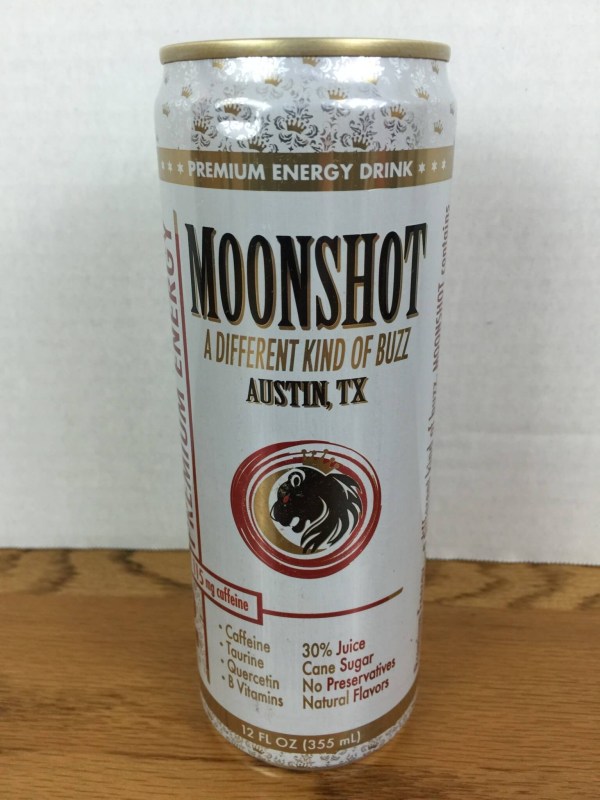 Moonshot – Tart Cherry Energy Drink.  Moonshot continues to bring flavors that are tough to put into a drink and make taste good.  Not only do they do that, they also are able to do it with no preservatives and 115mg of caffeine.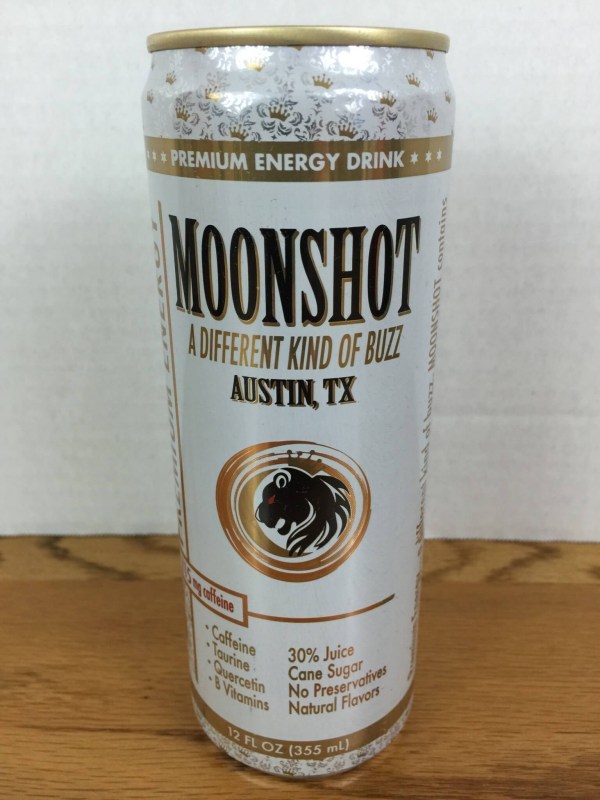 Moonshot – Coconut Pineapple Energy Drink.  Coconut water concentrate and pineapple concentrate are both included in this energy drink from Moonshot.  115mg of caffeine plus tasty flavor is a great combination.
Energy Supply Company does a remarkable job in including different flavors and different drink companies into one box.  It's super cool to know that you can taste all of these drinks in full can form to know what works best for you.  If you love energy drinks, this is a great way to give them an honest try.
Visit Energy Supply Co. to subscribe or find out more!
The Subscription
:
Energy Supply Co.
The Description
: Energy Supply Co. is the world's first and only Energy Drink Subscription Box. We find drinks from across the land and send you six of the best ones each month. Every monthly box means different brands. You will always receive something new and fresh. It doesn't get any better…or more simple.
The Price
: $24.95 per month