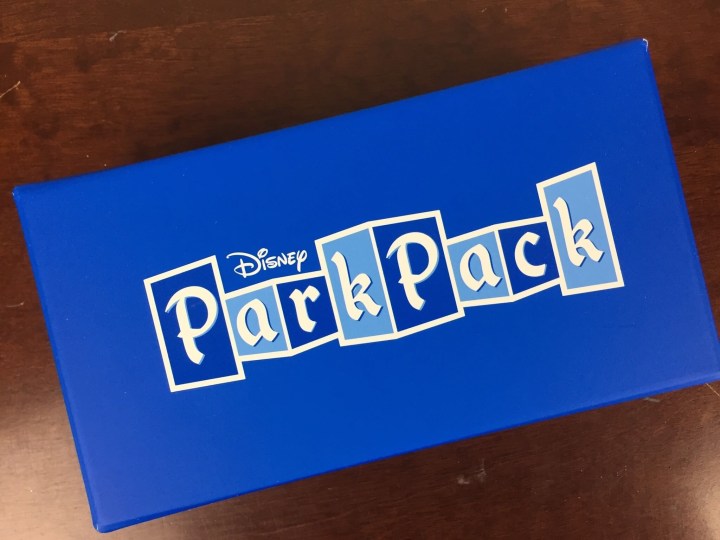 Disney Park Pack: Pin Trading Edition is a monthly mystery pack from the Disney Store.  Every month in this subscription you'll receive three official Disney pins – 2 open edition (released to subscribers before they're made available to the public) plus a totally exclusive limited edition pin.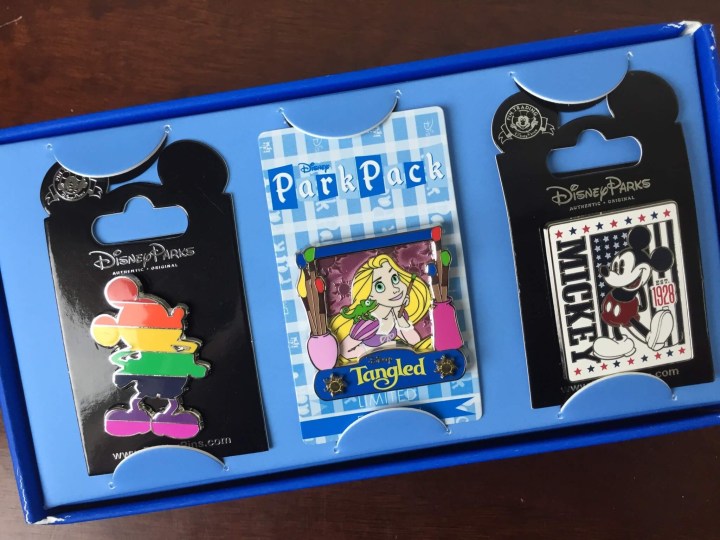 Here are the Park Pack pins for April 2016.
Disney Pins are the perfect souvenir – small, not too expensive, and fun to collect.  There's no information card for this box, and just like every other month, I wish they'd include a curator's note – maybe with names for these pins!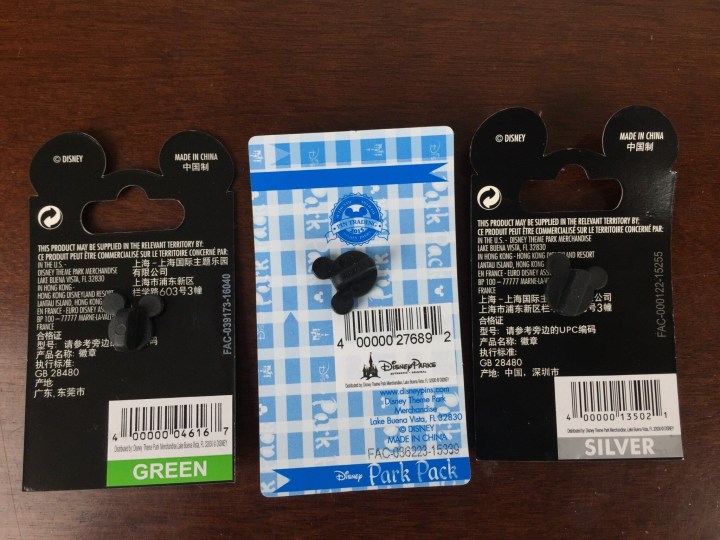 The backs of the pin cards show the prices (via the color coding) for the open editions, but not the exclusive limited edition pin, because it won't be sold anywhere else. All pins include the Mickey pin-backs!
With a silver ($8.95) and green ($6.95) pin in addition to the LE pin, this box is a bit lower value!
Mickey Mouse Rainbow Pin: The pins are designed and produced probably months in advance but nonetheless I like to think it celebrates diversity. And it probably will show up during the unofficial Gay Days in early June.
I am going to go with this is a bold and appreciated choice. I see now why Disney doesn't include a card – so they don't have to explain their choices. Anyways no matter who you love, everyone loves rainbows and Mickey.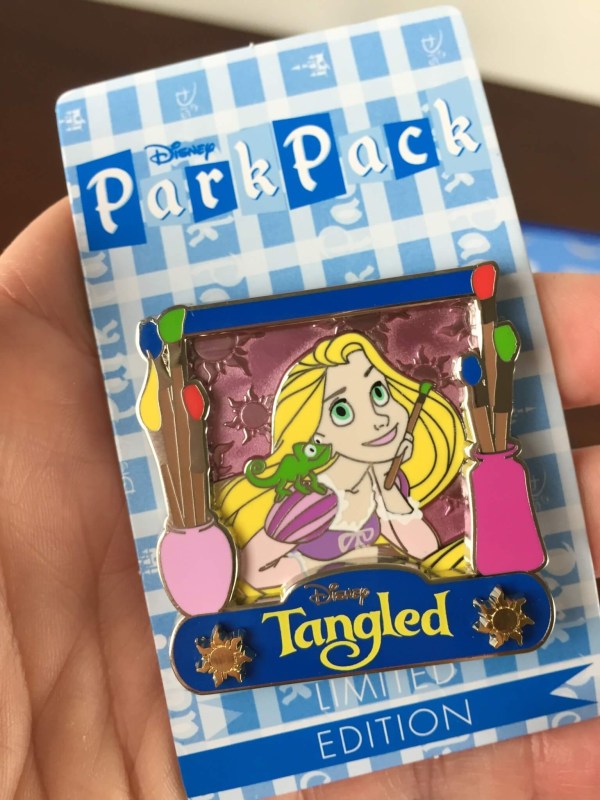 Tangled Rapunzel & Pascal Limited Edition Pin: I love the magic golden flowers at the bottom! The paintbrushes on the frame are fun and give it a nice theme.  There are four variants with blue, green, purple, and yellow backgrounds!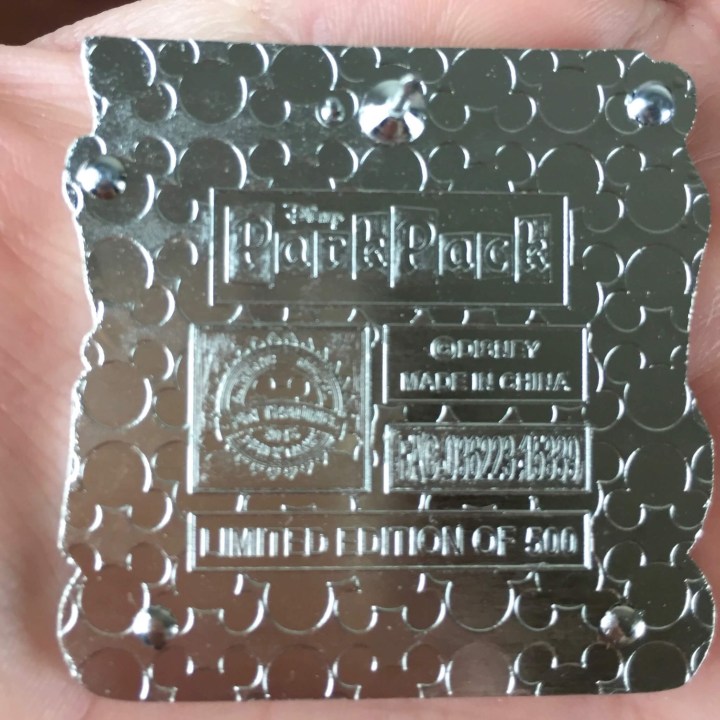 For the second month in a row there was a limited edition of 500. I believe they have reduced the total number of subscriptions.
I was surprised to find only one post on this pin! I didn't notice it last month, but they changed to one post on these framed pins then.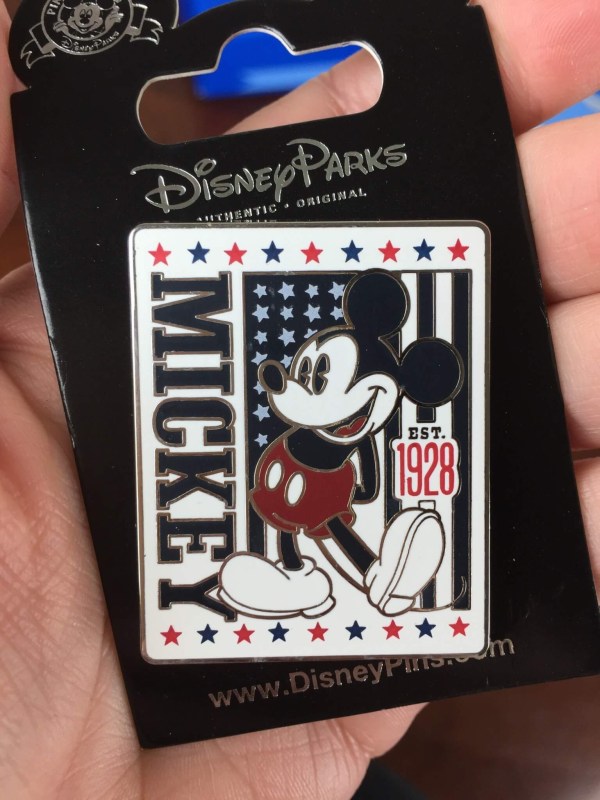 Stars & Stripes Mickey Mouse Pin: I love this one! It's a fun patriotic themed Mickey pin perfect for summer!
I loved this set and it seems like the Tangled pins are really hot for trading! I kind of miss the couple of months they had where one pin matched up with a pin from a previous month, if only because it tickles my fancy to have some sort of connection. The quality of the pins is great and it's always fun to get a Disney surprise in the mail.
Which pin was your fave this month?
Visit the Disney Park Pack: Pin Trading Edition landing page to find out more. It's currently sold out, but we'll post when subscriptions are open again.
The Subscription
:
Disney Park Pack: Pin Trading Edition
The Description
: Disney Park Pack is a monthly mystery box with 3 official Disney pins. Pins are collectible and tradeable! Every box features two open edition pins and one limited edition pin with a run of 750. Now a monthly subscription!
The Price
: $39.95 – Save $5 per month on an annual subscription! (looks like this option is currently sold out)
Some general info about Disney Pins & Trading:
Prices: Green ($6.95) Red & Silver ($8.95) Blue ($10.95) Yellow ($12.95) Pink ($14.95) Lavender ($16.95). Special ones cost more.
Cast Members with green lanyards may only trade with kids ages 3 to 12. You can trade up to two pins per day with any trading Cast Member.
You don't have to trade your pins, you can just collect them.
You can only trade real Disney pins, and they all bear a copyright notice on the back.
Don't buy nice pins to trade, buy lots of pins on eBay from a reputable seller.
Are you a pin trader? Share your advice in the comments!