Darby Girl is a product of the DarbySmart DIY site (in conjunction with Girls' Life magazine).  Aimed at tweens and early teens (Girls' Life is directed to 10-15 year old girls), this subscription box provides "dazzling DIY materials, cinchy step-by-step instructions, awesome inspiration, and more."  Sent every other month (February, April, June, August, October, and December), Darby Girl sends craft projects "from fashion accessories to room decor and more" and is "carefully curated just for GL readers and inspired by our favorite new trends."  The cost is $19/box with discounts for paying for 6 months or 12 months at a time.
As always, I reviewed this box with the help of my two daughters, aged 11 and 14.  Let's see what kind of fun Darby Girl sent us this month!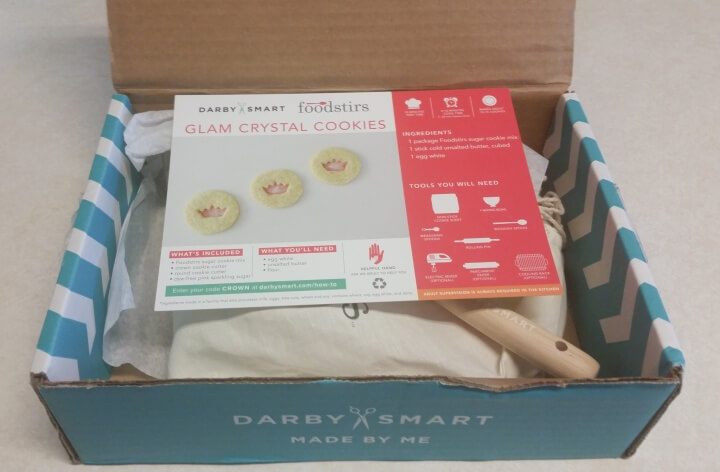 Look at this – something completely different and unexpected!  This month's box was a cooking project from Foodstirs (read our Foodstirs reviews!).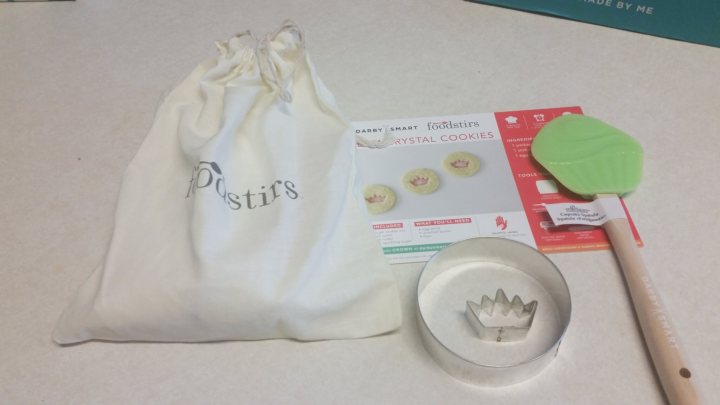 Here's a look at everything in the box.
Unlike some of the other Darby Girl boxes that have required us to log-in to a website, the instruction card here includes everything we need to know.  However, we could still log into the Darby Smart website and get even more detailed instructions, including a video.  This is a nice recipe card, especially for tweens, since it included pictures of all the tools you will need.  I'm not a baker, so even though my girls cook with me regularly, they aren't as familiar with baking-specific tools, like rolling pins.
The cookies have a fun tween-friendly name too: Glam Crystal Cookies!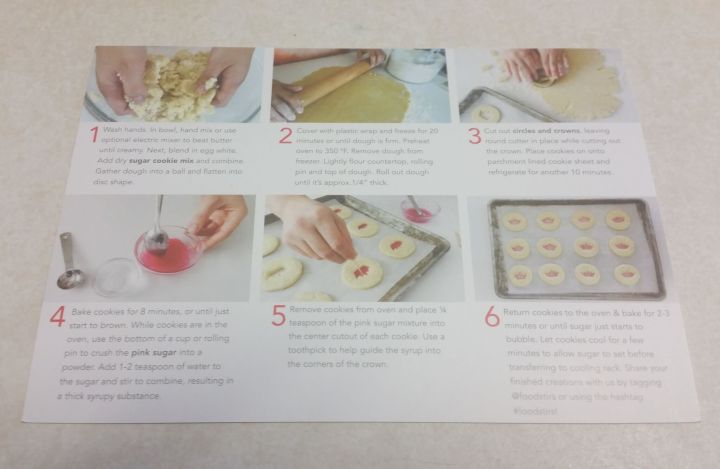 The back of the card gives all the instructions to make the cute cookies, with nice full color pictures accompanying the instructions.
Also included in the box – sugar cookie mix and pink sparkling sugar.  To make the cookies, we need to add egg white, unsalted butter, and flour to the ingredients included.
To make the cookies, the box also included a round cookie cutter (for the cookies) and a crown (to form the cut-outs).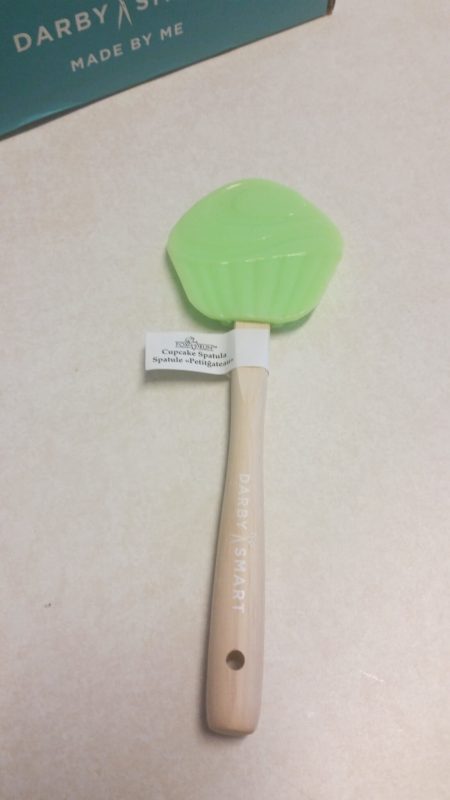 Finally, as a fun extra, the box included a silicon spatula shaped like a cupcake.  Super cute, although not really needed to make the recipe here.  I like that the box included a tool that we can keep using after this project, though.
Unfortunately, I don't have action shots or finished cookies to show you.  Like I said, although I love cooking, I'm not a baker and we don't normally have things like unsalted butter around my house.  Also, this project is a bit time intensive for our schedule right now – you need to make the dough and then freeze it for a bit before continuing the process.  During this busy couple weeks in our household (any travel soccer moms out there?), we just haven't had the chance to make the cookies.  My girls will certainly be whipping up some yummy treats later this spring, but I wanted to get this review out to you sooner than later.
Bottom Line:  This box was a totally fun change from the other Darby Girl boxes we have reviewed and I like that a lot – it's fun to be surprised and to do completely different activities with each box.  Also, I think this particular project is quite true to the suggested age (10-15 year olds), maybe more so than some of the other boxes we received.  Overall, I think Darby Girl is a good box for crafty tweens and early teens – my girls definitely enjoy it!  I only wish we had the opportunity to make the cookies to show you, but we will definitely be completing the project (and eating the results!) in the next couple weeks.
Visit Darby Girl to subscribe or find out more! Get 1 month free with an annual subscription! Deal applies automatically, just visit and subscribe.
The Subscription
:
Darby Girl
The Description
: From fashion accessories to room décor and more, every project is carefully curated just for Girls Life readers and inspired by favorite new trends. Each Craft Club box contains everything you need to make something amazing.
The Price
: $19.00 every other month