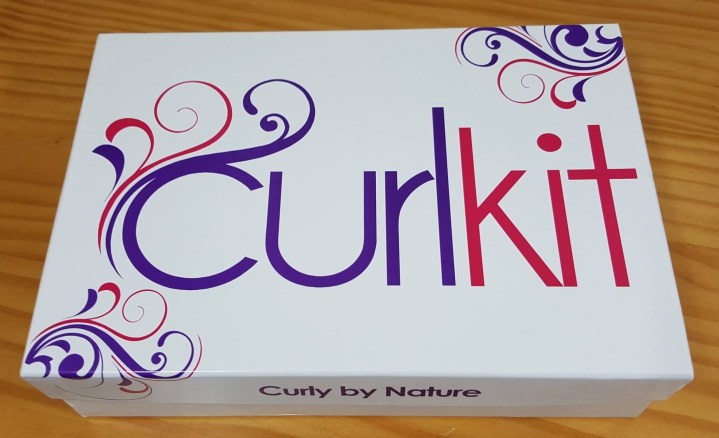 CurlKit is a monthly subscription box for women with naturally curly hair of all types (there is a focus on the needs of women of color).  Each month you'll receive 6-9 samples selected by CurlKit's team of natural hair and online experts.  Full-sized products of most samples can be purchased in the online shop.  Subscriptions are $20/month + $5 shipping.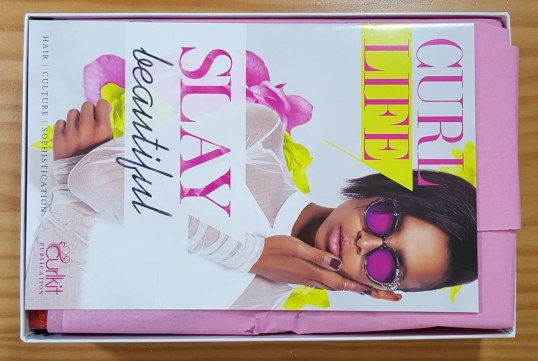 Curl Life is a mini magazine that comes in your CurlKit and features information on each of the products in the box, styling tips, and a highlight on a featured brand.  The April theme is Slay beautiful.  I'm still hearing Beyonce with this theme, especially coming off of last month's Curls in Formation.  "I slay, I slay, I slay…"
The Editor's Note this month reviewed ways to repurpose your old CurlKit boxes.  April 22nd is Earth Day!  Check out the CurlKit blog for some fun craft projects on recycling your boxes.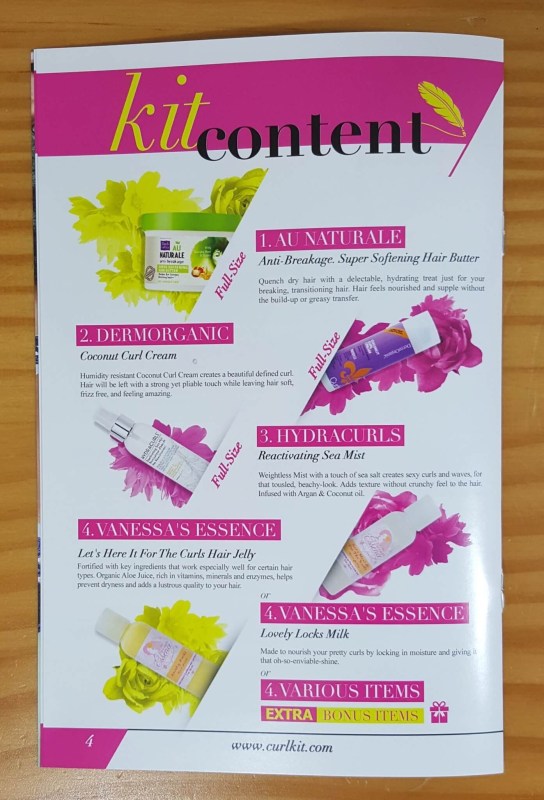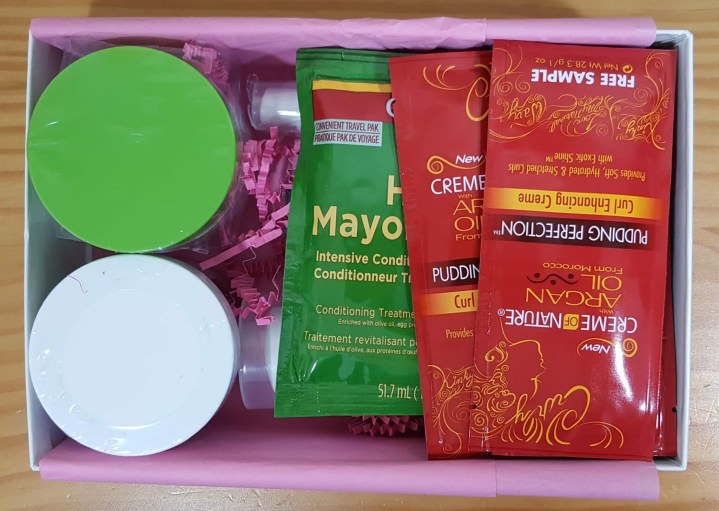 Another heavily packed box for April!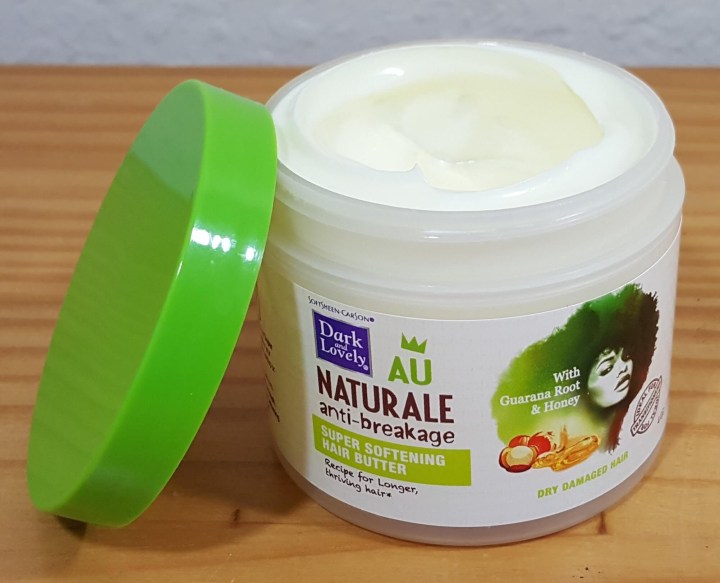 Au Naturale Anti-Breakage Super Softening Hair Butter ($4.99):  This is a leave-in conditioning cream for dry, damaged hair.  The texture is more like a lotion than a butter, and I really like the fruity scent.  This does contain silicones and paraffins, so this is not for you if you're avoiding those.  This took a little while to absorb into my hair, but it did leave it soft and full of bounce.  Next time, I'll use a bit less – don't need as much product on finer hair.
Jonathan Product Hydracurls Reactivating Sea Mist ($14.99):  "Weightless Mist with a touch of sea salt creates sexy curls and waves, for that tousled, beachy-look. Adds texture without crunchy feel to the hair. Infused with Argan & Coconut oil to impart shine and softness to the curls. Creates subtle waves on dry or wet hair. "  Um, I'm a little confused on this product.  I already have curly hair and don't really need to create a tousled look.   This had strong alcohol smell to it, and sure enough that was the 2nd ingredient on the list.  Passing on to one of my straight/wavy haired friends.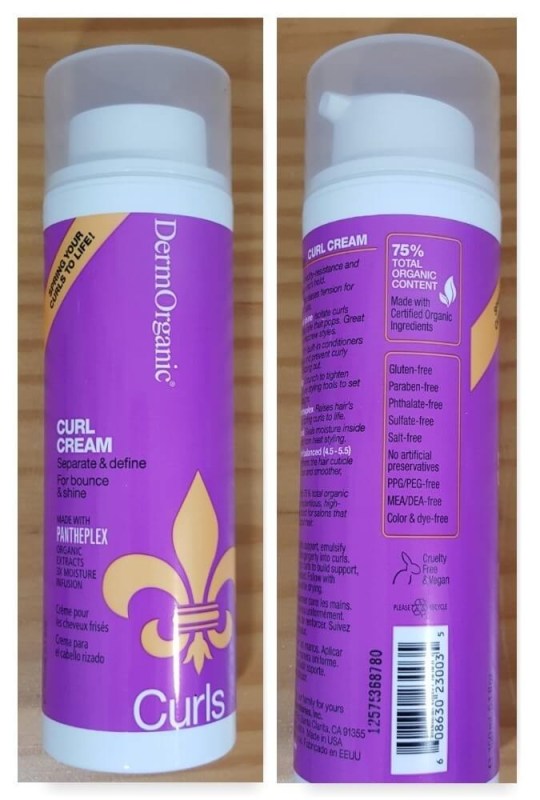 DermOrganic Curl Cream ($25.00 Amazon):  This product is no longer available on the DermOrganic website.  When I was researching this cream, every description has coconut in the name, but it's only listed in the ingredient breakdown.  Let me tell you, though, the coconut scent comes through loud and clear in this cream.  Anyway, this is a rich cream that touts humidity resistance and touchable, no crunch curls.  It is also pH balanced, color safe, and organic (75% of the total content is made with certified organic ingredients).  I tried  a little of this in a section of my hair.  It didn't completely get absorbed, so my hair had a slight lotion-y feel to it.  However, my curls were defined and frizz free.  Like the softening butter, I'll have to test again with less product.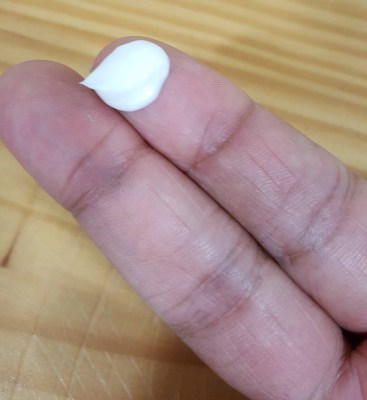 Close up of the cream.
These were my alternate items for the month.  Some subscribers received these or one of two products from Vanessa's Essence – Let's Here It For the Curls Hair Jelly or Lovely Locks Milk.  I was really hoping to get the hair jelly after seeing some other reviews, not to mention that Vanessa's Essence was the featured brand in this month's Curl Life.  Oh well.
ORS Uplifting Shampoo ($7.16 for 8.5 oz. Amazon.com):  "A fragrant, creamy, pearlessence, exfoliating shampoo enriched with juniper, menthol, horsetail and nettle, Uplifting Shampoo is an essential step in the fertilization process. Gently cleanses the hair and exfoliates the scalp."  Everything about this shampoo reminded me of Head & Shoulders, and it does contain sulfates and silicones.  This should be used like a clarifying shampoo and followed by ORS Hair Mayonnaise.
Blue Magic Argan Oil Herbal Complex ($7.01 for 13.75 oz. Amazon.com):  This is a leave-in conditioner.  I didn't try this product.  It had an odd scent, not unpleasant, but kind of plastic-y.  Sorry, I don't know how else to describe it.  Also, some of the first ingredients in this were mineral oil and petrolatum.
And now onto this month's bonus items.
Creme of Nature Pudding Perfection Curl Enhancing Creme:  This is a curl enhancing styling lotion that contains argan oil, shea butter, avocado oil, and olive oil.  I received an edge gel from this brand last month that I liked, so I'm hoping that this is another win.
ORS Hair Mayonnaise:  This is a deep conditioning treatment that should be used after the ORS Uplifting Shampoo.  It does share some of the same plant extracts as the shampoo.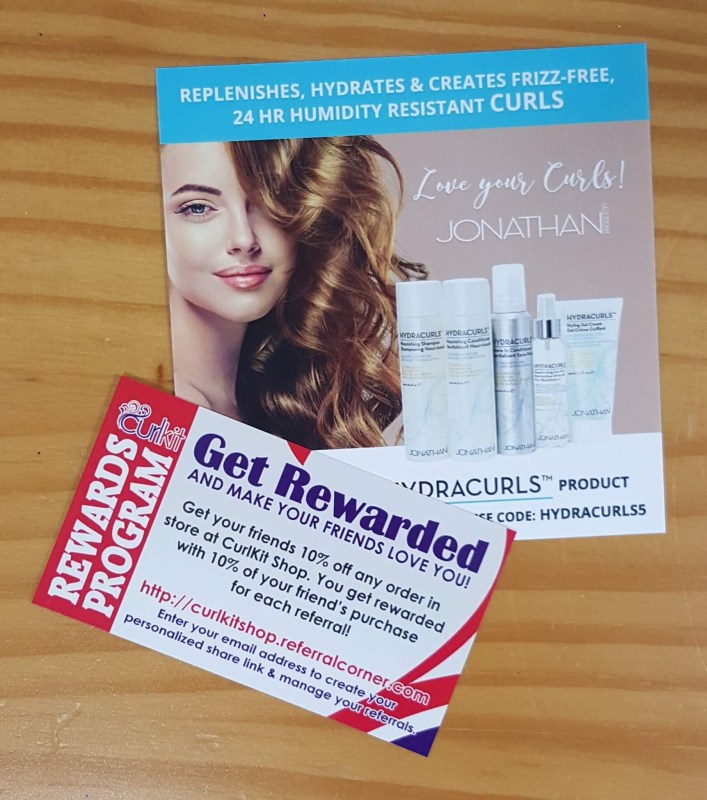 And of course, discount codes and coupons.
This month's box was just over a $50 value.  However, half of that value was just one product.  Like last month, I didn't receive anything from the featured brand in my box.  And, the Hydracurls Revitalizing Sea Mist didn't seem like a good selection.  I'll keep working with the products I liked to get the right proportions for my hair until next month's goodies arrive.
I'd love to hear your thoughts on this month's box.  Did you get one of the Vanessa's Essence products?  Share below!
Visit CurlKit to subscribe or find out more! Save 20% with coupon code SLAY20!
The Subscription
:
CurlKit
The Description
: Each month, CurlKit sends out a selection of 6-9 samples that their team of online experts, researches and even tries themselves. In each CurlKit you'll receive everything from pomades and conditioners to natural hair tools, from well-known brands as well as emerging gems.
The Price
: $25.00 per month