Craft Beer Club is a monthly subscription that delivers a twelve pack of select microbrews right to your home.  Each selection has received acclaim and is very popular within its distribution area — CBC lets you enjoy them wherever you may be.  This box was quite exciting, as it was the first to include a lager beer (all selections have been ales up until now), and it featured four microbrews available in cans!
Every shipment includes relevant issues of the Micro Brew News.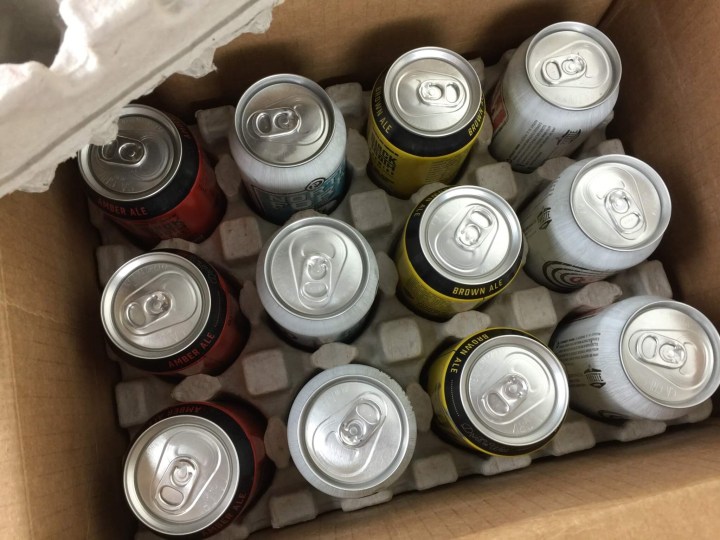 The Club delivers a mixed twelve pack each month.  We received three each of four varieties.  The selections have been a couple selections each from two featured micro breweries:  Sheridan, Wyoming's Black Tooth Brewing Company, and Boise, Idaho's Payette Brewing Company.  This was the first month in which we have seen canned beers featured.  I was impressed to see that they used specifically-tailored packing forms to hold the cans properly.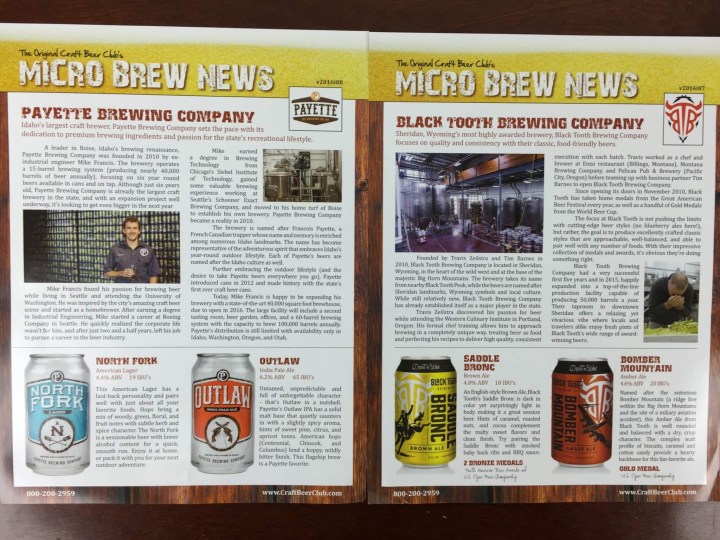 Two separate volumes of Micro Brew News were included, one for each pair of selections.  Each issue included information on the history and philosophy of the featured breweries, as well as details on the style, stats, and composition of each brew.
The back of each sheet had a recipe designed to pair well with the beer selections (or in the case of the pickles, actually use the beer in the recipe!), as well as some beer-related trivia.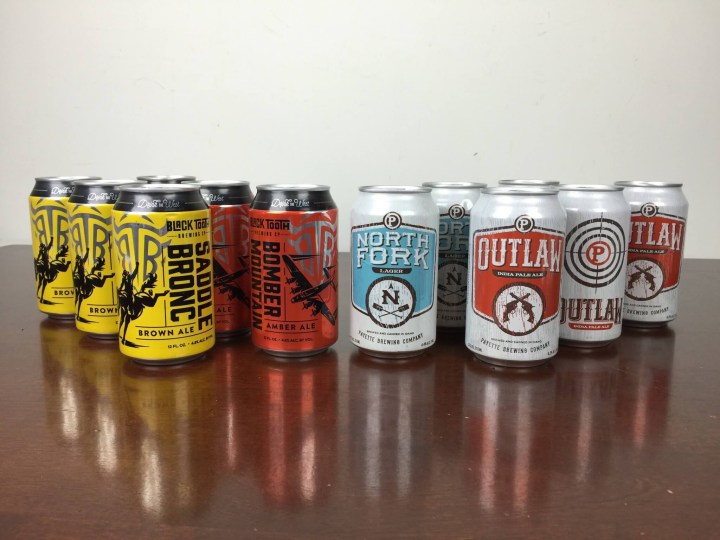 All the righteous cans we received in this month's box!
Black Tooth Saddle Bronc Brown Ale: This double bronze medal winner has a very light and dry body for a brown ale.  It has a rich, velvety texture and a deep, but dry, malty flavor with nice cocoa notes.
Black Tooth Bomber Mountain Amber Ale:  Balanced, crisp, and not too sweet, this amber ale has a texture similar to the Saddle Bronc, with a similarly complex and pleasantly dry finish.  The peculiarly delightful note of cotton candy can be distinctly noted.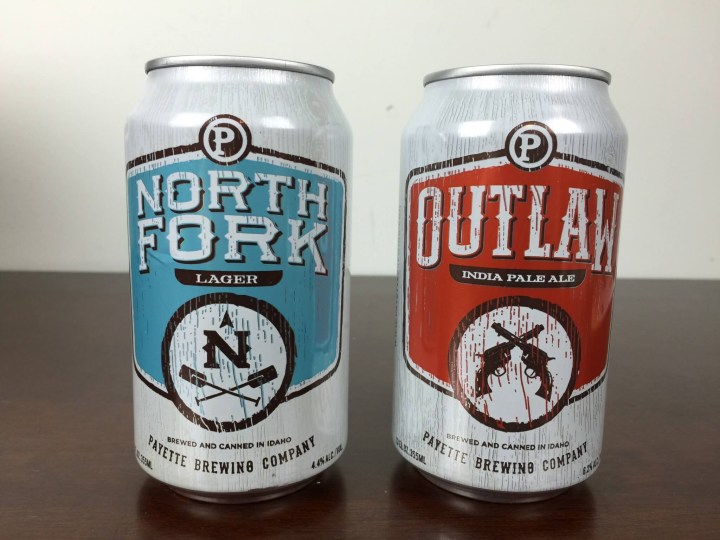 Payette Brewing North Fork Lager:  This is the first lager we've sampled through CBC.  It has wonderfully refreshing and crisp body, and a mellow malt level.  The hops are not aggressive, but they offer a wide palette of floral and fruity notes.
Payette Brewing Outlaw India Pale Ale:  I was glad to see an India Pale in the batch, as the American pales tend to go a bit easy on the hops.  This one didn't disappoint and was heavy with Centennial, Chinook, and Columbus hops.  Surprisingly, the body of the ale held its own against the hops, but it was the piney, citrus notes of the hops that shone through.  Very nice, and not too bitter, with notes of apricot and spice.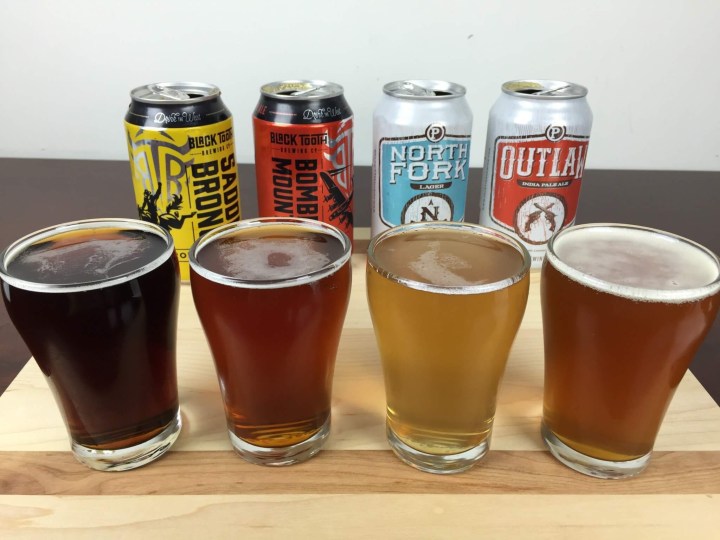 None of the brews held a very strong head, but (the ales especially) had very pleasant levels of carbonation and crispness.  The North Fork had a less viscous feel, but it made up for it with its refreshing character.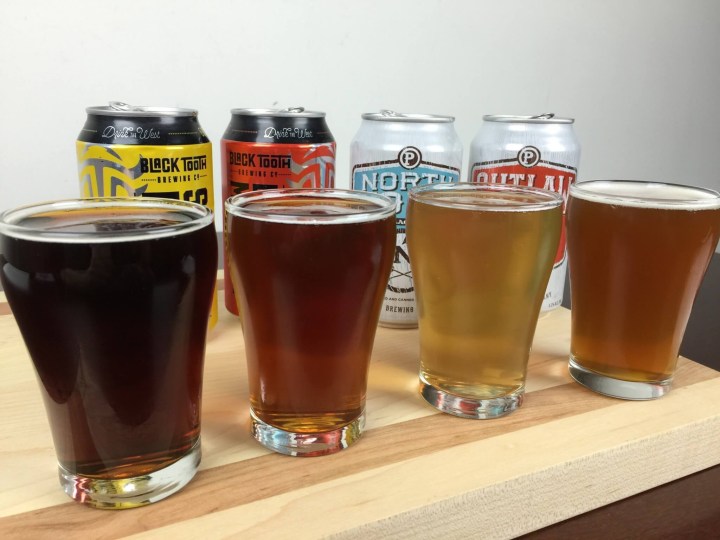 These selections displayed a nice range of colors, and fine clarity — the opacity is due to the frost on the pony glasses (which came with our first CBC box!).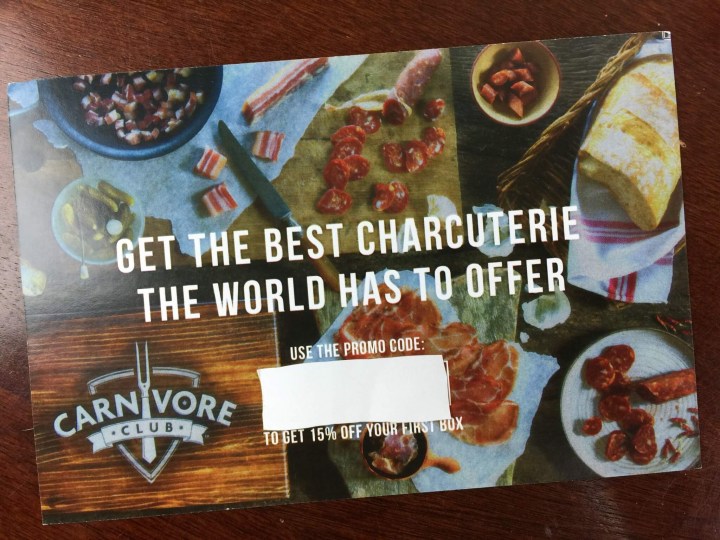 We also received a gift card to use for Carnivore Club, a curated charcuterie box.
I've enjoyed this subscription immensely.  I'm psyched to see that they occasionally include non-ales and even cans when they contain brews worth exploring.  I like that the selections include two beers from each featured brewery, as it allows you to appreciate their mastery of multiple styles.  They are all highly drinkable and appeal to a wide audience of beer lovers — none have been too dark or hoppy for my palate, with even this month's IPA displaying a great balance and drinkability.   This is a great subscription to split for boy's (or girl's) night, or just to have an ever-evolving selection of craft beers on hand for your own enjoyment.
Visit Craft Beer Club to subscribe or find out more! You can see the free items you'll get with an annual subscription in our first Craft Beer Club review!
The Subscription
:
Craft Beer Club
The Description
: 12 craft beers delivered each month! Exceptional craft brews from around the country produced by small-production, independent brewers who use only traditional brewing ingredients and time-honored brewing methods.
The Price
: $39.00 per month