The bright blue box means something awesome has arrived – ComicBoxer! This month we received some really cool first issues plus variant covers for different books.
ComicBoxer is a monthly comic book subscription box for comic collectors.  Every month you'll receive 5-7 comics ranging from hot new releases, variant covers, #1 issues and more from top publishers. ComicBoxer mystery boxes are for adult collectors and readers and may contain comics with mature situations, violence, and explicit language. ComicBoxer works with publishers like DC Comics, Marvel Comics, Image Comics, Boom Studios, IDW, Dynamite, Dark Horse, and Oni Press to bring you fresh new comics monthly.
FYI, ComicBoxer also offers ComicBoxer Kids – see our ComicBoxer Kids review here!
Comic Boxer gives a nice variety of comic books.  All are bagged and boarded and then bagged together with a sheet of paper describing each book.
International Iron Man #1 – Hip Hop Variant Cover $3.99 – Marvel Comics.  This book is written by Brian Michael Bendis with interior art by Alex Maleev.  The cover is by Marco D'Alfonso and it is also autographed by him!  There is also a certificate of authenticity that comes with this book.  This is an interesting tale of Ol' Shell-Head as he uncovers things from his past and hangs out with Dr. Doom.
Batman #50 – Polybag Variant – DC Comics.  The original cover has a price of $5.99.  The variant cover has art from Chris Daughtry and the legendary Jim Lee.  I was considering not opening the bag as I read in the description that some of these books could be autographed.  Mine was not but I did get to see this awesome looking cover.  The comic book itself is written by Scott Snyder and has art from Greg Capullo.  This is the conclusion of the "Superheavy" story line and you can read the book review I did here.
The Discipline #1 – Image Comics $2.99.  Written by Peter Milligan and art by Lilandro Fernandez.  Image Comics is an amazing comic book company that has now been around over 20 years.  The wonderful thing about Image, is creators get to put their own original stories/characters out for the readers to enjoy.  Discipline #1 is considered controversial because of  the sex, death and overall un-explainable phenomena.  Comic Boxer was kind enough to include a "warning" of graphic content.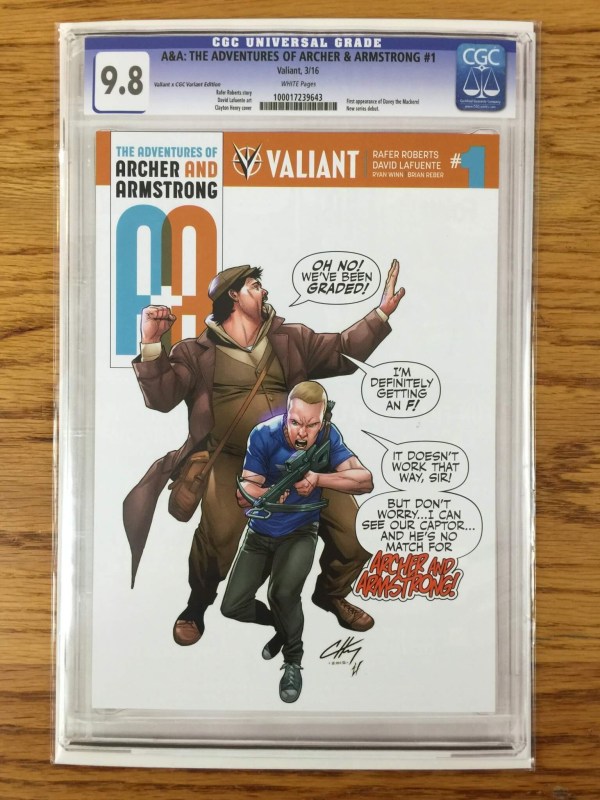 A&A #1 CGC Replica Variant Cover – Valiant Comics $3.99.  No, this book was not slabbed by the CGC, but it sure does look cool.  I like the notes that are included on the along with the 9.8 grade.  Archer & Armstrong have been around Valiant Comics for a while and this series gives them yet another go-round.
Extraordinary X-Men #8 – Variant Cover – Marvel Comics $4.99.  Apocalypse War begins here.  Mutants aren't doing so well in the Marvel Comic Book Universe and this book gets things going to find some answers.  What the Extraordinary X-Men don't realize, is there are some very unexpected things in their future.  The book is written by Jeff Lemire and the art is by Humberto Ramos.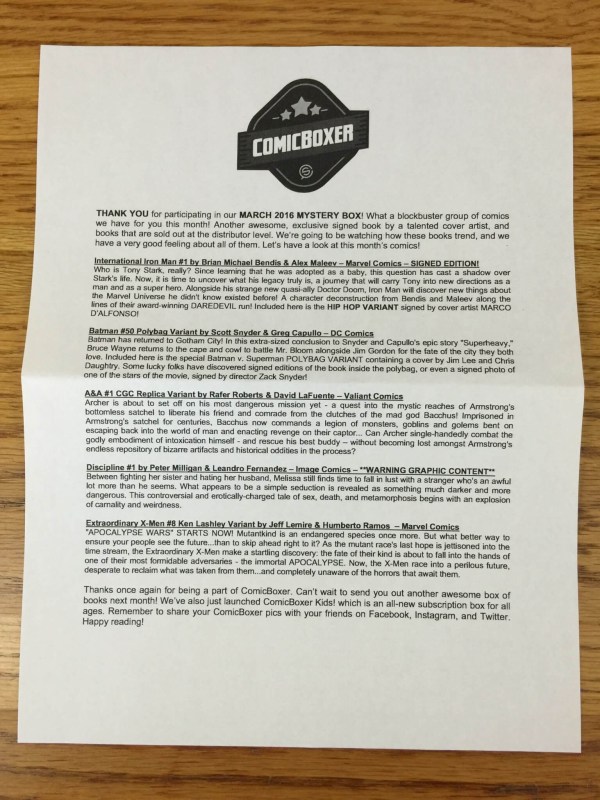 The Comic Boxer description page gives a look at all of the books within the box. We liked how the information sheet gives a bit of insight into what awaits you inside the books.
Comic Boxer is a great deal if you are looking to get into some new series.  There is enough of a variety within the box to really get a feel for what you might get hooked on.  I also love that this is a comic book subscription box.  There isn't any other fluff within the box; just a ton of value in the comic book department – including an autographed copy this month!
Visit ComicBoxer to subscribe or find out more! Use coupon code COMICADDICTION10 to save 10% on your first box!
The Subscription
:
ComicBoxer
The Description
: ComicBoxer is a monthly comic book mystery box. Each month our experts hand pick 5-7 of the hottest new release comic books, variant covers, first appearances, #1 issues, and more – and we send them right to your door!
The Price
: $27.99 per month