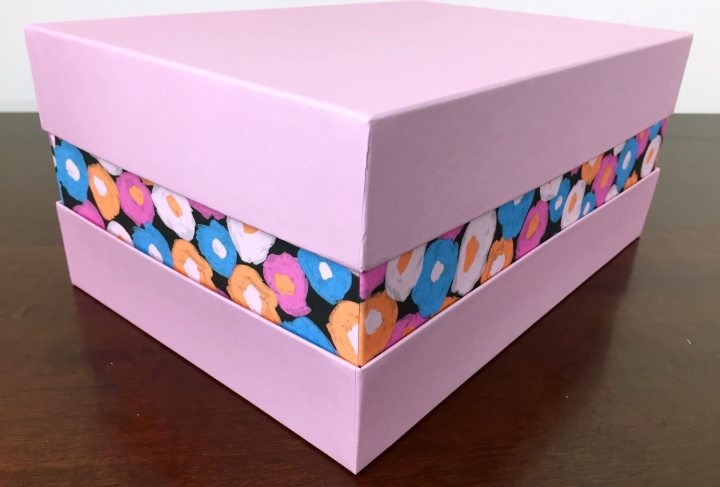 The Birchbox Limited Edition Beauty in Bloom Box is truly my favorite Birchbox limited edition box ever! Don't forget to enter our giveaway for this box here. A promised $188 value, this box is full of deluxe treats to help usher in spring!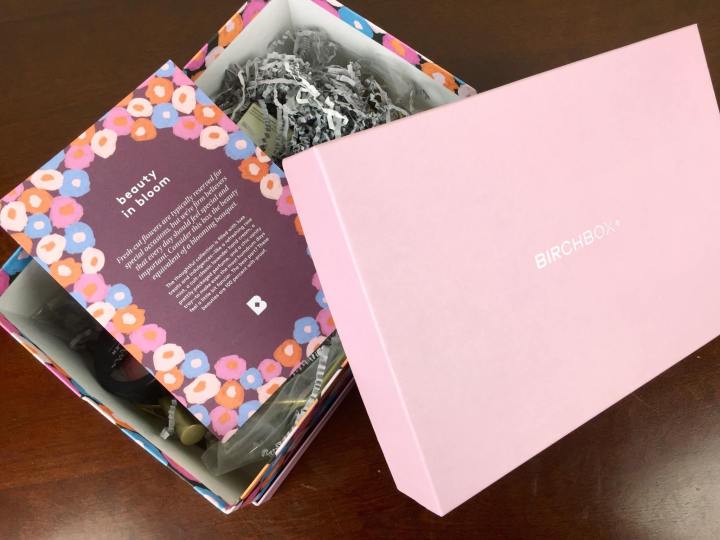 Fresh-cut flowers are typically reserved for special occasions, but we're firm believers that every day should feel special and important. Consider this box the beauty equivalent of a blooming bouquet. The thoughtful collection is filled with luxe treats and indulgences—like a refreshing rose mist, a cult-classic lavender hand cream, a prettily packaged perfume, and a chic vanity tray—to make even the most humdrum days feel a little bit fancier. The best part? These beauties are 100 percent wilt-proof.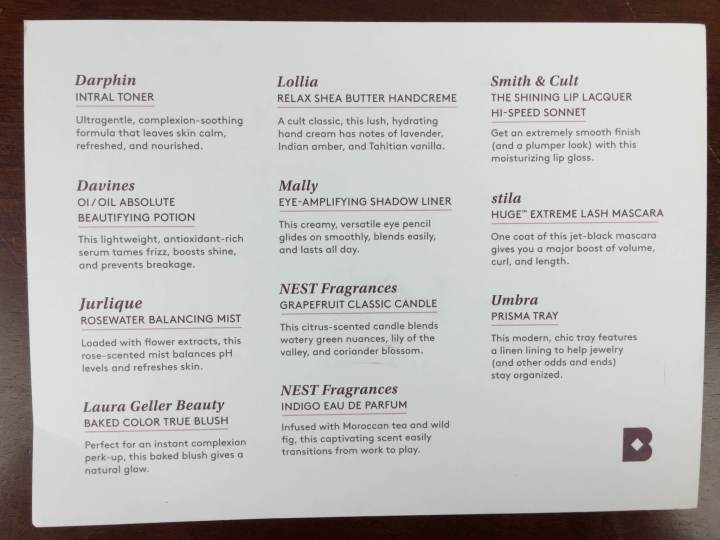 The card details all the items and describes why they're amazing!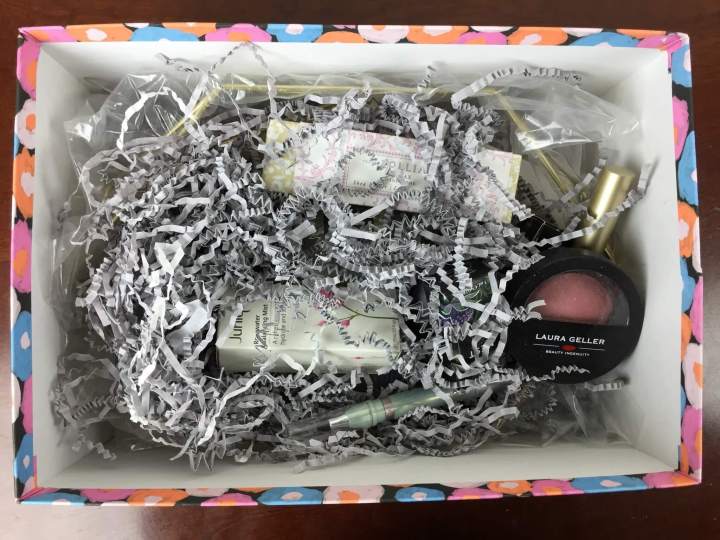 When you unpack the box it's full of grey squiggles.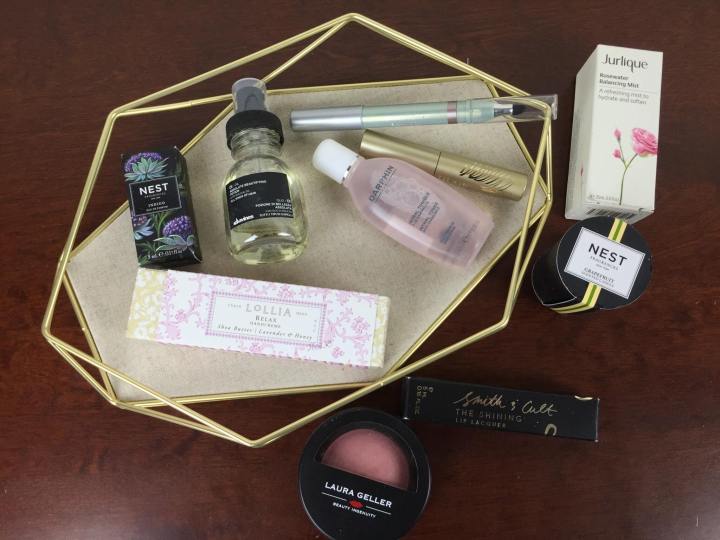 And everything in the box!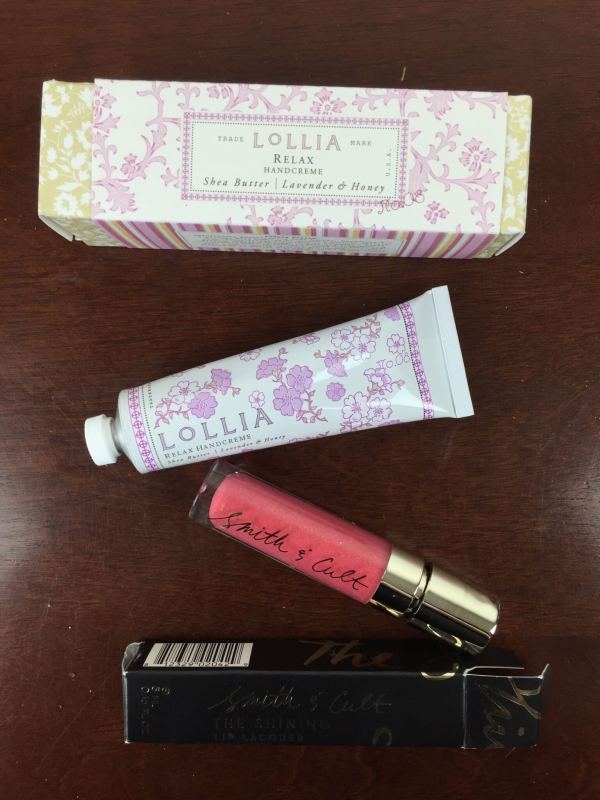 Lollia Relax Shea Butter Handcreme ($7.81) Lollia or anything Margot Elena (the parent company) is pretty much an auto-buy for me! This scent is combines lavender, bee blossom honey with white orchids, undertones of indian amber, and Tahitian vanilla and is probably one of my favorite scents from this company! This creme is rich without being greasy or oily and is my go-to for well-scented hand lotion that doesn't ever tickle my nose.
Smith & Cult The Shining Lip Lacquer in Hi-Speed Sonnet ($22) Everything about this is stunning. First of all, the name – The Shining – is funny! I like funny. And the color – Hi-Speed Sonnet – is a described as ripe melon pink and is so pretty and really works for me. This product is vegan, gluten- and paraben-free with coconut essences to moisturize.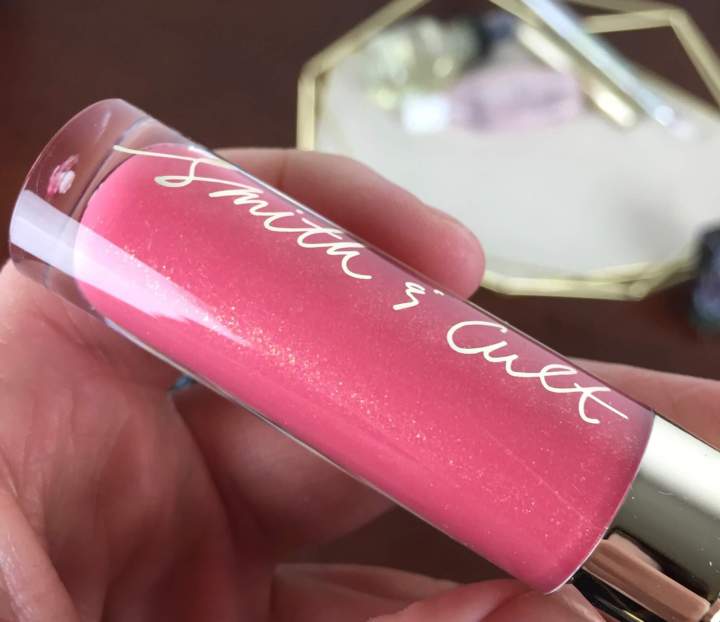 My only gripe is that the gloss could be a little glide-ier because I can feel the glitter on my lips, but it's not sticky.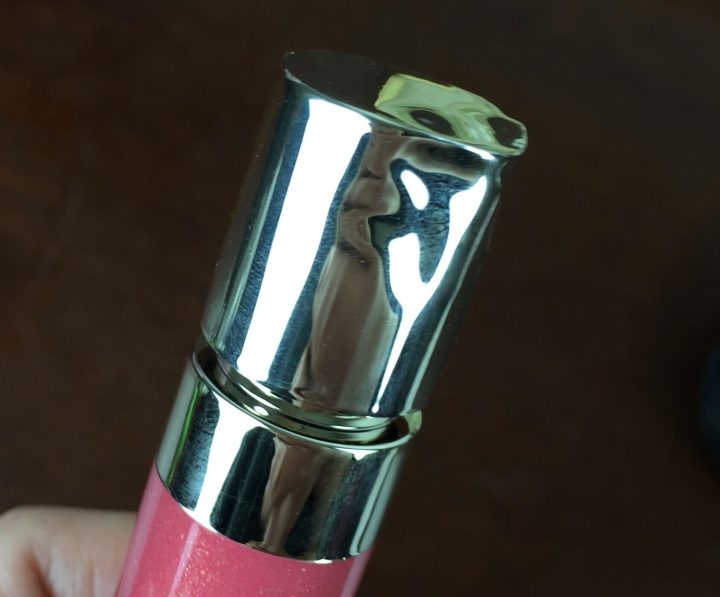 The packaging is awesome and unlike the nail polish, it really works in this smaller form (I have small hands and had too much trouble with the polish so I ended up giving it away).
stila HUGE Extreme Lash Mascara ($10.45) This really did give me some serious lashes, and I was able to apply it several times without stopping to get the look I love (big voluminous lashes!). I hadn't tried it before so I was happy about this one!
Mally Beauty Eye-Amplifying Shadow Liner in Deep Taupe ($20) Creamy and pretty, with a blending sponge on the reverse side! I was thrilled not to receive a blue color, because I have about 7 different Mally liners in blue! Swatch of this below!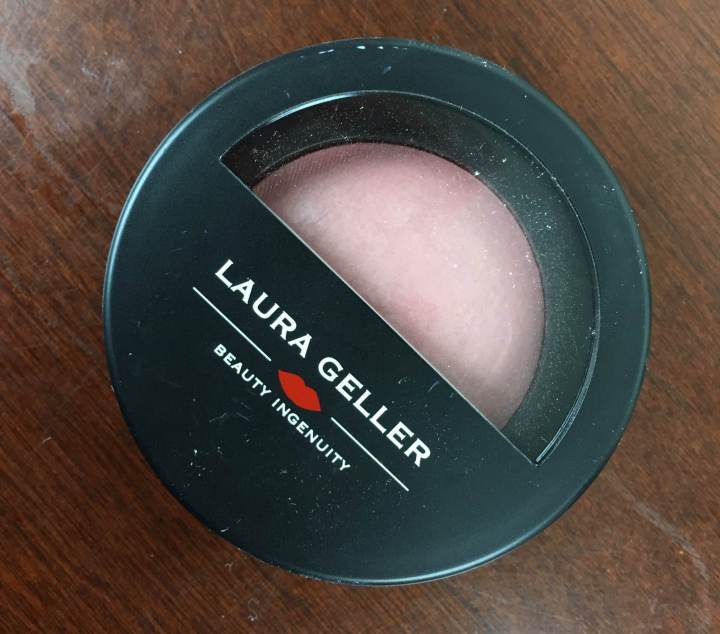 Laura Geller New York Baked Color True Blush ($28) We see a lot of Laura Geller from Birchbox but I was happy to have a pretty pink color – mine was Catalina – that gave me a soft glow and the application was easy because the powder is superfine.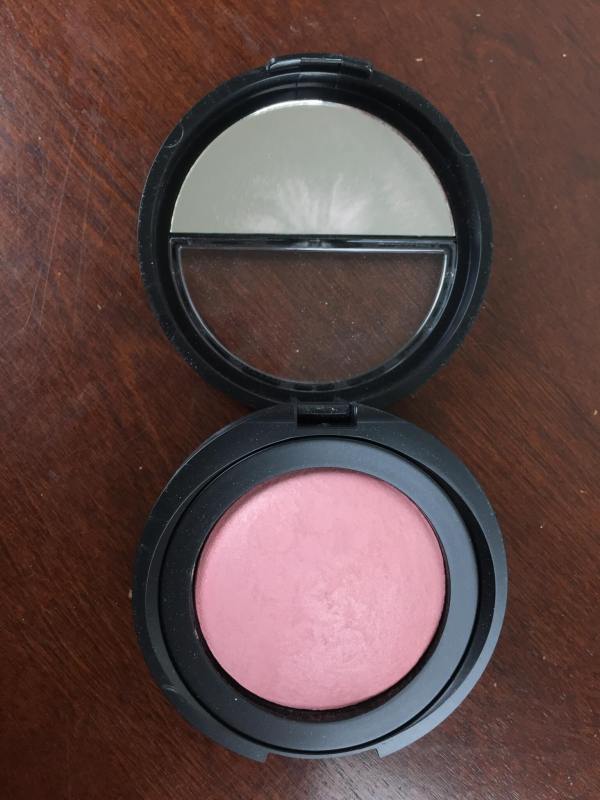 This blush contains Centella Asiatica and White Tea extracts too! It blends really nicely on the face.
NEST Fragrances Grapefruit Votive Candle ($6.33) I love love love the beautiful grapefruit scent – here it's enhanced with lily of the valley and coriander blossom. Birchbox did show the proper picture of the candle in the box in the promo materials, but linked to a larger candle (with a clear cut glass holder) so I thought that they could have done better with that. It's absolutely delicious and grapefruit is one of my fave scents.
NEST Fragrances Indigo Eau de Parfum ($9.38) I sampled this fragrance in my Scentbird subscription last month and I knew as soon as I saw that the Beauty in Bloom box had a travel size that it was a must have! The scent is sweet and delicate without being overpowering. It's quite feminine and is fruity and musky all at once – sweet and spice and everything nice with Moroccan tea, Kashmir wood, and black cardamom enhanced with hints of wild fig and bergamot. I was super pleased to discover that this travel size is a rollerball. Since the fragrance itself is inspired by the print decorating the label, I was really happy to get this!
NEST can do no wrong in my book!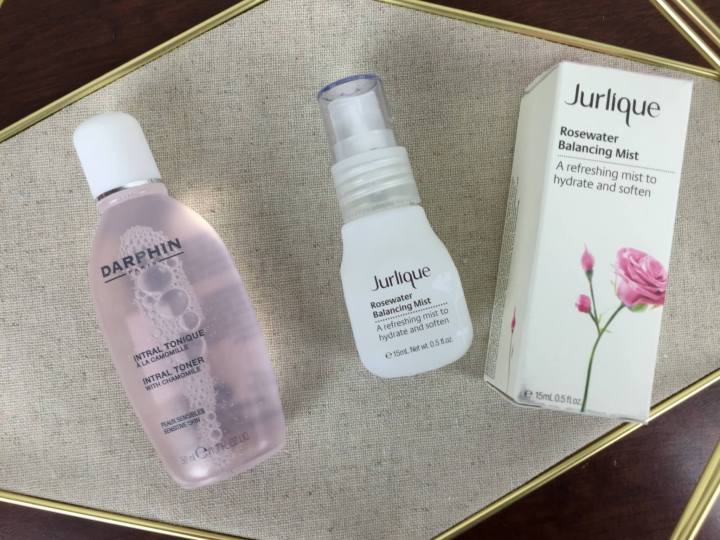 Darphin INTRAL Toner ($5.4) Since the full size of this soothing and toning potion with chamomile is $54, I'm quite glad to give it a try in this box!
Jurlique Rosewater Balancing Mist ($3.79) A floral infused and rose-scented mist to balance pH levels and refresh skin. I'm not a rose fan but tried it out nonetheless. It has a pure rose fragrance and is quite nice, but I'll probably pass it along because I have other facial mists that I prefer.

Davines OI / Oil Absolute Beautifying Potion ($15.56) I was shocked by the price of this silicone-based lightweight oil. I've heard raves about it but I'm not sure the price is justifiable if I need 2-3 pumps. I did also wonder about the amount in my bottle! I tried it out and it seemed to do the job, but I don't have particularly crazy hair.
(I lie, my hair is insane, but it just doesn't need a $42 bottle of oil! Fun to try though!)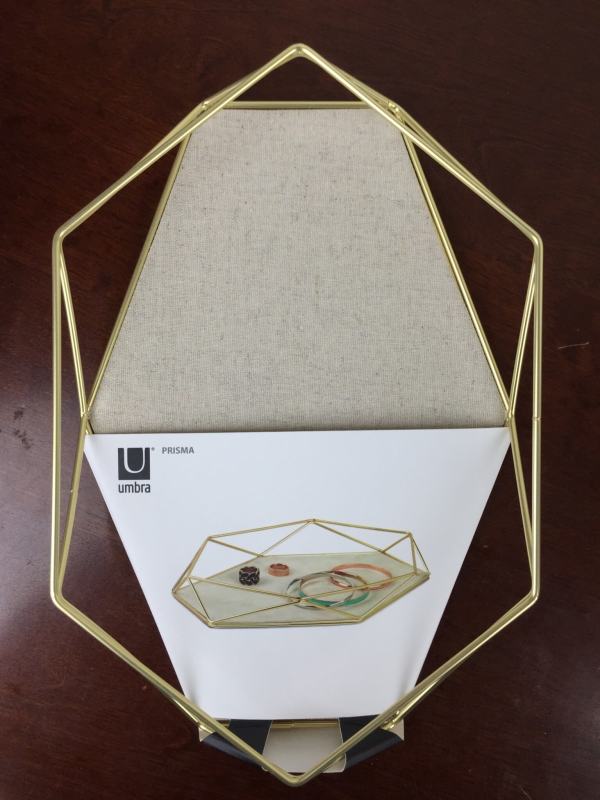 Umbra Prisma Tray ($15) This is such a fun catch-all tray, and I really love the linen lining – sometimes you just don't want things to clank when you set them down!
I included a couple photos so you could see how dimensional this tray is!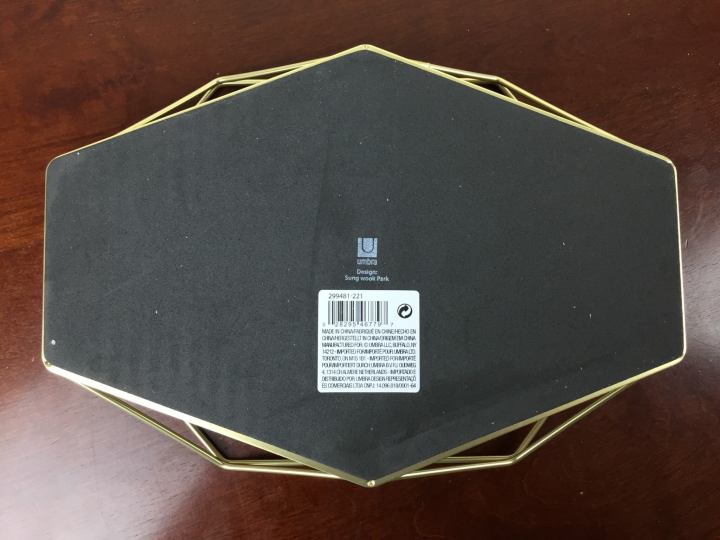 The back has a soft foam lining.
This was a totally amazing box! With 4 full-size products (including the tray) and a couple of really substantial deluxe sizes I was impressed beyond the simple fact that I loved the curation of this box. My value estimate came in at quite a bit lower than Birchbox's own ($188) at about $144 in product – still amazing, but a little head scratching! The value of the full-sized products rang up at $85, so I struggle with how they got another $103 in value from the smaller sized products. I'm still happy with the value considering the really excellent curation for this box, and it will be a perfect gift for Mother's Day, too!
You can pick up Limited Edition Beauty in Bloom Box here. Let me know what you thought of the box in the comments!