Spring time is in the air and the newest  Beauty Box 5 has Spring written all over it. This box is called Take a Hydration Vacation.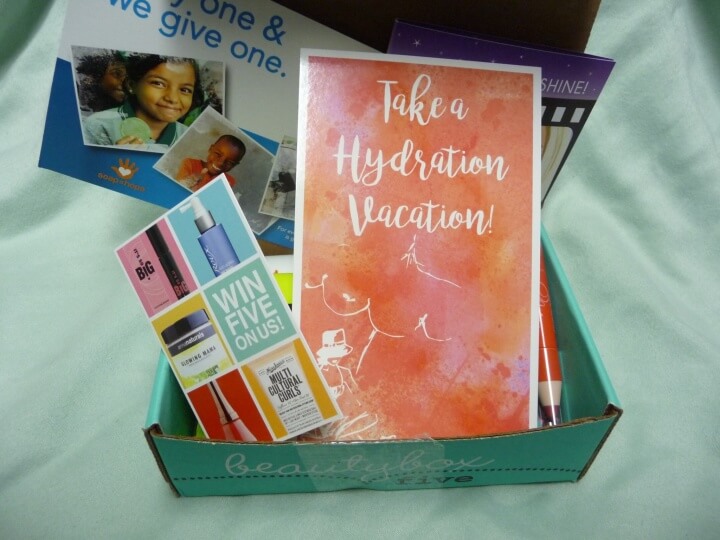 Beauty Box 5 is a monthly beauty box with 4-5 deluxe beauty samples (sometimes full size) in every box.  You'll get makeup, nail polish and accessories, haircare, skincare, and more.
The information card gives the details on each product, the retail value, and whether or not the item is full-size. 3 out 6 items in this box were full size items. I received  Soapbox Sea Minerals Body Wash, Jelly Pong Pong Paradise Pigments, Maskeraide All Eyes on Me Hydrating Eye Gels, Chella Passionate Pink   Moisturizing Lip Pencil, Global Beauty Care Green Tea Makeup Remover Wipes.
The first item in my box was the Global Beauty Care Green Tea Make up Remover Wipes ($4). How do they know when I am running out of these things? These wipes have a soft scent of green tea to them and they remove make up very well. No Complaints here. Price for the Wipes $1.99 and his was a full size sample. Also there was the Maskeraide All Eyes on me Hydrating Eye Gels ($4.92). To be honest with you I have never tried a product like this before. So of course keeping with my nature (I try anything once) I tried them out. Interesting product, It is easy to use and I must admit my eye did not feel so puffy afterwards. Price for this item $25 for the full item. I received only 1 pair.
Next is the Chella Passionate Pink Moisturizing Lip Pencil ($9) This is a lip pencil that leaves your lips hydrated.  It is a nice bright pink red color. Not quite in my color wheel but it does help keep the lips moist.
Next is the Soapbox Sea Minerals Body Wash (60¢) is naturally made body wash with aloe, shea butter, and sea minerals. Soapbox donates a bottle of soap to other countries for every bottle sold. This did not have a scent but it did lather and wash well. If you are one that is sensitive to dyes or prefer to use items with natural ingredients, this is the company for you. This was not a full size sample.
The Jelly Pong Pong Paradise Pigments is the last item from my box. The color of this 2in1 product is a bright pink. It is a lip/cheek color. I have never heard of this brand until now. It goes on smooth. I did not try it on my cheeks as I found it to bright for that area. It is a fun color for your lips. I received a full size product which retailed for $ 19.95.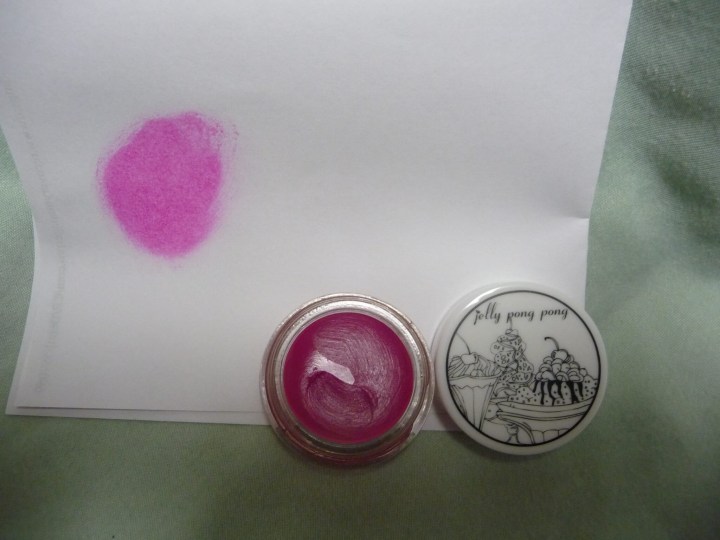 I enjoyed my box very much. It had a retail value of over $38. Enjoy the Spring time!!  What do you think of Beauty Box 5?
Visit Beauty Box 5 to subscribe or find out more!
The Subscription
:
Beauty Box 5
The Description
: Beauty Box Five is a beauty and makeup subscription box that delivers 4-5 samples to your door. Products are usually quite unique and different from other boxes
The Price
: $12.99 per month