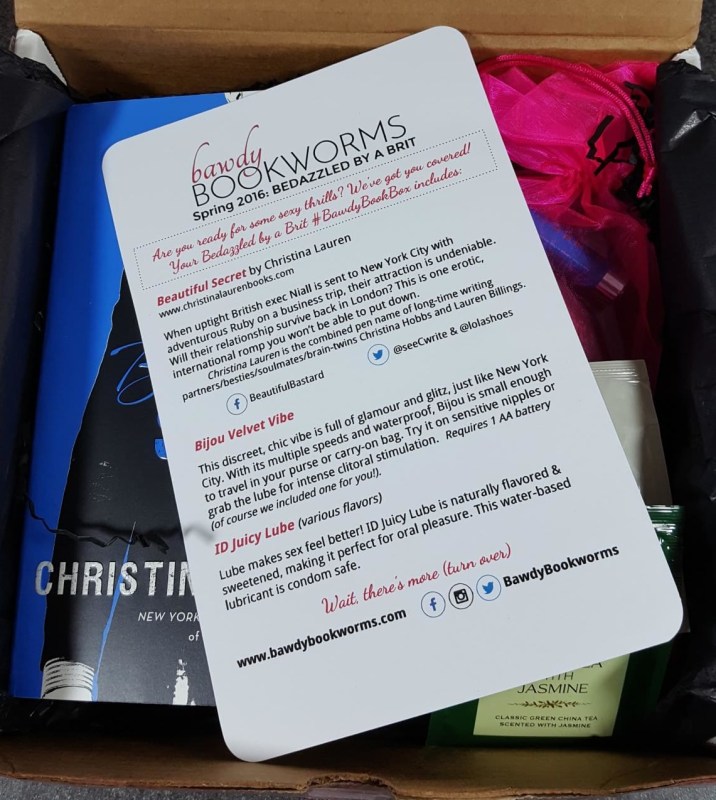 Bawdy Bookworms is a monthly specially curated box that sends a smokin' hot book plus a few sexy surprises.  I love romance novels so this box is something I was very excited to get. The April theme is Bedazzled by a Brit and I was ready for some accents and thrills.
FYI – This is an adult subscription box and the box and the review are intended for the 18+ crowd!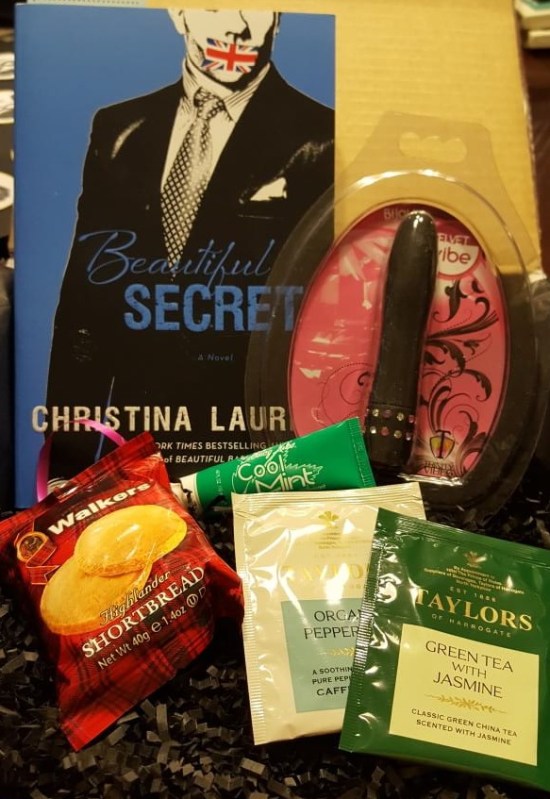 Everything is the box this month.
All of the information on the items in this months box.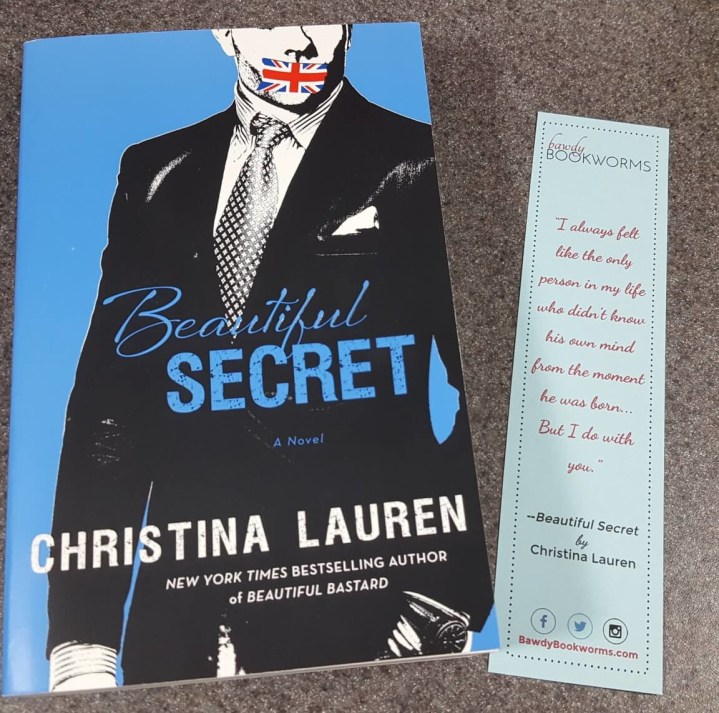 Beautiful Secret by Christina Lauren ($10.00) –  This is the 8th book in Christina Lauren's The Beautiful Series of books.  I just recently read the first one and loved it so I can't wait to dig into this one.
When Ruby Miller's boss announces he's sending her on an extended business trip to New York City, she's shocked. As one of the best and brightest young engineers in London, she knows she's professionally up to the task. The part that's throwing her is where she'll be spending a month up close and personal working alongside—and staying in a hotel with—Niall Stella, her firm's top urban planning executive and The Hottest Man Alive. Despite her ongoing crush, Ruby is certain Niall barely knows she's alive…until their flirty overnight flight makes him sit up and take notice.

Not one for letting loose and breaking rules, recently divorced Niall would describe himself as hopeless when it comes to women. But even he knows outgoing California-girl Ruby is a breath of fresh air. Once she makes it her mission to help the sexy Brit loosen his tie, there's no turning back. Thousands of miles from London, it's easy for the lovers to play pretend. But when the trip is over, will the relationship they've built up fall down?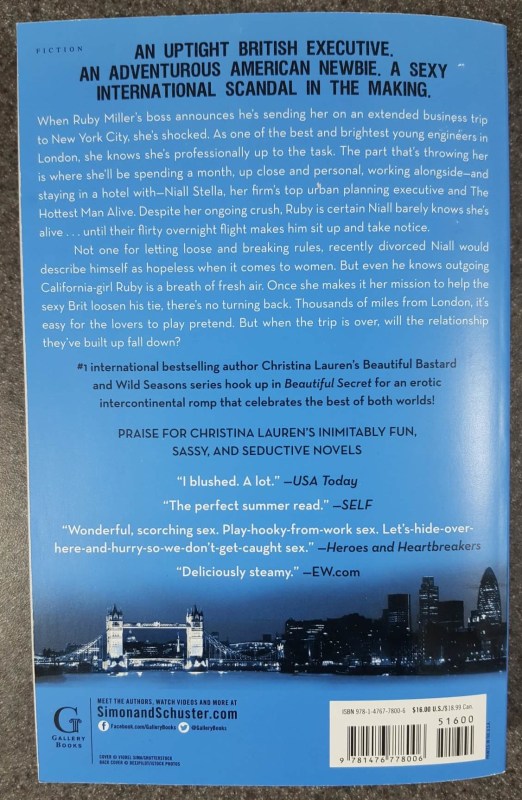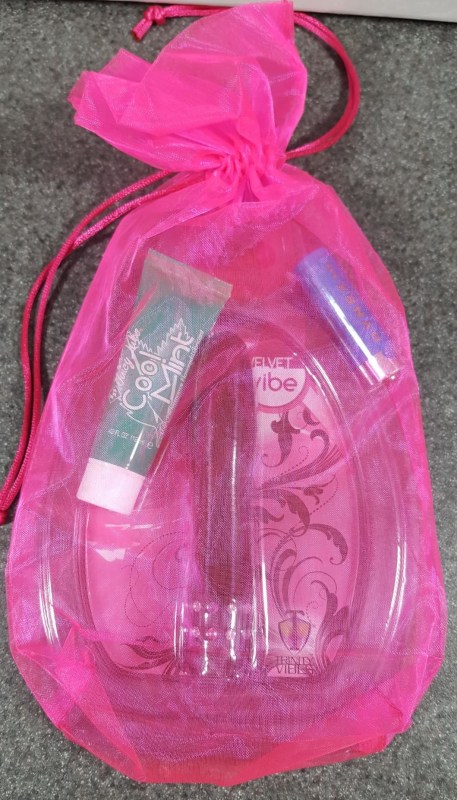 Next up was this really fun pink bag of goodies.  I was smiling at the bag and that was even before I opened it.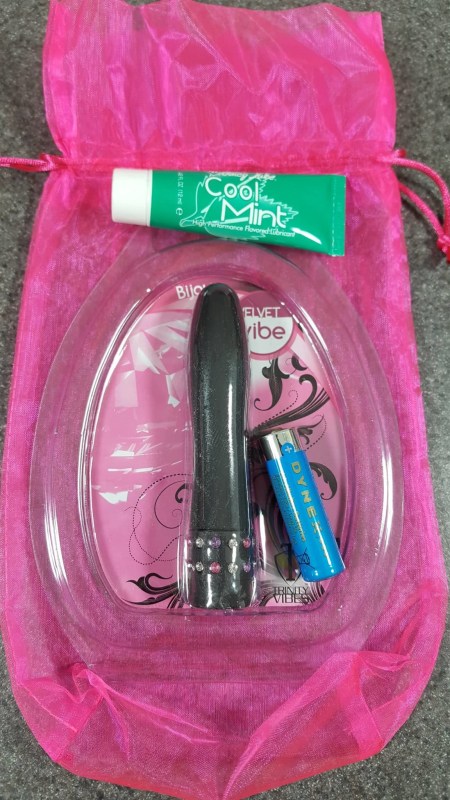 Bijou Velvet Vibe ($14.47) – How cute is this one?  I love the rhinestones which just make me smile when I'm looking at them.  This vibe is a discreet, multi-speed vibe perfect for a seasoned or novice user.  This size is small enough to keep in your purse or your pocket.  The box also came with the battery required which is a nice touch added.
ID Juicy Lube in Cool Mint (12ml $1.59) – Various flavors were sent out for this one. ID Juicy Lube is naturally flavored & sweetened an water-based for all of your fun play.
Taylors of Harrogate Tea ($.23 each) – The British are really known for their tea.  This is a great addition to a Brit themed box.
Shortbread Highlanders by Walkers ($.67) – While these are made in Scotland they go really well with tea so a great pairing.  These cookies are made of pure butter which just adds to the decadence.
I love the idea of this box and all the possibilities it has.  I do often think that some of the "good" books should come with toys and this box is putting it all together in one place sent right to my door.  Perfect! This is a book I've been wanting to read and I can't wait to dig in to it.  In addition to the box the Bawdy Bookworms also has a private facebook group called the Bawdy Bookworms Insiders where you can chat about romance, erotica, and all things that buzz!  They have invited all readers to join if you would like to be in on the fun http://bit.ly/BBInsiders
Visit Bawdy Bookworms to subscribe or find out more! Free shipping on your first quarterly box subscription! Use coupon code  HELLO.
The Subscription
:
Bawdy Bookworms
The Description
: Bawdy Bookworms is a virtual book club with a curated monthly package featuring one steamy romance or erotica book plus complementary surprise goodies for a full mind body reading experience.
The Price
: $40.95 per quarter