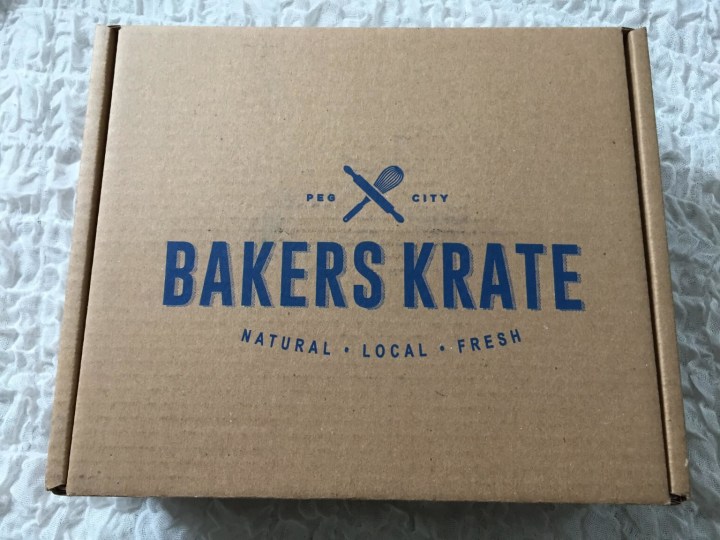 Baker's Krate is a Canadian subscription that sends you a box of delicious desserts once a month. The bakeries featured are all Canadian and local! Last month's box was, for me, a disappointment due to how late it arrived and the questionable freshness as a result. This month's box arrived right when it was supposed to with plenty of time to spare.
If you *are* Canadian, be sure to like the new Hello Subscription Canada page on Facebook and follow Hello Subscription Canada on Instagram!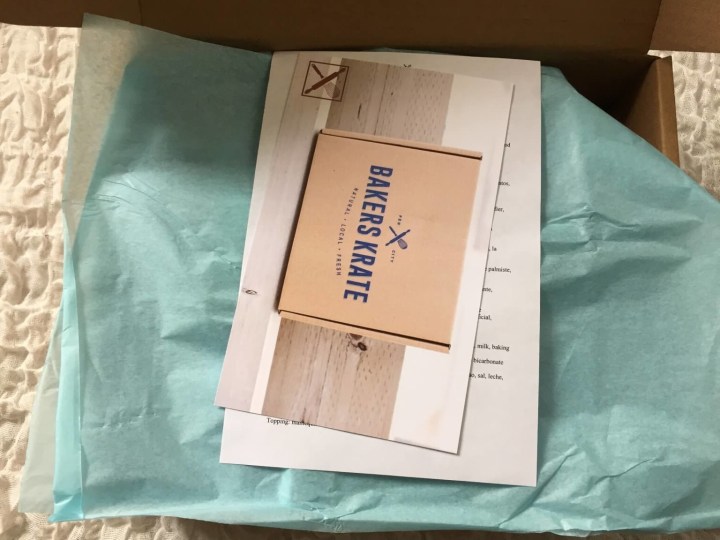 April's spring colours!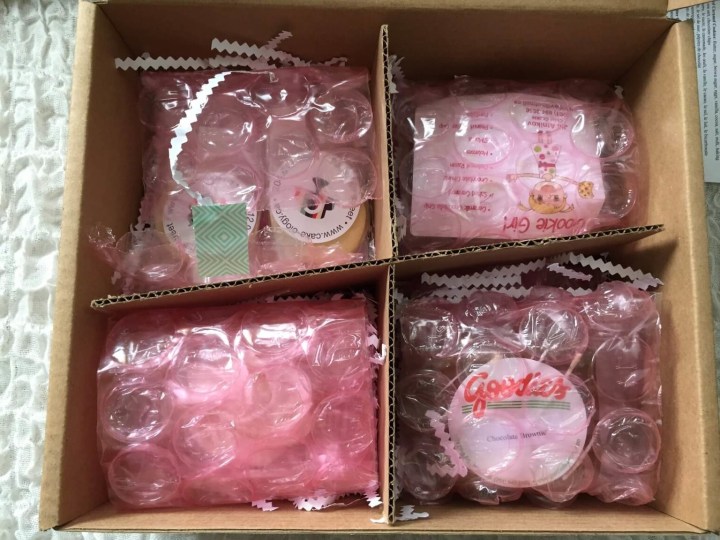 The box has a cardboard separator to keep things from clunking around, and there's liberal amounts of (pink!) bubble wrap.
April's box features five goodies from three different bakeries. I took in most of the box to work for my coworkers to help me review (watching the waistline for summer!) and I think I scored some bonus points there.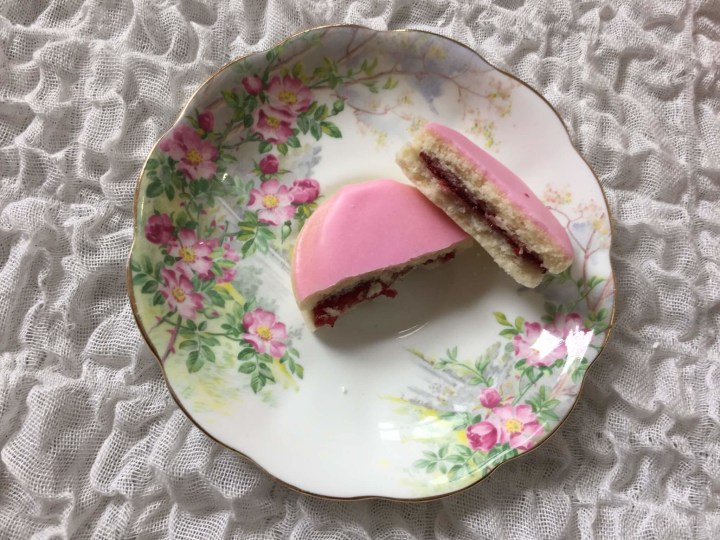 Raspberry Imperials (Cake-ology) I tried an Imperial for the first time with my February box, and I love them. There's something about the combination of cookie and jam that feels so fancy! These are much bigger and substantial than the ones in the February box, and I'm glad they included two!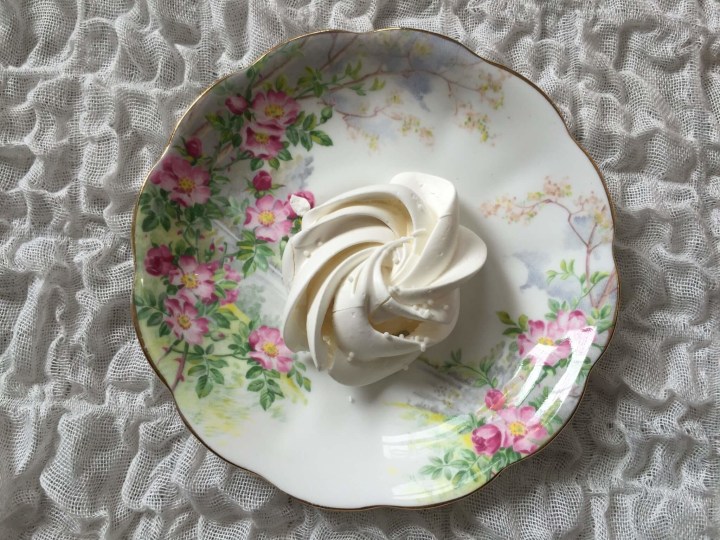 Earl Grey Meringue (Cake-ology) I've never had a meringue before, but this wasn't at all what I was expecting. I thought it would be light and fluffy, but instead this was very sticky and chewy. I was too busy trying to eat it that I didn't notice too much of a tea taste to it.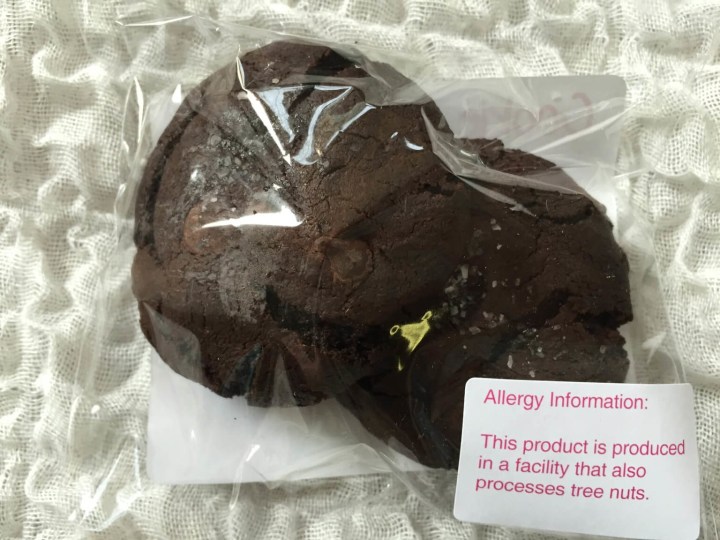 Salted Caramel Cookie (Cookie Girl) I've enjoyed all the cookies by Cookie Girl, but I took these into work for my coworkers to enjoy. Everyone gave them rave reviews! The chocolate is darker and not as sweet, which is good because they're stuffed with caramel!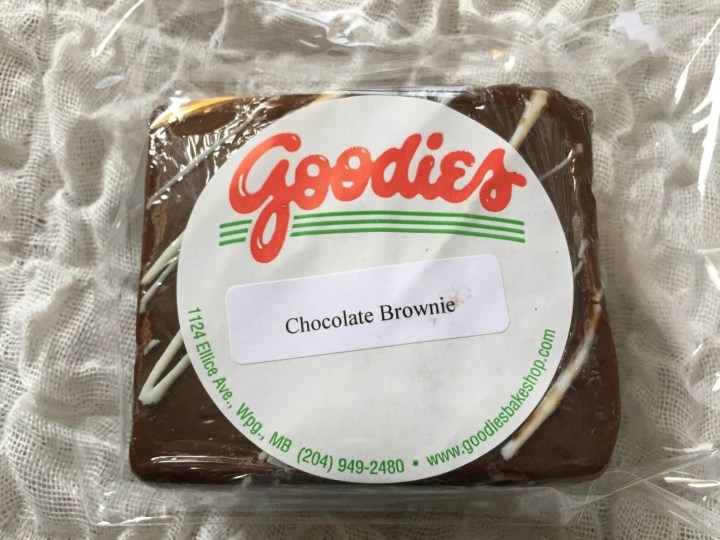 Chocolate Brownie (Goodies) Goodies bars are also a common staple in Baker's Krate, so I took these in to work to share. I tried a piece of the chocolate brownie and it was very soft and had a nice icing on the top, but it wasn't anything particularly special.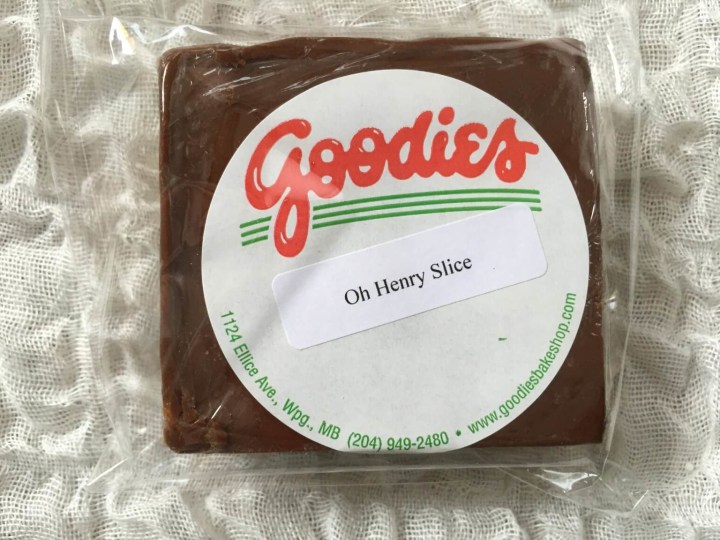 Oh Henry Slice (Goodies) A mild peanut allergy required me to surrender this one as well. It's a peanut butter cookie base with a chocolate frosting on top.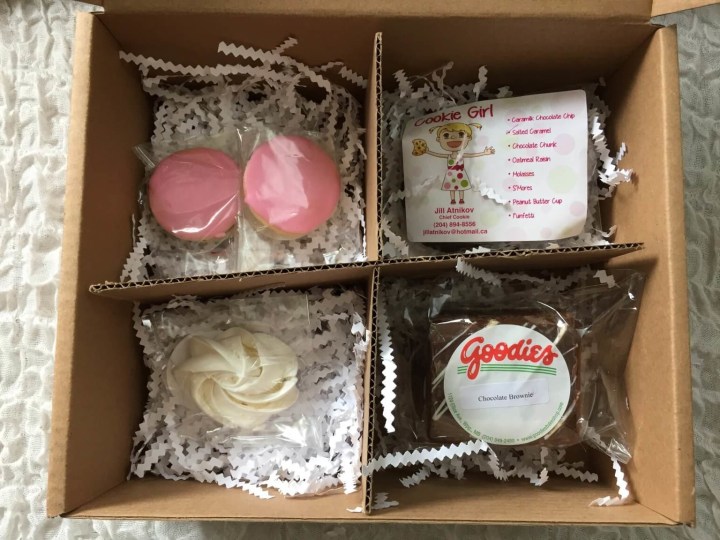 April's box was a definite improvement over last month! I enjoyed the treats I sampled for myself, and surprising my coworkers was a lot of fun. My favourite was the imperial cookies — I think I have a new addiction. It's nice to see the same local bakers featured every month but I hope they'll be able to branch out eventually — the box's contents are pretty predictable due to the limitations of staying local. Still, I love Baker's Krate and I look forward to what May has to bring!
Visit Bakers Krate to subscribe or find out more! Save 10% on your first month with coupon code SWEET.
The Subscription
:
Bakers Krate
The Description
: A Subscription Box Club in Winnipeg for Foodies and Dessert Lovers! By subscribing to Bakers Krate, they provide you the tastes and varieties that Winnipeg Bakeries have to offer! Each Box comes with variety of different treats. The treats can vary from cookies, macarons, cupcakes, pastries, pies, small cakes or a slice of cake! Currently shipping to Canada, coming to the US soon!
The Price
: $19.99 per month