Arcade Block is part of the Nerd Block family of subscriptions and is a monthly video game mystery box. Arcade Block focuses on 4-6 video game collectible, one exclusive gamer t-shirt, and a promised value of $60.00. Arcade Block begins shipping on the 25th of each month.
My boys, ages 7 and 17, love Arcade Block. They couldn't wait to get into the March box.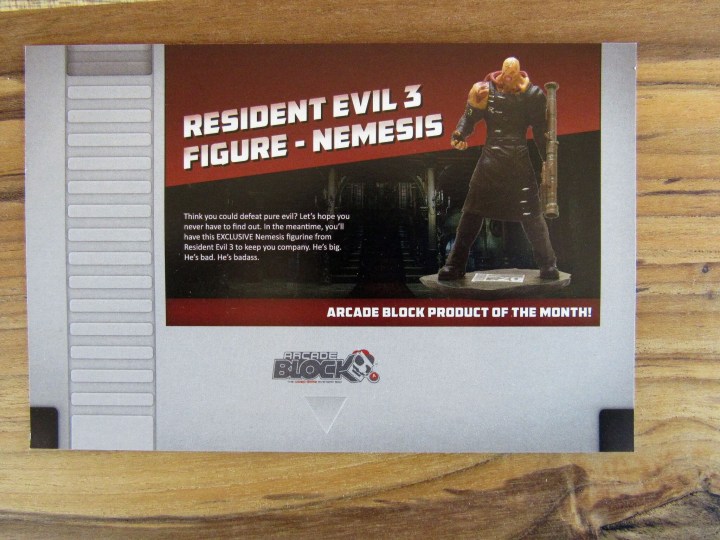 Arcade Block is celebrating Resident Evil's 20th birthday with an exclusive Nemesis figure from Resident Evil 3!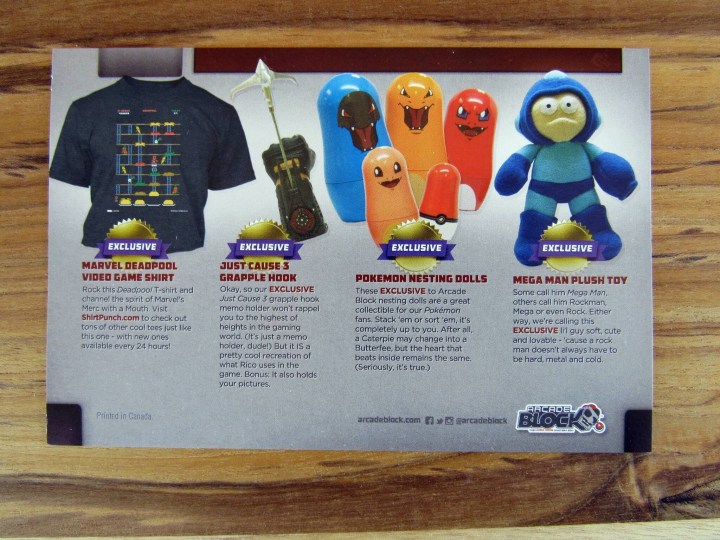 T  is going to be disappointed to find out the Deadpool shirt is for J.
I seem to accidentally, on purpose, cut off Mega Man's head in the picture. You will see why later in the review. March's box is amazing with a variety of fandoms that the family will enjoy.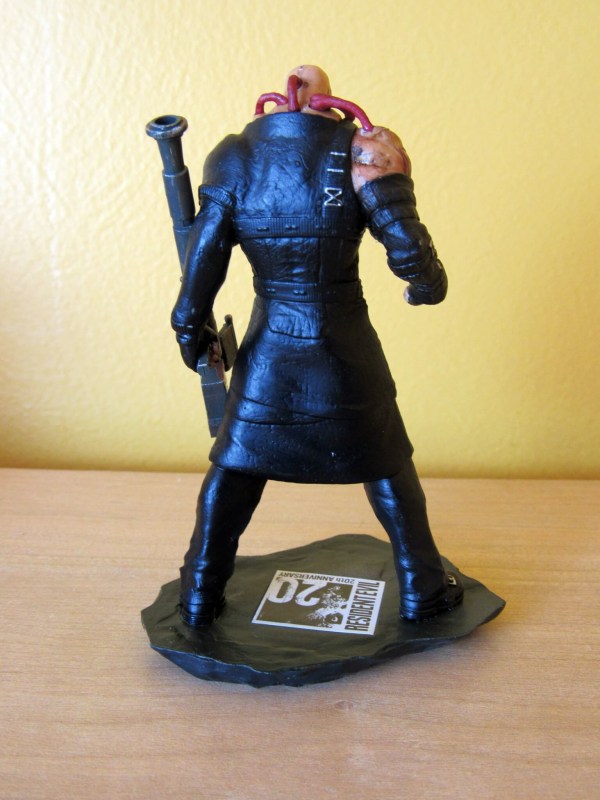 The exclusive Nemesis figure is the perfect way to celebrate Resident Evil's 20th Anniversary. Nemesis is the antagonist in the game and the movie. I can't believe it has been 20 years since the first game came out. I did not know the movies were based on a game. The details on the figure are stunning.
T (age 17)- How could Mom not know about the games? I did not know there were movies! The figurine has nice detail.
The Exclusive Just Cause 3 Grapple Hook is a replica of the one Rico uses in the game. The hand looks realistic. Jsut Cause 3 is an open world action game. The Grapple hook can hold memos or photos. Imagine this on your desk at work!
J (age 7)  – I checked, and the grapple hook does not shoot out. T can have it.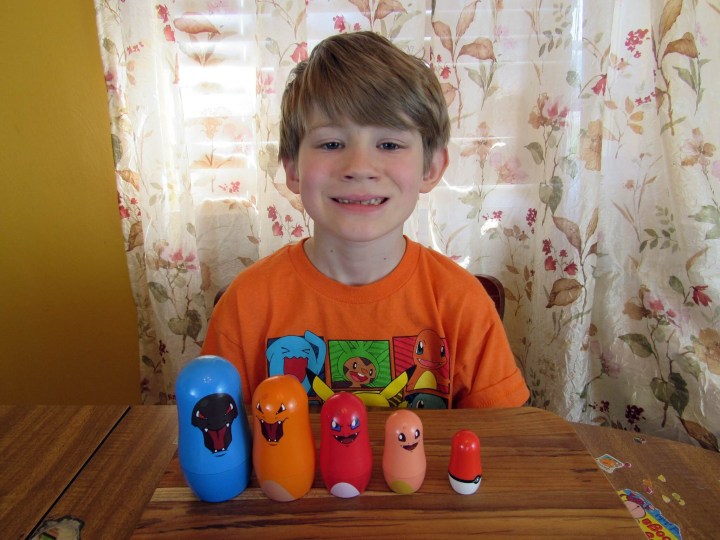 I've accepted that Pokemon will be in my life for a long, long time. J loved the exclusive Pokemon Nesting Dolls. They are from left to right: Mega Charizard X, Charizard, Charmeleon, Charmander, and the Pokeball, I asked J if they are all related and still don't understand.
J – They are cool. They represent how to catch a Pokemon and how they evolve.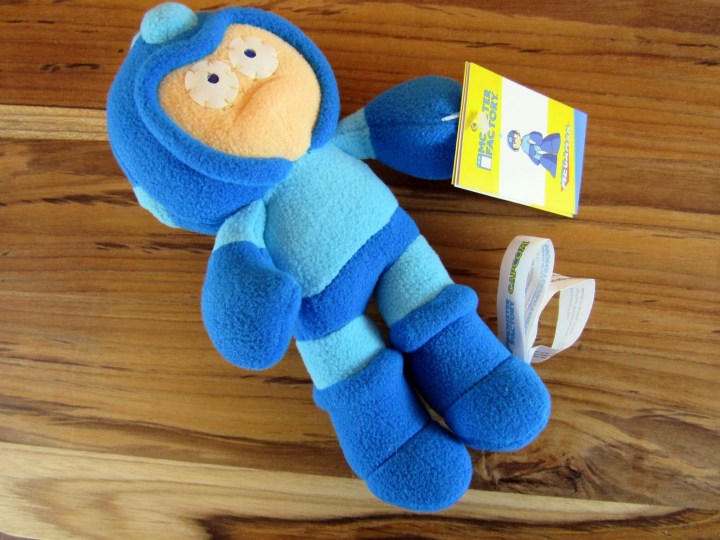 See why I subconsciously cut out Mega Man's head in the group shot? His eyes look creepy.
T – Mega Man you look really weird. Better get your eyes checked. It seems they're making a Mega Man cartoon for next year, which is the 30th anniversary.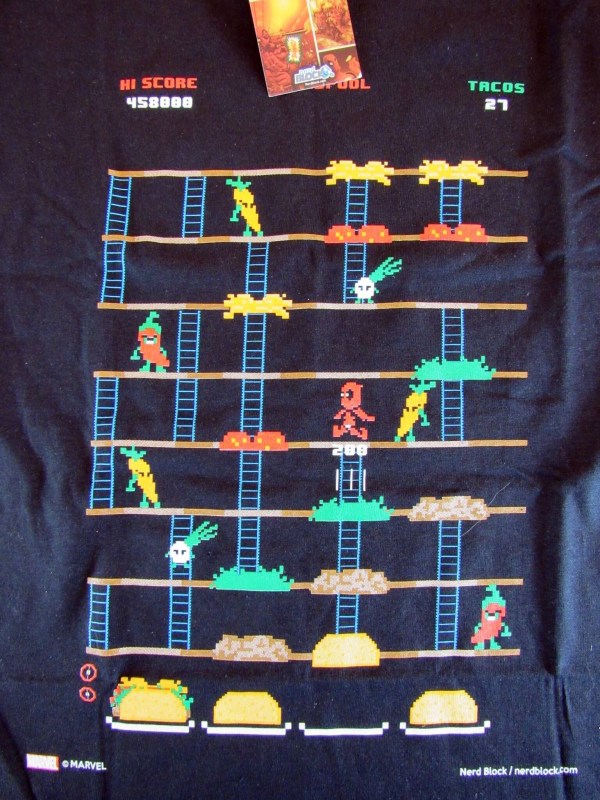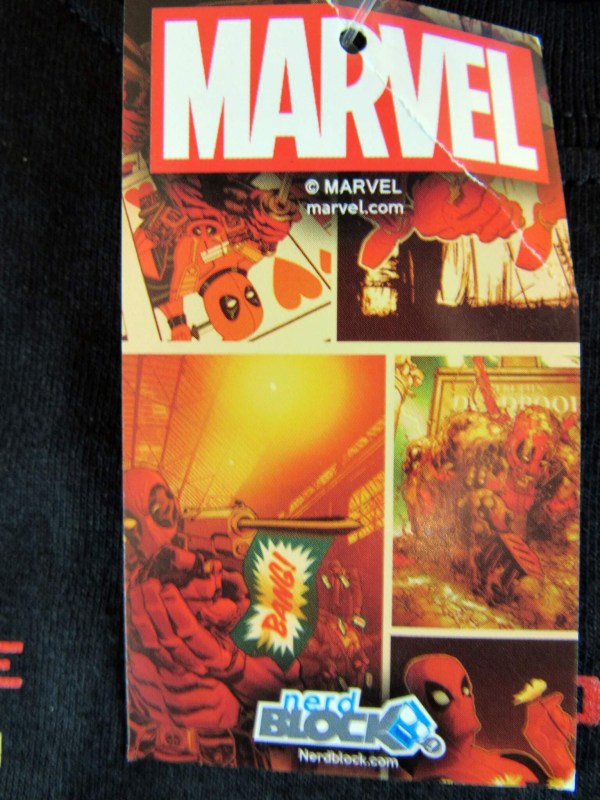 It's a Deadpool and Burger Taco Time t-shirt by Shirtpunch. Shirtpunch comes up with brilliant ideas for their shirts. I remember playing Burger Time as a child!
T – It's J's first Deadpool shirt. Mom, why did you change the shirt size?
J – The shirt looks cool because Deadpool is trying to make a taco and eat it.
The word of the day is Exclusive. The March Arcade Block has 100% exclusive items which is incredible especially if you are a collector. The figurines are detailed and are well known items from their franchises. The Pokemon Nesting Balls and Marvel Deadpool Video Game Shirt appeal to J. None of us know what to make of the Mega Man plush toy. It's a great mix of items with fandoms that appeal to adults and children.
The Nerd Block Family, like Pokemon, is constantly evolving.
Remember to go into your account and update your information, because Nerd Block is introducing new items!
What do you think of the March Arcade Block? Share your comments below!
Now through May 15 every new subscription from Nerd Block will come with a free shirt (one per customer). You canNOT combine this with the code SAVE15 for 15% off your first box. (Enter code after green confirm order button.) Choose a longer subscription instead of the code for better savings (plus you can get the shirt!).
Visit Arcade Block to subscribe or find out more!
The Subscription
:
Arcade Block
The Description
: A monthly mystery package delivered right to your door filled with apparel, toys, and collectibles all themed around video games! Every Arcade Block comes with a custom t-shirt (Has men's regular, fitted, and women's fitted tees – and now youth sizes!) and 5-6 epic items for you to tear into! Also available – Nerd Block Jr (Girl & Boy), Horror Block, Comic Block, and classic Nerd Block!
The Price
: $30.00 per month