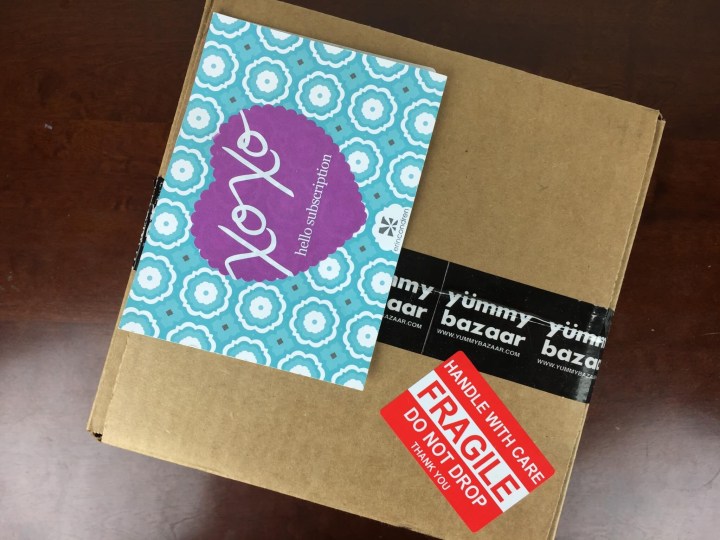 This month, Yummy Bazaar takes us to one of the world's crossroads which sits astride two continents!  Yummy Bazaar delivers gourmet food items to your door monthly.  The items for the Destination Food Club are carefully selected from a different single country every month.  With the Full Experience you'll get 6-8 full sized gourmet items from your destination for $35.95.  There is also a Sampler subscription that sends 6-8 sample sizes for $9.95.  We received the Full Experience box.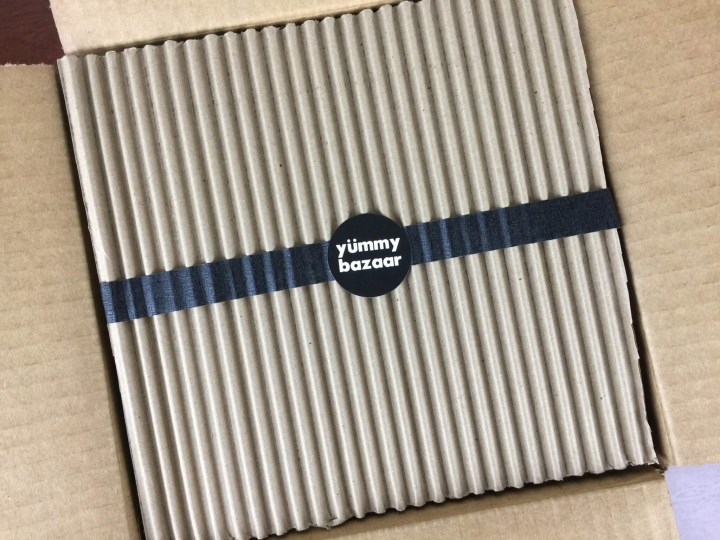 As always, the box was packed in a smartly utilitarian, corrugated, brown paper, and tape combo.  It is a very clever packing scheme — recyclable and cool looking.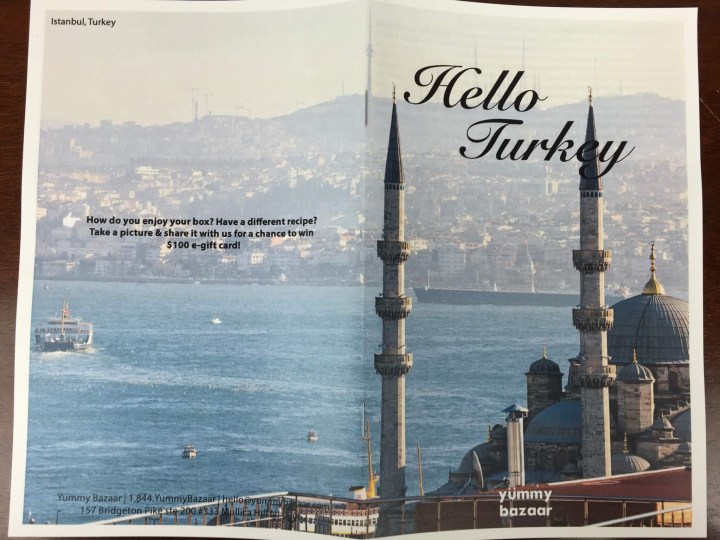 They dropped the postcards in favor of a folded-paper booklet, but they still provide a beautiful visual of the destination country.
Two Turkish recipes were recreated so they can be made using primarily items from the box.  There was a recipe for kabobs and for a chicken breast pudding (which thankfully was modified to be chickenless).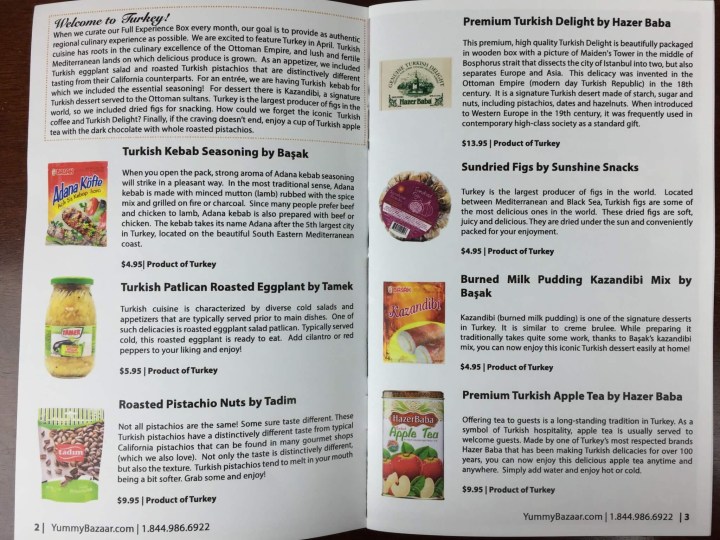 The product description pages give a brief description of each item, along with several suggested uses, the retail price, and the origin.  Everything in this box was made in Turkey– and I thought this box actually went further than normal in presenting foods that have long been central parts of the culture's cuisine.
Everything in our box arrived in superb condition.  I can't recall ever having real issues with anything we've received.  The jar was bubble wrapped, and they even wrapped the tin to keep it in good condition.  They are nestled together well, and the corrugated interior lid prevents shifting in transit.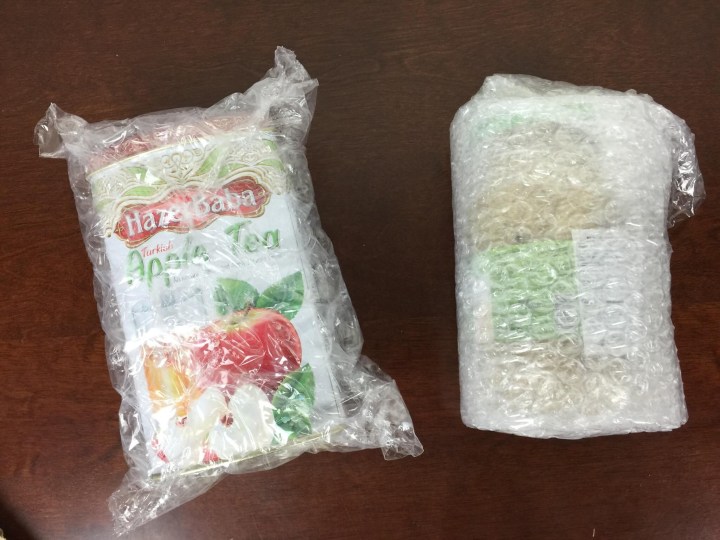 We love the way YB packages their items — normally they are wrapped in a brown paper mesh and black tape that matches the aesthetic of the corrugated lid.  This month there was a supply issue with the paper, but we were assured that cool packaging will return soon.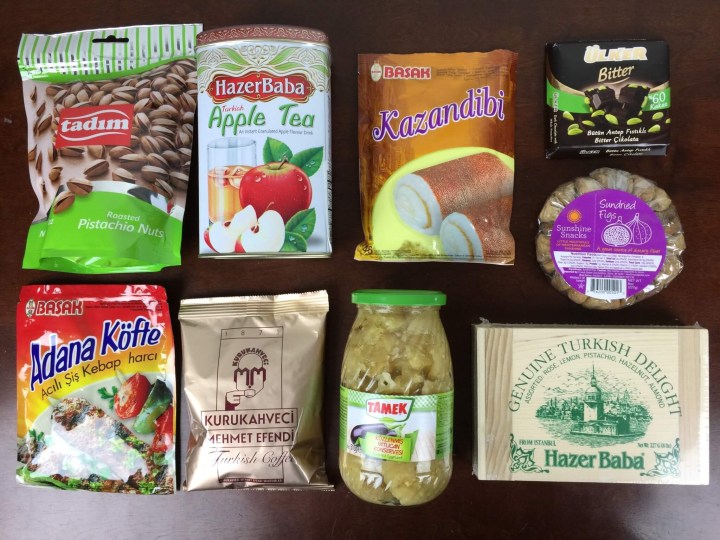 All the products in this month's box.  Yummy Bazaar is good about making the majority of items shelf-stable, so you don't have to eat them right away (though we usually want to)!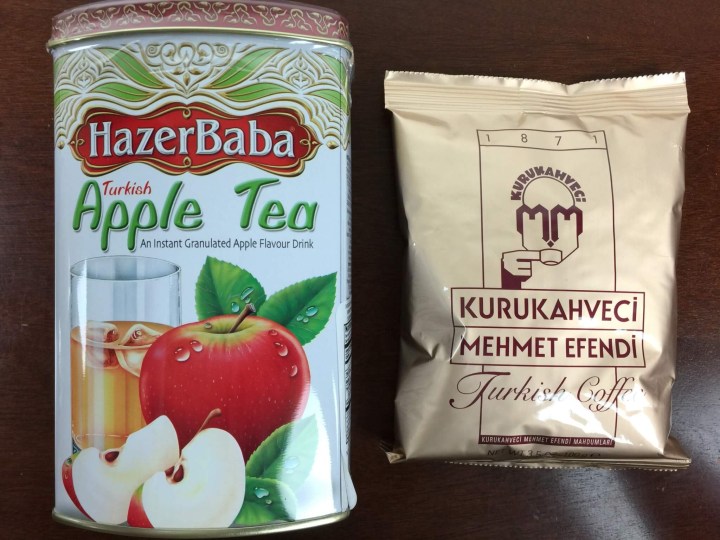 Hazer Baba Premium Turkish Apple Tea ($9.95):  This nice-looking tin holds 16 servings worth or granulated mix.  It can be served either hot or cold, and it doesn't actually contain any tea.  In fact, I'm not sure if it has any apple in it either, as it is flavored with "nature identical apple flavour, " which I think means artificial flavor that tastes real.
Kurukahveci Mehmet Efendi Turkish Coffee ($4.95): Ground Turkish coffee produced from 100% Arabica beans.  Turkish coffee is traditionally made in a Cezve, a long-handled pot.  When prepared in the traditional way, it makes a frothy and rich cup of coffee.
Basak Turkish Kebab Seasoning ($4.95):  The booklet includes a recipe for chicken kebobs using this seasoning.  Made primarily from ground sweet and hot peppers, onion, garlic, cumin, and parsley, this pack can season 750 grams of meat (preferably mutton).
Tamek Turkish Patlican Roasted Eggplant ($5.95):  Rich eggplant is roasted, lightly salted, oiled, and flavored with garlic.  Roasted eggplant is one of many dishes typically served as a cold appetizer salad.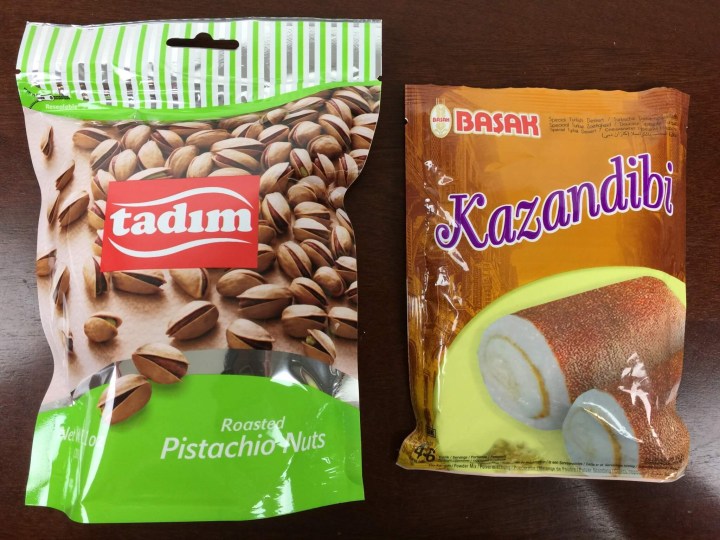 Tadim Roasted Pistachio Nuts ($9.95):  These nuts have a very clean flavor and are very distinct from the variety grown in California.  They are softer and more mild, with a less intense and greasy flavor.  The skins within the outer shells taste a little sunflower seed shells.  This 200 gram bag holds a lot of nuts, but I wish it was even bigger!
Basak Burned Milk Pudding Kazandibi Mix ($4.95):  This dessert is like an upside-down creme brulee!  It is made by literally burning the pudding in the pan, then rolling it out.  A type of rice pudding, this dessert serves five and needs only milk to be prepared.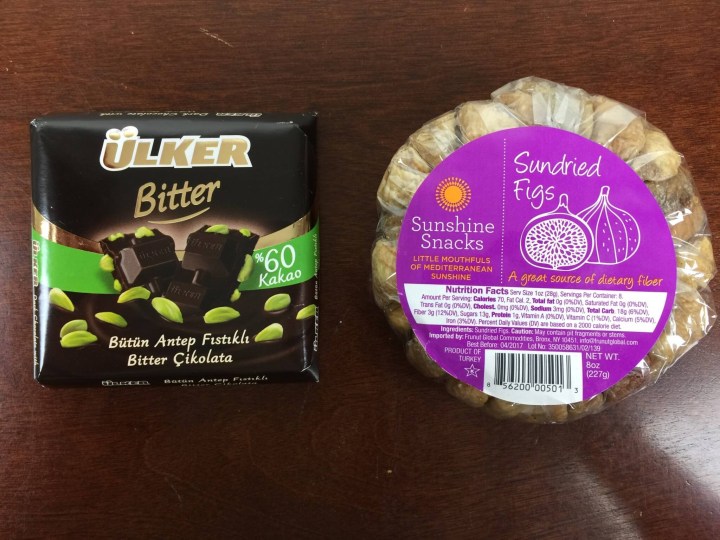 Ulker Bittersweet Chocolate Bar with Pistachio ($8.25):  I expected this bar to have the great whole pistachios, but I was surprised by how delicious the chocolate was.  It didn't have a very bitter flavor, despite the name.  It was intense, with a wonderful cocoa flavor that was much more developed than is found in most dark bars.
Sunshine Snacks Sundried Figs ($4.95):  These whole figs come packed in a tight circle, ready to eat.  They are sun-dried, and the flavor is light and not too sweet.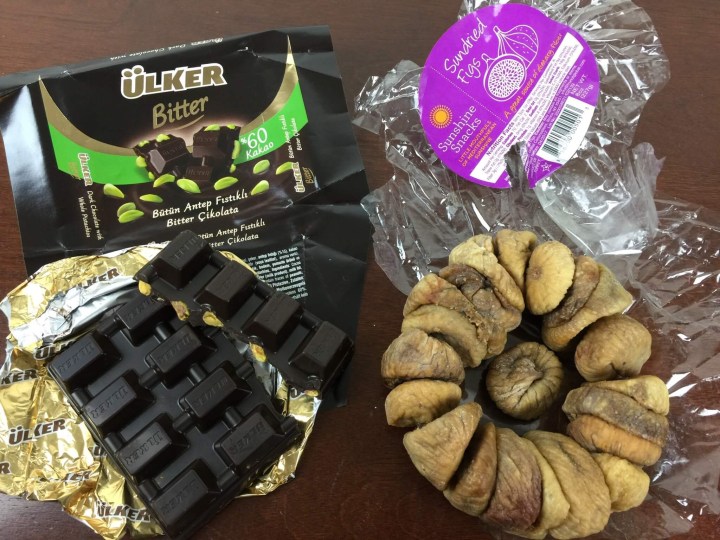 The Chocolate had some of the best flavor I've had in a dark bar.  I loved the arrangement of the figs — and they had a lovely firmness to them.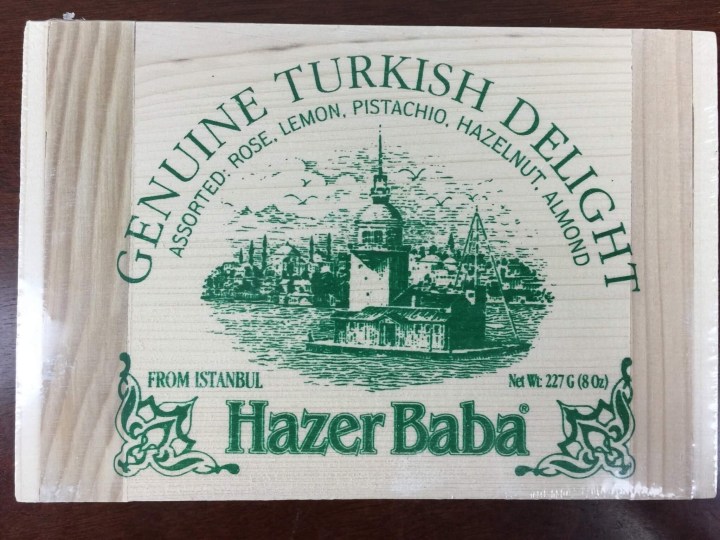 Hazer Baba Premium Turkish Delight ($13.95):  This classic treat has inspired jellied candies the world over.  This batch comes from Istanbul, the birthplace of the Turkish Delight.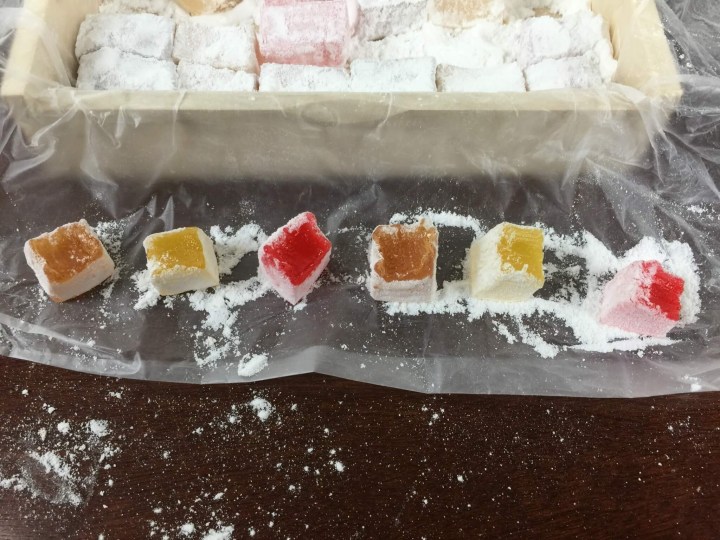 We received three different flavors (I believe 10 or 12 pieces of each) — rose, lemon, and one of the nut flavors.  I think it was pistachio, but it was difficult to be sure.  Its funny that I can't be sure of the composition of the nut flavored delight, because it was also my favorite of the three!
Yummy Bazaar is a fantastic way to get a sense of a country's cuisine.  They do a great job of selecting items that are of cultural significance, or are just so popular among the population that they have to be included.  I love that most of the items come in big pantry packs, so I get a lot of tries of every product.  Since everything is available in their store, You can always go back for more of your favorites, too.  It's always a fun journey learning about cultures through their food!  Also FYI – you can also skip or cancel at any time – and they will accommodate most special diets if you need. They have a $9.95 per month Mini Sampler box too!
The total value was about $63.45, based on YB per item retail pricing, which is a really fantastic value. Have you tried Yümmy Bazaar? What did you think of this month's box?
Visit Yümmy Bazaar to subscribe or find out more!
The Subscription
:
Yummy Bazaar
The Description
: Discover some of the most authentic and delicious foods from around the world, delivered to your doorstep. Each month receive 6-8 full size products from a delicious country (each month is different!)
The Price
: $35.95 per month