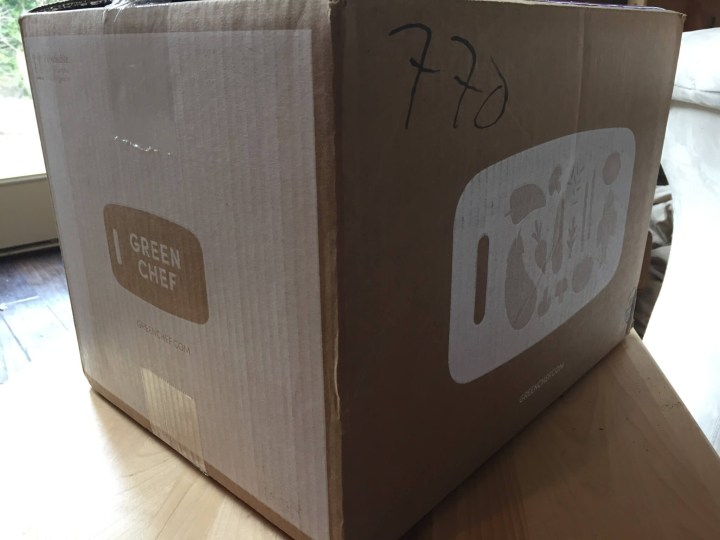 Green Chef is a weekly meal kit delivery service that sends recipes along with organic and sustainable ingredients to your home. Green Chef estimates that 95% of the included ingredients are organic.
Examples of ingredients that are not organic include fish, which currently have no organic designation option. Instead, the fish included is sustainably sourced. The beef is grass fed.
Each week Green Chef produces between 6 and 9 recipes, so there is some choice in what you receive. Unlike services like Home Chef, however, your choices are not unlimited: you may choose among the vegetarian, carnivore, omnivore, gluten-free and paleo boxes. Each two-serving box of three entrees ships for $9 in addition to the costs per serving listed above, bringing the total box costs to $71.94 (vegetarian), $80.94 (omnivore), $89.94 (carnivore or gluten-free) and $98.94 (paleo).
I've elected the carnivore option, which includes a very hefty amount of veggies, legumes and/or grains with each meal. This is where Green Chef really shines. Green Chef includes roughly twice as many veggies, legumes and/or grains as some of their competitors. And they're all organic! This makes for delicious, healthy, well-balanced meals.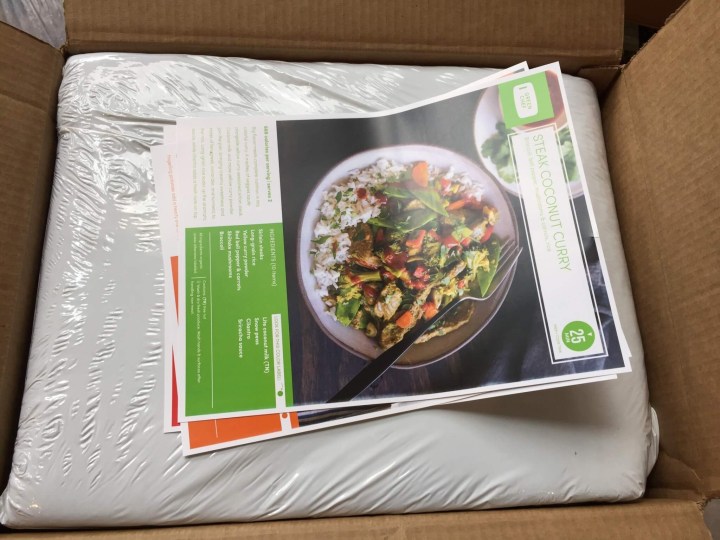 Each week's package arrives well insulated, sandwiched between ice packs.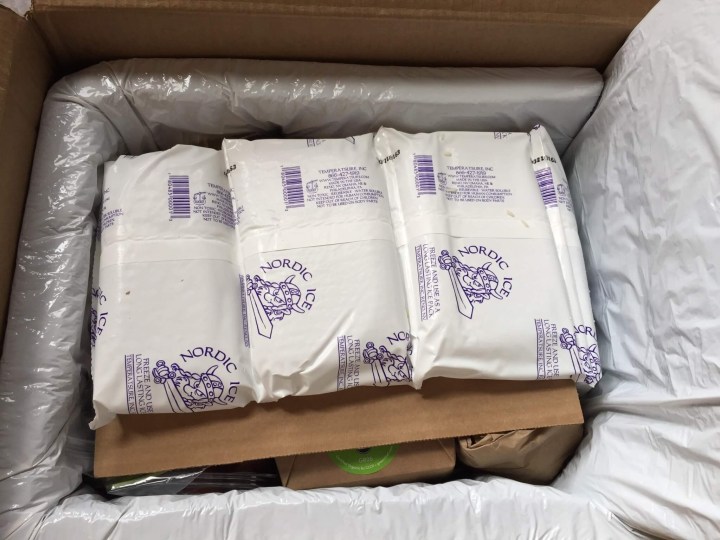 The ice packs are separated from the food by cardboard to help protect the vegetables, which I appreciate.
The meat and dairy is at the bottom, sandwiched between two more ice packs.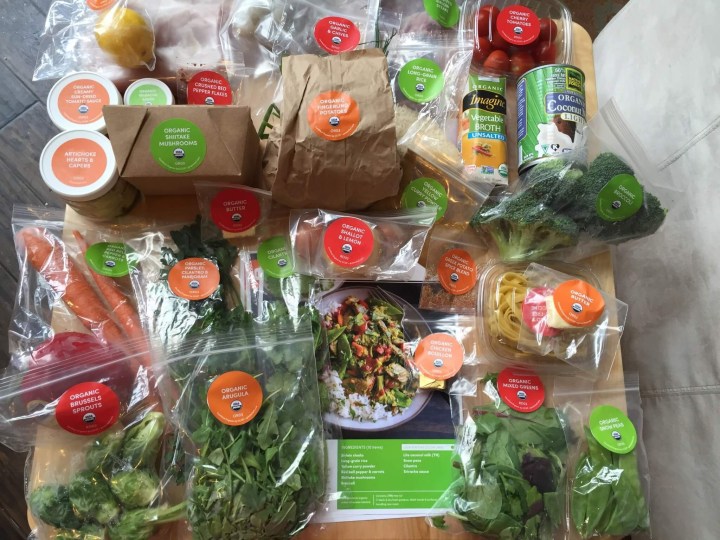 All the ingredients come color-coded for easy coordination with recipes. I appreciate this. I think it offers great flexibility for storage. If you'd like to group them all together by recipe in your refrigerator, you're free to put them in a zip lock bag. If you only have a little space here and a little there in your refrigerator, you can store them individually. The recipe cards tell you how many ingredients to look for if you need to store the ingredients individually.
This week I received ingredients for the following recipes: Shrimp Scampi with Grain-Free Fettuccine & Brussels Sprouts and a Salad (25 minutes), Greek Chicken & Potatoes with Roasted Artichokes, Arugula and a Sundried Tomato Sauce (40 minutes) and Steak Coconut Curry with Broccoli, Bell Peppers, Mushrooms & Carrots and Rice (25 minutes).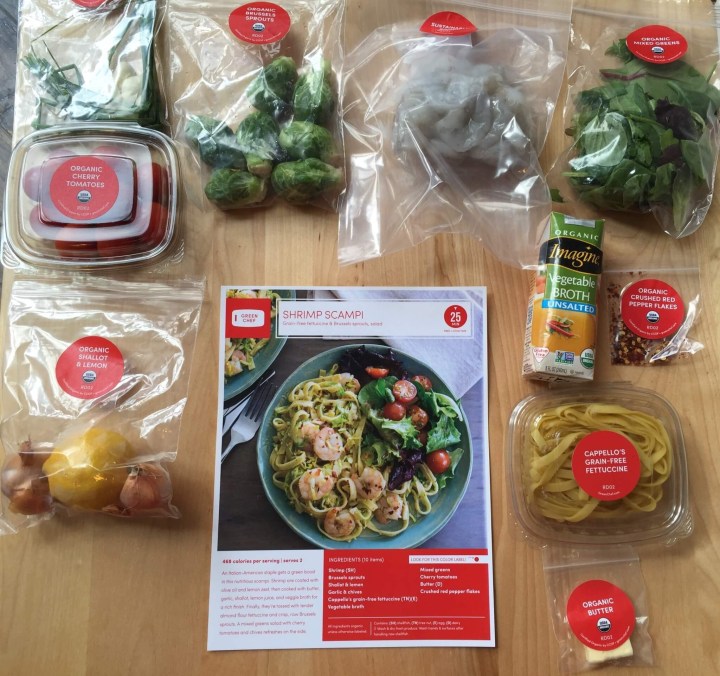 Upon first inspection, I was intrigued by the grain-free fettuccine that arrived with the Shrimp Scampi dish. Would they really taste like fettuccine? Could they possibly be any better than the real thing? Let's find out!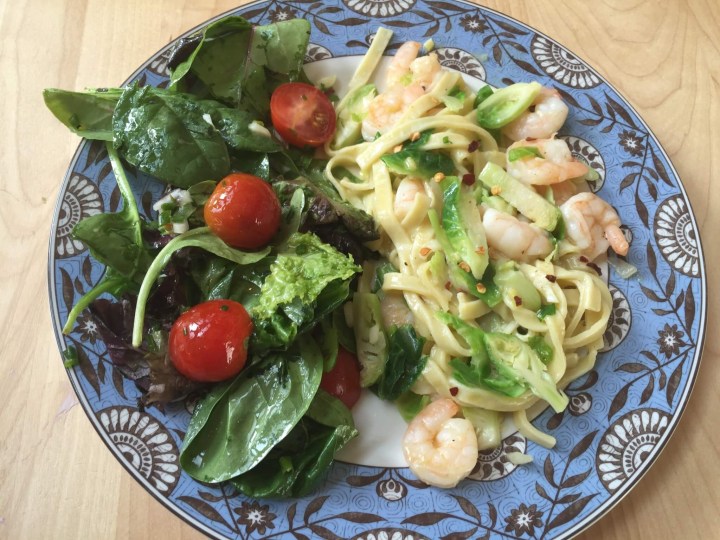 I am happy to report that this dish was a success! Everyone loved the grain-free pasta (I was careful not to tell anyone about it either!). Everyone gobbled up the brussels sprouts (we love them here!), and my son asked for more shrimp. When I asked how many more he wanted, he told me he wanted 19 more. I gave him the 9 we had left. This left my husband disappointed, as he wanted more too (since we split these two-serving dinners amongst four people, sometimes, when we have a real multi-generational crowd pleaser, my husband and I don't eat all we otherwise would. Still, these portions generally leave us satisfied).
The Greek Chicken and Potatoes with Roasted Artichokes, Argulua and Sundried Tomato Sauce left us stuffed! The chicken was perfectly moist. The potatoes had just the right amount of punch, and the sundried tomato sauce was amazing! We loved this dish! Since he doesn't normally like sundried tomatoes, my husband started out with barbecue sauce over his chicken, but he quickly switched to the special sundried tomato sauce when he realized how wonderful it was.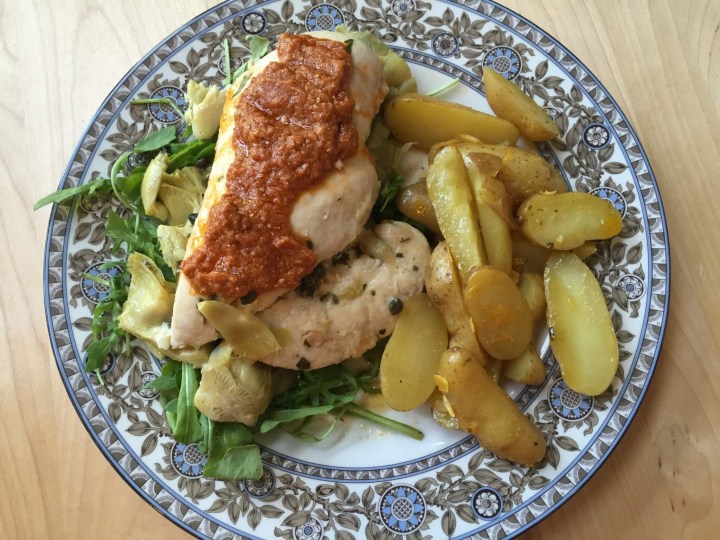 While I was somewhat restrained in using the sauce before I took the picture, once I tasted it, I slathered it over everything, including the potatoes!
This curry was simple to make. While it wasn't the best curry I've ever had, it was good. My kids loved it. Before he went to sleep, my son called my husband into his room to tell him just how much he loved dinner.
It makes me so happy to know that my family loves eating what I cook at home thanks to Green Chef. I love how filling the serving sizes are, and I'm happy knowing that I'm feeding my family using organic, sustainable ingredients. I look forward to many more weeks of cooking with Green Chef!
Visit Green Chef to subscribe or find out more! Get four free meals when you subscribe – no code needed, just use this link!
The Subscription
:
Green Chef
The Description
: Each Green Chef delivery comes with the recipes and ingredients you need to cook three meals for the week. Some of the ingredients are prepared for you so that you can cook dinner in 20 – 30 minutes. Each recipe is color coded for easy sorting and contains easy to follow directions. Each meal is designed to be well-balanced and healthy. There are vegetarian, omnivore, carnivore, gluten-free and paleo meal options. All ingredients are fresh and sustainably sourced. The only thing you need at home is olive oil, salt, and pepper.
The Price
: $71.94 every week