Anime Bento is a monthly subscription box for true anime fans! With this subscription you'll receive Japanese toys, collectibles, and other swag from your favorite anime shows delivered straight to your door every month. Anime Bento is committed to sending only authentic products, too. Moe Chan, depicted on the cover of the box, is Anime Bento's official mascot.
Moe Chan is a master chef and bento artist. You wouldn't know it by looking at her saucy get-up, but she's a sweet 16.
She enjoys watching comedic anime and is often caught doodling when she should be working.  Her dream is to one day open a great restaurant where food and art can be equally appreciated.  She attends the local high school and is popular with her class mates.  Moe has very close friends that she works with and always makes sure that they always have a good lunch to eat.  When she is not working at a maid cafe in Akihabara or going to school, she helps run the Social media sites for Anime Bento.
The items are neatly stacked together but there was no information card this month.
Everything in the April 2016 Anime Bento box! This month's Anime Bento box featured a lovely array of possibilities- lets dive in!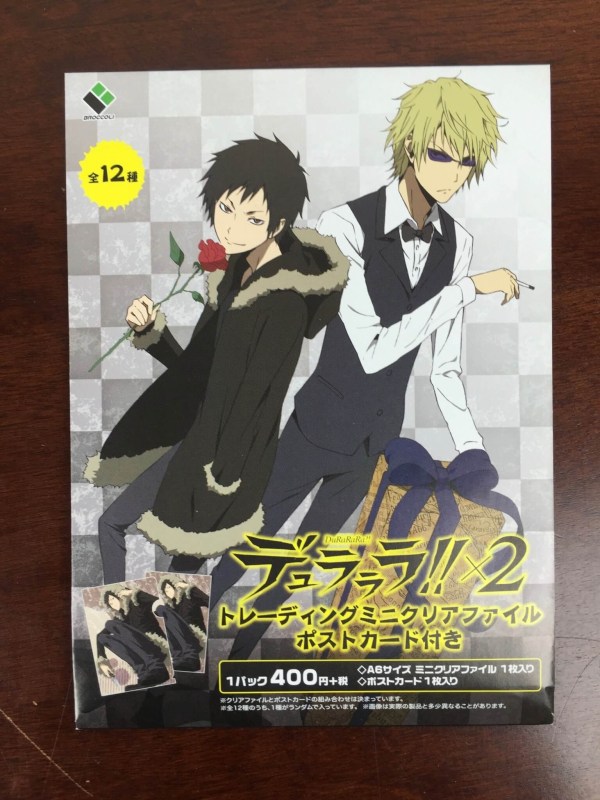 Durarara!! Trading Mini Clear File Post Card: My little stationary addict heart leapt for joy at seeing this box item. Durarara is an eccentric, but enjoyable light novel and anime series about the chaos surrounding several actors in the series, including an anonymous gang and a headless motorcycle rider. There was a possibility of several designs, but our box (happily) contained my second favorite character (go Izaya!): the abnormally strong Shizuo Heiwajima. Inside the pocket was a postcard bearing the same artwork. The pocket itself would lend itself well to keeping small, loose items collected and neat (hello planner stickers!)
Shizuo Heiwajima, or "Shizu-chan," is ♥!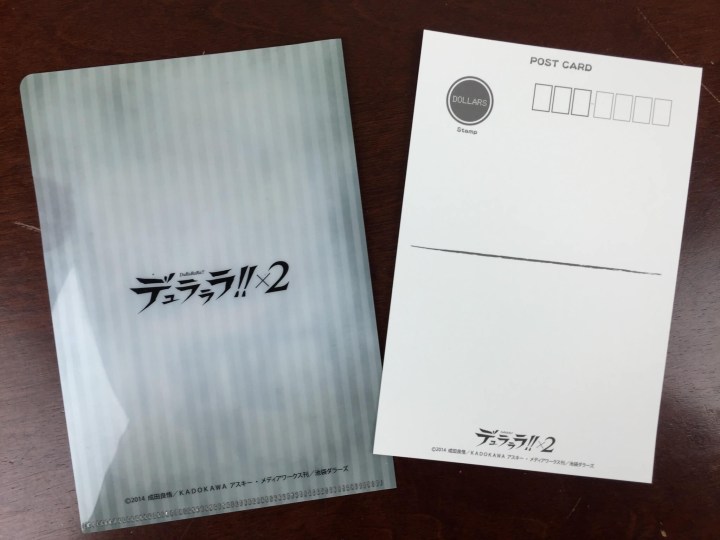 Here's what the back of the post card looks like.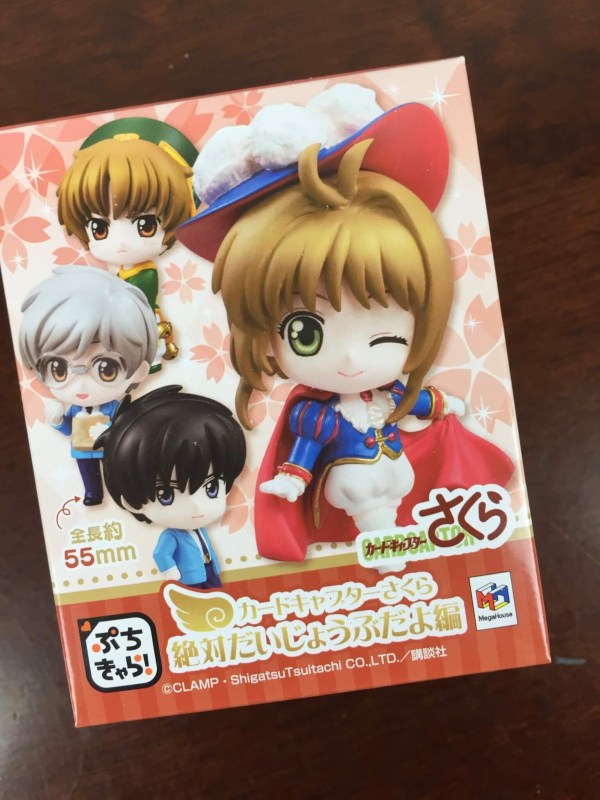 Card Captor Sakura Mini Action Figure:    This shojo (girl or young woman) manga follows protagonist Sakura Kinomoto as she discovers her own magical powers by accidentally releasing sealed cards from a book.
The series recounts her adventures as she tries to collect the cards again in order to avert a global catastrophe.   The blind box in our Anime Bento contained several figure possibilities and one of two variations per figure.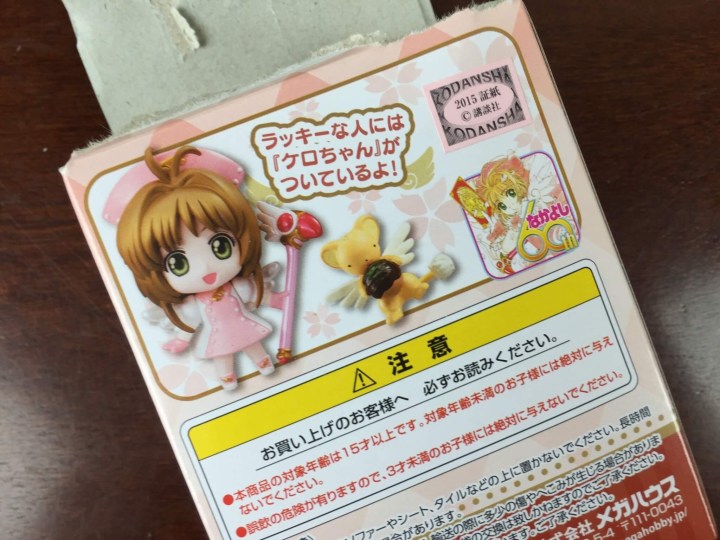 Ours contained the 'A' variety of the character Syaoran Li.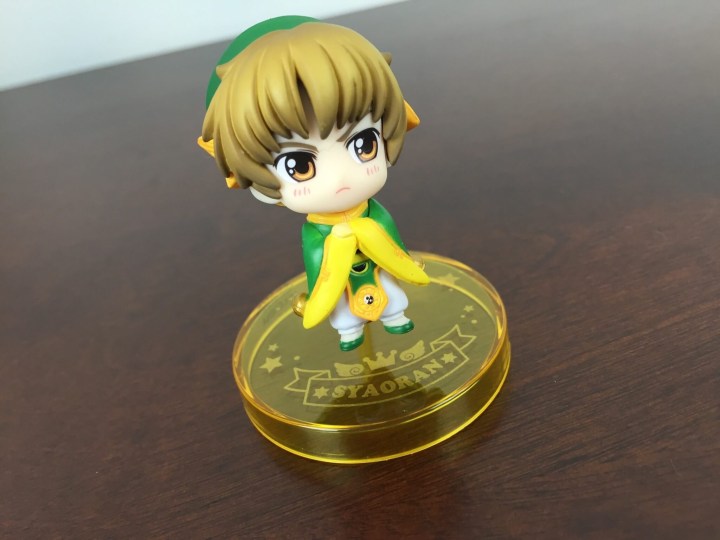 The statue is fairly small, but detailed and sturdy- perfect for sitting on your computer desk or bookshelf.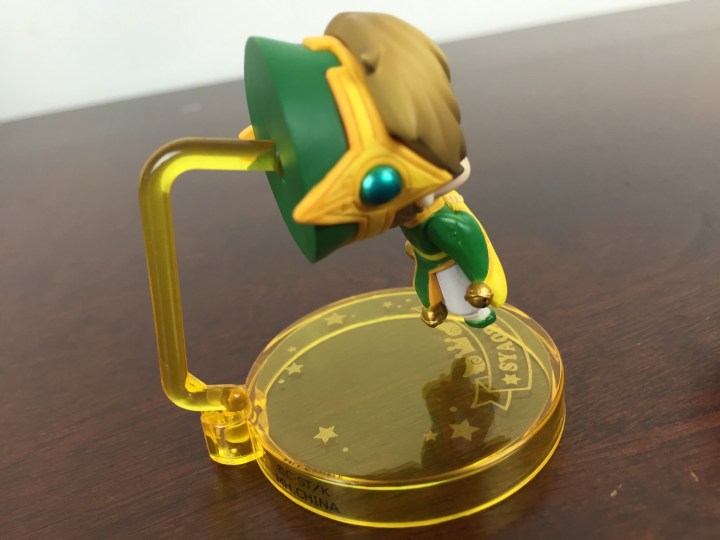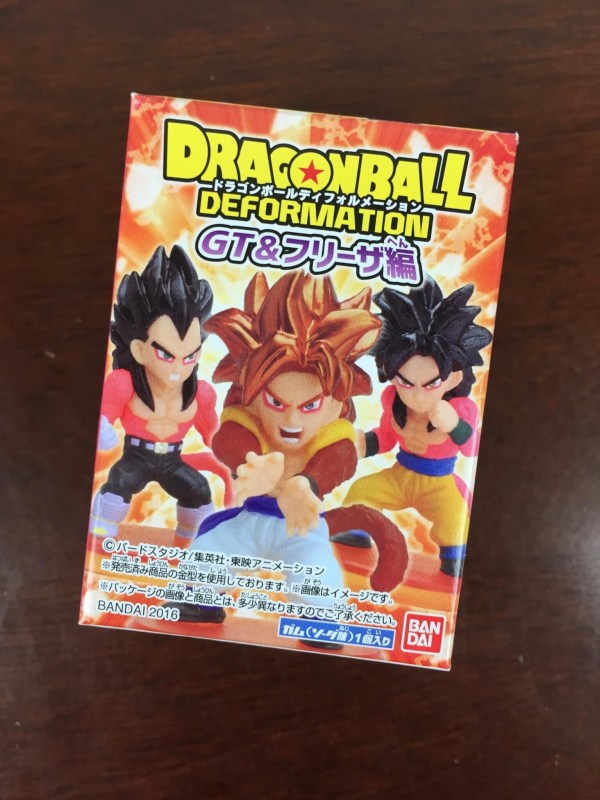 Dragon Ball Deformation GT & Freeza: This tiny box contained one of six small figures from the hit series Dragonball.
Ours was the powerful antagonist Freeza in his fourth form and posed as if he were about to bring about a whooping on someone.
Though the figure is small, the amount of detail is noteworthy; from the expressive pose to the way that the support makes it look as if he is hovering above the stand, this figure's attitude is anything but tiny!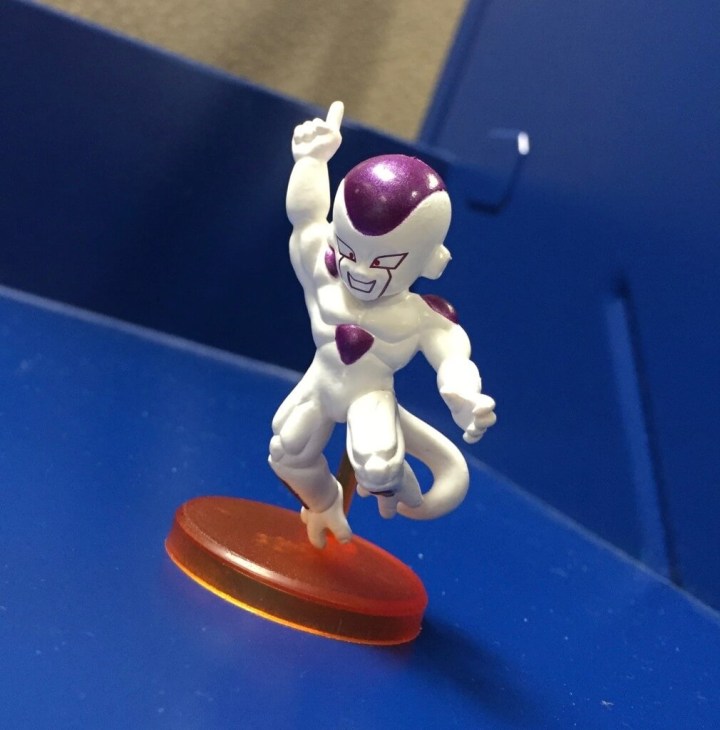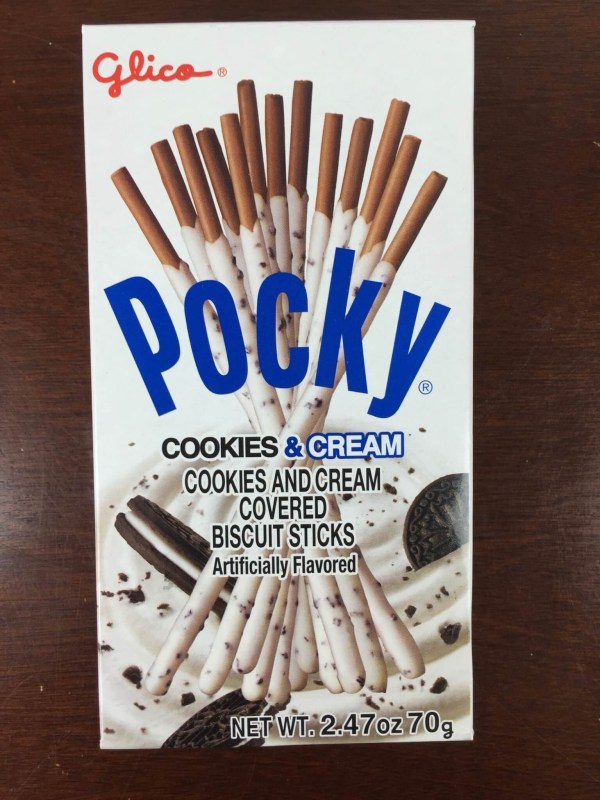 Pocky Cookies & Cream:  Where has this flavor of Pocky been all my life?  The generous package in our box featured the typical Pocky biscuit sticks in chocolate flavor and coated with cookie cream and cookie pieces.  They were amazing for all the longer they lasted and tasted exactly like a chocolate cream cookie- only better!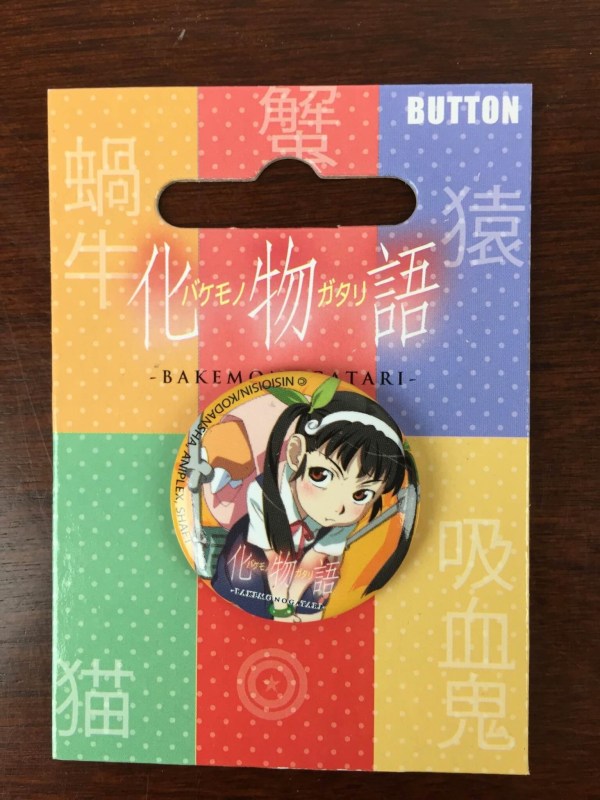 Bakemonogatari Button Pin:    The first volume in the Monogatari (Japanese for 'story') light novel series, Bakemonogatari is a set of stories that introduce the protagonist Koyomi Araragi, a school student who survived an attack by a vampire and succeeded in becoming human again.  Our pin is nice quality and depicts series protagonist Mayoi Hachikuji, the ghost of a 5th grade elementary student killed in a traffic accident.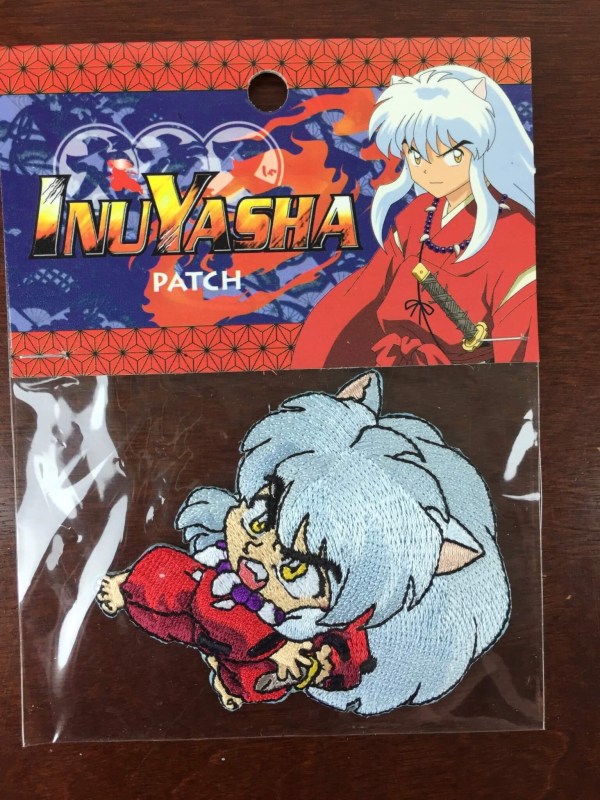 InuYasha Patch:   The manga and anime InuYasha is a story of a girl who unwittingly travels back in time to the Sengoku period of Japan after falling into a well.  There, she meets the major character and namesake of the series, Inuyasha, a half-demon.  The two end up traveling Japan in a rush to find the pieces of a shattered crystal before the antagonist, Naraku, does.  InuYasha handles some darker themes and contains violent content.  Our box featured a wonderfully intricate iron-on in the form of Inuyasha.  Seriously, check out the detail in his hair!
This was a great box from Anime Bento with a really nice variety of anime and type of item! This is definitely the kind of stuff you would get at an anime store or convention and in our experience if you're an anime figure collector, this is definitely the subscription for that – both boxes we've reviewed have been figure heavy (a criticism of other anime subscriptions that don't really have figures).
Visit Anime Bento to subscribe or find out more! Save 10% on your subscription with code CJ10
The Subscription
:
Anime Bento
The Description
: Created by anime convention organizers and Otakus, Anime Bento is a great way to get your anime fix each month. We pack the newest and best title into each months bento and ship it straight to your home.
The Price
: $35 per month