The 90s Box is a monthly subscription box that brings you back in time by curating items and snacks from the 1990s. Each month, you'll get a mystery time capsule that contains 5-8 items representing this era.
The box is a bit like a time capsule, with some items being originals manufactured in the 90's — other items are replicas or 90's favorites still in obscure production.
Sorry, no trolls inside this edition.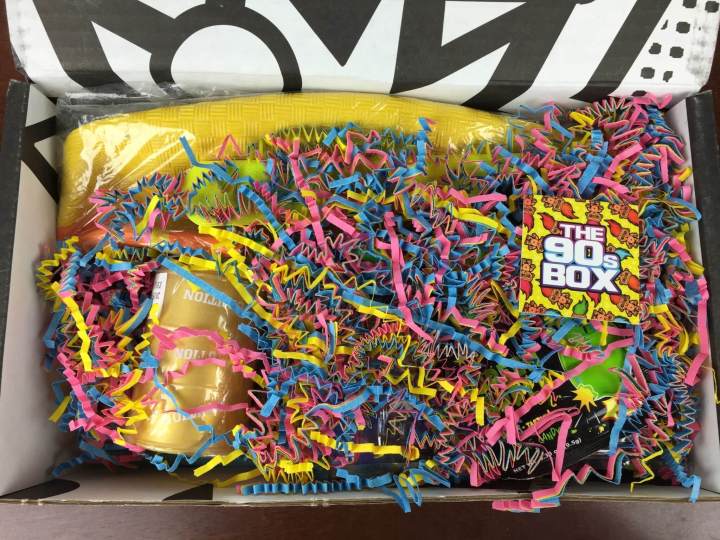 A booklet is included in the box that provides more information about the items curated this month.
The information booklet also tells you how to use each item, and how they became popular way back in the 90s.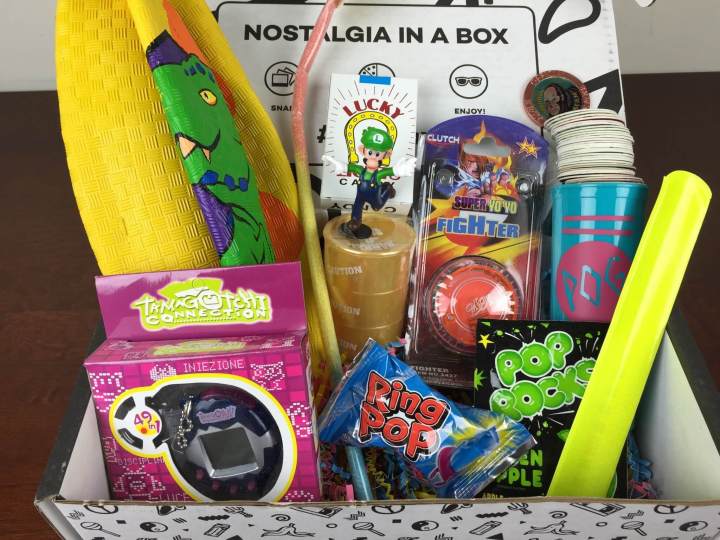 All the items in this month's the 90s Box.  The box is focused on popular toys, games, and candy of the era, rather than pop culture — the nostalgic effect will be greatest for those that were in grade school during the 90's.
Pop Rocks Green Apple:  regular candy was boring in the 90's — everything had to be atomic, wearable, or explosive.  These tingly little chunks are still popular and are now available in new flavors, like green apple (I think the original was a pink or purple berry-type flavor).  Just don't mix with soda! Or do!
Ring Pop Blue Raspberry:  Ring pops are a brilliant invention, the hands-free lollipop!  Ours came in blue raspberry, one of the quintessential 90's flavors.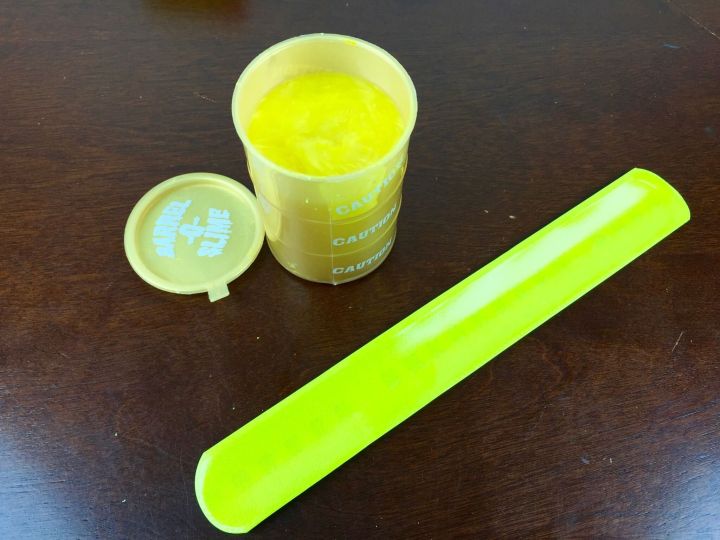 Barrel-O-Slime:  This batch was particularly loose and sludgy.  It has a sparkly, day-glow appearance and delightfully disgusting texture.
Reflective Slap Bracelet:  This particular bracelet was a little on the flimsy side.  I recall the bracelets being wither solid plastic or covered in a woven sleeve — this version has a super thin wrapper atop a measuring tape (you can see the markings through the tape).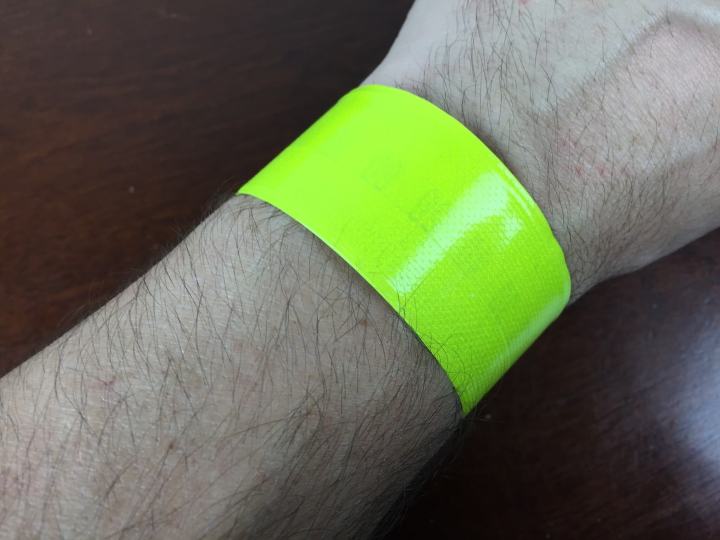 It's always fun to slap this on your wrist – or someone else's.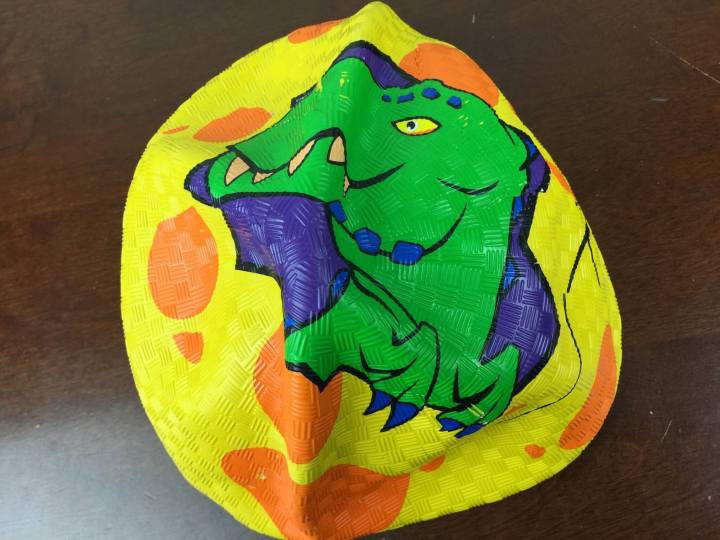 Dino Dodge Ball:  The playground staple in all its glory.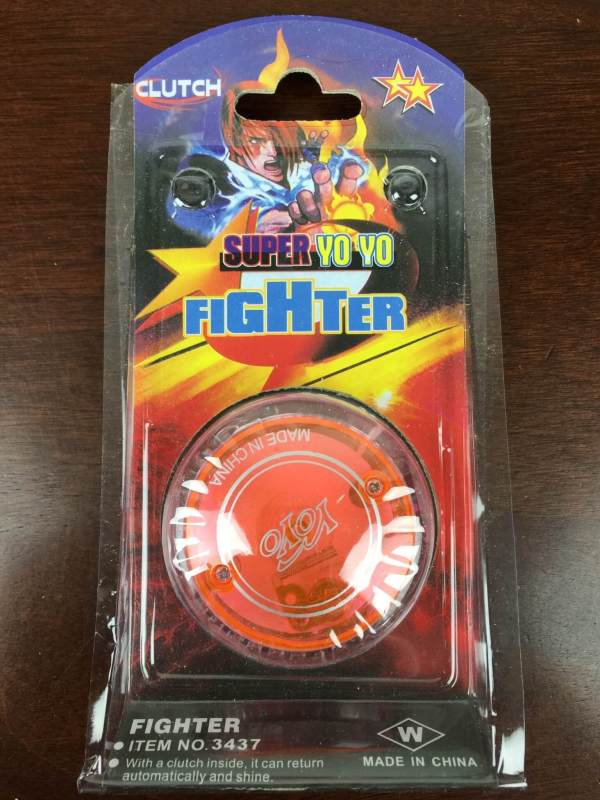 Clutch Light Up Yo-Yo:  90's kids were slackers — breakthroughs in mobile lighting and auto-recoil technology ushered in a yoyo renaissance among those too uncoordinated to use the real thing.  The inability to stall limited the available tricks to around-the-world (no stalling, no rock the cradle, etc), causing most to give it up or adopt the classic style yo-yo, or move on to the hacky sack and devil sticks.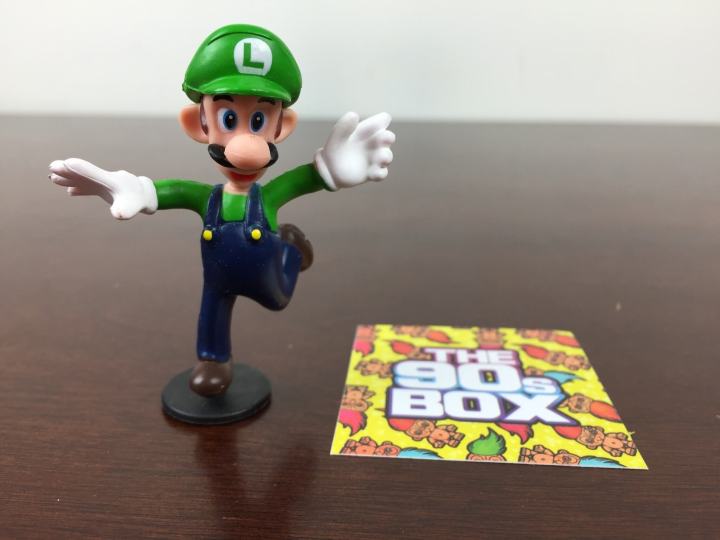 Super Mario World Collectable Figures. There are 8 designs and we got Luigi.
Lucky Lights Candy Cigarettes:  One of two kinds of candy cigarettes popular decades ago (the other being the paper-wrapped gum that blew powdered sugar smoke).  These were really big in the 80's, but they are a good item for the 90's Box, because that is when the public really turned against glorification of smoking, causing these to disappear from store shelves and become all the more coveted.  They still have the same delightfully chalky taste.
The Flintstones Candy Powder Straw:  Pixi Stix were huge — nothing says healthy snack like a shot-gunning a giant tube of pure sugar!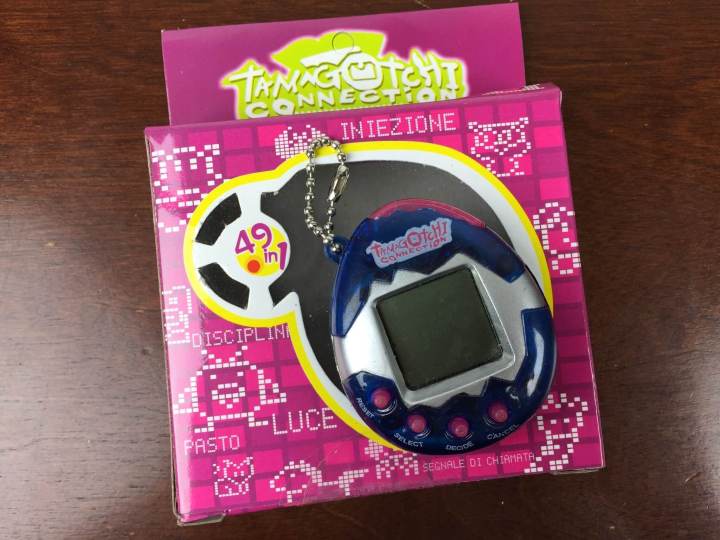 Tamagotchi:  One of the premier toys of the decade, this Japanese import coupled the burden of pet-rearing with the majesty of LCD graphics.  Before there were smartphones and apps, there was this portable precursor to many of today's repetitive chore games.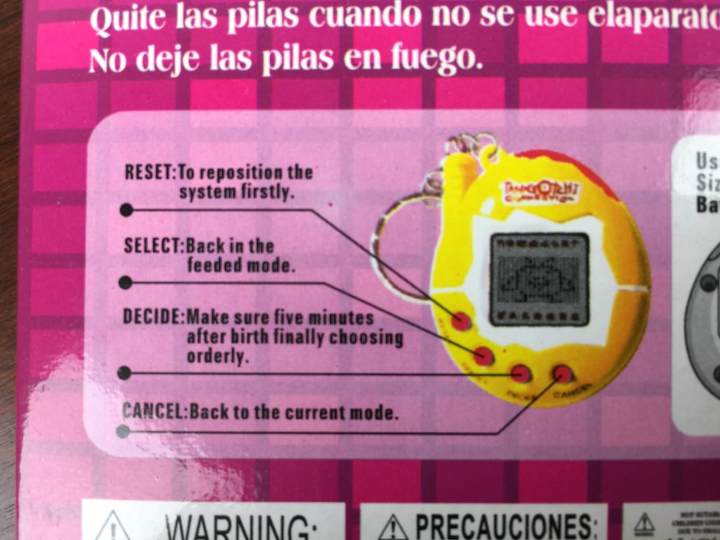 You hatch your own virtual pet, which you can then feed, bathe, and play with.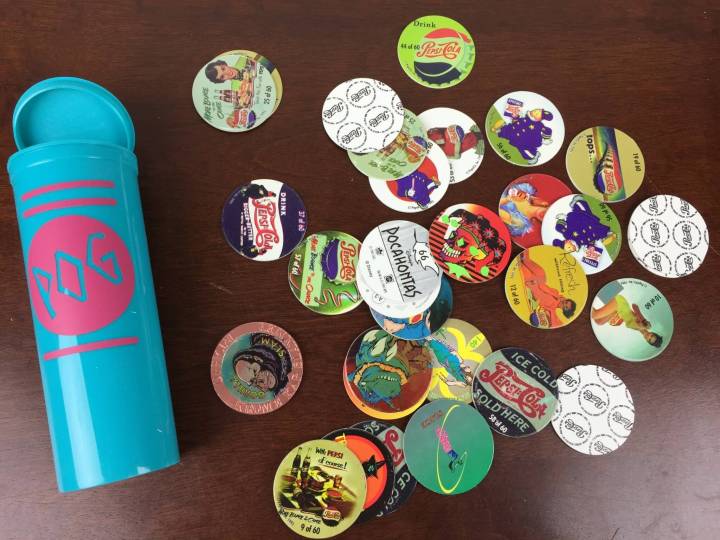 Pog Starter Kit. You'll get 30 Pogs, 1 Slammer, and an exclusive Pog Tube.  Pog was the 90's version of marbles, purportedly invented in Hawaii using milk bottle tops — you would smash a tower of collectible pog caps with a "slammer" (a shooter or boulder in marbles) to see who would take home which caps.  Our set comprised mostly Pepsi collector caps.  The slammer is the gorilla faced coin at the lower left.
The Slammer is much thicker than the paper caps, and it is made of metal.  The reverse side shows this to be a vintage slammer from the 1994 minting!
This is a cool subscription for anyone who lived through the 90's, particularly those who grew up in the decade — these are the toys and treats other kids brought to school and you then had to have.  This box can also be great fun for younger folks to discover what we thought was cool at the end of the analog age. Our kids (who didn't get the candy cigs) were also really into this box, confirming that we really did like the cool stuff when we were kids!
Visit The 90's Box to subscribe or find out more! Get 15% off your entire order. Use coupon code  90SKID.
The Subscription
:
The 90's Box
The Description
: A monthly time-capsule of epic 90s pop culture. Toys, snacks, fashion, games, & Activities curated by fellow nineties Kids.
The Price
: $25.00 per month