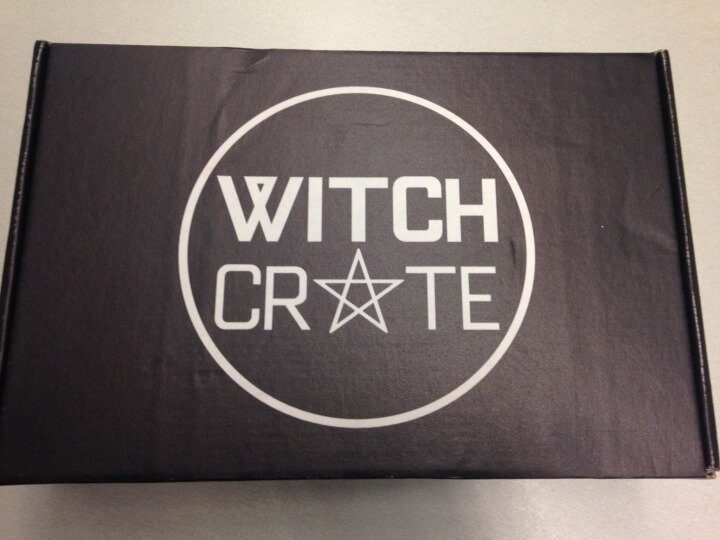 Witch Crate is a monthly subscription box that includes half-a-dozen magickal products curated around a monthly occult theme and ritual.  The box is $49/month and is shipped straight to your door on the 21st of every month. The items are handcrafted crafted and individually made with intention.
All the items in the February Witch Crate box.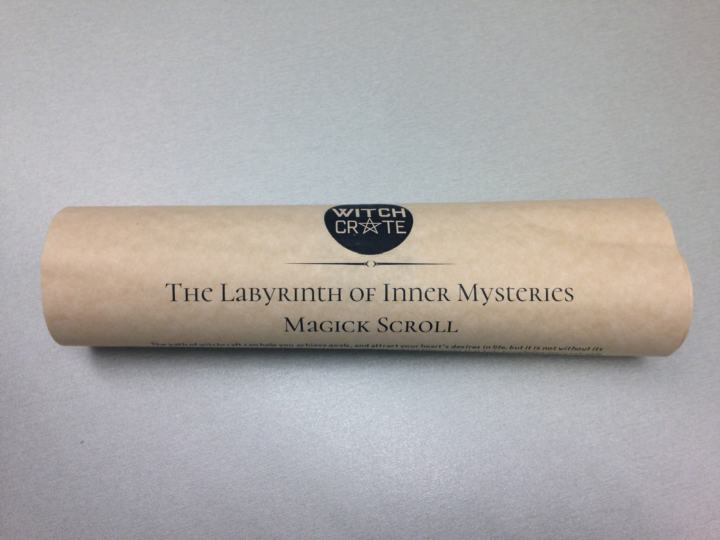 The theme for February is The Labyrinth of Inner Mysteries.  This month's theme is about exploring one's inner mysteries and labyrinths that contain knowledge more valuable than gold.  The box includes a scroll with a ritual to explore the monthly theme and tie in the objects from the box.  It is so well thought out.  Bravo!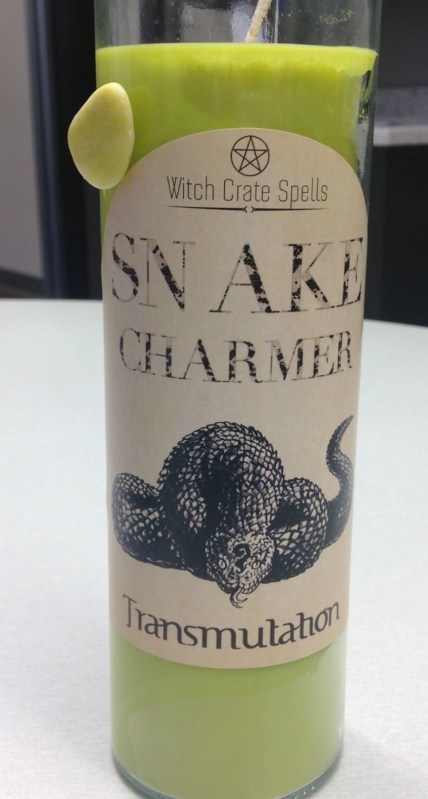 Snae Charmer Ritual Candle ($25):  The minute I lit this candle, the energy in the room shifted, and it came at the most perfect time.  Light this candle to invoke change and the transmutation of blocks in your life.  There is a Serpentine crystal attached to the candle to help clear out and release stagnation in every chakra and promote energetic transformation.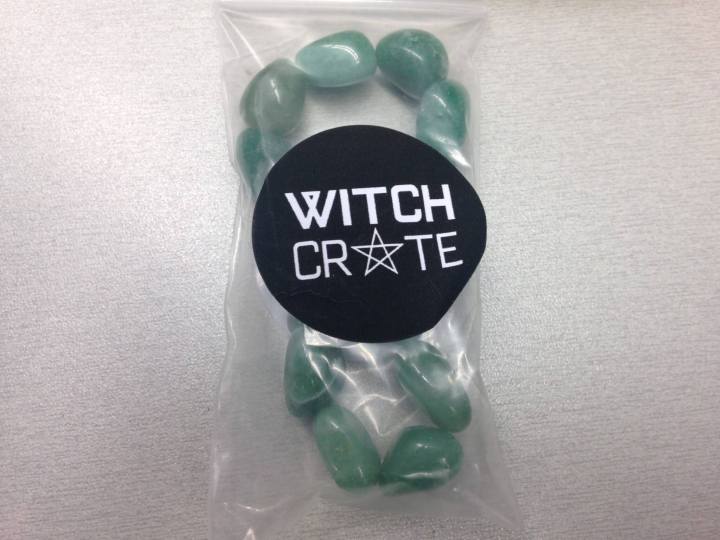 Enchanted Aventurine Trinket ($13):  Aventurine is the luckiest of all crystals and is known as the "stone of opportunity".  The stones are a pretty decent size and are an excellent ally in manifesting prosperity and wealth.  They are related with success and also assist in releasing the old, encouraging growth and possibilities, inspiring optimism and promoting vitality, wellbeing and love.  It feels wonderful on my right wrist (the path to the heart).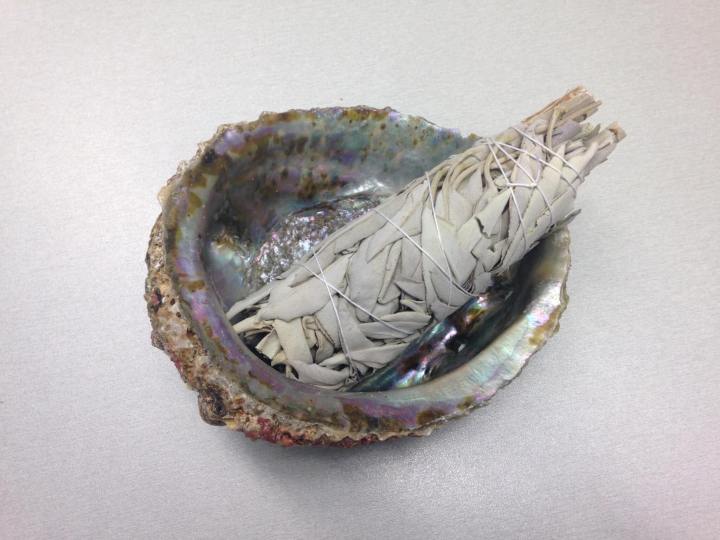 Sacred Space Clearing Kit ($25):   Abalone and sage were used in ancient Native American purification rituals to remove negativity from a space, a person or an item.  I smudge often.  The abalone shell is beautiful and can also be used as a censor for incense.  Together with the sage, all four elements are represented as a complete magic ritual.  The bowl represents water, the unburnt sage is the earth.  The lit herbs represent fire and the smoke represents air.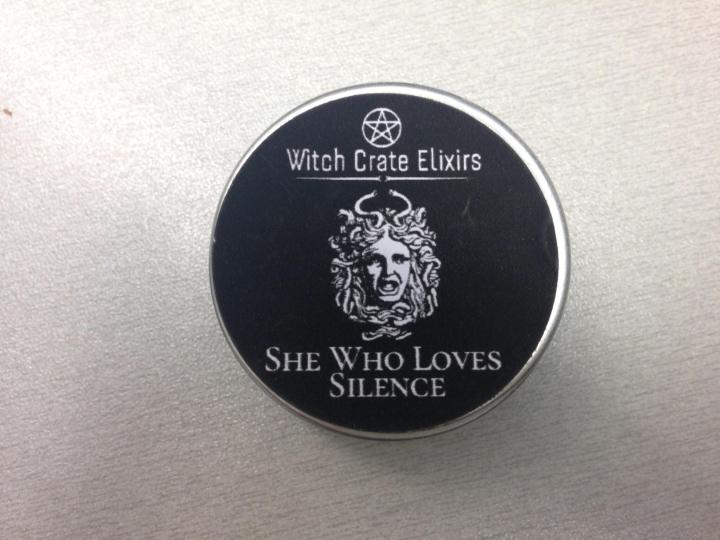 She Who Loves Silence Incense and Charcoal ($12):  This incense is named after Meretseger, known to have held great authority over the Valley of Kings and is said to answer prayers with "sweet breezes".   The incense can be burned over charcoal or added to candles to invoke the divine protective power of the ancient snake goddesses.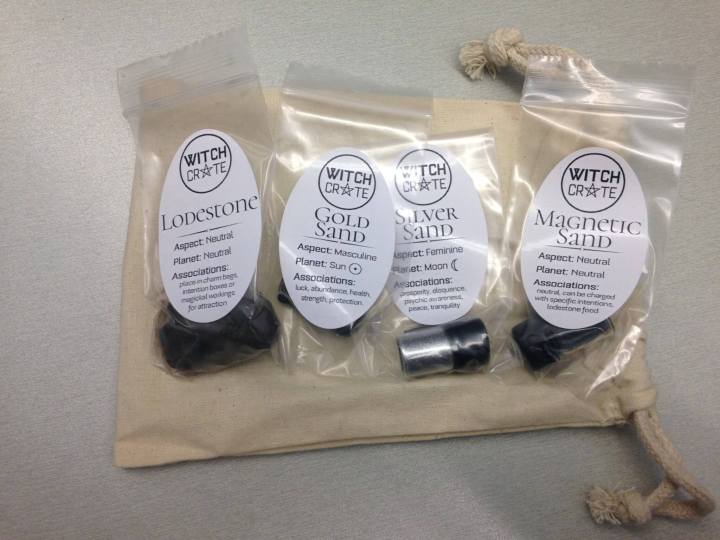 Green Witch Purse: Sands of Time ($17):  Sands of Time is a powerful collection of three types of sands and one lodestone used to assist in magnetizing and attracting your heart's desires.  Lodestone is a highly magnetic magnetite used to increase spells effects.  Gold sand is associated with luck, abundance, health, strength, protection and solar energies.  Silver sand is associated with prosperity, eloquence, psychic awareness, peace, tranquility and lunar energies.  Magnetic sand is neutral and can be charged with your intentions.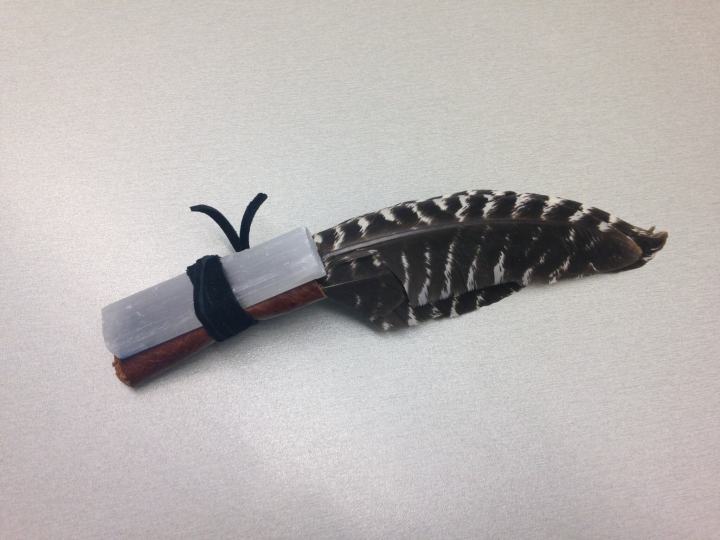 Wand of Sweet Breezes ($17): The wand is made from turkey feathers and used for smudging and space clearing.  Turkey energy is associated with the earth and i known for not allowing one's "feathers to be ruffled".  It includes a chunk of Selenite at the base, which is used to cleanse and heal.  It also encourages the opening of the higher chakras, calms and brings peace and also enhances interdimensional awareness.
I absolutely love this box.  The monthly intention alone was an important reminder to focus on my own spirit and to go within.  This box is full of quality pieces and were carefully selected around that monthly theme.  Further, the descriptions of the items, history and ritual tips taught me so much.   Whether or not you are a witch or just on your spiritual practice, this box will aid in deepening your practice and to reconnect to that great energy.  The total value for the items in this month box is $106.
Visit Witch Crate to subscribe or find out more! Save 15% on your first crate! Use coupon code  HELLO15.
The Subscription
:
Witch Crate
The Description
: Witch Crate Known as the subscription box for witches, inside is a monthly curation of magickal commodities. Only the best teachings, ingredients and tools to inspire your craft, and explore the magick within. Your Witch Crate is conveniently delivered to your door, with a magick scroll detailing instructions and other witchery. .
The Price
: $49.00 per month