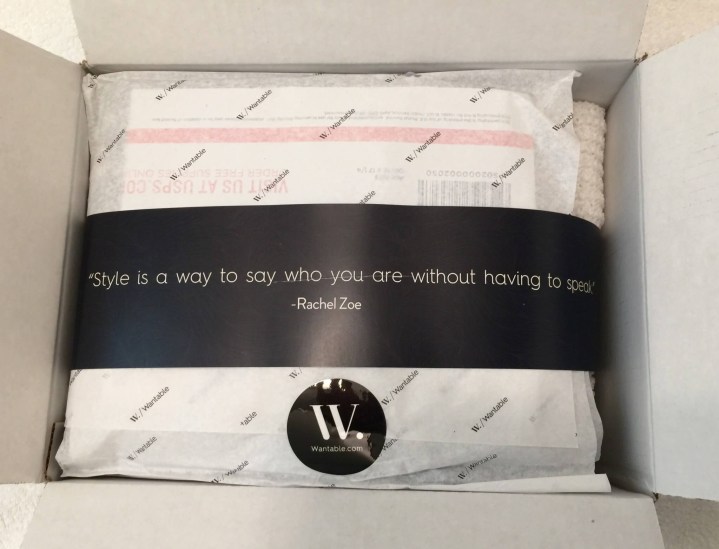 Wantable Style Edit is a personal shopper service similar to Stitch Fix.  For a non-refundable $20 monthly styling fee, a Wantable "Style Editor" will assemble a selection of 5 clothing items that align with your fashion likes and dislikes, as indicated in your style profile that you complete via Wantable's website.  Take 5 days to evaluate the clothing.  Keep what you like and Wantable will bill you for your choices.  Return what you don't want in a pre-paid mailer.  Clothing usually ranges from $50-$100 per piece.  The $20 styling fee is applied as a credit towards any items you decide to keep and purchase from your monthly selection.  If your Style Editor hits a home run and you decide to keep everything in your shipment, Wantable gives you an additional 20% discount.  Wantable Style Edit is a monthly subscription, but you can skip a month or cancel anytime.
Opening my first Wantable Style Edit order, right away I was impressed by the chic packaging.  The clothes were beautifully wrapped in tissue and closed with both a sticker and a paper wrapper with the sassy quote: "Style is a way to say who are you without having to speak." -Rachel Zoe

My Wantable Style Edit selection included two sweaters, one long sleeved blouse, one jacket, and one pair of jeans, valued at a total of $402.00.
When I first opened the package, I immediately loved the colors of the clothing – I am one of those people whose wardrobe is 80% black, with the rest being grey, and a few splashes of color.  But I soon became skeptical because some of the styles seemed like things I would never wear.  "I don't do plaid," I thought, and "I can't pull off a motorcycle style jacket."  So I halfheartedly began to try on the clothes, assuming that I would be packing them up shortly since they weren't "me."
Happily, I was wrong – I loved every piece!
BB Dakota Chenille Sweater, Optic White, $90
This gorgeous sweater is something I would never, ever even consider while shopping in a retail store, because I can't be trusted to wear anything white.  Inevitably, I will spill something on it or otherwise get it dirty within the first hour of wearing it, so I steer clear of white clothing.  This sweater was so comfortable, plush, and flattering, however, that I felt like I could possibly be careful enough to wear it.  It is made of an extremely soft chenille with a loose weave, which would be perfect for a sunny-but-not-yet-truly-warm spring day, or to throw on during a summer evening at the beach.  It has a feminine ballet neckline, falls past your hip, and has a flattering, body hugging shape.  You'll want to wear a camisole or tank top underneath.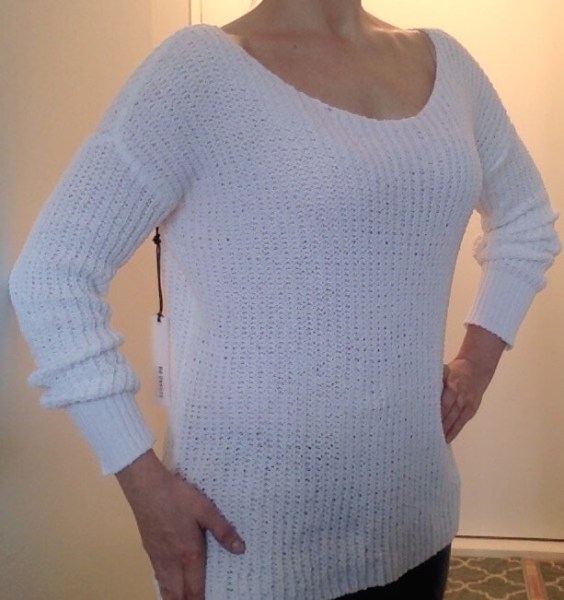 Mid Rise Skinny Jeans with Distress Dark Rinse, $84
I was extremely impressed with these jeans!  I am a life long denim aficionado, and have spent an unspeakable amount of money on premium jeans over the years.  These jean fall within the luxury category of jeans that easily cost more than double or triple the price offered by Wantable.  The denim was perfectly aged to be super thin, but still had a good amount of stretch, and immediately conformed to my body like I had owned them for years.  The distressed features gave them a slightly edgy feel.  They look amazing when worn with a pair of stiletto heels.
BB Dakota Deacon Side Slit Plaid Shirt, $75
Despite my initial misgivings about this plaid blouse, once I tried it on, I ended up mostly loving the style.  It wasn't a traditional, masculine style of plaid shirt, but instead made of a very thin, soft material, with a feminine cut and surprise slits on each side above the waist.  It would look great worn with black leggings and boots.  The black and white plaid design was modern and fun, but old habits die hard, so I would like it more if it came in solid black, or another solid color.  I decided against keeping it because I don't feel up to showing off my obliques via the side slits right now.
Dolman Style Striped Sweater, $64
This Dolman style black and white striped sweater was another hit.  Instead of being made from a loose, flowy fabric, as many Dolman style tops are, the fabric was a tighter knit, with structure.  This made the top very flattering, and appropriate for wearing to work.
Miilla Coated Faux Suede Bias Zipper Jacket, $89
I paired the Dolman style sweater with the Coated Faux Suede Bias Zipper Jacket.  This lightweight jacket feels perfect for spring weather.  It looks stylish and fresh, with the two zipper design feature, but isn't so trendy that you won't wear it next season.  I could definitely wear this out to drinks over a form fitting top, jeans, and heels, but also to work in place of a blazer.  This jacket is a great versatile piece.
Overall, I am very impressed by the Wantable Style Edit subscription.  The clothing chosen for me fit perfectly, followed my style preferences, and was top quality.  I felt that the prices for each item were appropriate for the quality of the clothing brands included, as well as for the quality of the fabric and construction of the garments.  Moreover, the skinny jeans were offered at what I consider to be a bargain price, considering their luxury details.  To keep all five items (two sweaters, one long sleeved blouse, one jacket, and one pair of jeans), would cost $301.60, when taking into account the $20 credit applied from the styling fee, and the 20% "keep all" discount – a price I think is a very good value.  Overall, Wantable's Style Edit subscription is a quality personal shopping service that I won't hesitate to use again.
Visit Wantable Style Edit to subscribe or find out more!
The Subscription
:
Wantable Style Edit
The Description
: Wantable Style sends 5 clothing selections handpicked by your style editor to try before you buy. Keep all 5 pieces save 25%! Fill out the style profile and never get anything on your "dislike" list.
The Price
: $20.00 per month