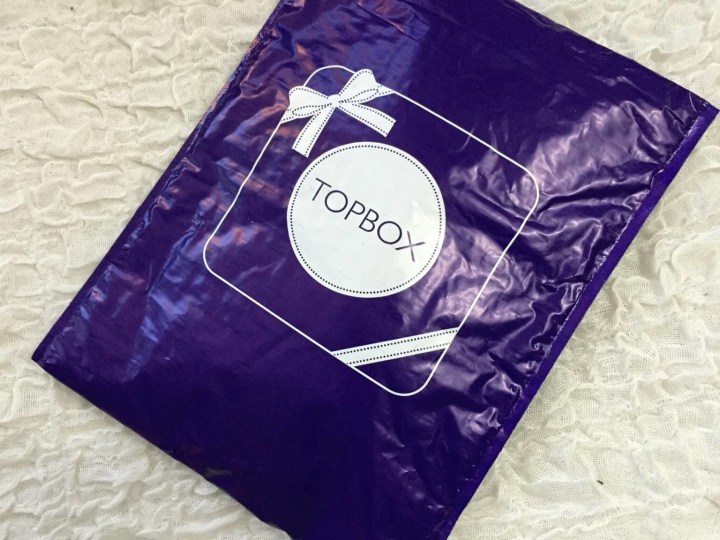 Topbox is one of Canada's oldest beauty subscription boxes. I had been subscribed to it about two years ago, as it was one of the first around and the price point was great. There was actually a waiting list for it, and I remember how happy I was to get off of it after a few months. With Birchbox Canada no longer in business and the weak Canadian dollar making Ipsy just not worth it anymore, I was curious to get back to Topbox to see what's changed.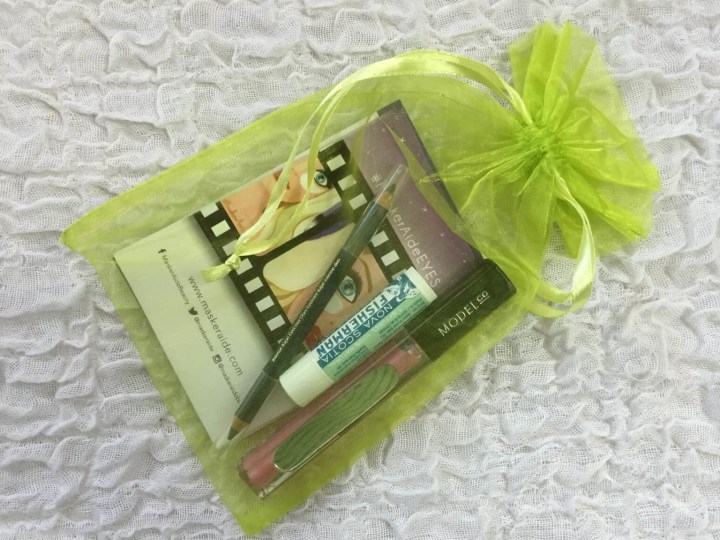 It turns out, not much! It was a familiar routine to get back into. At the end of the month you are able to make your wishlist requests for the following month's box. There's the standard Topbox (4-5 samples) or you can choose a Privé box. Privé boxes are either a brand-specific collaboration (such as Benefit) or an upgrade to a more deluxe line. Some Privé boxes will only contain one or two items — they're very clear when this is the case. Your wishlist doesn't guarantee you a Privé box if you ask for one. You will also be asked whether you would like your goodies in the traditional Topbox tube or an organza bag. I pick the bag because I reuse them!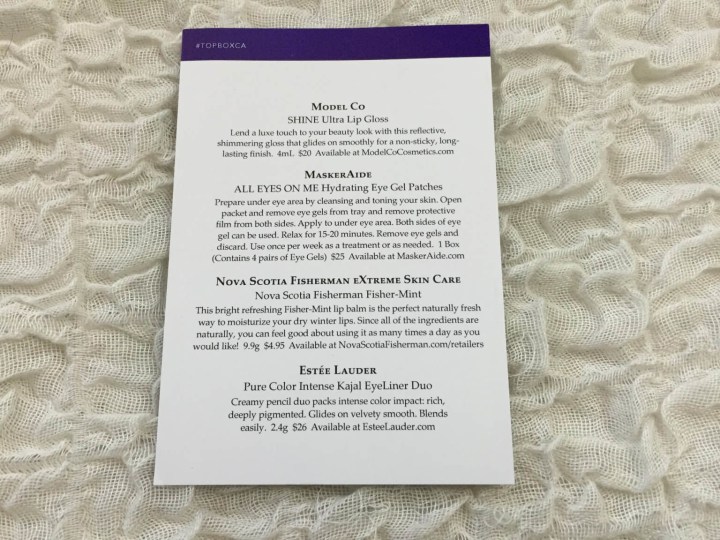 The product card is familiar, too! It includes a description as well as price information and where to purchase.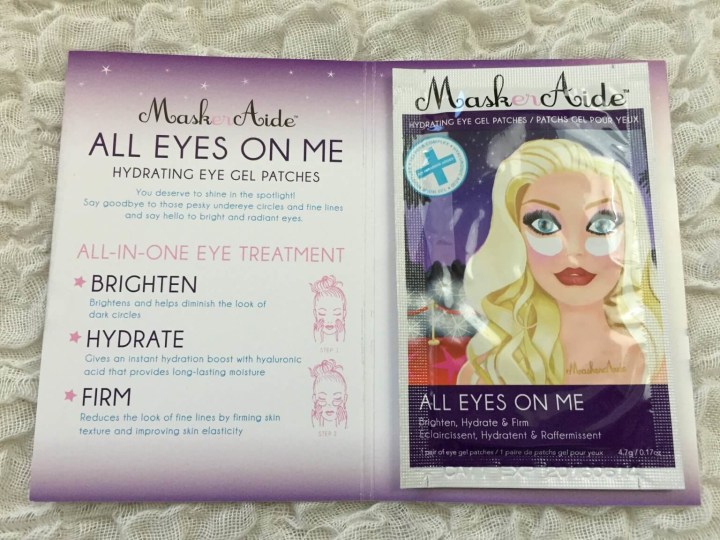 MaskerAide All Eyes On Me Eye Gel Patches ($25 for four pairs) I have tried MaskerAide's face masks before (they were in a few Topboxes I received in the past) but I am excited to try these under eye patches, which are MaskerAide's newest product. The time change is messing me up, and these dark bags need to go.
ModelCo SHINE Ultra Lip Gloss in Fairy Floss ($20) ModelCo is an Australian beauty line, and this lipgloss is full-size — this alone makes the box a great value! It's a sheer rose pink, and it smells very sweet and sugary like candy. The mirror on the side is an awesome feature.
Estee Lauder Pure Colour Intense Kajal Eyeliner Duo This is a very generous deluxe sample that lets you try both the Blackened Black and Blackened Cocoa shades of their kajal liner. Both colours are very pigmented. Kajal liners are meant to be smudged/blended for a smokey look so they aren't as long lasting as a waterproof eyeliner or a gel liner.
Nova Scotia Fisherman Extreme Lip Care ($4.95) …yep, Topbox is so unashamedly Canadian, and this is why I love it. This company uses Nova Scotia sea kelp in all their products. It has anti-aging benefits as well as numerous other health benefits. All their products are 100% natural and they're also big on nature conservation.  A portion of all sales is donated to the Nature Conservancy of Canada. This mint balm isn't listed on their website, and the size is smaller than the ones listed so I believe this is a special sample size.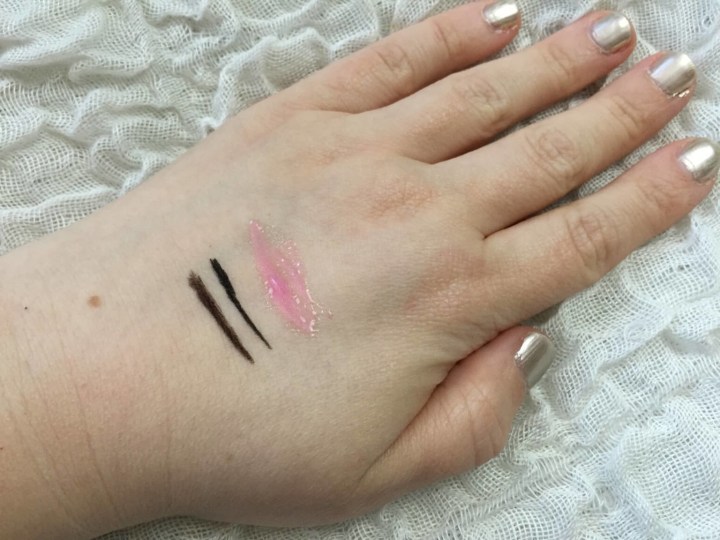 Swatches! Blackened Cocoa, Blackened Black, and Fairy Floss.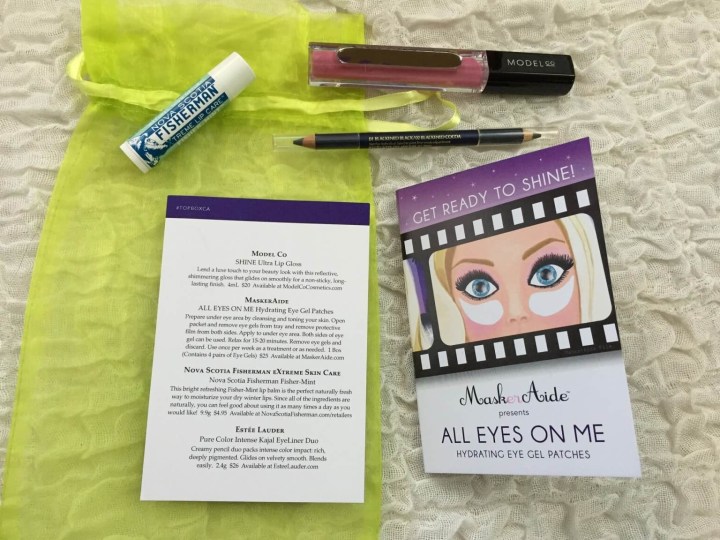 It's nice to see Topbox again. I'm currently struggling with some issues with their site, but apparently you can now review products you've received so I'm curious to see what effect that will have on future boxes. I will most likely stick with reviewing the regular Topbox as opposed to the Privé box, but we'll see what's offered in the future.
Visit Topbox to subscribe or find out more!
The Subscription
:
Topbox
The Description
: Get 4 generous helpings of premium delight each and every month! This is a *Canadian* subscription box and they do not ship to the US.
The Price
: $12.00 per month