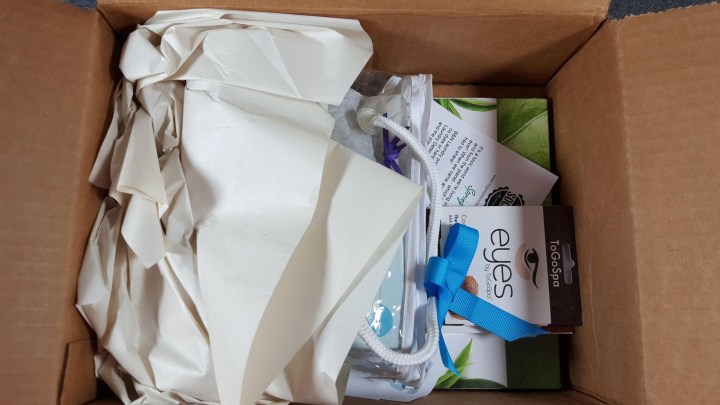 ToGoSpa Society is a monthly replenishment and surprise subscription by ToGoSpa.  With ToGoSpa Society you'll get either 6 ($25), 15 ($40), or 30 pairs ($64) of Eyes by ToGoSpa plus The Benefit, a monthly surprise from ToGoSpa or their selected brand. The Benefit is always valued at $20-$50 and is a high quality spa item.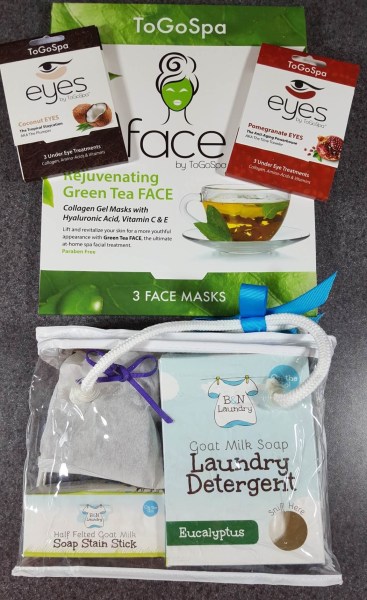 You can upgrade your box to add on a Face by ToGoSpa as well!  ToGoSpa EYES and FACE are innovative, collagen-infused under-eye and full face mask treatments – and the newest "must do" for anyone in need of a quick, portable, spa-like pick-me-up for their tired, puffy, overworked or over-stressed eyes and skin. This has been me for most of this year so far. I feel like it is one thing after another and I'm always tired looking.
ToGoSpa has a smaller Mini Box, which is great for those of us that don't have a chance to use our EYES every day.  This is everything in the March Combo Box, which includes 2 packs of EYES and 1 pack of FACE ($50), plus the benefit.
The Benefit this month is the B&N Laundry Goat Milk Soap Set ($24), which included a lovely lavender sachet!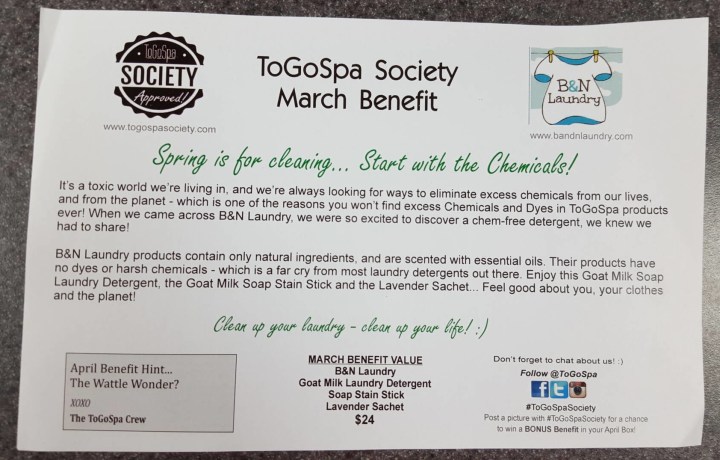 The information card details the Benefit item including its benefits and suggestions for use.  There has been so much talk recently about the toxins in cleaners and while I haven't switched over all my products to more friendly ones I have been paying attention and looking at new options. I'm excited to get a new brand to try.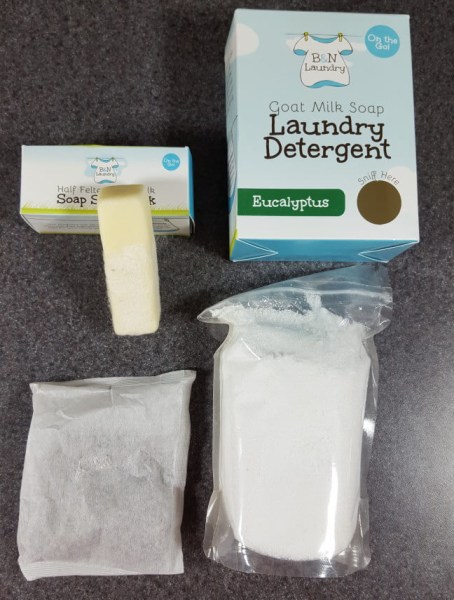 B&N Laundry Half Felted Goat Milk Soap Stain Stick
B&N Laundry Goat Milk Soap Laundry Detergent in Eucalyptus
I'm really excited to try this laundry soap.  This whole package smelled amazing and I do have two little boys so I'm always needing to remove stains from something. All of the B&N laundry products are made from natural ingredients and scented only with essential oils!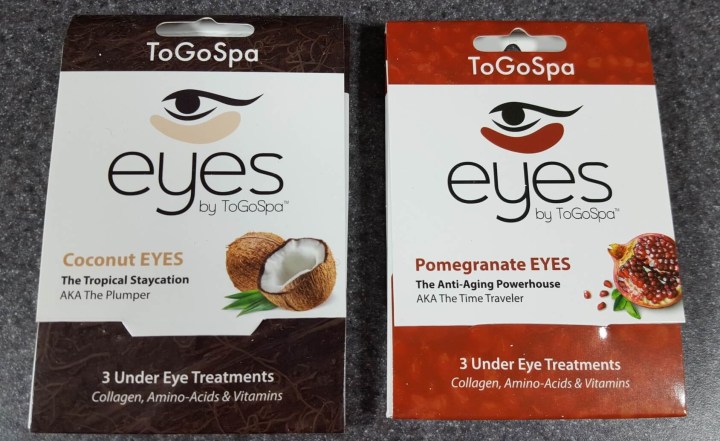 I received 2 different types of Eyes by ToGoSpa: one pack each of Coconut and Pomegranate.
These are super hydrating and are activated by your body temp! EYES are collagen gel pads with Hyaluronic Acid, Vitamins C & E, and nutrients. Each different type has a different composition to provide different benefits. Coconut restores and nourishes the under eye area and the Pomegranate contains antioxidants and helps turn back time.
The FACE product I received this month is Green Tea, which pumps up the antioxidants as well as the collagen, on your entire face.
I've tried the eyes before but never the faces.  I'm going to try it out one night when I have some free time to just sit and chill.  I'm sure I will look really funky and my boys will think its a hoot but I'm really excited.
Visit ToGoSpa Society to find out more or to subscribe! Save 15%! Use coupon code hello15.
The Subscription
:
ToGoSpa Society
The Description
: The ToGoSpa Society membership offers huge discounts on Eyes and Face by ToGoSpa and in addition each month members receive The Benefit! The Benefit is a FULL size product we love and want to share free with our members.
The Price
: Mini: $25 for 6 EYES plus the benefit, Standard: $27.50 for 12 pair of EYES + The Benefit, Combo: $50 for 6 pair of EYES + 3 Face + The Benefit, High Society: $99 for 24 Eyes, 6 Face, and The Benefit