ThaiThaiBox is a monthly subscription full of snacks and authentic products shipped directly from Thailand.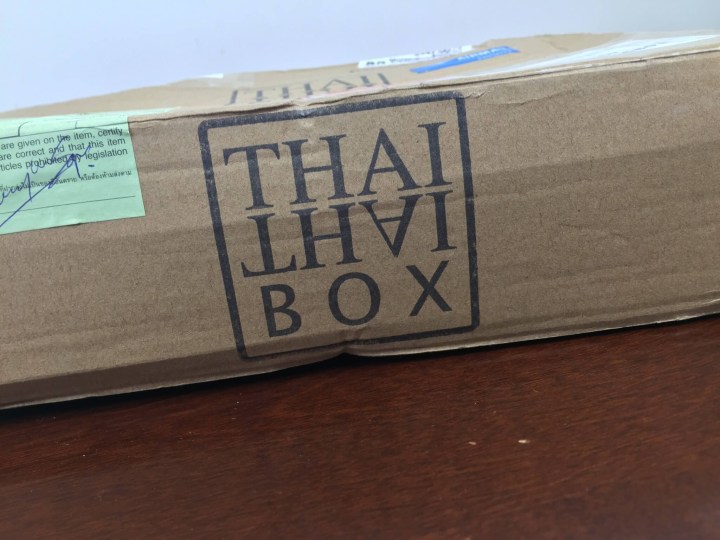 The box takes a long journey, but everything inside arrived in great shape.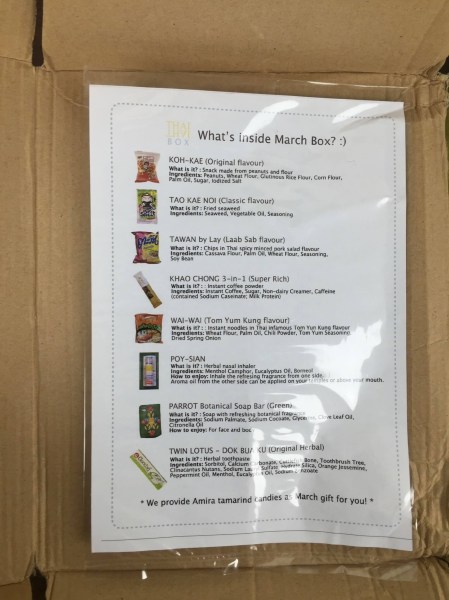 The info card is attached to the interior of the box lid.  It provides the Thai name of the product, a description, and a list of ingredients in all the food, cosmetic, and health products.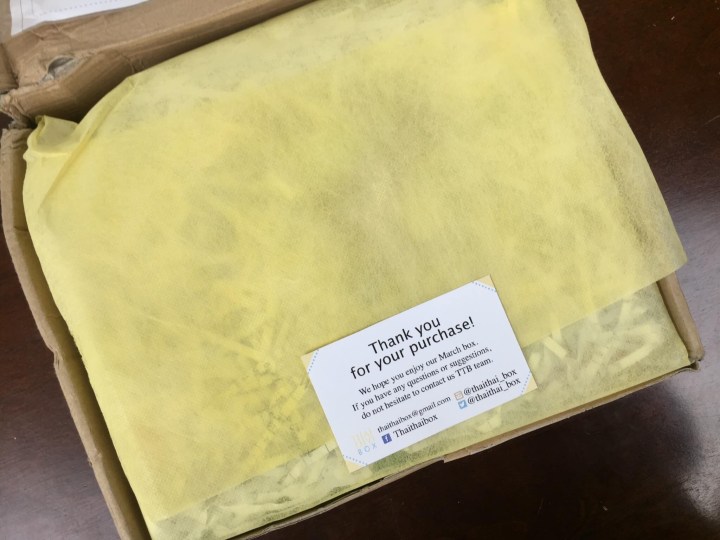 The inside was nicely wrapped in tissue.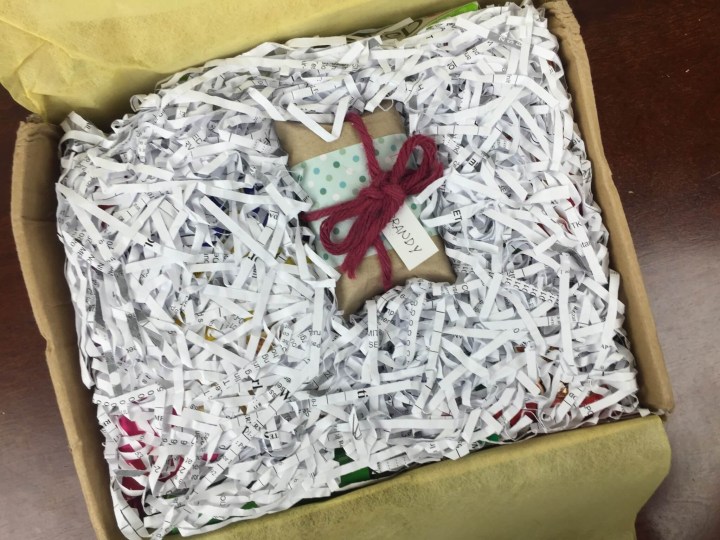 There was plenty of packing material to protect the items, and a nicely wrapped present sat on top.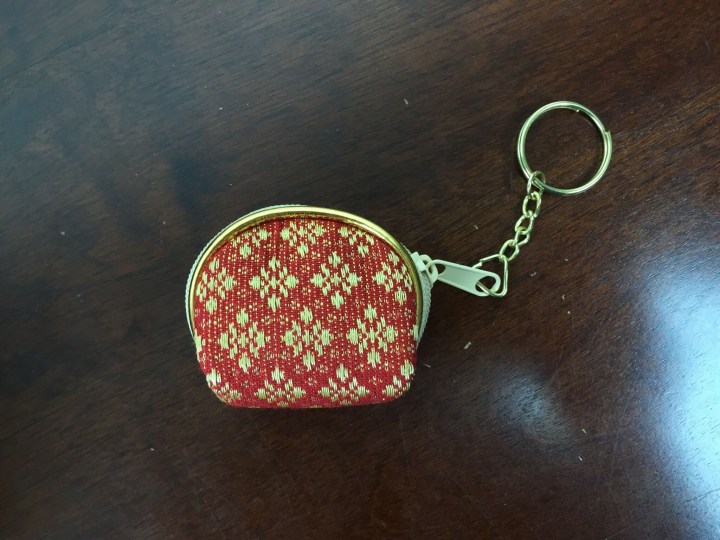 It was a beautiful woven keychain coin purse!
Everything in the box.  There was a bit of everything in here.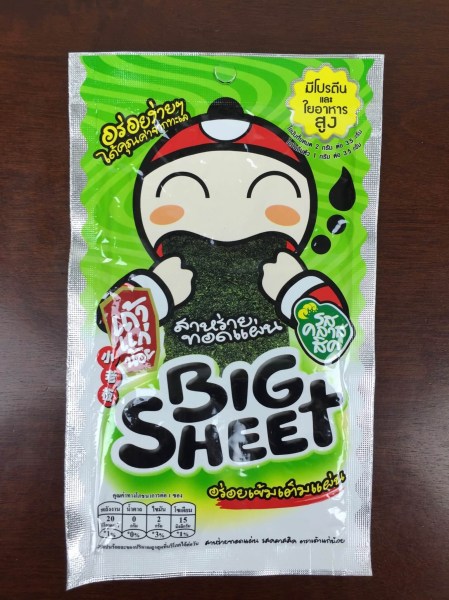 Tao Kae Noi:  This lightly seasoned sheet is made very simply from fried seaweed.  If you enjoy kelp flakes and seaweed sushi wrappers, this is real treat! It was thicker than the Japanese style and didn't have any flavoring.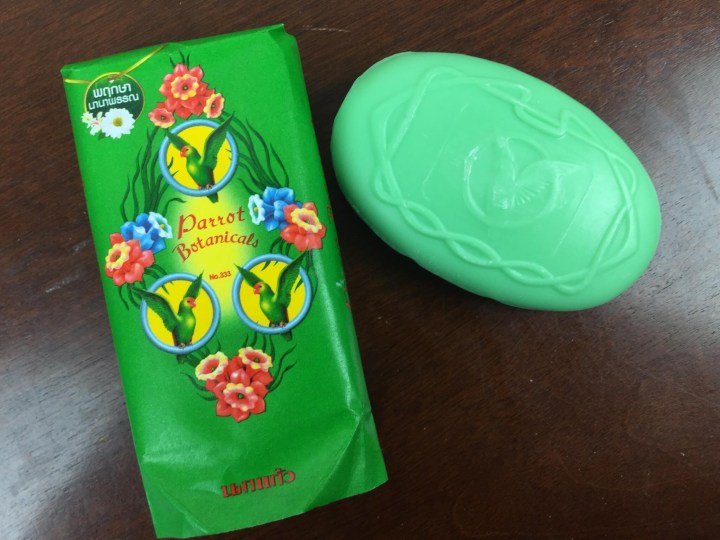 Parrot Botanical Soap Bar:  This soap is intended for both face and body.  The soap scent itself is very intense — it's Zest intense.  The citronella and clove scent layered on top is a very familiar scent, the combination of the three scents is reminiscent of mixed incense.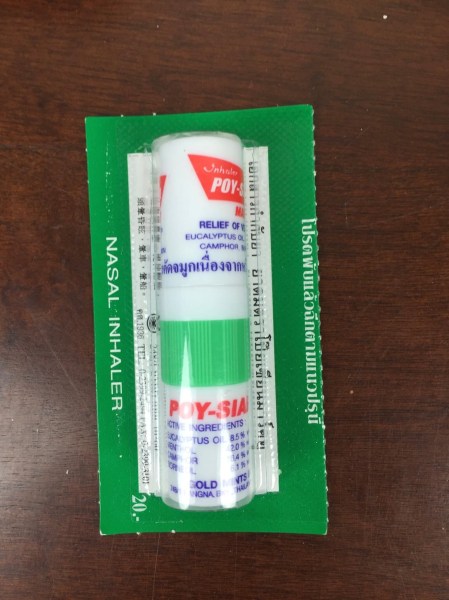 Poy-Sian:  One end is an herbal nose inhaler, and the other side has an aromatic balm to apply like Vicks Vapo-Rub.  I thought it was hilarious that this product is intended to be squirted up the nose, and it had a name that sounds quite a bit like poison!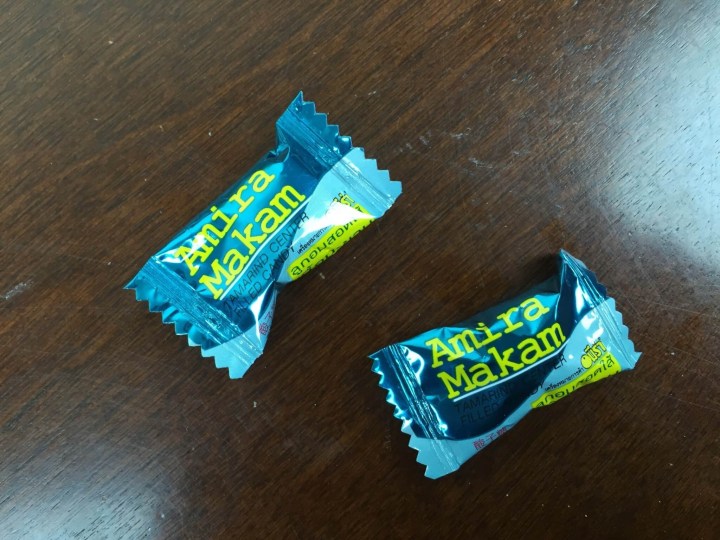 Amira Makam:  A sweet hard candy with a lovely tamarind flavor.  The inside is filled with a dab of slightly sour tamarind jam.  These came as an extra gift item!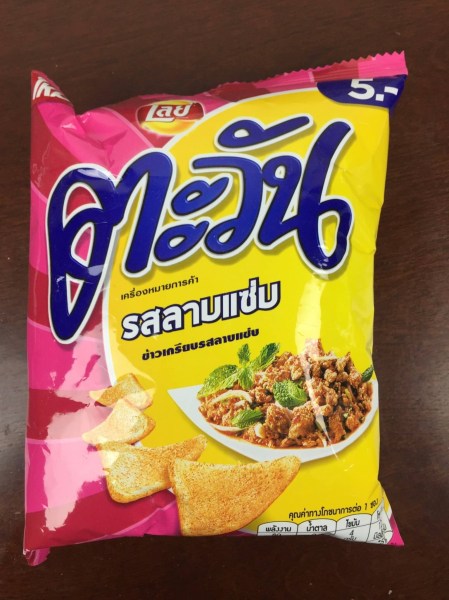 Tawan by Lay:  Thick, Crispy triangles flavored like Laab Sab.  Made with cassava flour, these have a very light, puffy texture and have a more savory base flavor than a potato chip.  I could taste the ginger, mint, lime, and other characteristic flavor notes, but the seasoning was surprisingly mild in heat, considering the usual spiciness associated with laab.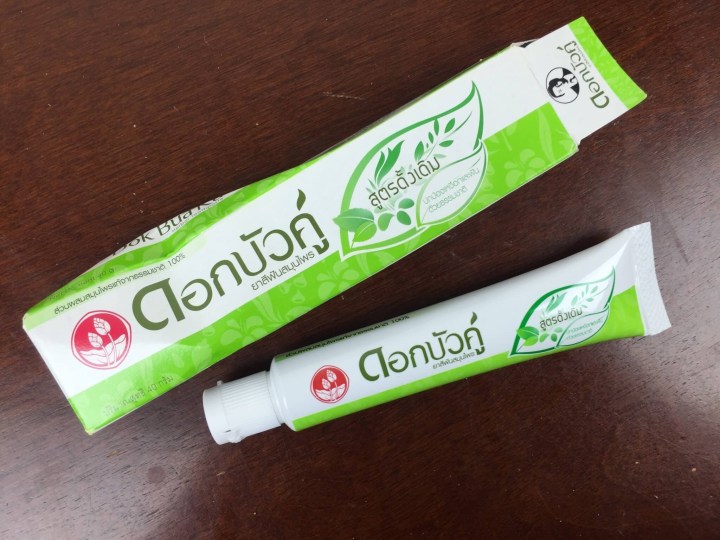 Twin Lotus Dok Bua Ku:  This herbal toothpaste uses a recipe developed over thirty years ago.  It uses peppermint, menthol, and eucalyptus to provide the fresh flavor, as well as baking soda for scrubbing power.  There are also some very traditional ingredients as well — cuttlefish bone and "toothbrush tree" among them.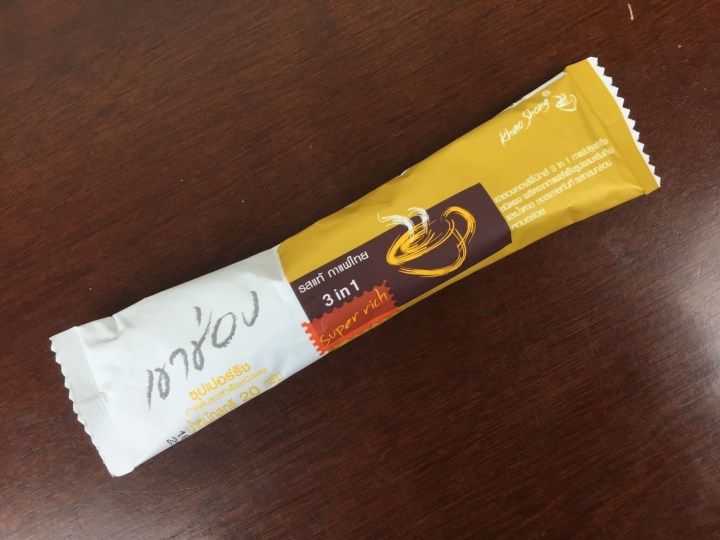 Khao Chong 3-in-1:  This "super rich" instant coffee powder contains non-dairy creamer and sugar, a complete instant beverage with the addition of hot water.
Wai-Wai:  Tom Yum Kung flavored wheat noodles.  They can be prepared Ramen-style and have the classic Tom Yum seasoning.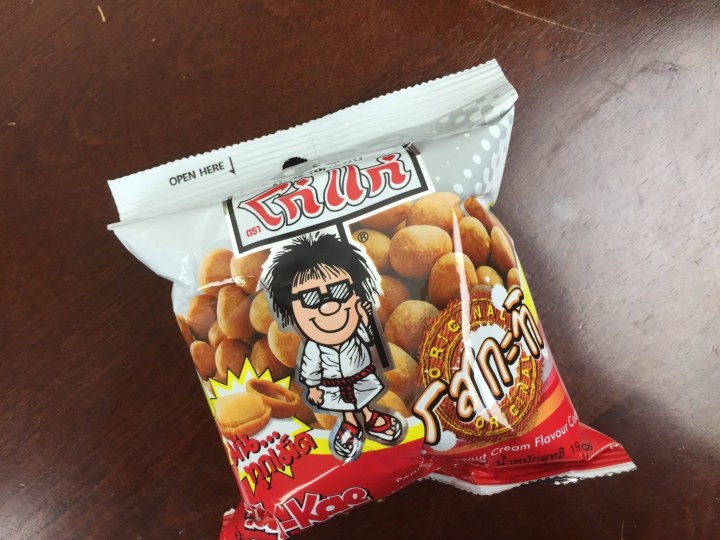 Koh -Kae:  This crunchy snack is made from peanuts covered in a sweet and crispy, flour-based shell that has a peanut cream flavor.  We love this style of snack, and everywhere in the world seems to have their own version of it — except the U.S., where we the closest thing we have is Boston Baked Beans candy.
This was a very fascinating box.  We can say that is was, hands down, the most authentic Thai box we've seen.  Everything was shipped directly from Thailand in its original Thai packaging.  The selection of items really transported us to Thailand — the products were items you could imagine seeing at a corner shop!
Visit ThaiThaiBox to subscribe or find out more! Save 5%! Use coupon code  TTB5.
The Subscription
:
ThaiThaiBox
The Description
: ThaiThaiBox is a monthly subscription box filled with surprise Thai products, including both food and non-food to enjoy. You will be surprised with the variety of Thai items such as Tom Yum-flavored instant noodle, jackfruit chips, Thai botanic soap, nasal inhalant, etc. Subscribe and be surprised every month!
The Price
: $29.00 per month