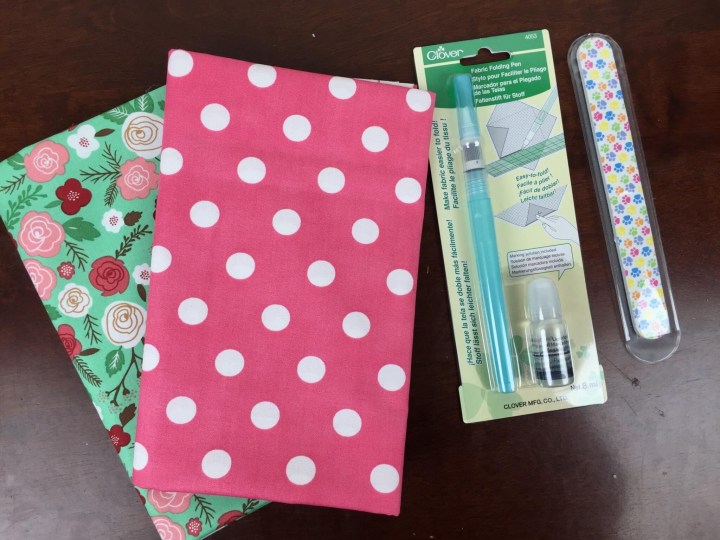 Stitch Box Monthly is a monthly fabric subscription box for sewing. Every month you'll get two cuts of fabric plus sewing accessories and other goodies! This subscription comes in a flat-rate padded priority mail envelope, so there's not much to look at besides the goods.

There's also no information card – they put everything on the blog. Truth be told, this wasn't the best month to start a subscription to this box – it was Stitch Box Monthly's second anniversary and all the items were best of items.
Some of the fabrics included in February's boxes were from Art Gallery Fabrics, Moda, Riley Blake, Blend Fabrics, Free Spirit, and Michael Miller!  Each box contained 2-3 yards of coordinating fabrics.

For notions, I included things like the Bobbin Buddies y'all loved, paper patterns from Create Kids Couture, Gutermann and Mettler thread, woven jacquard trim, super-sharp flower head pins, Steam a Seam hem tape, and more!
I was excited to see a note about their new "Stash Builder" subscription – an optional upgrade to get more coordinating fabric in your kit! The owner also mentioned possible future patterns being in the subscription.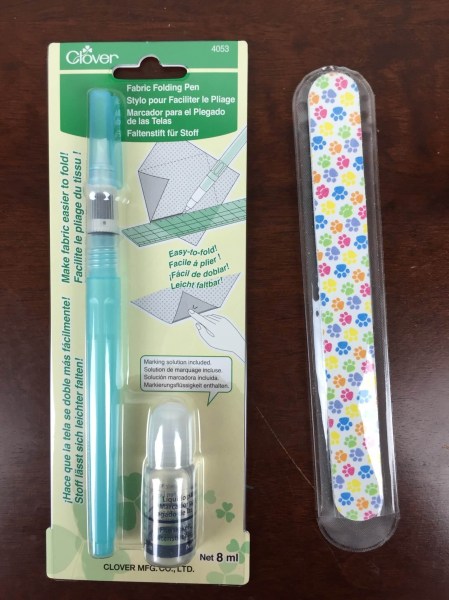 Clover Fabric Folding Pen ($10.40) I started sewing when I was ten years old and have never seen such a fancy thing! I'm pretty excited about this because it will make sewing with my 7 year old even easier! You just put theh liquid in the pen, run it on the line (using a ruler), and it magically folds without pressing.
There was also a paw-print emery board. While I've used an emery powder pincushion, I'm not going to be honing my pins with a nail file. I didn't really get it.
Dottie by Moda (1 yard) : I believe that this is a permanent part of Moda's line (obviously, it's polka dots – they never go out of style!  This fabric retails at $10.48/yard.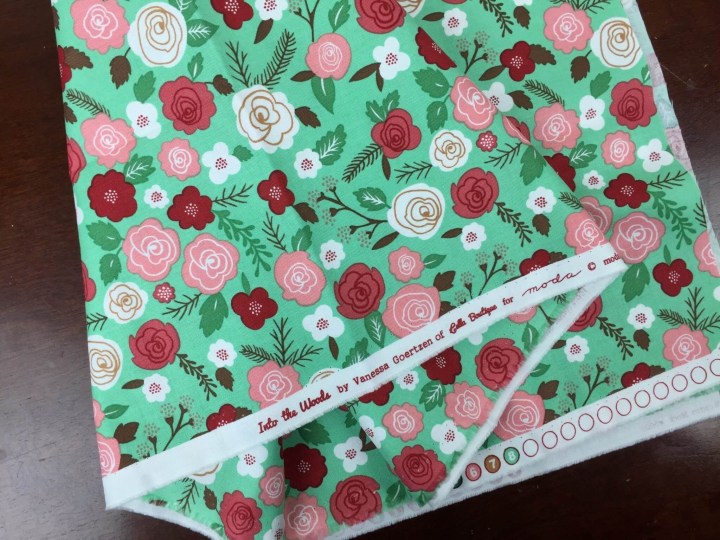 Into the Woods by Vanessa Goertzen of Lella Boutique for Moda (1 yard): This is from Moda's 2014 Spring collection. Also probably was $10.48/yard.
This fabric is a pretty combination, and I am wondering what my daughter will decide we're making with it!  I'm sure she will love to coordinate these two fabrics. I should note that when I subscribed a month ago I also sent a note that I'd love to have the January box, to just invoice me, and never heard back from them.  The value of the items plus the shipping was about equal to the cost of the box, and I would like to see the box have a bit more value in it (so that the value of the items exceeds the monthly cost).  I'm really not sure which of these are fan favorites, new finds, or leftovers, so it's really hard for me to decide what to think about this box because of the unique theme.
Visit Stitch Box Monthly to subscribe or find out more!
The Subscription
:
Stitch Box Monthly
The Description
: Every month, let us surprise you with awesome fabric, sewing patterns, new tools, notions, accessories, and inspiration to help keep your needle going!
The Price
: $36.50 per month