Funko's Smuggler's Bounty shifted its focus away from the new film to treat us to some classic Star Wars in this Cantina themed box!  Smuggler's Bounty is a bi-monthly Star Wars subscription box from Funko and the only official Star Wars subscription box (in the galaxy). Everything inside is 100% exclusive to the box and designed in collaboration with Funko!  Funko also produces the Marvel Collectors Corp Box and has now released the DC Comics box called Legion of Collectors!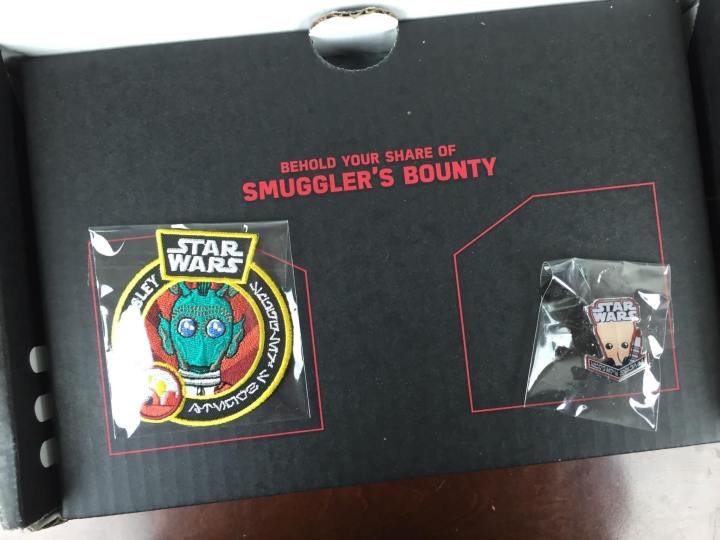 Behold! Your share of Smuggler's Bounty! An exclusive patch & pin! The theme for March 2016 was CANTINA!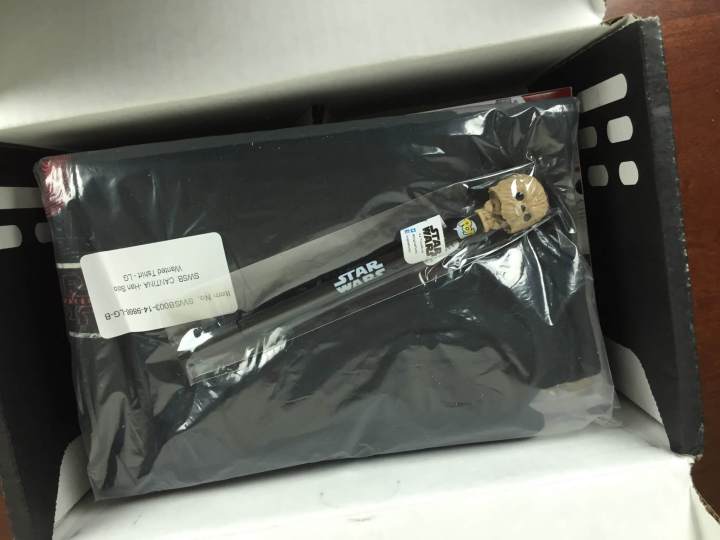 Chewie is guarding the top of the box.
More Star Wars goodies at the bottom.
Everything inside the Smuggler's Bounty Star Wars box this March!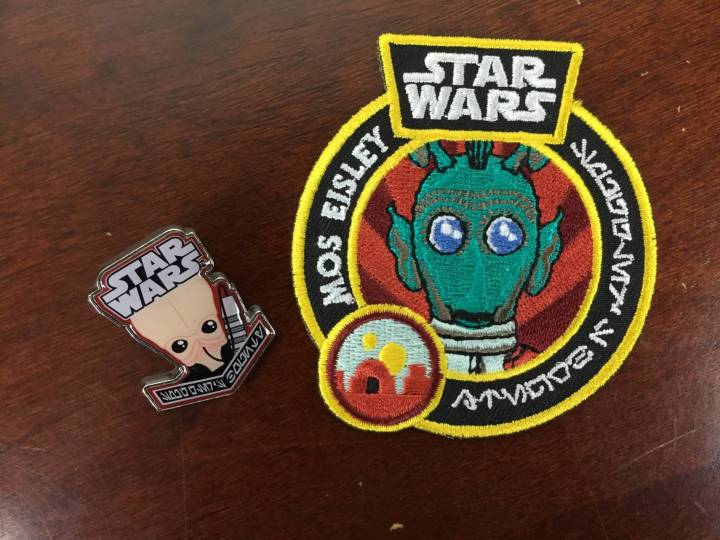 An exclusive Sun'il Ei'de pin & Greedo badge.  The script is Aurebesh and says Smuggler's Bounty.
Star Wars Pen with Chewie Pencil Topper — only Funko could make Chewbacca ewok-cute!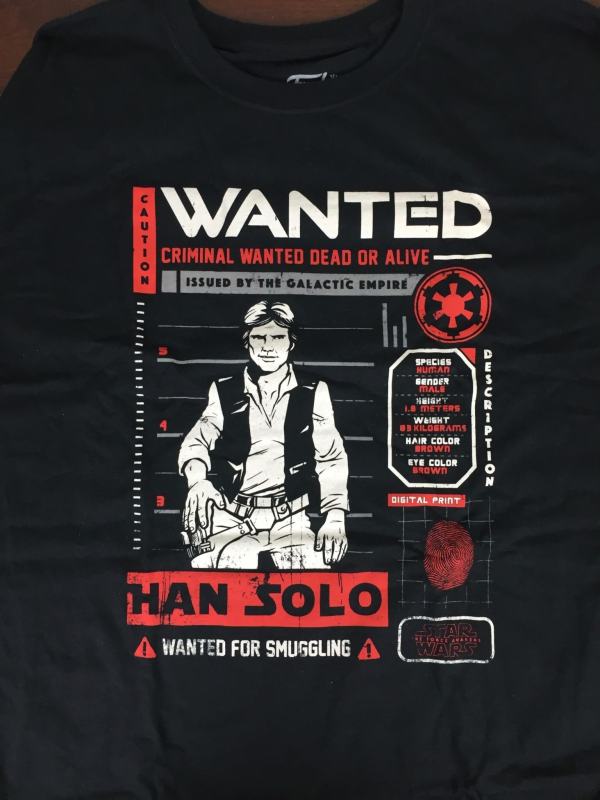 Han Solo Wanted Shirt: Everybody wants a piece of Han Solo!  I love the use of species as a descriptor and just the whole design. There were four variations to this shirt: Muftak, Ponda Baba, and Momaw Nadon were also sent out.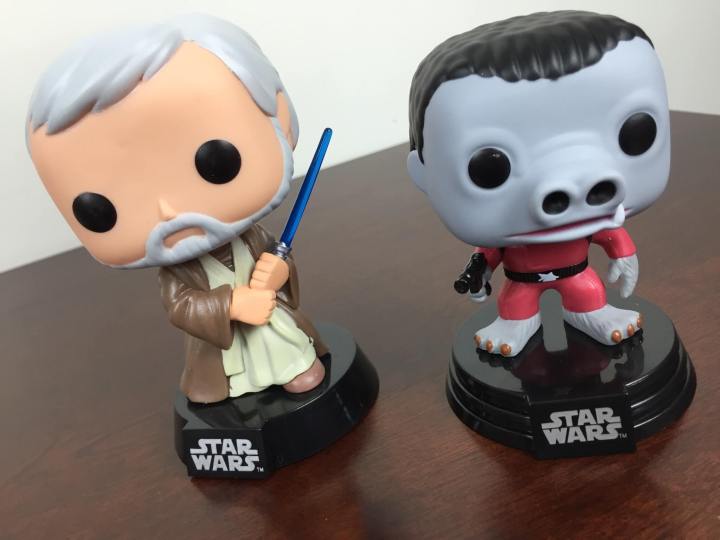 Funko Star Wars Bobble-Heads: Ben Kenobi & Red Snaggletooth.
A close-up shot of the Red Snaggletooth bobble-head.  In an homage to the original 1978 release of the Snaggletooth action figure as part of the Kenner Cantina Action Set, one in five SB boxes will include the blue variant (based on the misconceived notion of the character derived from black and white footage), taller than the red variant, and complete with blue suit, tan skin, and silver boots!   This is another Funko "chase" piece, like the First Order TIE Fighter Pilot Special Forces variant, signified by red stripes.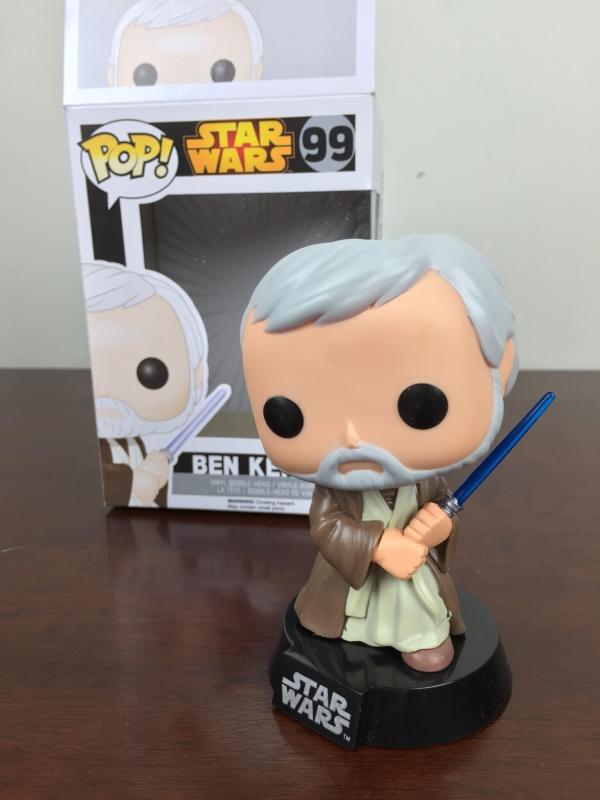 Here's another shot of the Ben Kenobi bobble-head. This is a completely new mold and totally exclusive to this box.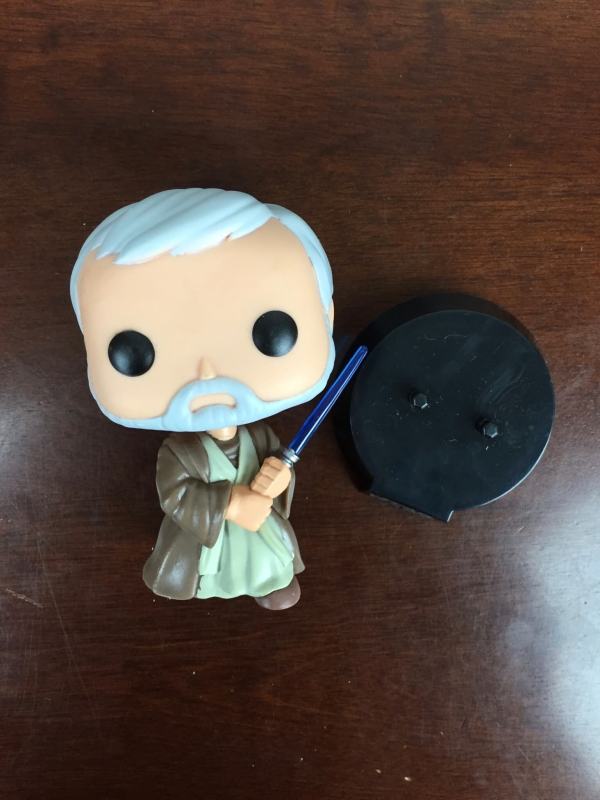 The Pop is detachable from its stand.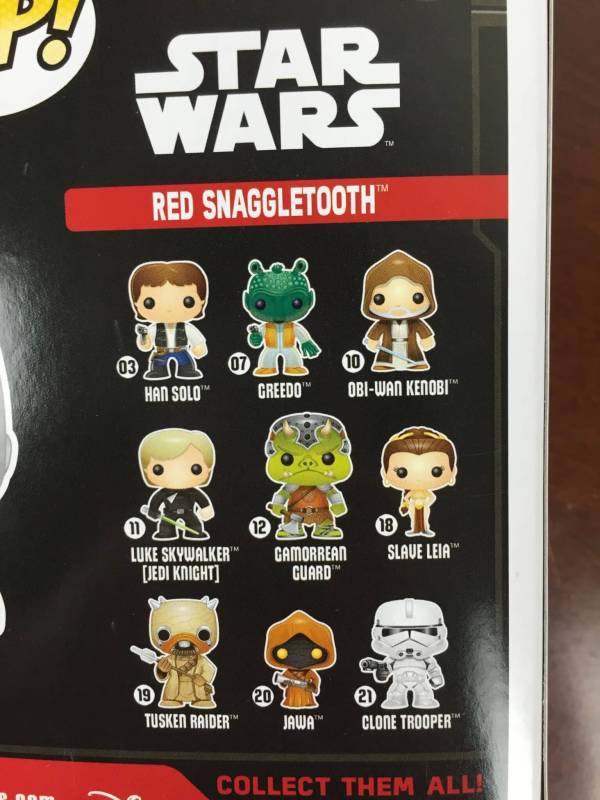 Here are other Star Wars characters you can collect.  Funko put alot of work into the Star Wars collection, fully varying body proportions, figure height, and textures to capture the immense variation in characters.  The Gamorrean Guard and Slave Leia simply look awesome! We are, of course, going to have to collect all of them. We really liked that this box put a focus on characters you might not ever see or collect. It's impossible to value because everything is exclusive, and the aftermarket prices rise really quickly. If you're a Funko and/or Star Wars collector or fan, this subscription box is pretty much a must have. Here are the spoilers for the May 2016 Bounty Hunter box!
Visit Smuggler's Bounty to subscribe or find out more!
The Subscription
:
Smuggler's Bounty
The Description
: The only official Star Wars subscription box in the galaxy, this subscription box from Funko is 100% exclusive!  Members will receive a box full of exclusive Star Wars-themed Funko items valued at over $50. Each box will focus on a different part of the Star Wars universe.
The Price
: $31.95 every other month