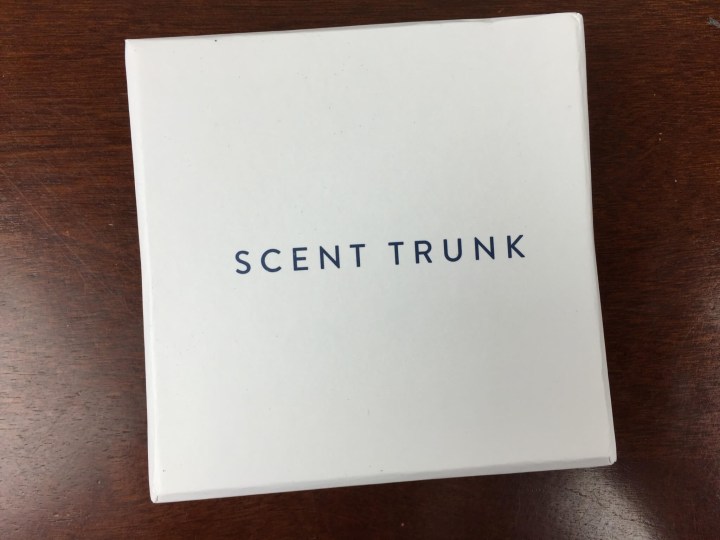 Scent Trunk is a scent discovery subscription. They offer both a men's and women's version. Every month you'll receive 3 niche scents to experience, try out, and enjoy!  Fill out a brief profile on their site and you'll receive a customized box of fragrances. They have a beautiful new website as well.
The three fragrances come in a velveteen bag inside a little box. You'll get 6mL of each fragrance.
There are 3 information cards in the box – one for each fragrance, and you can spray them with the scents and make your own little card catalog. The cards have information on each scent, the longevity, and the sillage, which describes how far the perfume ingredients disperse (are you just smelling it or is everyone smelling it?), and the price. You get to sample extremely expensive fragrances in this one.
The tester cards are handy for a couple reasons — they let you separate the scents (which is very difficult when testing them all on your skin), and they let you test the sillage (which is nearly impossible without a separate test card).  You'll still want to actually wear the scents, though — the character of the fragrance can be quite different on skin.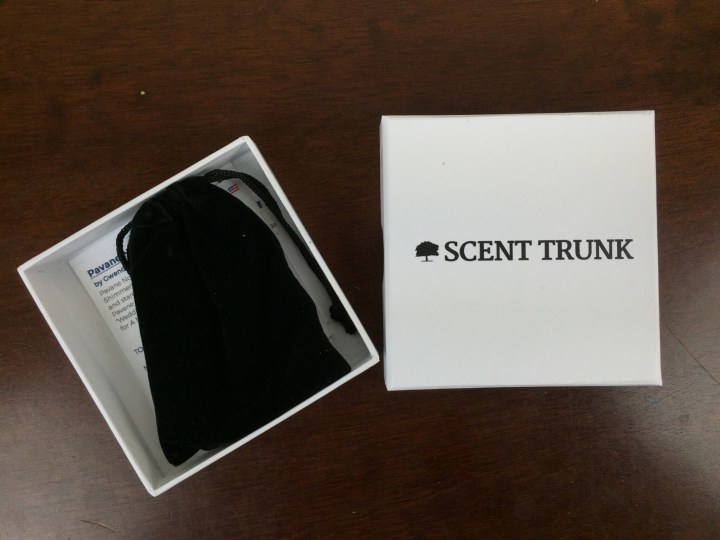 Each of the sprayers has a cap and a label to identify the fragrance.
Enzolie by Enzolie:  This scent is refreshing since it is infused with fruity, citrus flavors.  Sweet peppermint was my first note acquired, with spicy notes emerging shortly thereafter.  Citrus and floral notes create interest, while amber and leather preserve balance.  Bright, warm, and spicy, with a powdery finish.
Homme by CoStume National: The scent is distinctly modern — bergamot, cardamon, cinnamon, and cloves providing an intensely warm, spicy entry note.  The perfect balance of the patchouli and sandalwood creates a base that escalates the fire of the cinnamon, creating a warm, dry fragrance with a persistent heat.
White Pepper Mandarin by NOTE Fragrances:  Within this rejuvenating fragrance, grapefruit, lemon, and orange dance upon a base of frankincense and cedar.  The light effervescence of white pepper connects the layers, creating a warm and candied accord.
I enjoyed this collection of fragrances, as they each managed to present intense citrus or spice in a manner that enticed, largely due to the effective use of classic smoky, woody, and warm base notes.
The Subscription
:
Scent Trunk for Men
The Description
: We don't wear the same clothes every day, so why wear the same scent? With Scent Trunk, you get a variety of fragrances, every month. Each box is customized to your unique tastes, so you'll love every box. You fill out a Profile which let's the Scent Trunk team know what you like, then, they scour the world to find the most unique fragrances which will suit you. Fragrance is the ultimate fashion accessory, and like fashion, we're all different. Scent has the power to change moods and evoke emotions, so 1.5% of sales go towards fighting mental
illness. Women's
also available.
The Price
: $18.00 per month