Box of Style by Rachel Zoe is a fashion, beauty, and lifestyle quarterly subscription box from Rachel Zoe.  I love subscriptions like Popsugar and this is definitely a great one – every box is like a limited edition box from Popsugar, except with more of a focus on fashion.
Hello Sunshine!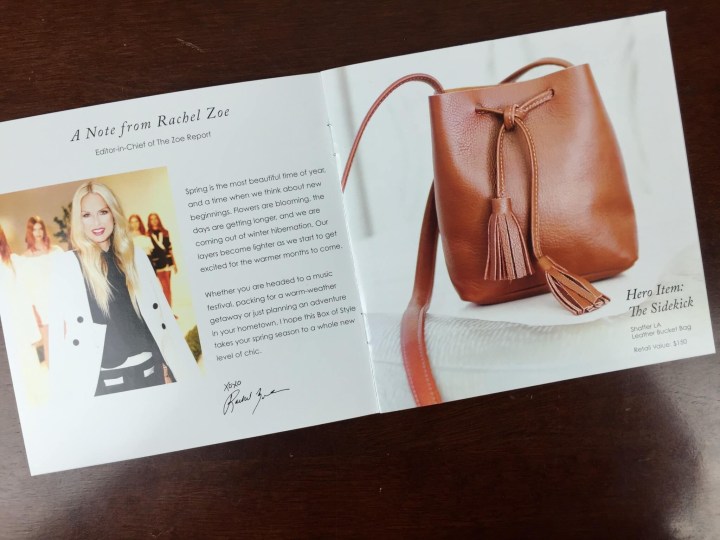 A note from Rachel Zoe:
Spring is the most beautiful time of year, and a time when we think about new beginnings. Flowers are blooming, the days are getting longer, and we are coming out of winter hibernation. Our layers become lighter as we start to get excited for the warmer months to come.

Whether you are headed to a music festival, packing for a warm-weather getaway or just planning an adventure in your hometown, I hope this Box of Style takes your spring season to a whole new level of chic.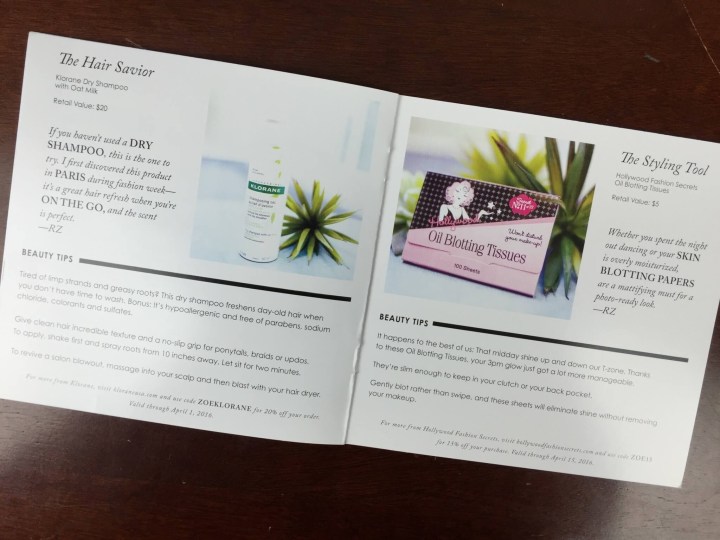 Every item has it's own page, a note from Rachel Zoe on why she loves it, and usually 3 styling tips. So helpful!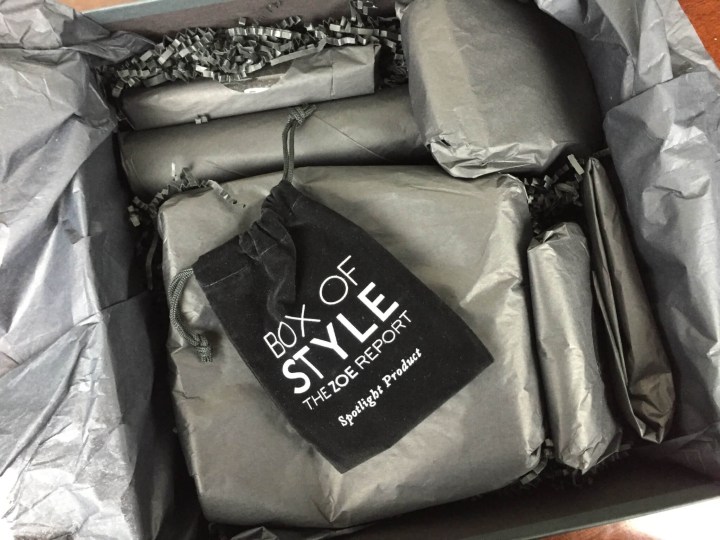 Everything is individually wrapped. It is so fun to open and so pretty!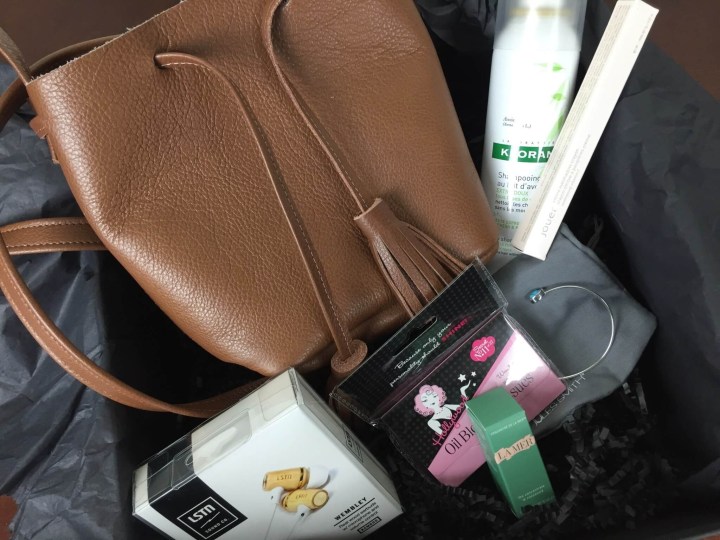 And here's everything in the box!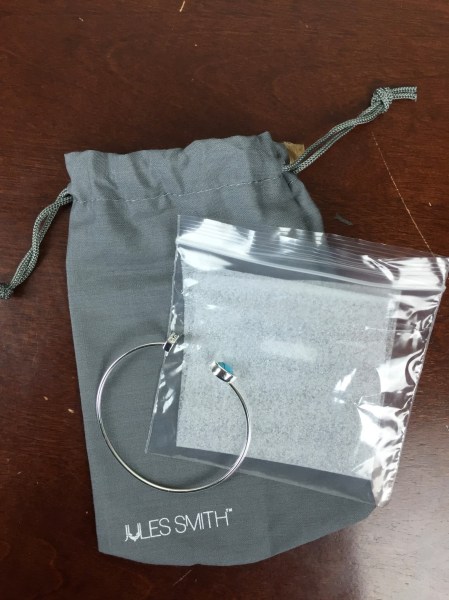 Jules Smith Pavé Bar and Stone Cuff (silver or gold) ($45) This delicate bracelet is perfect for layering or wearing on its own! It's adjustable and features a pavé bar along with a faceted turquoise-looking stone.
It's very pretty and fun for festival season! I'm not 100% in love with it, but it definitely fits the style angle of this quarter.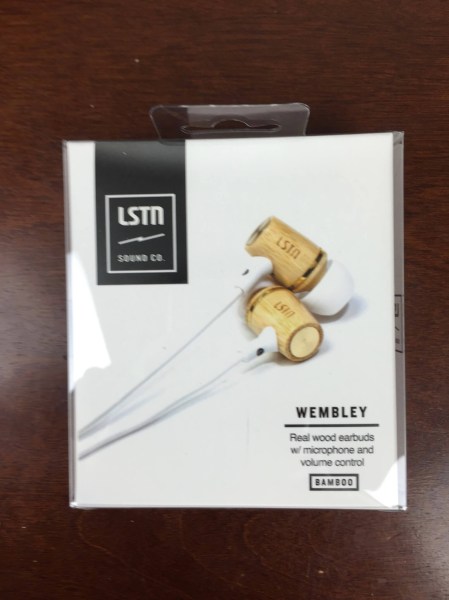 LSTN Sound Co. Wembley Earbuds ($100) Yay new earbuds! I love love love the bamboo, white, and gold color scheme, and the fact that these earbuds are ultra light.
Proceeds help provide hearing aids to help someone hear for the first time through Starkey Hearing Foundation, too!  The buds themselves came with 3 inserts, which is good because the medium were too big for my tiny ears! And obviously the custom bag is super cute! What a great idea!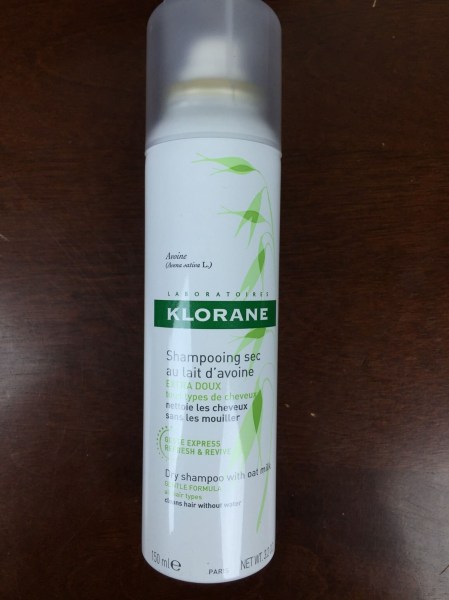 Klorane Dry Shampoo with Oat Milk ($20) Dry shampoo comes in subscriptions all the time, but this one is full size, and easily one of the BEST! It has oats and is extra gentle and hypoallergenic (and free of parabens, sodium chloride, colorants, and sulfates!). I love the styling tip to give extra texture to your hair for ponytails and similar styles.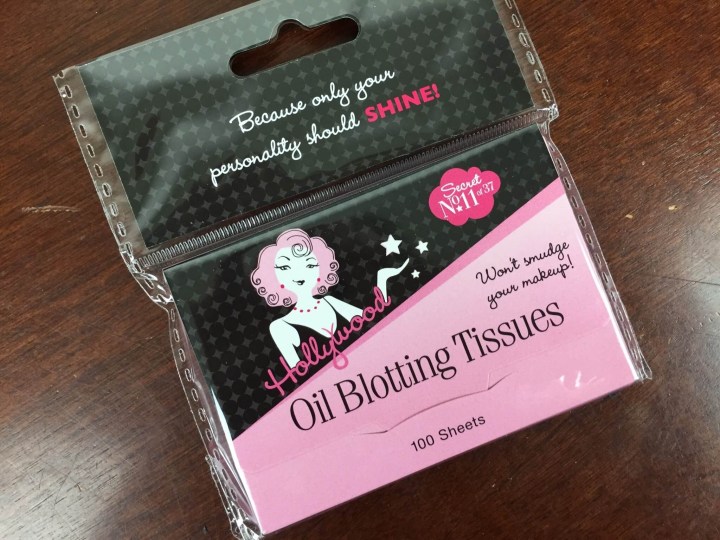 Hollywood Fashion Secrets Oil Blotting Tissues  ($5) This subscription obviously has a deal with Hollywood Fashion Secrets, because they seem to come in every box, which is actually ok because I've been assembling them into a fashion emergency kit. These are just your standard oil blotting papers for taking away the icky kind of glow.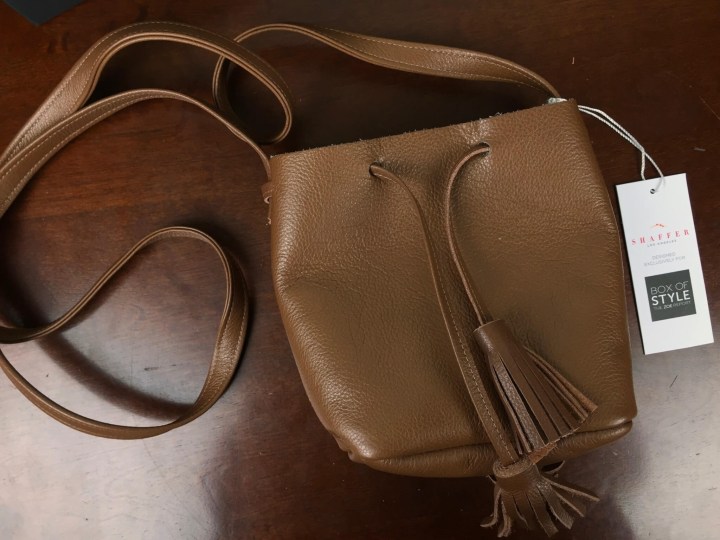 The hero item for spring is this Shaffer LA Leather Bucket bag ($150) The caramel on this is quite gorgeous and rich but neutral (instead of an orangey tan), which I'm pretty happy with, because I don't really wear a lot of warm tones, so this will pair nicely with my jewel tones.  The leather is gorgeous!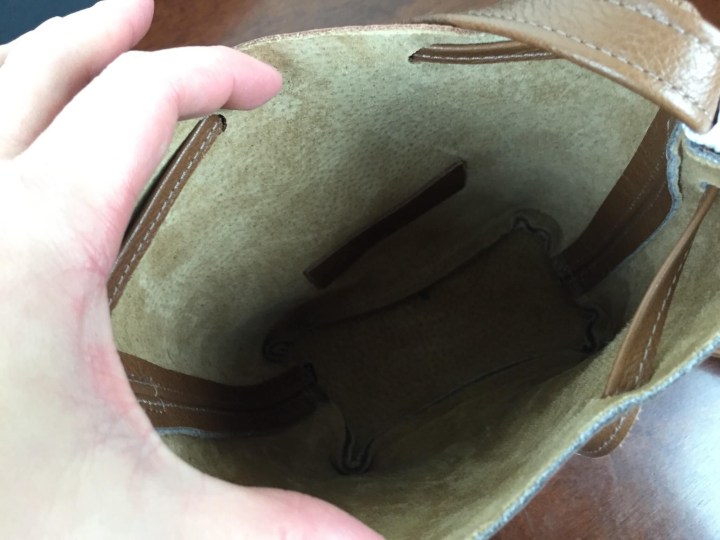 The top doesn't close at all and it's really like a true bucket.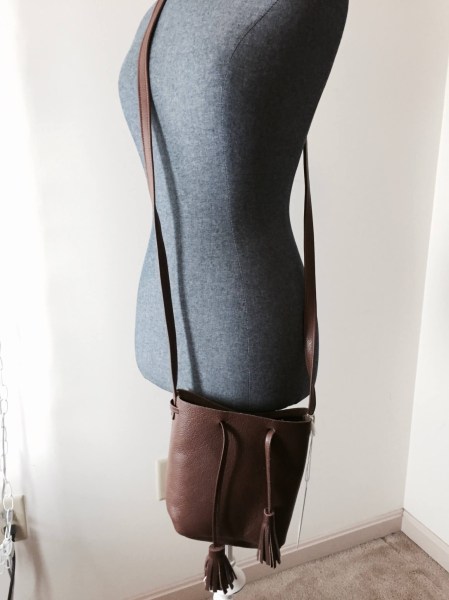 The length of the strap is really significant, but it does totally give it a festival vibe I think. The only thing I'm a little worried about is the fact that it doesn't close!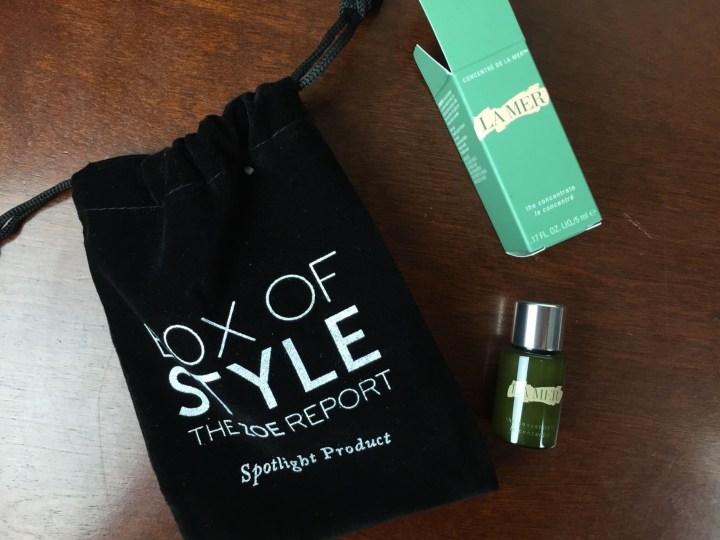 The Concentrate by La Mer (Bonus Sample – $57.8) You had better believe that I will find a way to get every. single. drop. out of that bottle! It does come with its own teeny spatula!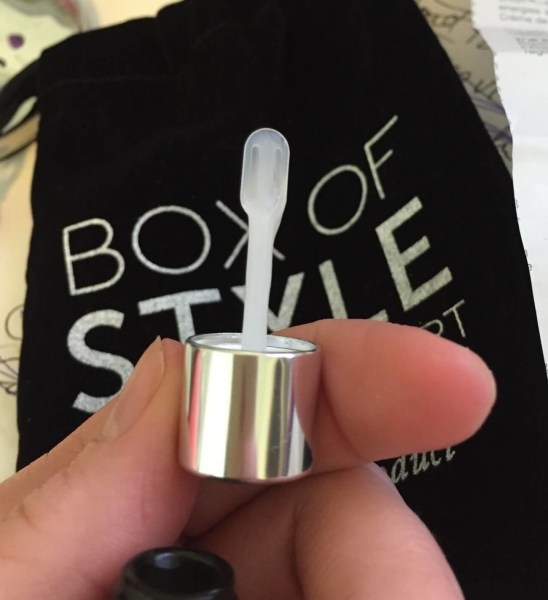 This "spotlight product" wasn't in the booklet, but arrived in its own special bag on the top of the box.
A savior of skin, the Concentrate complements skin's natural healing process with the restorative power of the sea. Designed to soothe visible irritation and redness caused by cosmetic procedures such as chemical peels, microdermabrasion and laser treatments, it is infused with a dose of highly concentrated Miracle Broth™, the heart of La Mer's profound powers of transformation. Irritation appears soothed and dry, fragile skin made strong for a radiant renewal.
I love the feel of this serum on my skin and the scent, I hope it doesn't actually work miracles on me! A one ounce size is $340 (which Iused for the calculation – 1.7 oz is $440).
Jouer Shimmering Crème Eyeshadow Crayon ($24) Possible variations are Abstract (Soft Black), Avant Garde (Navy Charcoal), Baroque (Soft Bronze), Marble (Grey), Mosaic (Sky Blue), Rococo (French Vanilla), Serene (Pink), Venetian (Green). I received sky blue, which was my least desired color. Bummer! However, this shadow is creamy and after it sets it stays pretty well. It's great to throw in your new bag or keep in the office.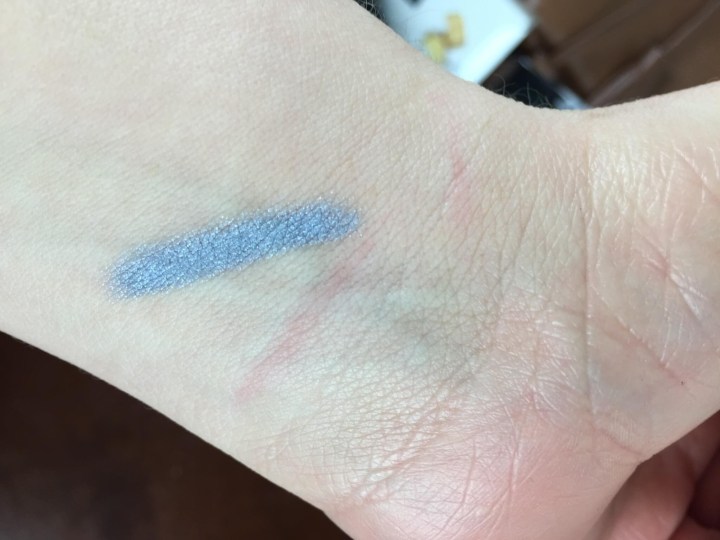 The color is really pretty with a subtle shimmer! I sort of wish that ish Beauty (from FabFitFun and RZ's BFF – see details here – spoiler alert!) had also made its way into the box – maybe next quarter?!
I hate talking about value first, but this box came in at an incredible $401.80 including the La Mer (how can I not include a $60 sample?! But $344 without if you insist). That's totally amazing! The box itself had a great feel to it and there was a little something of everything perfect for a stylish spring! Enter to win this box below – Giveaway not associated with The Zoe Report or any of the brands in the box!
Visit Box of Style by Rachel Zoe to subscribe or find out more! The Spring Box is NOT currently sold out. Sign up here for the Spring Box of Style by Rachel Zoe and save $10 on your first box!
The Subscription
:
Box of Style by Rachel Zoe
The Description
: A curated assortment of the best fashion, beauty, and lifestyle items of the moment – and of course one styling tool to make sure you're looking your most glamorous all year-round. Every box has at least $300 in value and is curated by Rachel Zoe.
The Price
: $100 per quarter