Prepper Gear Box is a subscription box that delivers, on average, 2-3 items of practical survival gear plus an information card to help you learn and practice new survival-related skills each month. Prepper Gear Box wants its subscribers to be prepared for any situation or emergency that may arise. As such, it's an ideal subscription for outdoor enthusiasts, hunters, hikers, campers, backpackers and survivalists. As a company, they try not to waste money on fancy packaging so that your money goes as far as it can into what matters most: gear and information.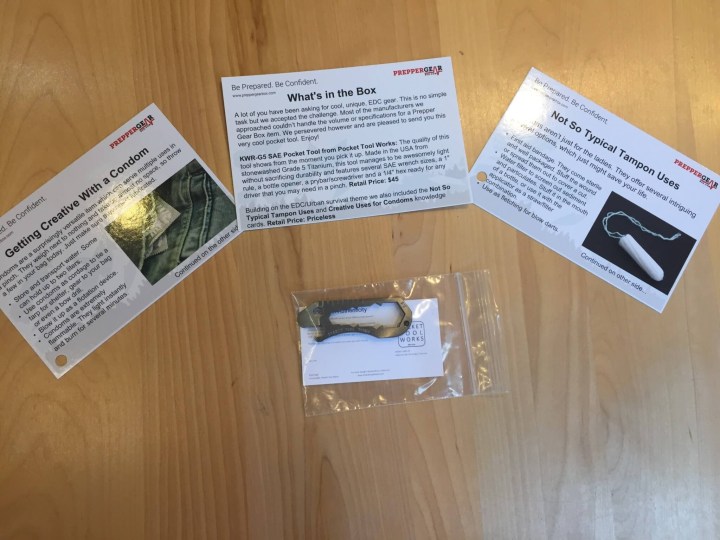 This month's box contained a pocket tool and basic skills cards detailing creative uses for condoms and tampons.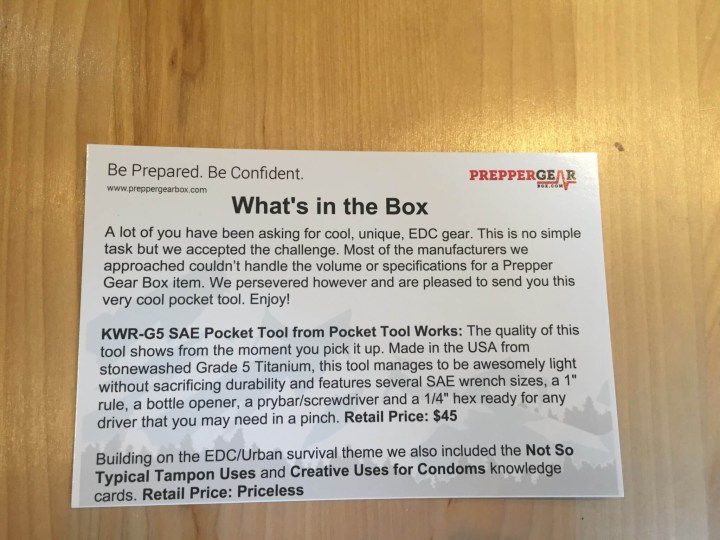 I love how the curators include notes as to the importance of each item in the box and why the item was included in this month's shipment.
The KWR-G5 SAE Pocket Tool from Pocket Tool Works ($45) is an ultralightweight small pocket multitool that's perfect for every day carry. Made from Grade 5 Titanium, it contains wrenches in the following sizes: 5/8″, 9/16″, 1/2″, 7/16″, 3/8″, 5/16″. It has a 1″ rule for measurement reference (I'll be using this when photographing tracks!), a bottle opener, a flat point tip for flat head screws, a 1/4″ hex and a hole for attaching to your keyring or lanyard.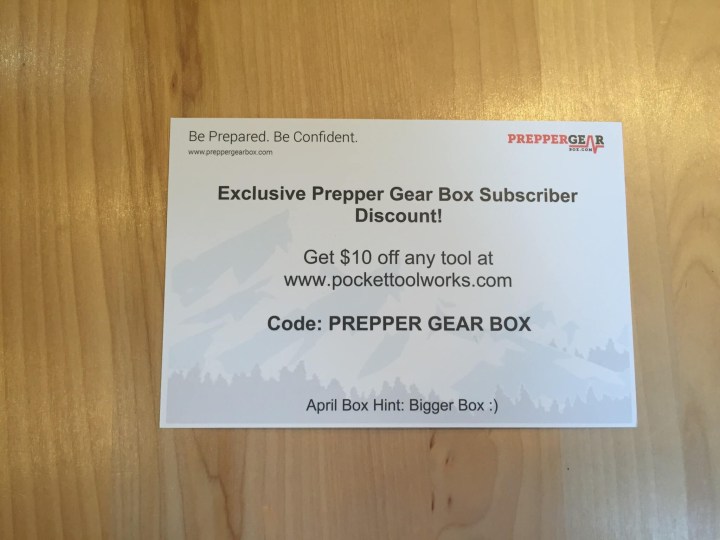 I love how Prepper Gear Box makes it easy to reorder your favorite items. In this case, we even got a coupon for reorders. That's great! It's also nice that they alternate between boxes with lots of components and boxes with one really cool, expensive, piece of gear.
I really enjoyed this month's basic skills cards. They both contained a lot of creative ideas about how to use small, lightweight products that you might be carrying.
Condoms are so useful, small and lightweight that the curators recommend packing them as survival gear. Just make sure to pack unlubricated ones. Here's what they can do:
Store and transport water. Some can hold up to two liters.
Use condoms as cordage to tie a tarp for shelter, gear to your bag or even a bow drill.
Blow it up as a flotation device.
Condoms are extremely flammable. They light instantly and burn for several minutes.
Fill one with water and use as a magnifying glass to start a fire.
Keep essential items like tinder, matches, medications, cell phones and other items dry and protected.
First aid. Cut a condom along one side and spread it over a wound as a dressing or compress.
Use one as a "sterile" glove.
Keep your feet and socks dry by slipping condoms over your socks. You can keep your head dry too.
Make a pillow or cushion with moss, cattail fluff or leaves.
Keep the muzzle of your gun dry.
Make a slingshot with a forked stick and a couple condoms tied together.
Use as a fish bobber.
I found all of these suggestions incredibly useful.
The curators also had a number of suggestions for using tampons in a pinch:
First aid bandage. They come sterile and well packaged. Stuff the wound or spread them out to cover a cut.
Water filter to screen out sediment and particulates. Stuff it in the mouth of a bottle, or use it with the applicator as a straw/filter combination.
Use as fletching for blow darts.
Bottle cork. Either to keep liquids from evaporating, or for a Molotov cocktail.
Chew on it to keep your teeth clean, until you can find a toothbrush.
Soak it in animal or fish blood to be used as bait for a trap or snare.
Clean your shotgun. Its diameter makes it a good size for a bore cleaner.
Firetinder. Pull it apart and fluff it up. Adding a little lip balm or petroleum jelly can help too.
Friction firestarter. Split the tampon, fill it with ash and then re-roll it. Then roll it rapidly under pressure. It will create an ember and start to smoke, similar to char cloth.
How cool! I'll be sure to pack some tampons and condoms on my next big adventure.
This month's Prepper Gear Box included loads of helpful tips and a really cool, useful piece of gear at a value nearly double the box. I can't wait to see what they have in store next month!
Visit Prepper Gear Box to subscribe or find out more! Save 10% on your first box with coupon code CRATE10
The Subscription
:
Prepper Gear Box
The Description
: A new monthly subscription box service for those who like survival gear and
education.Every
Prepper Gear Box contains 2-3 (or one very cool) carefully selected, high quality survival gear and preparedness items. Plus each box will have helpful tips, instructions and challenges to grow your survival skills and confidence in any situation.
The Price
: $25.00 per month