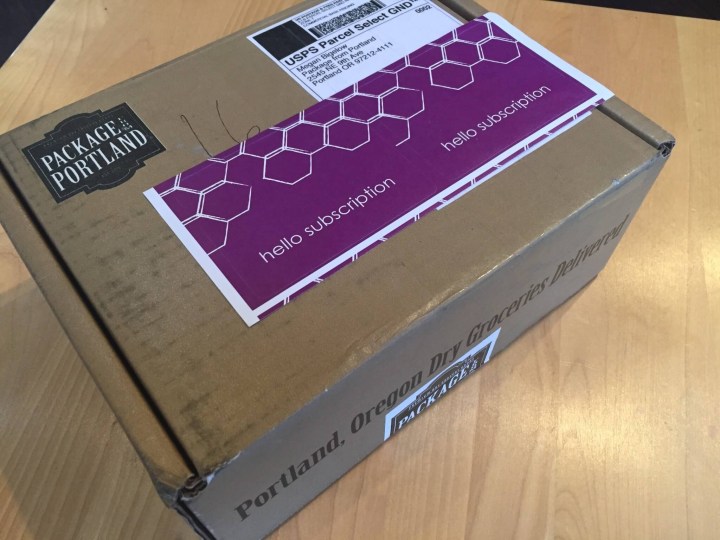 Package from Portland is a quarterly subscription box that sends handmade artisanal foods produced in Portland, Oregon to your home. Curated by someone with intimate knowledge of the food making landscape in Portland, this box promises a unique and tasty tour of the city four times a year. It makes for a delicious treat for yourself, friends or family. It would also make an excellent corporate gift.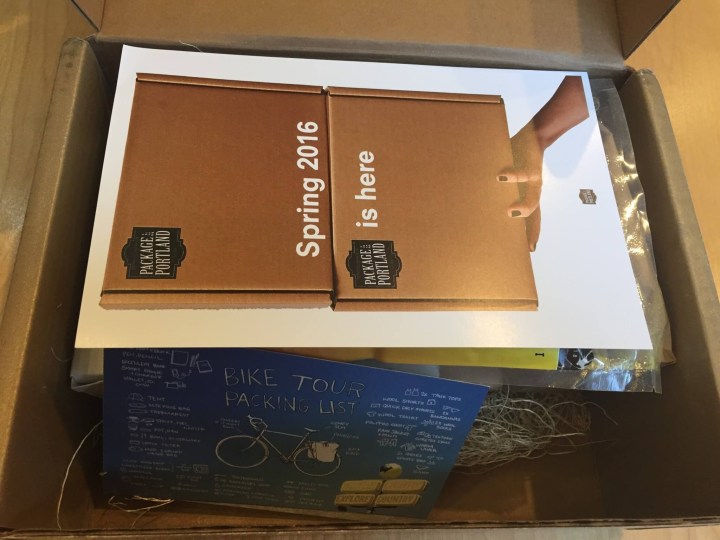 Each package arrives in an attractive box lined with jute and filled to the brim with goodies from Portland.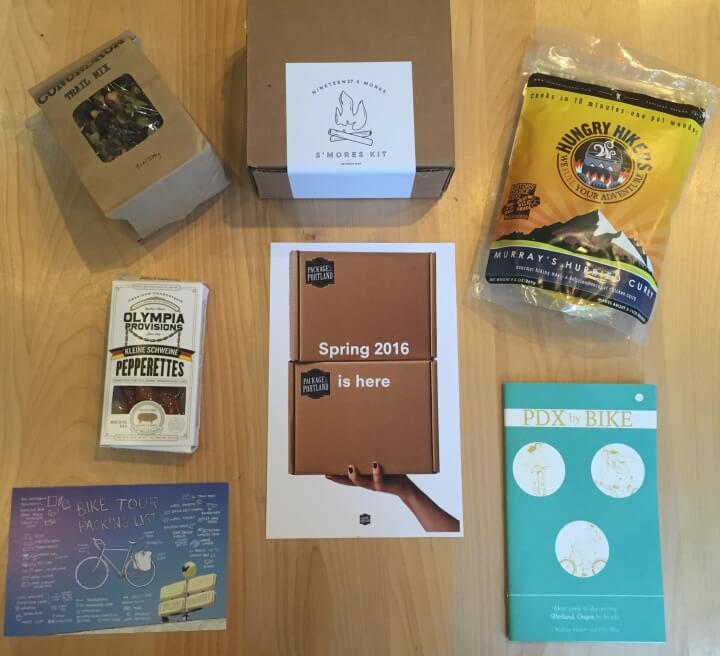 The Spring 2016 box contained an introductory card, a postcard, a biking in Portland zine, trail mix, sausages, a quick curry and a s'mores kit.
The introductory note for the box details the inspiration behind this month's theme: Get Outside, Portland-Style! To help you out, the curators have included directions on how to navigate the bike scene in Portland and have included a snack, appetizer, dinner and dessert for you to take along on your adventures!
The enclosed post card offers a few extra pointers for those who are inspired to make a long-haul journey to Portland (or anywhere else) by bike. I especially appreciate that they had men and women in mind when they came up with the packing list.
This zine, "PDX by Bike" ($5), contains everything you need to know about navigating around Portland by bike. Were I to move to Portland, I would study it religiously. As someone who's interested in visiting, now I know that biking in Portland is serious business. Don't stop at a stop sign, for instance, and you could get a $242 ticket. So study up or take an alternate mode of transportation. The zine also included notes on Portland's myriad biking events throughout the year and some of Portland's more quirky traditions, like moving for free by getting your stuff hauled to your new digs by bicyclists. Cool!
After reading through the zine, I almost feel as if I've been transported to Portland, eager to embark upon a day of sightseeing. Good thing I have a delicious meal in hand! The first course, the snack, is a Trail Mix by Conundrum ($8). This delicious blend of nuts, fruits, seeds, maple syrup, lavender, rosemary and olive oil evokes notes of the French countryside. It's fabulous–one of the best, if not the best trail mix I have ever had!
The included appetizer was Olympia Provisions' Kleine Schweine Pepperettes ($5). I don't eat pork, so I had to ask the rest of my family to try them. My husband said they were good. My daughter stuffed her face with them but then couldn't figure out how to ingest them (that means she really liked them!). These were flavored with caraway and coriander. I bet they'd taste great with some caraway sauerkraut!
The included entree was Murray's Hurried Curry by Hungry Hikers ($10.99).
This dehydrated curry arrives in a plastic bag. To make it, just add two cups of water to a pan and bring to a boil. Once boiling, add the contents of the bag, being sure to throw out the enclosed desiccant. Bring to a boil and simmer for 8-10 minutes or until the water is absorbed (this actually took me about 4.5 minutes), stirring occasionally.
And voilà! You have a delicious, fast, easy chicken curry! This is a picture of what can be made with one bag of dried curry, two servings. It is very filling, and though it may not look like much, it will easily satisfy two hungry people. I especially liked all the little pieces of chicken in the dish. Had I not made the dish myself, I never would have guessed it came from a dehydrated pack. It tastes more like a slow-cooked curry stew than anything else.
And finally, dessert! I was so excited to try this S'mores Kit from Nineteen27 ($14.95)! Literally the day before my Package from Portland arrived, I stopped at Half Price Books and picked up Better from Scratch: Delicious DIY Foods to Start Making at Home that advocated making your own graham crackers and marshmallows for s'mores. I was busy locating the ingredients when this package arrived.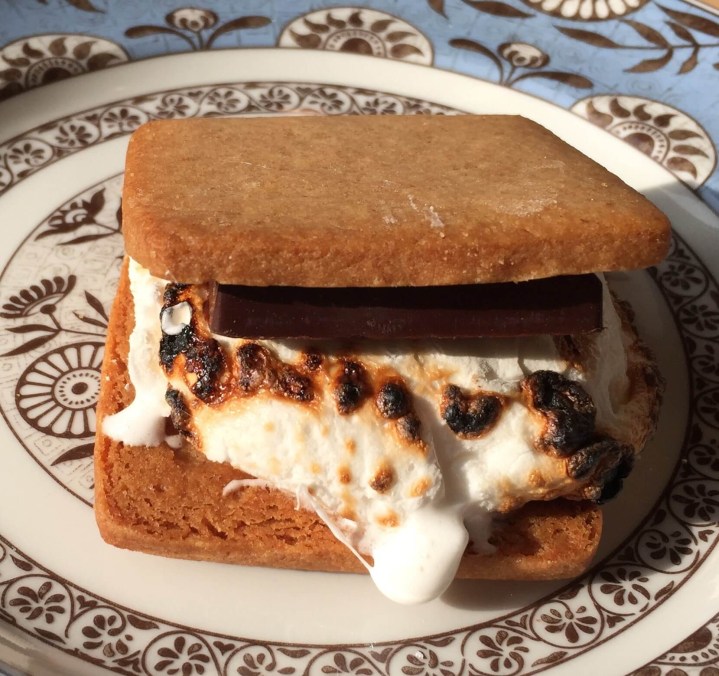 I couldn't have been happier with the end result! The vanilla marshmallow was sweet and gooey (and much easier to melt than some of the store bought alternatives!), the graham crackers had a shortbread taste and consistency to them and the chocolate was delicious. I was also delighted that I could try homemade s'mores without all of the work involved in doing it myself! (And yes, they're definitely worth either making yourself or buying a homemade kit from Nineteen27!)
I really enjoyed being transported to Portland this month by Package from Portland to try a sampling of delicious goodies from around the city. Now even more than ever, I want to visit Portland. Since my travel calendar is full for the year, though, the next best thing is looking forward to receiving another delicious Package from Portland next quarter!
Visit Package from Portland to subscribe or find out more! Save 15%! Use coupon code  HELLOSUB15OFF.
The Subscription
:
Package from Portland
The Description
: Package from Portland is a quarterly package containing 4-6 curated, Portland-made dry grocery items, delivered to your door.
The Price
: $49.00 per quarter