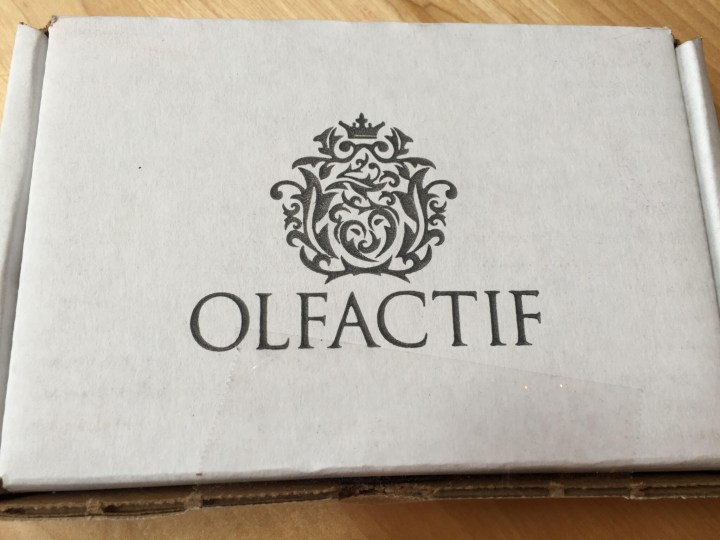 Olfactif is a monthly fragrance sampler subscription box. Every month you'll receive 3 samples, each of which contains 15-20 applications of an independently designed perfume. Along with every $18 subscription box you receive, your account will be credited with an $18 voucher to use on fragrances from the store. Thus, if you purchase a full bottle of perfume each month, the subscription sampler is free.
Olfactif focuses on niche fragrances, unique scents produced with higher quality and harder-to-find ingredients than you would encounter in a department store. They offer both a unisex scent sampler (this one!) and a men's fragrance sampler.  You can check out our reviews of Olfactif Men here.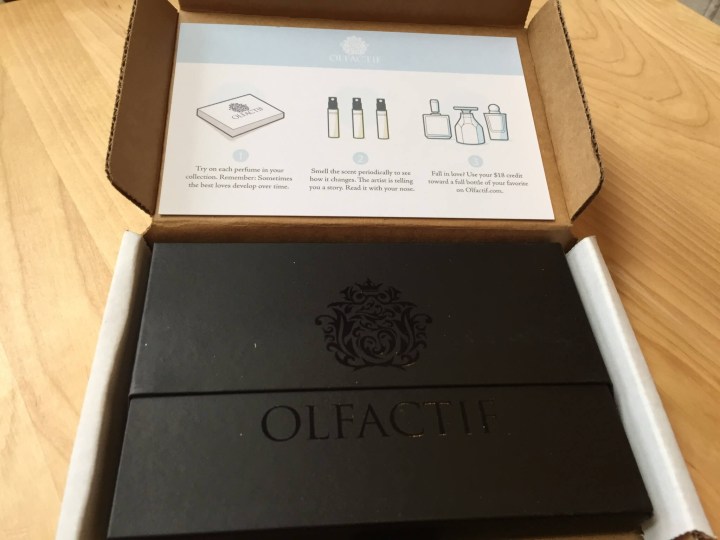 Each sampler contains a card that offers suggestions on how best to appreciate the fragrances: since scents develop over time on the body, don't just assume your first experience will be your last! Spritz the fragrance on and smell it at different times to fully appreciate all that the artist intended to express through the scent.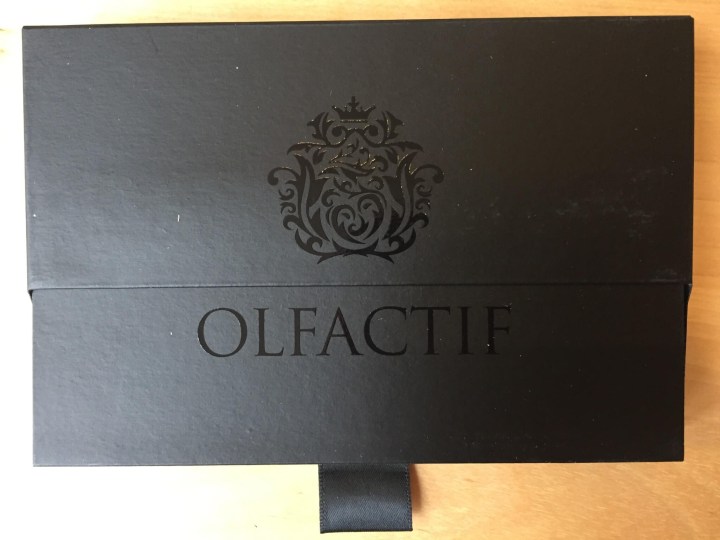 I love Olfactif's little black slide-out box! It's sexy and intriguing all at once–just the way I hope I smell when wearing their scents!
Each month includes an information card about the fragrances. The theme for March is Marching Back and Forth.
Is this the tail end of winter? Or the beginning of spring? In March, it's both.

There will be days when the birds sing and you long for the smells of spring (try the gardenia!). Next will come days when winter's chilly grip tightens once more and you turn to something cozier (might we recommend a deep, dark Arabian masterpiece?). Days later, the sun will coax green shoots from the ground and spring will be here for good (a perfect time for an olfactory trip through Roman gardens).

No matter what Mother Nature throws at you, you're ready. And you will smell fantastic.
The information card gives the general gist of each perfume, as well as the notes.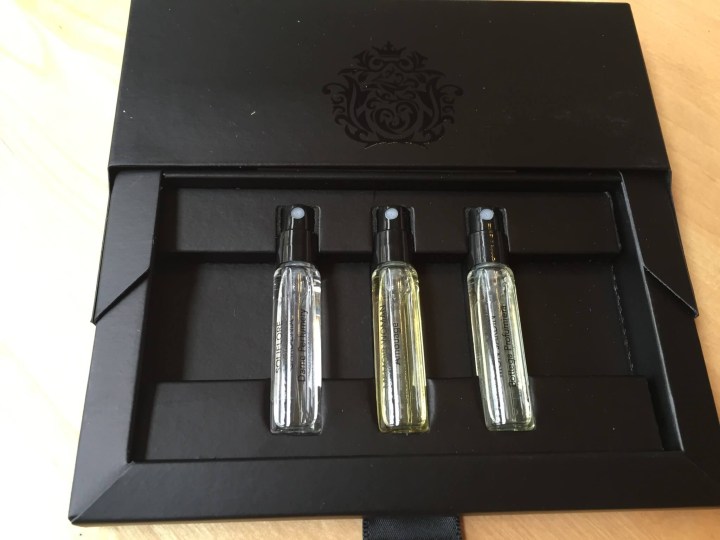 Olfactif March 2016 Marching Back and Forth (all prices listed are for full bottles, available for purchase from Olfactif):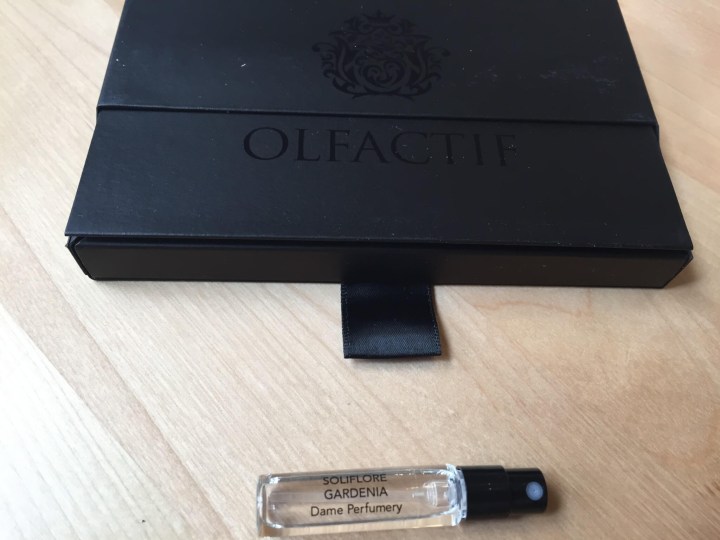 Soliflore Gardenia by Dame Perfumery ($65). Produced in the United States by a veteran of the perfume industry, this lovely scent smells just like a freshly picked gardenia. That's amazing since the scent of gardenias cannot be distilled from the flowers themselves. It has to be created. When I first sprayed this on, all I could smell was gardenia. Shortly thereafter, though, while the gardenia was still the constant, I could discern a certain sweetness, almost a bubble gum scent emerge. This was followed by slightly more spicy notes along with baby powder and orange, and finally, licorice. I especially enjoyed how this scent brought me back home to my father's flower garden. While he grew lots of different flowers, my favorite ones for picking were the gardenias. Their scent is wonderful.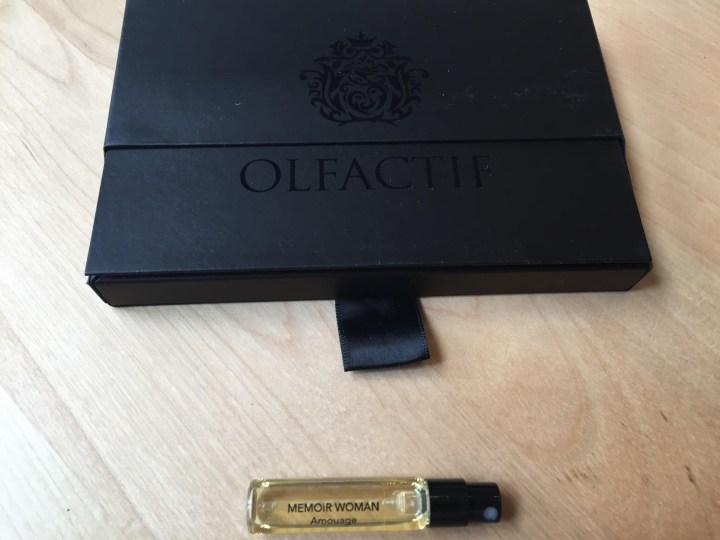 Memoir Woman by Amouage ($275). Produced by Amouage, the perfumery started by the Sultan of Oman and headed by Christopher Chong, this fragrance was inspired by a "'fragmented memoir' of a woman's past, present and future." This luscious scent is characterized by its musk, wood, jasmine, orange and mulling spice notes. While its complexity makes for a perfect scent for an evening out, I enjoyed it so much that I would happily wear it every day.
Mon Jardin by Bottega Profumiera ($150). Mon Jardin would make an ideal everyday scent. After a very brief smell of alcohol, the light musk, orange blossom, baby powder and tangerine notes emerge. Inspired by the Gardens of Ninfa outside of Rome, this light, sweet scent reminds me of a spring stroll through wildflowers along the side of a creek. Its breezy sweetness reminds me of one of my all-time favorites: Fleur de Rocaille by Caron.
I really enjoyed wearing all three of these scents! While my favorite two were Memoir Woman and Mon Jardin, I would wear any of them happily. I haven't had so much fun trying new scents in years. Thanks, Olfactif!
Visit Olfactif to subscribe or find out more!
The Subscription
:
Olfactif
The Description
: Get 3 niche, unique fragrances curated around a theme. Purchase a full bottle that month and credit your box price against the cost of the fragrance.
The Price
: $18.00 per month