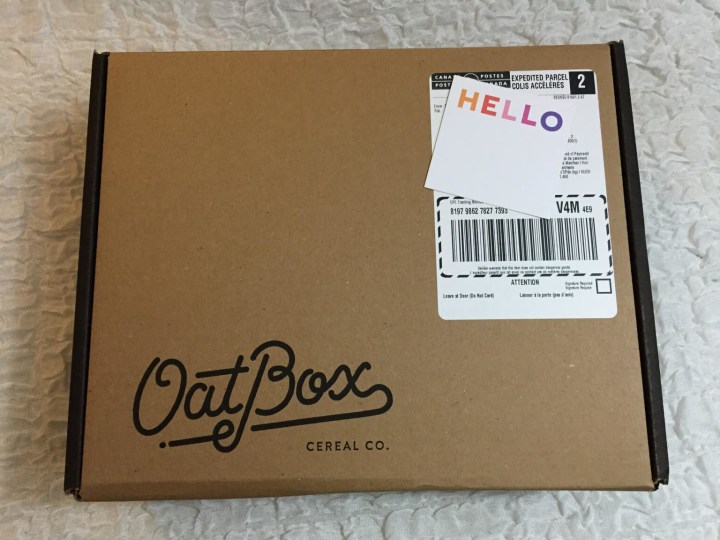 OatBox is already making my mornings that much easier, and it only arrived yesterday! OatBox is a Canadian subscription box, delivering to both Canada and the US, that sends you two big bags of hand-blended granola every month! Made in Montreal by chefs, they send two different mixes each month. Their plans are customisable as well — if you have allergies, you can elect to replace a mix with another, have two of the same mix, and so on. You can easily skip or cancel right from your account — no need to wait on customer service to get back to you.
I've always struggled with eating breakfast. It's supposed to be the most important meal of the day, and the bulk of the food you eat, but even though I'm a morning person I really don't want to be wrestling with the stovetop or a blender at 7AM. I've been enjoying making overnight oats (or granola cereal) for a while now just because it's easy to prepare in advance and it's pretty flexible in terms of what you can put in it. I'm excited to add the OatBox mixes to my rotation and try something new!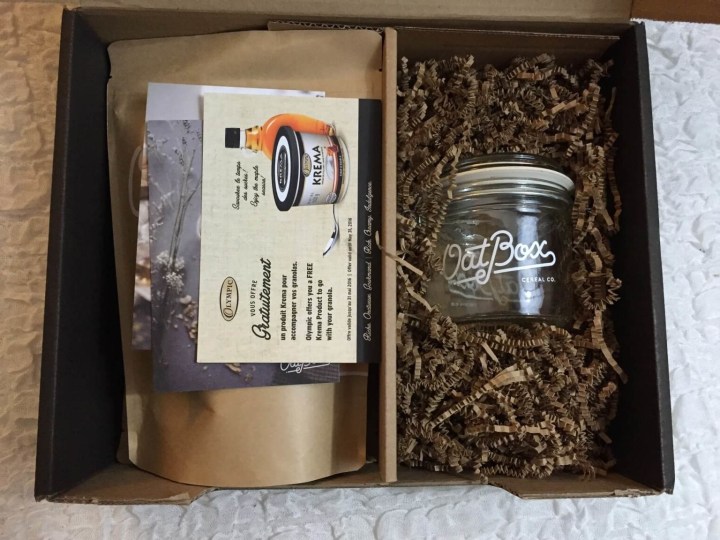 Everything is nicely packaged in the box when you open it. I love that everything is the natural cardboard/paper texture.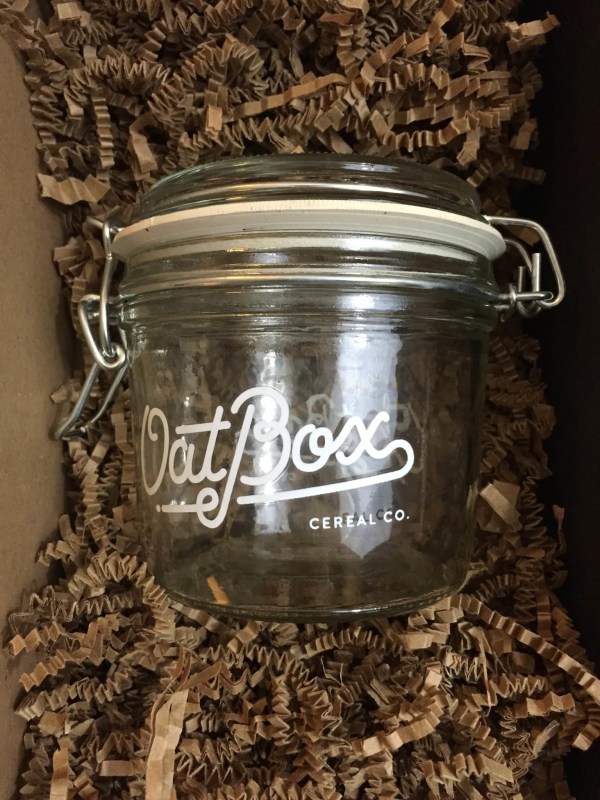 Your first box from Oatbox includes a reusable mason jar branded with the OatBox logo — this is great for making overnight outs in, or just pre-making your breakfast for when you get to school or the office. There's a warning that the jar is hand-wash only — and I personally recommend you wash it as soon as possible after eating, because oats tend to stick if you let them sit for too long.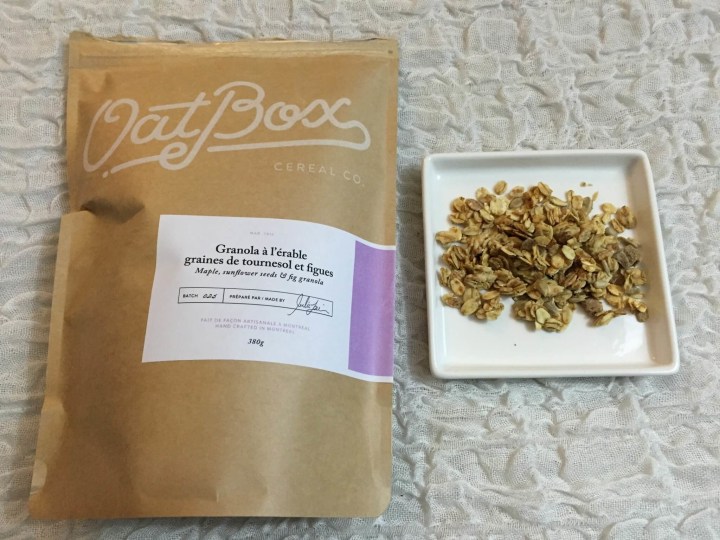 Maple, Sunflower Seeds, & Fig (380 grams) I only photographed the front of the bags, but rest assured the back contains your nutritional chart and ingredients. OatBox granolas are vegan and strive to be as organic as they can; they use all natural ingredients, no preservatives, and no artificial sweeteners. Both March granolas are sweetened with maple syrup from Quebec, for example! This granola is a light blend, and it's not too sweet despite the maple syrup. I love sunflower seeds so I liked the little crunch of familiar flavour every so often. I made a cereal with about 3/4s a cup of the mix, about the same of unsweetened almond milk, and a handful of blueberries. It was delicious and really satisfying.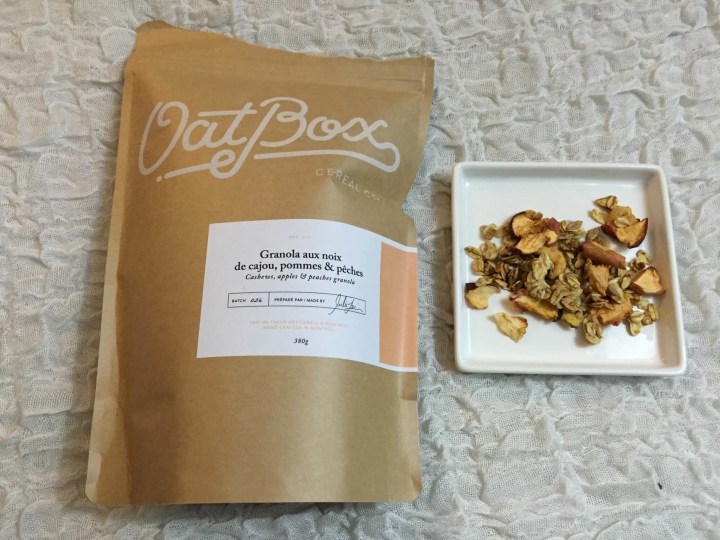 Cashews, Apples, & Peaches (380 grams) This granola has more going on for it, visually, as you can see! There are dried apples and peaches in this, which add a nice texture. I'll probably making overnight oats with this blend tonight with some yogurt. I tried some of it dry and it's a lot sweeter because of the fruit, which I always enjoy.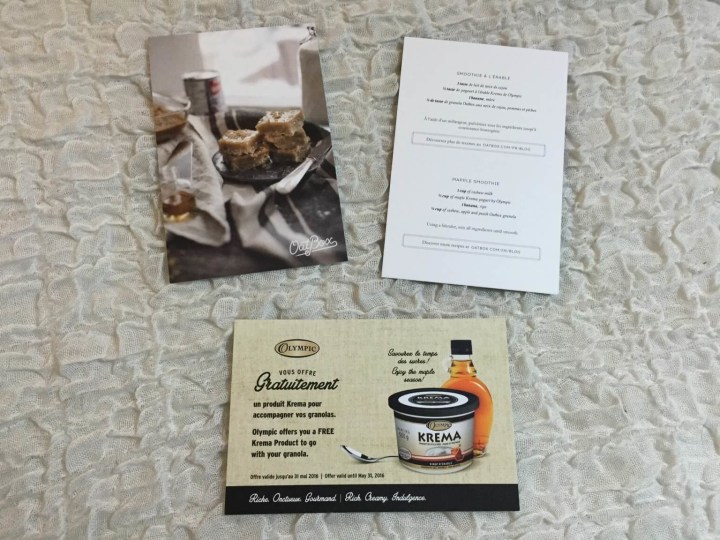 OatBox also included some recipe cards as well as a coupon for a free yogurt, which I'll definitely use!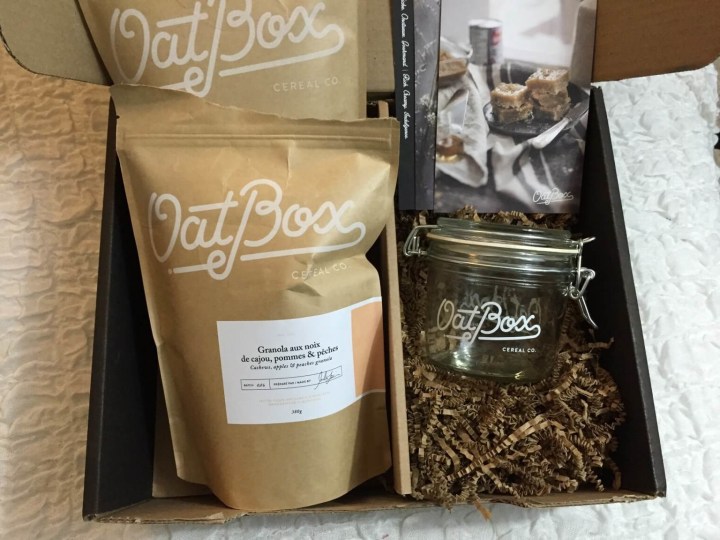 My first introduction to OatBox was fantastic; I'm really pleased with everything in my box. The two granolas are different from one another so the variety is great. The mason jar and the coupon are both great extras. A bag of organic granola at the grocery store will usually run me $12-15, so to get two comparably sized bags for $20 is definitely a great value. If you like to start your day with cereal or oatmeal, OatBox would be a great way to branch out and try new things.
Visit Oat Box to subscribe or find out more! Save $5 on your first box! Use this link to get the deal.
The Subscription
:
Oat Box
The Description
: Oatbox breakfast cereals are made in Montreal from natural, healthy ingredients and inspired by entrepreneurs, foodies, artists, early birds and busy people.
The Price
: $20.00 per month