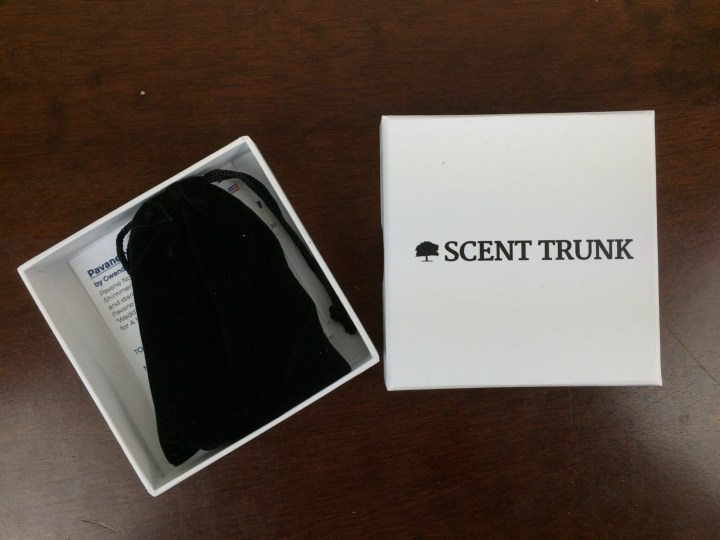 This month's Scent Trunk presented three approaches to using floral notes in men's fragrance.  Scent Trunk is a scent discovery subscription. They offer both a men's and women's version. Every month you'll receive 3 niche scents to experience, try out, and enjoy!  Fill out a brief profile on their site and you'll receive a customized box of fragrances. They have a beautiful new website as well.
The three fragrances come in a velveteen bag inside a little box. You'll get 6mL of each fragrance.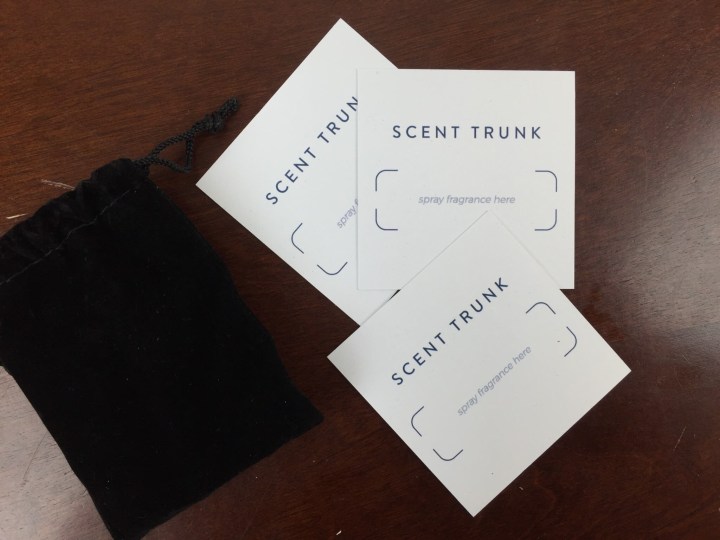 There are 3 information cards in the box – one for each fragrance, and you can spray them with the scents and make your own little card catalog. The cards have information on each scent, the longevity, and the sillage, which describes how far the perfume ingredients disperse (are you just smelling it or is everyone smelling it?), and ouch! The price! You get to sample extremely expensive fragrances in this one.
The tester cards are handy for a couple reasons — they let you separate the scents (which is very difficult when testing them all on your skin), and they let you test the sillage (which is nearly impossible without a separate test card).  You'll still want to actually wear the scents, though — the character of the fragrance can be quite different on skin.
Each of the sprayers has a cap and a label to identify the fragrance.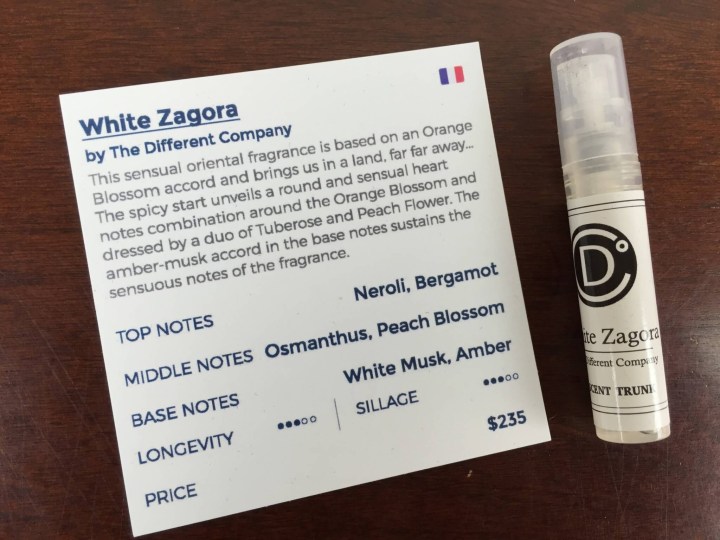 White Zagora by The Different Company:  Sweet, spicy citrus atop a light and warm, musky base.  This is a very unique fragrance, as the different notes all play with the same tone — the orange (neroli and bergamot) is deep rather than bright, and the musk and amber base is sweet and light, the two layers meeting in the middle.  The suede and fruit notes of the osmanthus blend the bitter, sweet, and rich notes into a complex whole.  This fragrance maintains a floral and herbaceous character for some time, gradually settling to a caramel-toned, but slightly dry amber.  It is best suited for men comfortable with wearing slightly flowery compositions, though these are largely subdued as the fragrance settles.
Pavane No. 2 by Gwendolyn-Marie:  This fragrance is heavily floral, owing its primary force to rose and lily.  A slightly salty (rather than fresh) aquatic note introduces the flowers, but it quickly fades.  This fragrance is best suited for men comfortable with heavily floral compositions, as those notes dominate and persist.  The reliance of floral notes creates a slight potpourri effect, pushing the character downmarket a bit.
Eau De La Couronne by Rance 1795:  Ripe fruit dominates the early notes of this fragrance — first, sweet honeydew, followed by apple.  As the apple develops, it is quite lovely, having the warm tones of bushels of fresh Rome apples.  The floral and deep mahogany notes then emerge.  This fragrance is my favorite of the three, as it derives its sweet and succulent accents from scents that are not inherently feminine, and it has a suitably masculine base note.
This collection was focused toward the flowery end of the spectrum.   My favorite of the batch was the fragrance that didn't commit as far down that path as the others.  I like that this subscription pushes me out of my comfort zone a bit, encouraging me to try fragrances I wouldn't be drawn to in a fragrance store either because the ingredients sound out of my tastes, or the initial notes are not representative of the developed fragrance.  Scent Trunk allows me to wear the scents over the course of many days and occasions, getting a truer sense of how it wears and ages when worn.  Some selections are quite pricey, and it is nice to sample thoroughly before investing in a full-size bottle.
The Subscription
:
Scent Trunk for Men
The Description
: We don't wear the same clothes every day, so why wear the same scent? With Scent Trunk, you get a variety of fragrances, every month. Each box is customized to your unique tastes, so you'll love every box. You fill out a Profile which let's the Scent Trunk team know what you like, then, they scour the world to find the most unique fragrances which will suit you. Fragrance is the ultimate fashion accessory, and like fashion, we're all different. Scent has the power to change moods and evoke emotions, so 1.5% of sales go towards fighting mental
illness.Women's
also available.
The Price
: $18.00 per month
iews.