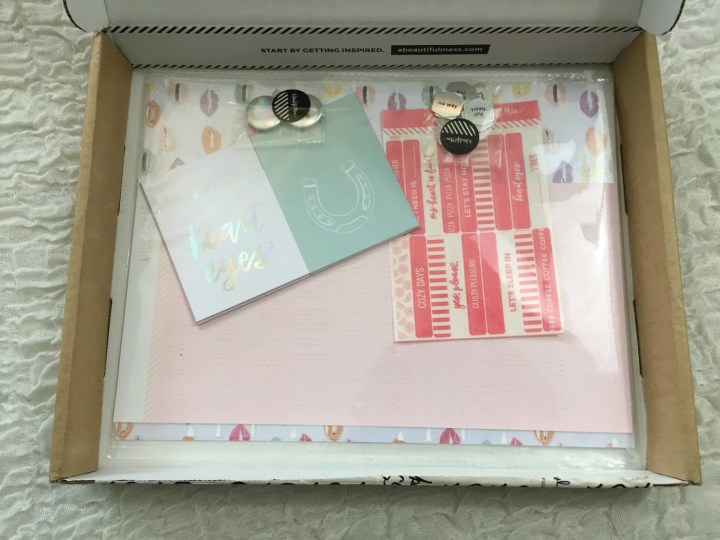 Messy Box is a subscription box by the same brains behind Happy Mail. It's oriented more towards the scrapbooking fans, or really anyone who's crafty! I was drawn to this box because I've recently joined the planner addict culture, and I'm always on the hunt for new papers, stickers, and ephemera. I liked that Messy Box had a monthly theme, which is more cohesive than a pile of random stickers. As soon as I saw this box and saw watermelons, I was thrilled — my planner has a watermelon design on it! I'm convinced it's destiny.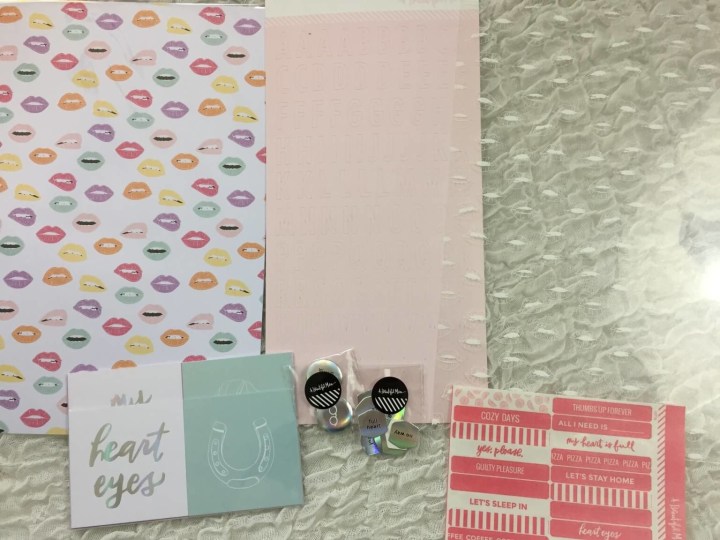 March's Messy Box had a romantic theme to it at first glance, which seems a bit backwards since February was the previous month. But I was excited to dive in nonetheless! Everything comes bundled and packaged safely, offering a tease of what's inside.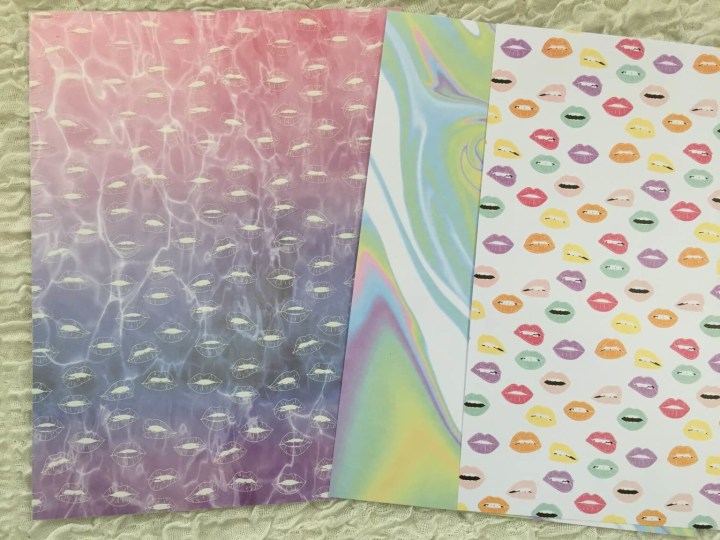 There are always three large sheets of scrapbooking paper as well as a transparency. This month there was a motif of lips as well as a tie-dye accent. Both the paper and transparency are a nice, thick weight which makes them great for making dashboards and dividers for my planner.
I'm in love with the beautiful holographic foil on the journaling cards this month! There are six smaller square cards as well as two larger pocket cards.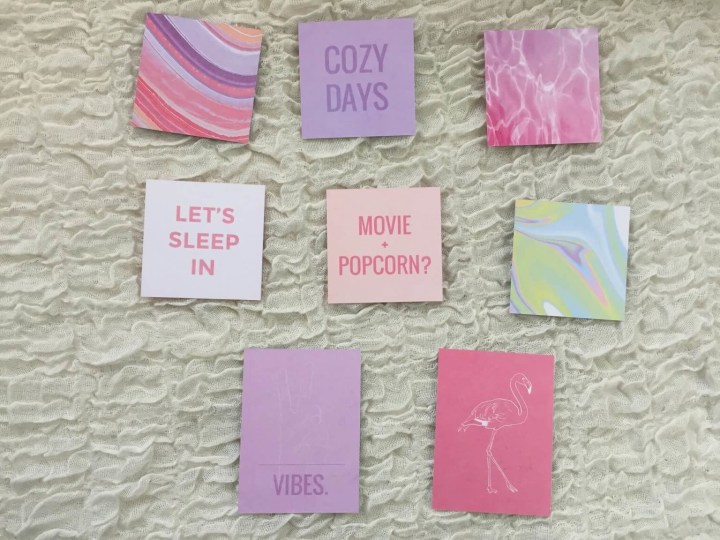 Everything is double-sided, and you can see more of the tie-dye accent here.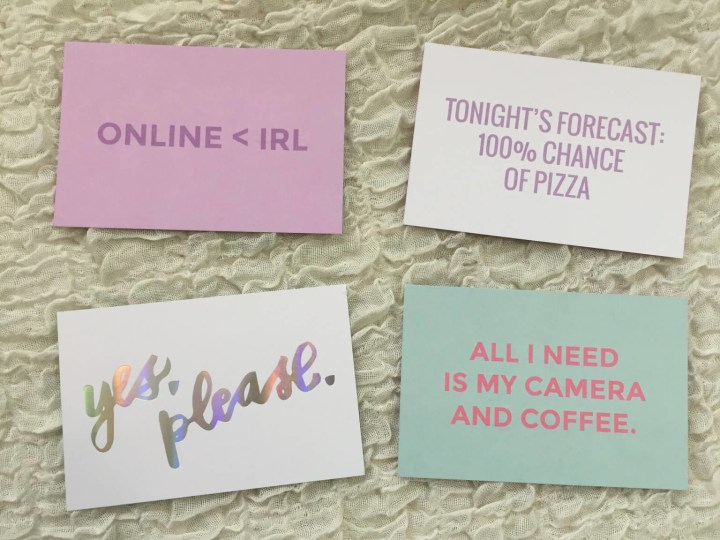 Seriously, I can't get over that foiling.
I really like the four leaf clover print; how perfect is that for a March spread?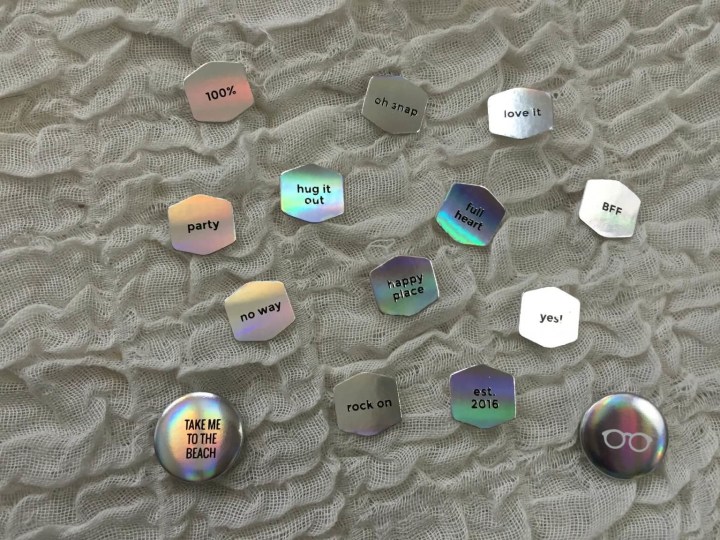 I had to zoom in to try and get a good picture of these — they are small hexagon-shaped flakes that are about half an inch tall and wide. They're made of that same beautiful silver holographic foil. There are also two round buttons. The glasses one is my favourite, as they look like mine. I love turning these sorts of things into bookmarks.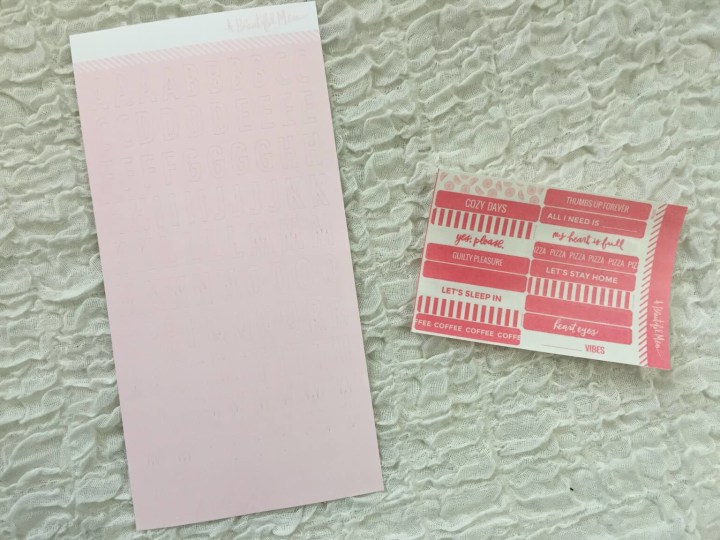 They also included a sheet of pink letter and number stickers — which are apparently impossible to photograph. There are also some smaller banner stickers which are made of washi tape material, so they will likely be semi-transparent when applied to paper or photos.
March's Messy Box surpassed February's for me in terms of my own tastes and style. The theme wasn't quite as rigid, and I absolutely love the foil accents. Have I mentioned that already? I feel like I have. Opening Messy Box always triggers my inner DIY self, and I end up breaking out the glue gun and ribbon before long. This is a fantastic box for anyone crafty or into scrapbooking or planning!
FYI, they sell a "Messy Book" and pocket scrapbooking supplies, but you don't have to purchase their items, especially if you already use a different size scrapbook. We found these We R Memory Keepers pages and October Afternoon pages on Amazon (these are the 3×3 ones)!  We also found this site – Kanvess – that does Instagram prints for a quarter (3″ and 4″ squares) ! A Beautiful Mess recommends/is sponsored by Canon Pixma but you have to cut them up. You can also try the Polaroid Zip (3″x4″, also needs cutting). Scrapbook.com also has a wide variety of page protectors!
Visit Messy Box to subscribe or find out more!
The Subscription
:
Messy Box
The Description
: The Messy Box is meant to inspire you to learn new techniques, explore your artsy side and make beautiful, imperfect photo books. Each month is designed around a technique or certain artistic focus so you can take your photos out of your phone and into books in your own style. From the blog "A Beautiful Mess"
The Price
: $24.99 per month