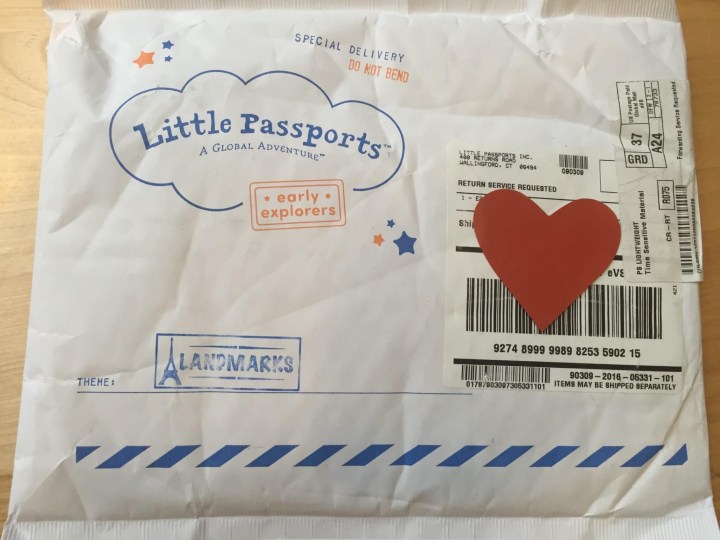 Little Passports Early Explorers is a monthly subscription box for preschoolers ages 3-5 that introduces children to people, places and traditions from around the world. Immediately after signing up, you will receive your Traveler Kit. In the months that follow, you will receive themed activities and supplies for use in conjunction with your introductory Traveler Kit.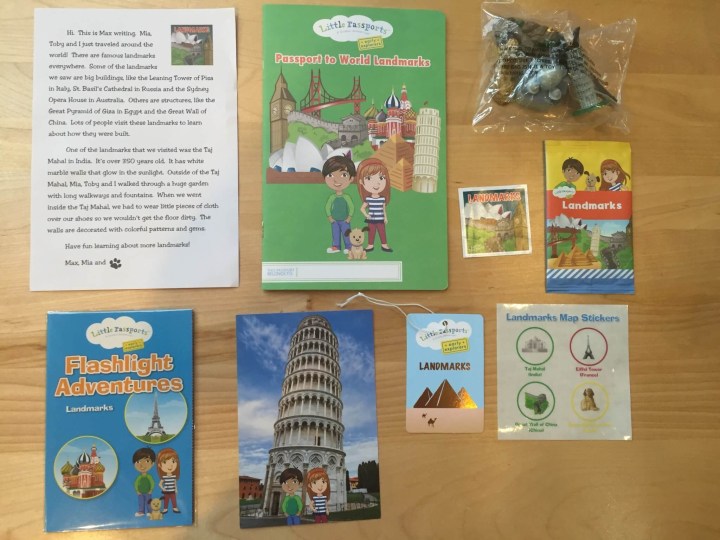 This month's theme was Landmarks. Our package arrived with a letter from Max, Mia and their dog, Toby; a postcard; a luggage tag; stickers; an activity book; descriptions of landmarks; landmark cards; landmark replicas and a landmark flashlight adventure.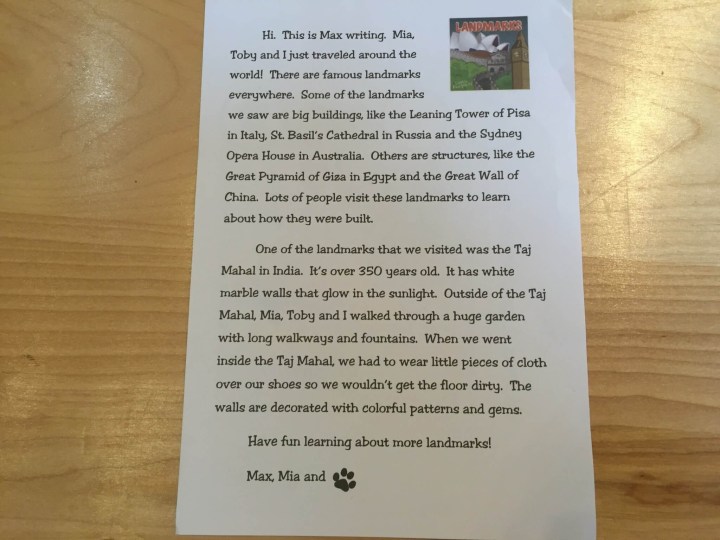 After reading the letter from Max, Mia and Toby, my son was eager to place the enclosed stickers on the map.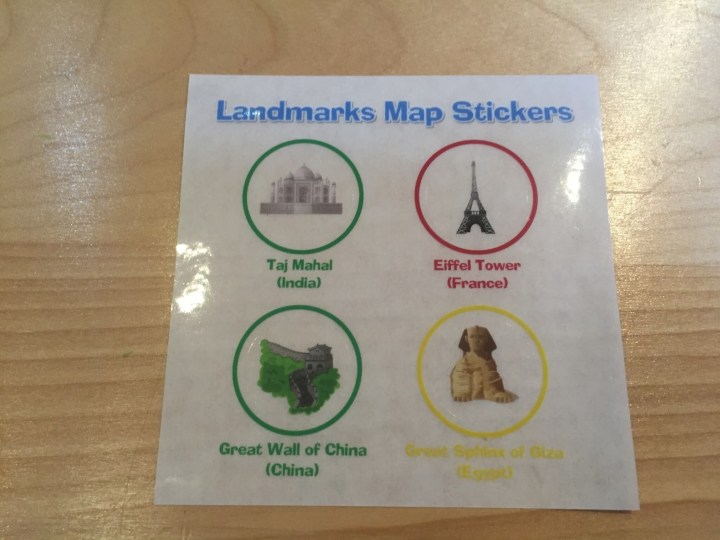 We reviewed the locations of India, France, China and Egypt, and he placed his stickers on the corresponding places on the map that we originally received as part of the Travelers Kit.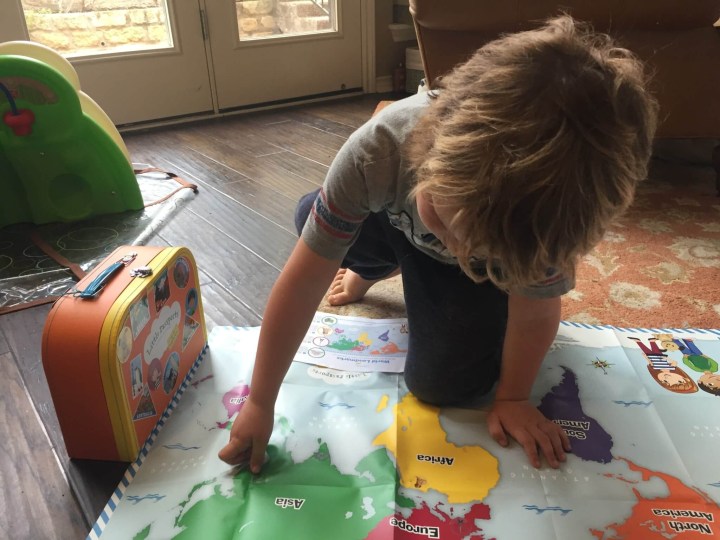 After affixing the stickers to the map, my son put his landmark replicas on the appropriate places on the map.
Next, we read the enclosed landmark cards. He liked these. I wish they had included one for each landmark.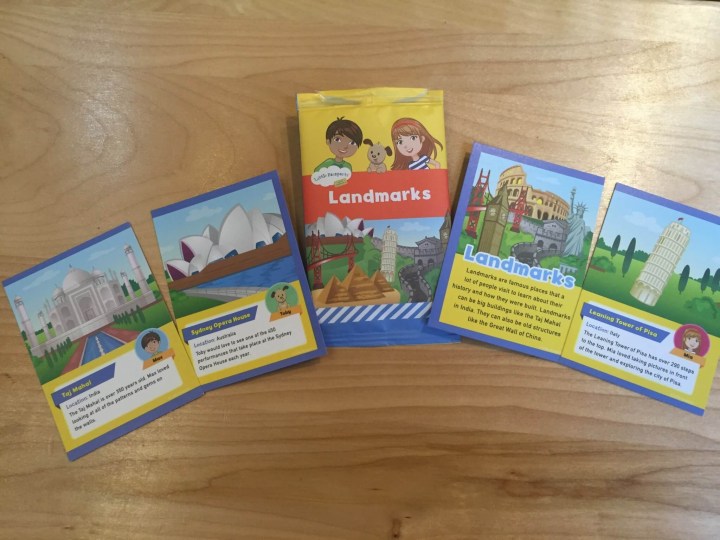 We followed up by reading about the Leaning Tower of Pisa on the enclosed postcard.
I liked how the postcard helps children see just how much the tower leans.
Finally, we read the blurbs about the four landmarks contained on this page. I found this to be the most interesting, detailed information in the kit. I wish comparable information had been provided about all of the landmarks included in the set.
After reading and interacting with the map, my son turned his attention to the enclosed workbook for reinforcement of what the landmarks look like. While none of the tasks in the workbook is at all challenging, I do like how they prompt him to talk about what he's doing using the names of the landmarks. This repetition will help him recognize the landmarks in the future.
Activities included number games, mazes, matching, identifying patterns, choosing what picture was different from the others, tracing, following shapes and identifying landmarks. All told, these activities took about 15 minutes for my son to complete.
For our final reinforcement activity, my son manipulated his "flashlight" so he could see different pictures of landmarks and identify them. He really enjoyed this activity!
Our last task for the day: add this cool luggage tag to the suitcase we received last month as part of the Traveler Kit.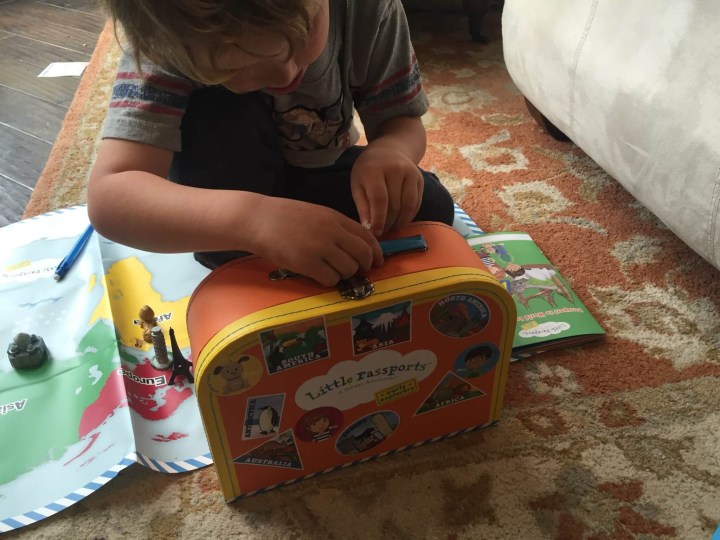 And voilà, we're done! What an enjoyable way to learn about famous landmarks from around the world!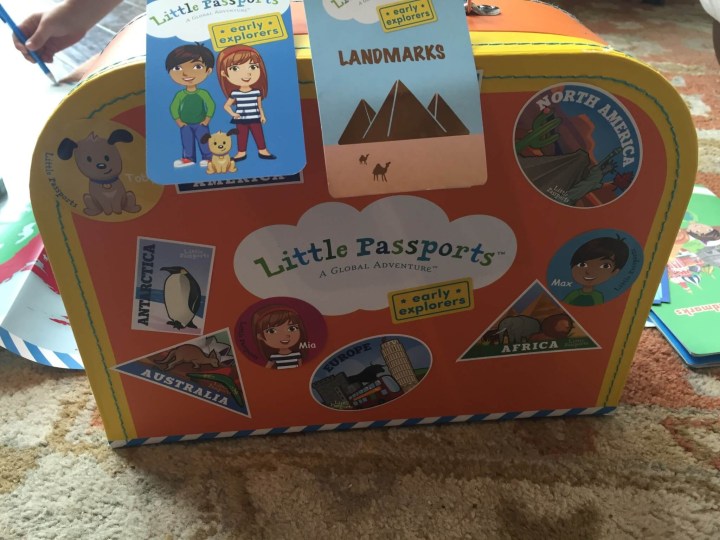 My son and I are both looking forward to the adventures we'll continue to have with Little Passports Early Explorers next month! I wonder where they'll take us next!
Visit Little Passports to subscribe or find out more! Save $15 on annual subscriptions! Use coupon code WELCOME15.