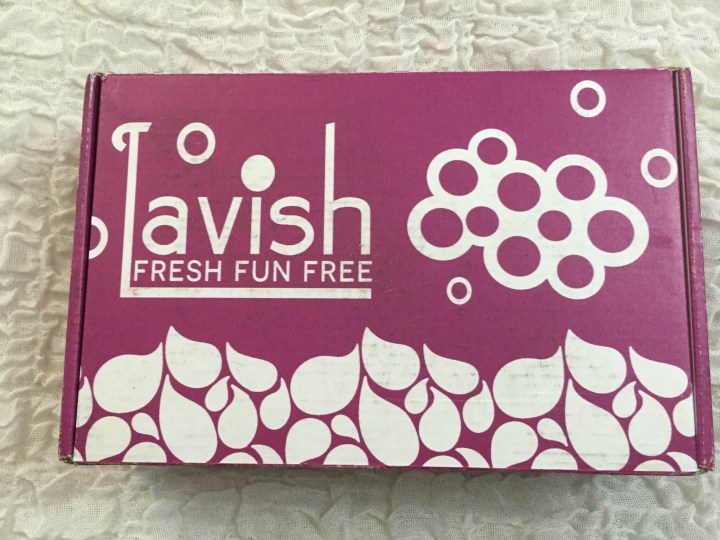 Lavish Bath Box is a brand new box that just launched, promising to send a box of cruelty-free, vegan bath goodies every month. I am a big fan of baths — showers are great in the morning, but I love winding down with a good book and just relaxing after a long day! It's obvious that I will have no less than ten bath products arranged on the edge of my bath at any given moment, so when they reached out to us, of course I said yes!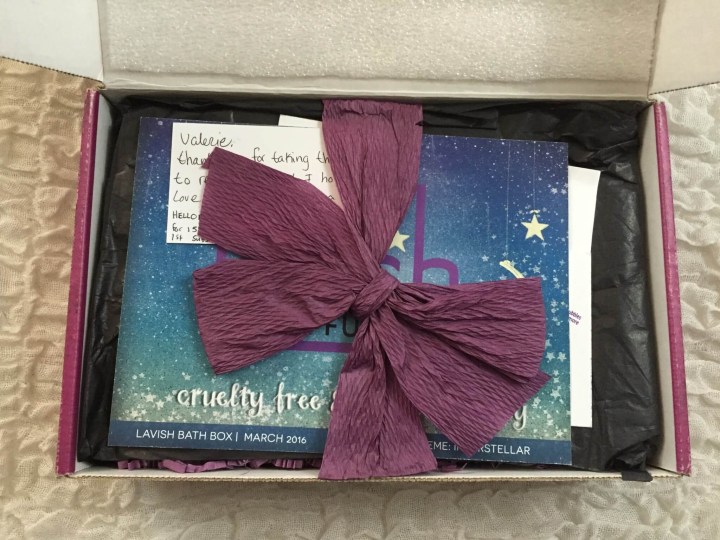 This is their debut box, and the presentation is great! I love the crepe bow, and the hand-written note to me was a sweet touch. I love seeing box curators showing so much enthusiasm and pride for their business!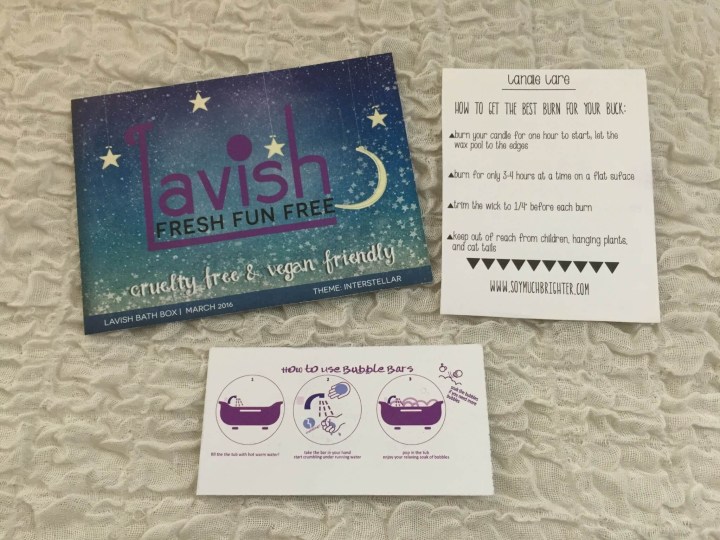 A product card was included along with instructions on how to use a bubble bar and the best way to care for your soy candles.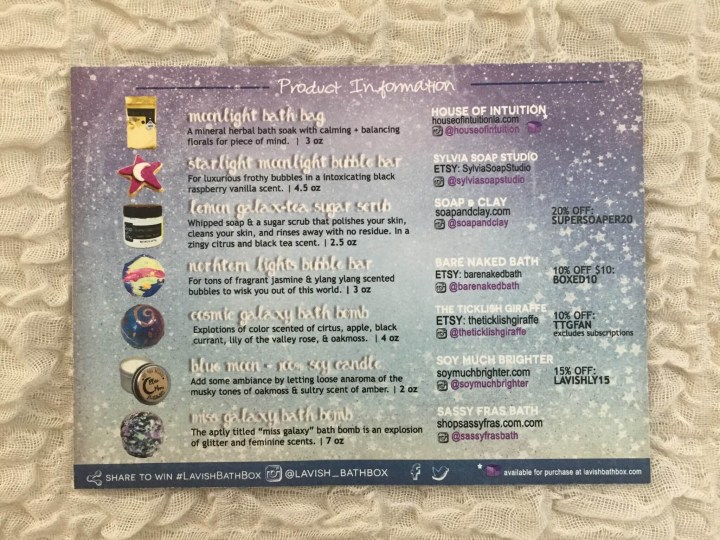 March's theme was Interstellar, so this was a box full of space-themed goodies… cue my heart attack of joy when I saw that. I love space, okay?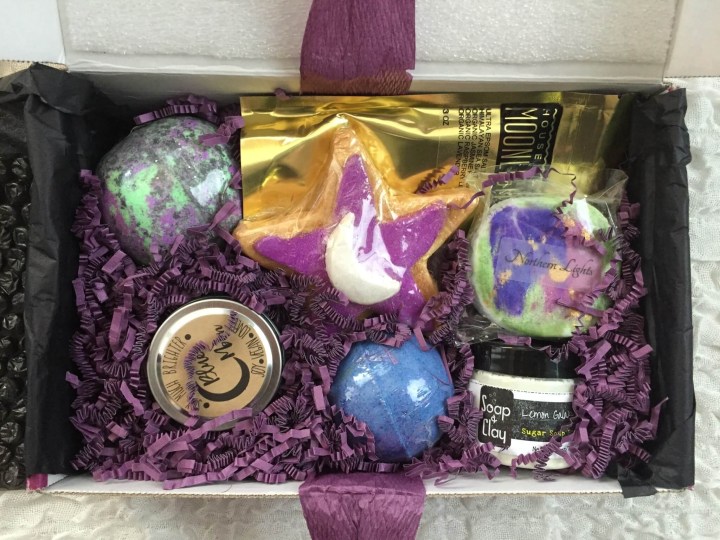 The items are safely packed in a lot of paper squiggles, as well as bubble wrap. There's even foam on the underside of the lid to keep things from bumping around in transit. With fragile goodies like bath bombs and bubble bars, the extra care is appreciated.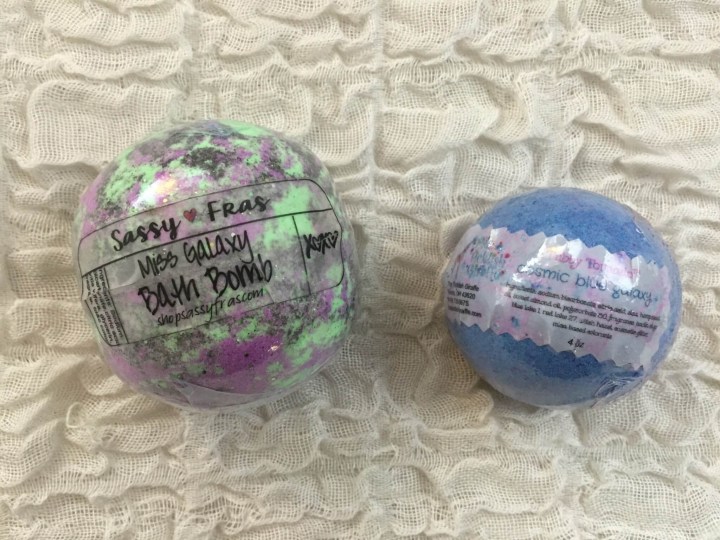 Miss Galaxy Bath Bomb Unfortunately, this bath bomb was a nightmare for me. In addition to staining my bath (and me!) within seconds of being let loose in the bathwater, the glitter included in it isn't a fine, soft glitter that feels safe for being in contact with skin (especially sensitive parts). It's large, sharp flakes that stuck to my body and I could feel the prickle against my skin. I actually drained the water while it was still foaming, tossed it, and then had to wipe down my bath, It didn't make for a relaxing experience, that's for sure! It smelled amazing, though.
UPDATE: Katie from Lavish Bath commented to let us know they're aware of the situation; there was an ingredient change that was made before the orders were shipped. They're going to be sending everyone affected new bath bombs from Sassy Fras, and future orders will include the more tub-friendly version of the Miss Galaxy bomb.
Cosmic Galaxy Bath Bomb This smells amazing even wrapped up in plastic. It smells like roses and lemons mostly to me, so I'm excited to try this. The Etsy listing warns that it's colour-intensive, so at least I'm not going in blind this time!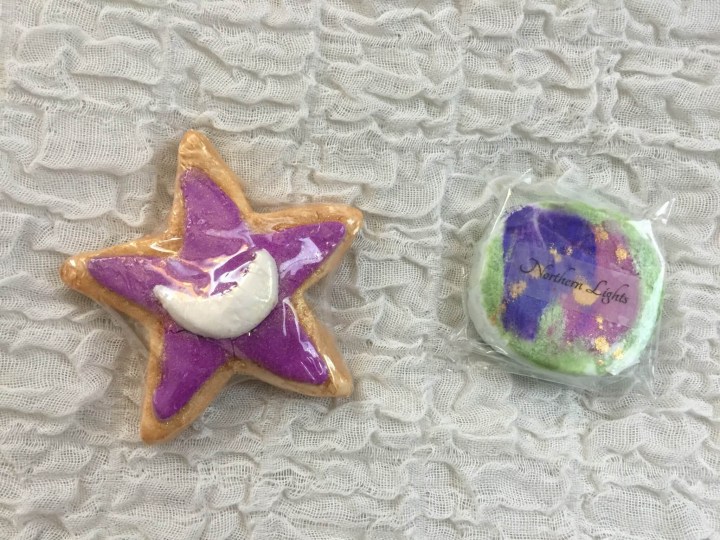 Starlight Moonlight Bubble Bar This smells amazing! It's scented with blackberry and vanilla and has very fine gold glitter dusted on it.
Northern Lights Bubble Bar I tried this one following the bath bomb disaster of 2016, and it made lots of fluffy bubbles but the scent was pretty generic — not unpleasant, but it just smelled like soap.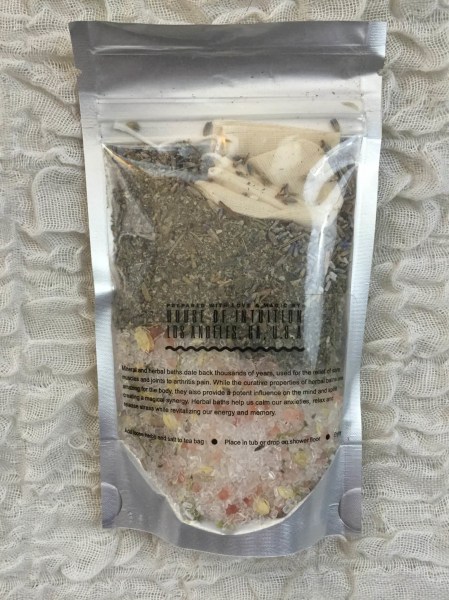 House of Intuition Moonlight Bath Bag I have always wanted to try one of these 'bath tea' products! It's a blend of Epsom salts, Himalayan sea salt, jasmine flowers, raspberry leaf, and lavender. I'm not a huge lavender fan but I'm hoping it won't be too overpowering. The package includes a reusable muslin bag. You can either 'steep' the bag of tea in your bath water or put it in the shower. I'm really excited to give this a try.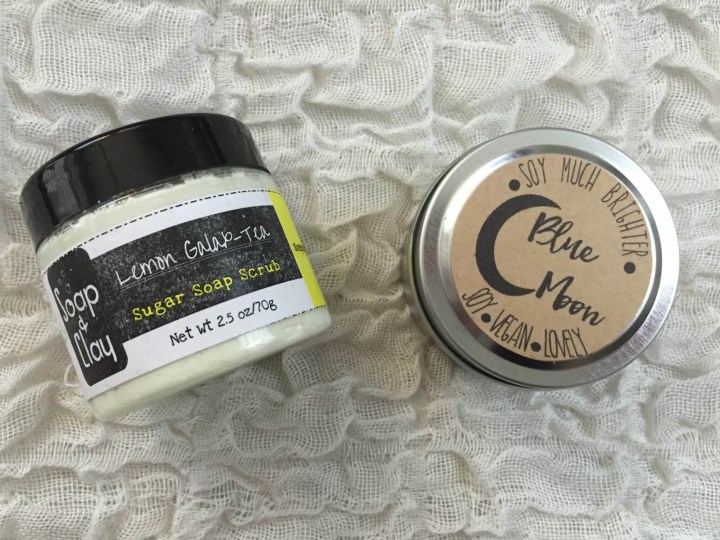 Soap & Clay Sugar Soap Scrub This is an awesome citrus and black tea scent, which I love. This isn't a super gritty sugar scrub — it's much more refined and gentle — and it's a whipped soap so you are cleansing and exfoliating at the same time. I really liked how this felt, as it didn't dry out my skin.
Blue Moon Soy Candle I found this scent to be a fresh, clean scent. I didn't get so much of the musk as I did the oakmoss and amber. In my opinion, this is a very unisex scent.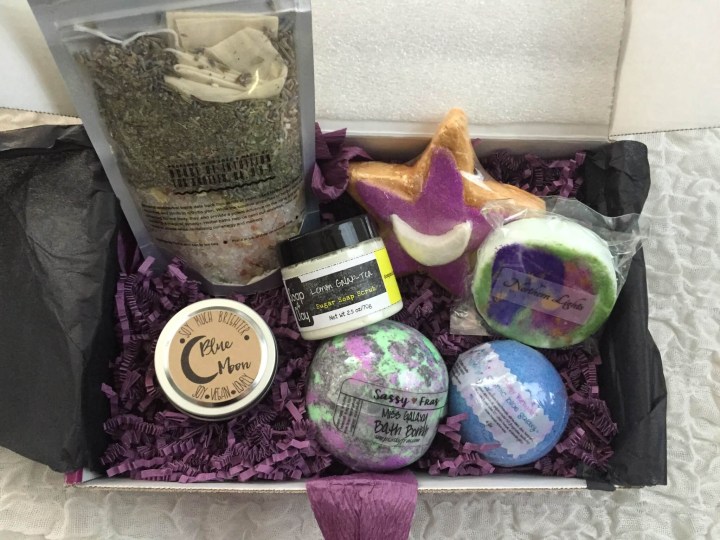 Lavish Bath Box's first box was definitely a treat to unwrap! Of the seven products, I've only tried four so far and only one was a bomb (no pun intended) for me. I love the month's theme (space!!!) and the curation is great and the items were well-selected. I'm excited to see more of what they do in the future, and if you're a fan of a good bath, definitely give them a try.
Visit Lavish Bath Box to subscribe or find out more!
The Subscription
:
Lavish Bath Box
The Description
: Lavish is a subscription service that sends you a fresh fun box of all natural bath products tailored to a specific fun theme every single month. Each Lavish Bath Box will contain 5-7 products (not samples) to give you the ultimate bathing experience with a variety of brands from well known to more local artisans and boutiques.
The Price
: $45.95 per month