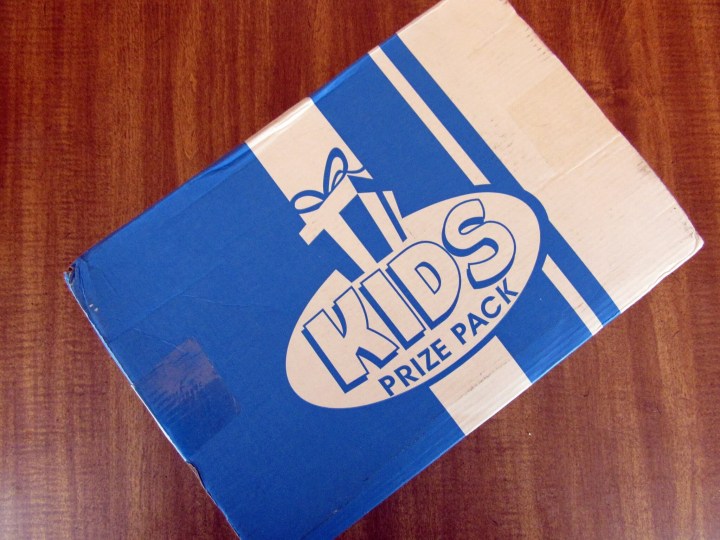 Kids Prize Pack is a fun kids' subscription box that centers its theme around books, toys, and activities each month. There are four age categories: Boys ages 4-8, Girls ages 4-8, Boys ages 9-12, Girls ages 9-12. The boxes range from early readers to chapter books along with age appropriate toys and collectibles.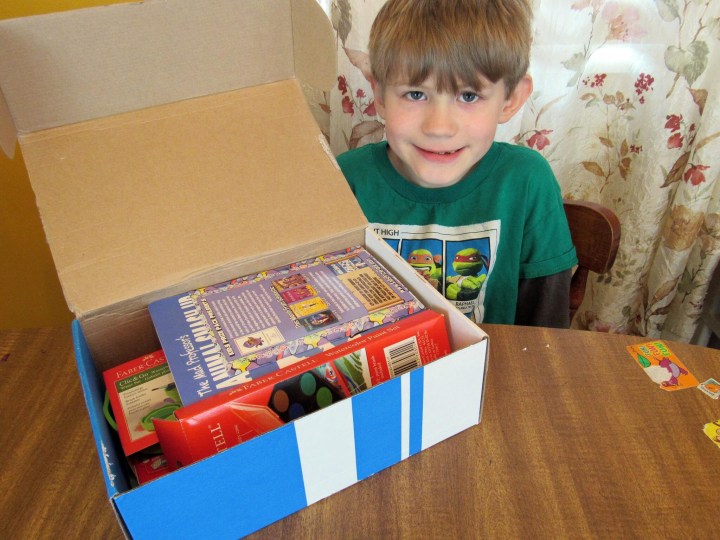 J, my 7 year old, and I will be reviewing the boys ages 4-8 box. J loves Kids Prize Pack and looks forward to his subscription every month. He was excited to see games in the February box!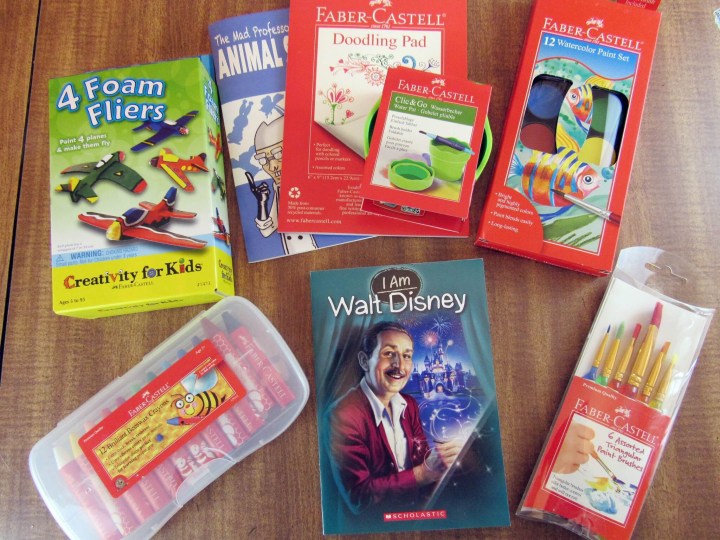 J is most excited about the foam fliers kit and the Walt Disney Book. He declared it a great month!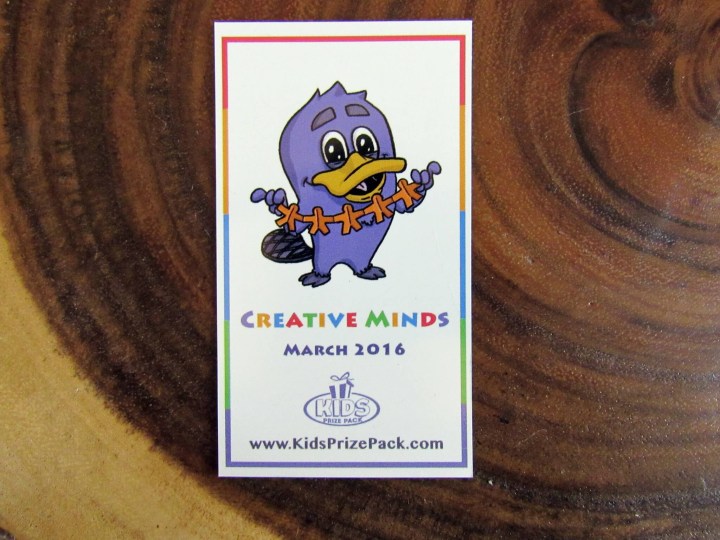 The March 2016 theme is Creative Minds! We love to create!!!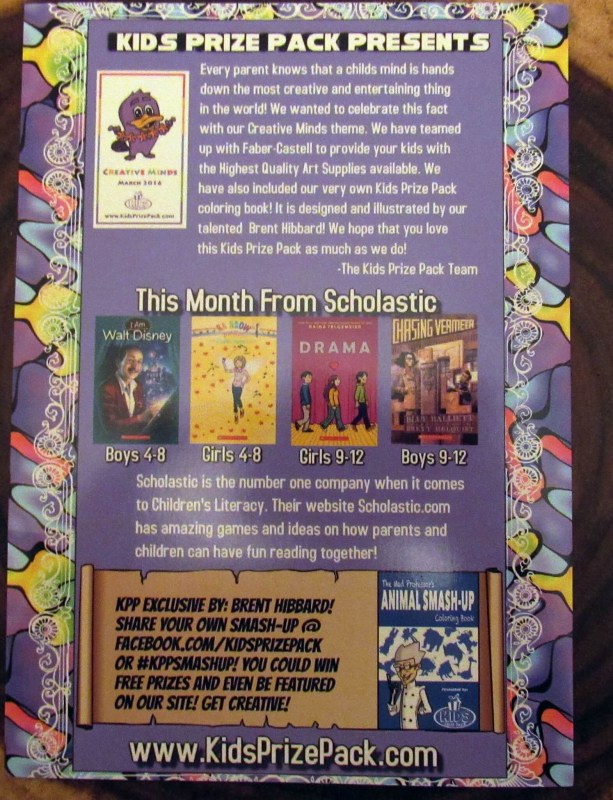 The information card now lists the four books sent out this month. I'm always curious and am glad to see the books listed.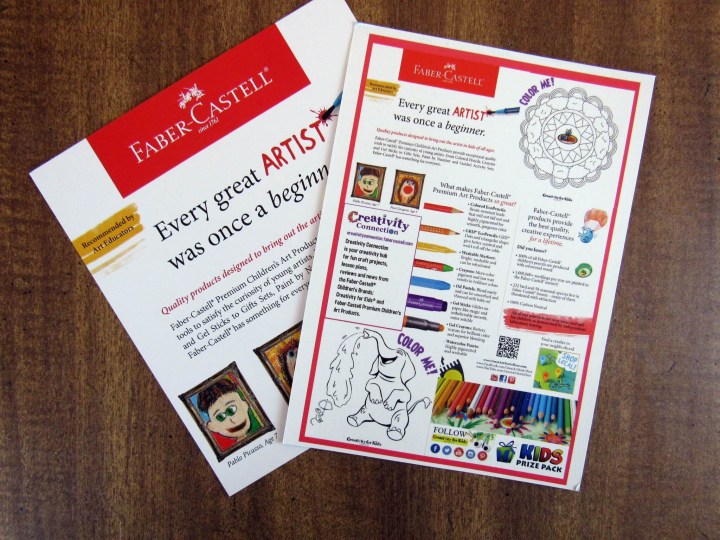 What a great saying! "Every great ARTIST was once a beginner."
J quickly looked over the comic. It did not interest him as it usually does. I think it's because he was eager to learn about Walt Disney.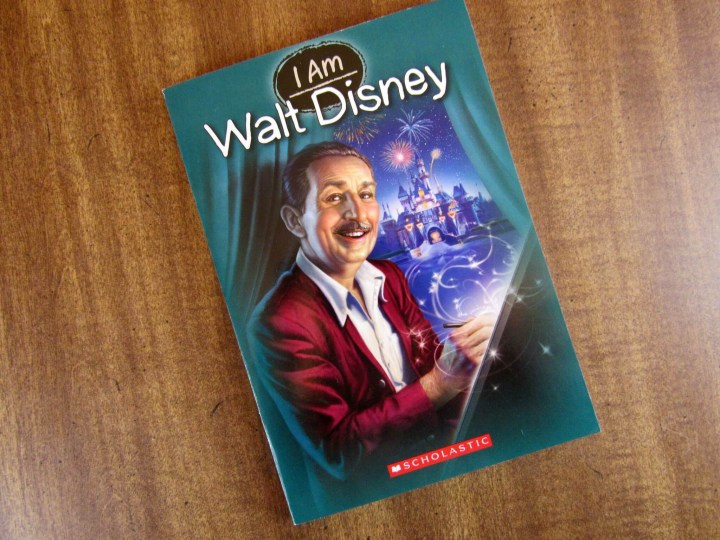 The I am Walt Disney by Grace Norwich ($5.99) is a book that J cannot wait to read. He is interested in people who can create from their imagination. He has big plans to create a video game and loves that Walt Disney was able to create so much!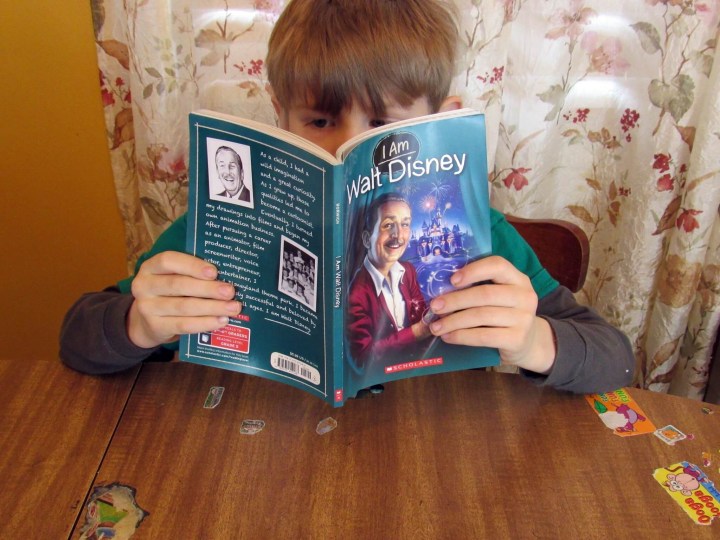 He couldn't decide whether to read or watch what I was doing. It looks like he is doing a little bit of both.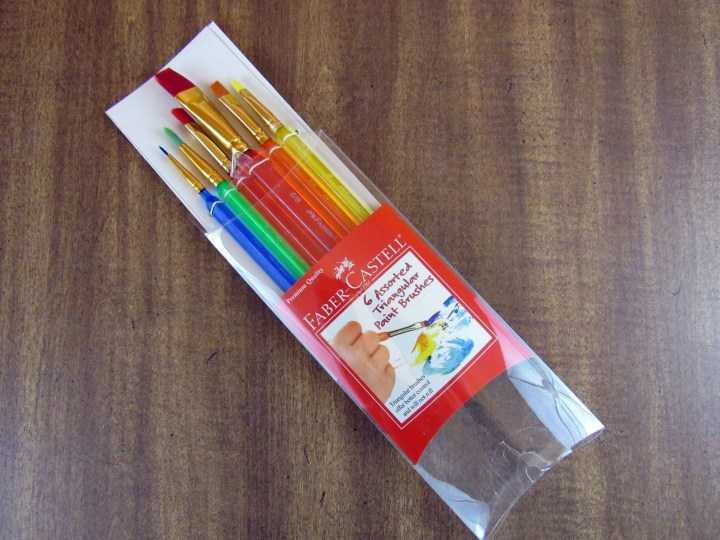 The 6 Assorted Triangular Paint Brushes ($7.48) are a welcome addition to our house! The triangle shape gives young hands better control while learning different painting techniques (plus they won't roll off the table!). J can't wait to learn what he can do with each brush.
What is about the vibrant colors that make us want to paint? The Faber-Castell 12 Watercolor Paint Set ($7.59) contains 12 opaque colors that are also great for mixing colors. It blends well and works well on paper and other surfaces. Let the painting begin!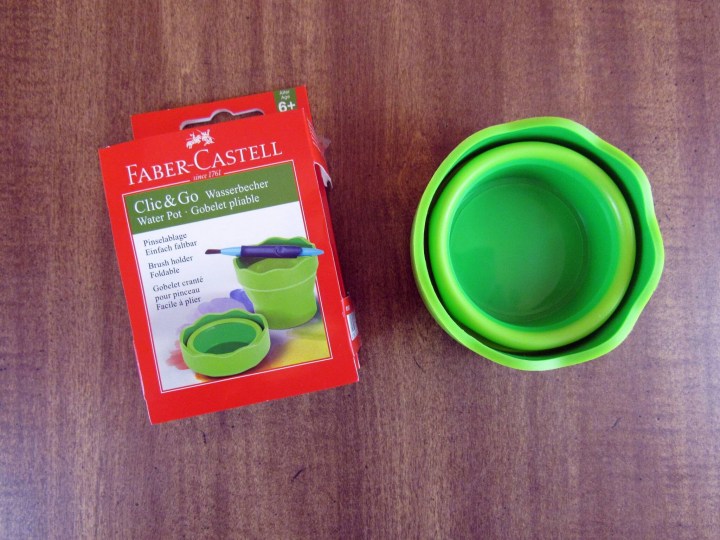 The Clic & Go Water Pot ($6.96) is clever. It can be folded down to conserve space which is something I need. I also like having a designated water cup for J's painting. I have an old plastic container that I use most times when he paints.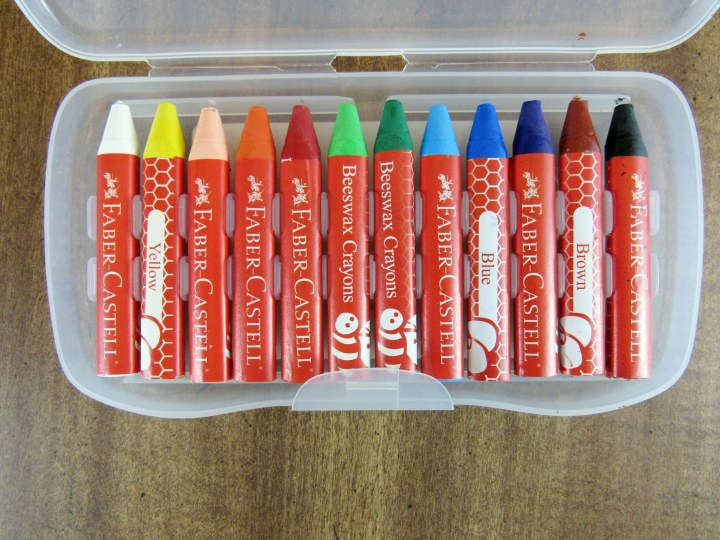 The Faber-Castell 12 Ct Beeswax Crayons ($4.39) are beckoning to be used.  The break-resistant crayons are beautifully pigmented.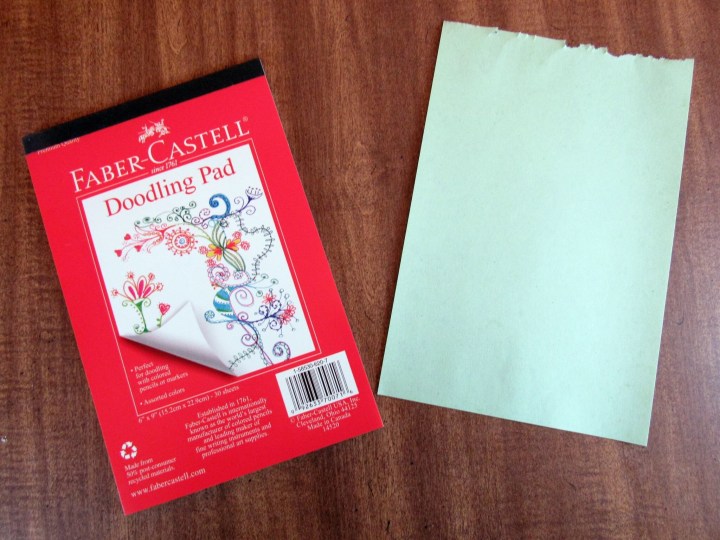 You need paper for crayons! The Faber-Castell Doodling Pad ($2.49) is there to save the day.  I do feel this is a small misstep for long term subscribers. I received the pad in their second box back in October 2015 as seen in my review written for Subscriptionista. I would have preferred to see the Faber-Castell Watercolor Pad in place of the doodling pad. That is my opinion. J doesn't care. He plans to use it to draw out his video game ideas.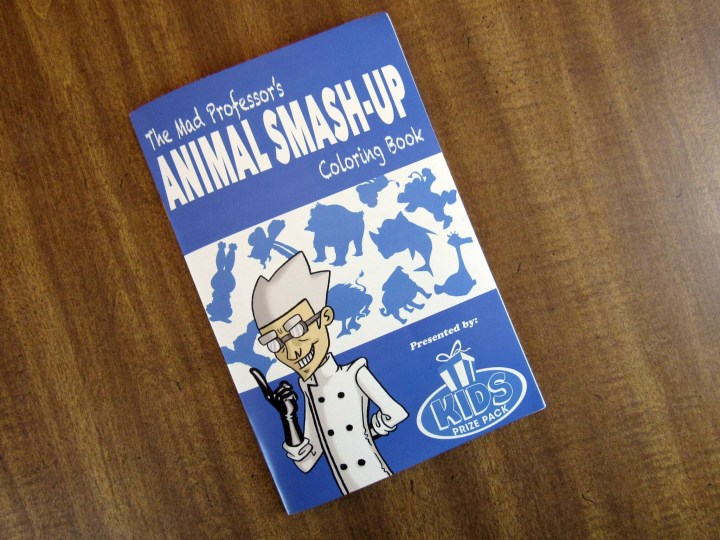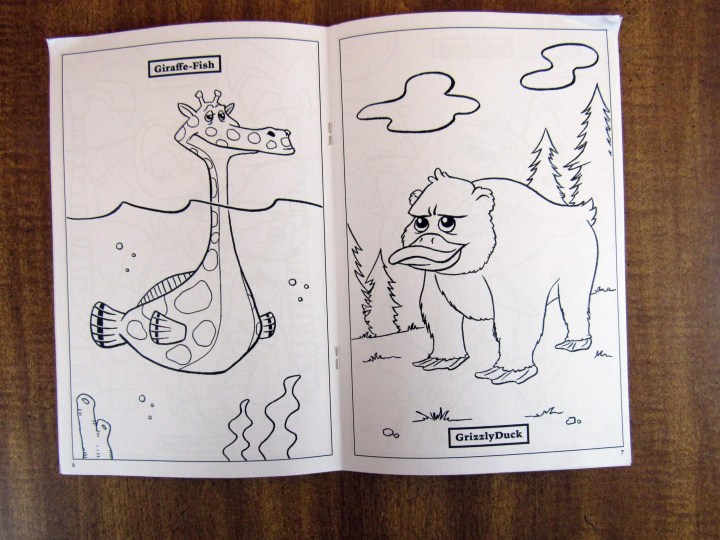 The Mad Professor Animal Smash-Up Coloring Book ($2.99?) presented by Kids Prize Pack tickled J's funny bone. He loved looking at the animal combinations and came up with a few of his own.
J cannot wait to open up the Creativity for Kids: 4 Foam Fliers ($8.42)! He has big plans for the planes. He wants to save it for a day when it is not spitting snow because he wants to fly them outside.
J loved the March Kids Prize Pack. It touched his creative side. He has made big plans to use the Faber-Castell items to draw and illustrate his video game idea. He can't wait to learn more about Walt Disney!
What do you think of the March Kids Prize Pack boys ages 4-8? Share below!
Visit Kids Prize Pack to subscribe or find out more! Save 10% on your first month with code MARKETPLACE2016
The Subscription
:
Kids Prize Pack
The Description
: We choose an New Theme every month and base all of our Books, Toys, Games, and Activities on this Theme. We believe that if your kids love playing with the Toys and Games, they will want to read the Books on the same subject. "Fun through Literacy and Imagination"!
The Price
: $25.00 per month